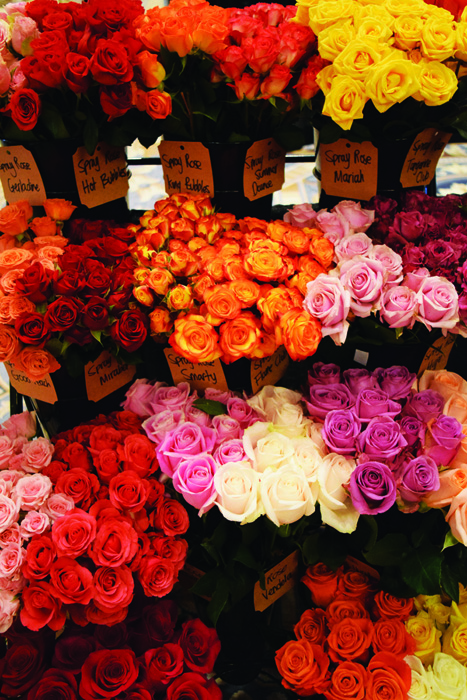 Industry Events Are Blooming Again
Three recent floral events were among the first of many more to come.
By David Coake
It's finally happening! Floral industry conventions, trade shows and workshops—and public flower shows, too—are getting back on the calendar for 2021 and beyond. The events showcased on these pages were among the first to resurface. And be sure to check our calendar of coming events so you, too, can get out and reconnect with your peers – in person!
L.E.A.F Festival of Flowers 2021
June 12-13 \   New York City's Meatpacking District
Photos by Leatal Cohen; Pic and Petal; Brooklyn, N.Y.
More than 1 million stems of fresh and dried botanicals, arranged in spectacular floral designs, adorned the cobblestone streets of New York City's fashionable Meatpacking District on June 12 and 13, for the inaugural L.E.A.F Festival of Flowers, an event founded by Moira Breslin to spotlight world-class floral design, capture attention for the floriculture industry and help re-energize New York City through flowers.
Participating floral design companies included Lewis Miller Design, East Olivia, Flower Bodega, Popup Florist, e Unlikely Florist, Designs by Ahn, fleursBELLA, Renny & Reed, McQueens Flowers, Oat Cinnamon— among many others. Floral designers from more than 25 flower shops and studios created large-scale botanical designs on the streets and in the District's plazas, as well as numer- ous floral installations at notable retailers, restaurants and hotels in the neighborhood.
About L.E.A.F

Founded by Moira Breslin, owner of communications company Articulate Productions, L.E.A.F is an independent organization with the mission of cultivating the growth of the horticulture industry and making it relevant to today's contemporary audiences through creative and curated events. Inspired by other global cities' celebrations of flowers, L.E.A.F provides a platform for all florists and designers to showcase their talents. For more information, visit leafflowershow.com, or follow on Instagram at @leafflowershow #leafflowerfestival.
PHS Philadelphia Flower Show 2021
June 5-13
Philadelphia's Franklin Delano Roosevelt (FDR) Park
Photos by Rob Cardillo,
courtesy of Pennsylvania Horticultural Society (PHS)

For the first time in its 193-year history, the PHS Philadelphia Flower Show—the nation's largest and the world's longest-running horticultural event—was held outdoors, spanning 15 acres in South Philly's spectacular FDR Park. The theme was "HABITAT: Nature's Masterpiece."
As always, the show featured stunning flower, plant and garden displays and installations—29 this year—by some of the world's premier floral and landscape designers, but this year's outdoor venue provided designers with new opportunities for creative expression.
One highlight of this year's show was a grand architectural floral installation created by celebrated florist Jeff Leatham. Titled "Habitat," Leatham's breathtaking masterpiece featured a stunning explosion of color and movement, created largely with baby's breath (Gypsophila) and plumosa (Asparagus) fern sculpted around the iconic columns of the park's Olmsted Pavilion (named for the famed Olmsted brothers, who designed the original park in 1913).
WF&FSA Floral Distribution Conference 2021
June 7-9
Trump National Doral Miami
Photos by Jules Lewis Gibson and Margaret McCampbell

Eager to assist in reconnecting the industry, WF&FSA (Wholesale Florist and Florist Supplier Association) moved its annual "Floral Distribution Conference" up to June this year, from its traditional time slot in the fall, making it one of the first industry conventions to resurface following the COVID lockdown of 2020.
With the theme "Stronger Together, Better Than Ever," the FDC 2021 presented a stellar showcase of growers' and manufacturers' latest products for the floral industry. In addition to all of the spectacular cut flowers on exhibit, two of the standout products introduced at the conference were OASIS® TerraBrick™ Floral Media and OASIS® FibreFloral Foam™, both of which are sustainably produced and biodegradable flower-arranging media, from Oasis Floral Products/Smithers-Oasis Company.
One of the FDC's most anticipated events is the presentation of the prestigious "Leland T. Kintzele (LTK) Distinguished Service Award," which, this year, went to Augusto Solano, executive president of Asocolflores, the Association of Colombian Flower Exporters. Solano was lauded for his integrity, fairness, perseverance, decisiveness and continuous contributions to the floral industry for more than 20 years.
Coming Events
Floral industry happenings through the end of 2021
Check out the events on this list, and make plans to get out and attend one or more of them. Reconnecting with your floral industry friends and peers will do wonders for your creative spirit and soul!
NOTE: While we update this list monthly, dates for many state florist association, wholesaler and other organizations' events were not available at press time. Email information about any upcoming events you know about to editorial@floristsreview.com, and be sure to check the websites of your favorite industry organizations and wholesalers to get updates on events they may be having.
JULY
July 10-13
Cultivate '21 (American Hort)
Columbus, Ohio cultivateevent.org
July 27-29
Perennial Plant Assn. (PPA)
2021 Virtual National Symposium
Online/Virtual perennialplant.org/page/ virtualnationalsymposium
July 27-30
WF&FSA (Wholesale Florist & Florist Supplier Assn.)
Developmental Experience
(formerly Management Institute)
Niagara Falls, Ontario, Canada
wffsa.org
July 31-Aug. 1
South Dakota Florists Assn.
2021 Convention
Flandreau, S.D.
sdflorists.org
AUGUST
Aug. 11
Texas Floral Showcase
(Texas State Florists' Assn.)
Waco, Texas tsfa.org/texasfloralshowcase
Aug. 25-27
The Landscape Show (FNGLA)
Orlando, Fla. thelandscapeshow.org
Aug. 27-29
Florida State Florists' Assn.
Centennial Celebration
Weston, Fla.
floridastatefloristsassociation.com
SEPTEMBER
Sept. 10-12
Inspired Design Retreat
Black Hills of South Dakota
inspireddesign.info
Sept. 12-14
PMA (Produce Marketing Assn.)
Women's Fresh Perspectives Conference
Santa Ana Pueblo, N.M.
pma.com/events/cgt- womens-fresh-perspectives
Sept. 16-18
International Floriculture Expo (IFE)
Miami Beach, Fla.
floriexpo.com
Sept. 21-23
SAF (Society of American Florists)
Orlando 2021 Annual Convention
Orlando, Fla.
safnow.org
Sept. 21-26
RHS Chelsea Flower Show
London, England
rhs.org.uk
Sept. 22-24
World Floral Expo
New York, N.Y.
hppexhibitions.com/wfe
Sept. 24-27
Fleuramour
Bilzen, Belgium
en.fleuramour.be 
OCTOBER
Oct. 6
Texas Floral Showcase
(Texas State Florists' Assn.)
Lubbock, Texas
tsfa.org/texasfloralshowcase
Oct. 6-7
Canadian Greenhouse Conference
Online/Virtual
canadiangreenhouseconference.com
Oct. 7-9
Proflora
Bogotá, Colombia proflora.org.co
Oct. 14-15
AIFD (American Institute of Floral Designers)
2021 PFDE & Floral Summit
Orlando, Fla.
aifd.org
Oct. 28-30
PMA (Produce Marketing Assn.)
Fresh Summit
New Orleans, La.
pma.com/events/freshsummit
NOVEMBER
Nov. 3-5
International Floriculture &
Horticulture Trade Fair (IFTF)
Vijfhuizen, Netherlands
hppexhibitions.com/iftf
Nov. 3-5
Royal FloraHolland Trade Fair
Aalsmeer 2021
Aalsmeer, Netherlands
tradefairaalsmeer.com
Nov. 6-7
California State Floral Assn.
"CaliFlora 2021"
Carlsbad, Calif.
calstatefloral.com
Nov. 16-19
Ornamental Plants & Flowers México
México City, México
opfexpo.com
"GROW" By Nita Robertson, AIFD, CFD Established in 1965, the American Institute of Floral Designers (AIFD) is a nonprofit organization dedicated to establishing, maintaining and recognizing the highest standard of professional floral design. The mission is...
read more