Instagram is reversing some of the controversial changes to its display and algorithm in response to a growing backlash against its push to short-form video. But analysts believe the changes are inevitable as social platforms vie for advertising revenue and users increasingly seek video entertainment online. Still, long-term, Instagram Reels remains the focus for Meta.
Full Article Below Source
Instagram may have backtracked. But video is coming
Instagram has temporarily reversed changes to its algorithm to reduce the amount of suggested video content in response to a backlash from its users. The creators have won the battle; will video win the war?
BY LUCY MAGUIRE AND EZREEN BENISSAN
August 1, 2022
Instagram is reversing some of the controversial changes to its display and algorithm in response to a growing backlash against its push to short-form video. But analysts believe the changes are inevitable as social platforms vie for advertising revenue and users increasingly seek video entertainment online.
Meta-owned Instagram said on Thursday, in a rare strategic reversal, that it is temporarily rolling back changes including a test of a full-screen feed display, and changes to its algorithm that pushed more Instagram Reels video content to users from people they don't follow.
It follows widespread criticism that Instagram is trying too hard to compete with rival short-form video site TikTok, including from heavyweights like Kylie Jenner who posted a meme to her 361 million Instagram followers that read: "Make Instagram Instagram again. Stop trying to be TikTok. I just want to see cute photos of my friends. Sincerely, everyone." Jenner's sister Kim Kardashian and swathes of creators followed suit, keen to express their dissatisfaction with Instagram's new iteration and its effects on their reach, engagement, and, in some cases, income.
Head of Instagram Adam Mosseri said the platform will temporarily pull back on the increase in recommended posts and remove the full-screen feed display in a post on Instagram Stories.
"I'm glad we took a risk — if we're not failing every once in a while, we're not thinking big enough or bold enough," Mosseri said in an interview with The Verge, shared on his Instagram Stories. A Meta spokesperson shared with Vogue Business that the platform is always working on making sure each post is relevant for users: "Feedback from our community is crucial to getting this right, and we will continue to iterate and explore new options based on what we're hearing."
Creators still aren't happy. "The decision is temporary, I believe, and they did say they will still be pushing video and prioritizing it, so for me, nothing will really change," says UK-based content creator Stephanie Yeboah, who has 236,000 Instagram followers and saw a dramatic decline in her reach in the last year following the algorithm changes. "Creators will eventually move away from Instagram if the frustration continues." And therein lies the threat for Meta.
Instagram has met similar criticism in the past, when it removed the chronological feed in 2016 (which was reintroduced as an option in March 2022), and again when it launched stories in 2017. Video has been on the agenda since June 2020, when Mosseri announced Instagram would be pivoting to it. "We're no longer a photo-sharing app," he said. "People are looking to Instagram to be entertained. We have to embrace that." However, frustration built as people began to notice more videos from unknown users in their personal feeds.

"Not only do you not get sent to the Explore page, but more importantly, it's not even showing your photos to the people that have chosen to follow you," says fashion creator and journalist Camille Charrière, who has 1.3 million Instagram followers. "If you have got 1.3 million people following you, but your photos are getting 2,000 likes, there's something up. At least 10 per cent of my audience is going to want to see my content, so why is nobody being shown it?"
Scott Schuman, aka The Sartorialist, is a US-based photographer and content creator known for his atmospheric street style, fashion and travel photography. He has 1.1 million followers on Instagram and has always felt he'd cultivated a very tight-knit and positive online community on the platform. "It all changed over the last year," he says. "As a creator you no longer feel like you have control over your community; what they were seeing and what you were seeing from the people that you follow," he says. "I just feel like everybody feels like they have no idea what's going on."
"We are being forced to create content we don't want to create in a bid to fulfil Instagram's dream of being the new TikTok," says Yeboah. "It's a difficult one because brands still rely so much on Instagram being their primary source of marketing: in a way, for those who collaborate with brands, our hands are tied. I'm seeing more of a shift in ad content being video/reels based instead of imagery."
Instagram initially refused demands to reverse the changes. "Video is the way the world is going," Mosseri said in a video statement on Tuesday morning, to address the complaints. However, the company succumbed to the growing pressure two days later.
Still, long-term, Instagram Reels remains the focus for Meta. In an earnings call on Wednesday — during which Meta reported its first ever quarterly sales decline — CEO Mark Zuckerberg said the company is experiencing strong Reels growth which is driving engagement across its Facebook and Instagram platform. Last quarter, Reels made up 20 per cent of the time spent on Instagram, Zuckerberg said. "This quarter we saw a more than 30 per cent increase in the time that people spent engaging with Reels across Facebook and Instagram." According to consumer insights company GWI, use of Reels is up 27 per cent year-on-year globally — it's "easily" the fastest growing part of Instagram, says GWI trends manager Chris Beer.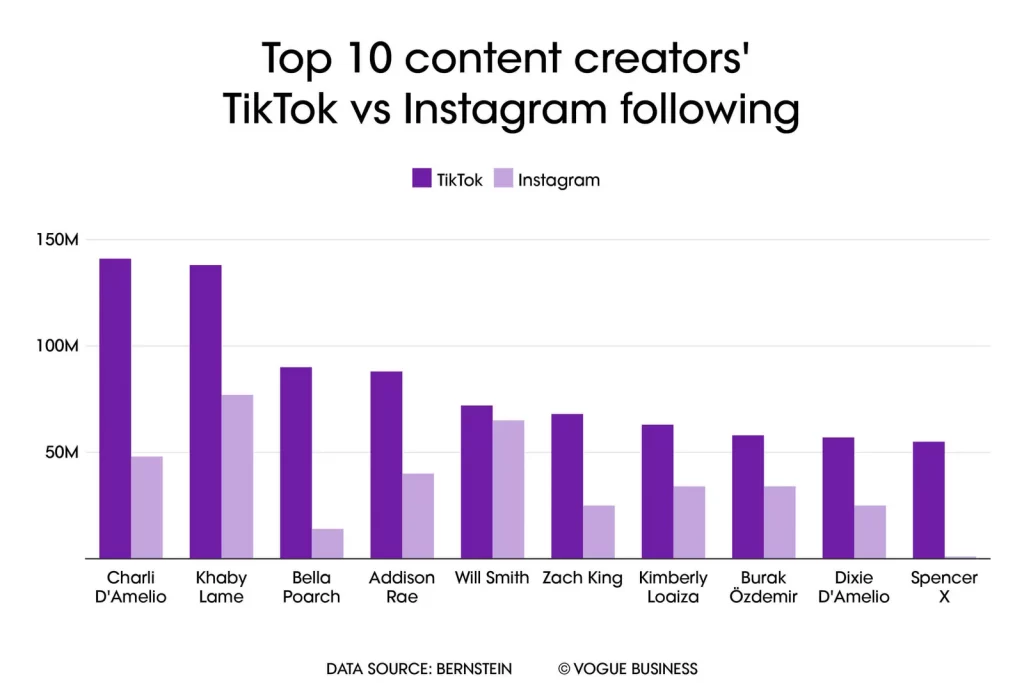 Meta says it's moving away from feeds that are dominated by content from accounts a user is following to an "AI recommending content that you'll find interesting from across Facebook or Instagram, even if you don't follow those creators," said Zuckerberg. "Reels is one part of this trend that focuses on the growth of short-form video as a content format, but this overall AI trend is much broader and covers all types of content, including text, images, links, group content, and more. Building a recommendation system across all these types of content is something we're uniquely focused on." The run rate on Reels has now reached $1 billion.
Meta blamed its sales decline on a slowdown in advertising revenue growth. The pivot to Reels is making it difficult for advertisers to advertise on Instagram, analysts say. "In order to monetise Reels, you're asking advertisers to create new advertisements," says Mark Shmulik, senior analyst at consultancy Bernstein, adding that advertisers will be slower to embrace Reels as it requires them to break away from old advertising habits and transform their original content into video content. The challenge becomes ensuring that "consumers engage with advertisements on that format the same way that consumers have already been on news feeds and stories".
Video could be "where the world is going"
Instagram is facing fierce competition from TikTok. "TikTok has been the fastest growing social media platform that GWI has ever seen, not just in terms of user base but also in terms of users saying it's their favourite platform," says GWI's Beer. Increasingly, watching "funny" content (which is more associated with short-form video) is the number one reason to visit social media across platforms like Instagram, TikTok and YouTube, he says.
Creators feel the Instagram changes are a tension between the old and the new guard of Instagram users, but Beer says that in fact there's a lot of overlap: 72 per cent of Instagram users who log on primarily to share photos also say they use Instagram to consume funny content (which is more associated with Reels), according to GWI. "More people go to Instagram for 'trendy' content than any other platform, but 'funny' content is still the most-desired."
Whether its Instagram or TikTok, static content is no longer the priority as creative marketing agencies like Billion Dollar Boy, which produces between 4,000 and 6,000 branded content ads a month, are moving towards more motion-based content. "For a long time, Reels have been what we've been promoting as a business heavily because that the success and performance is far better than other types of content," says CEO and founder Edward East.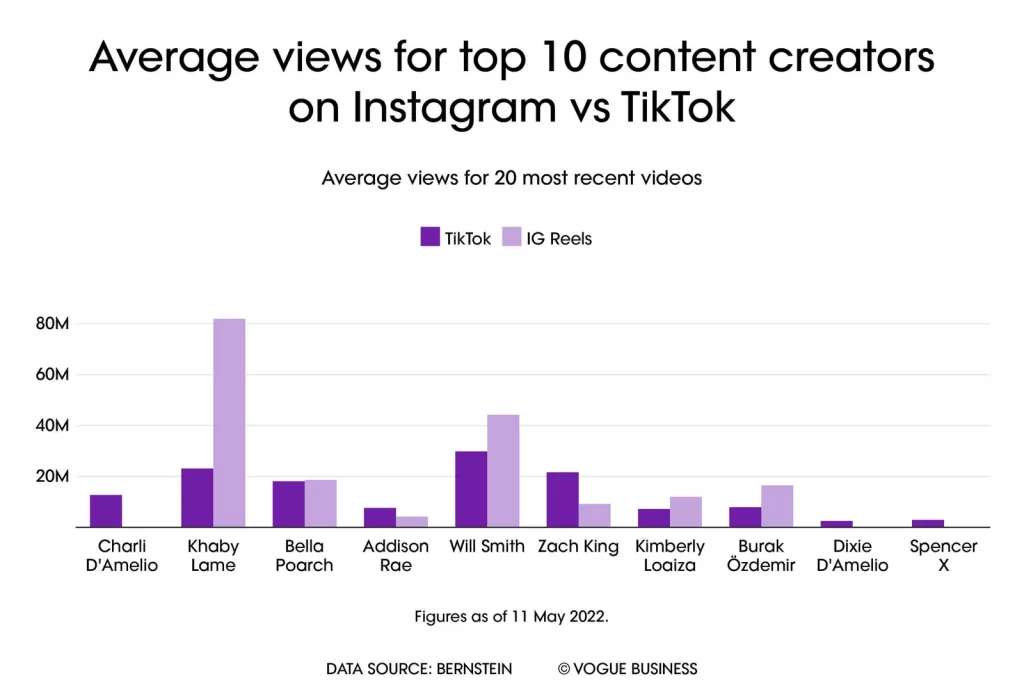 TikTok continues to be the better platform for getting views outside of your followers, says Irving Shark, head of technology at creative marketing agency Billion Dollar Boy. "For TikTok, the average creator video gets a view rate (views/followers) of 109 per cent; this is 72 per cent for Instagram." Instagram's algorithm still has a way to go, creators say. "With video, it's just more complicated for individuals to come up with compelling, consistent content," Schuman says. "Most of the stuff I see on Reels and similar platforms is a dog falling into a trash can. It's stuff that can't really be repeated. There's not many people I follow who are video creators or like Instagram for what it was."
Charrière tried posting videos on Instagram but she hasn't seen an uplift in engagement. She and other creators feel that it wasn't curated video content (that matches Instagram's curated aesthetic) that was being pushed to users. "The videos that I see on Instagram are awful," she says. "For 10 years, Instagram has been a beautifully curated platform, it was about having a brand image and being thoughtful about what you put on there… Instagram has changed the algorithm but the people using the platform haven't changed."
Effects on creator revenue
Bernstein's Shmulik doesn't think the backlash will have lasting impact, and that it gained traction partly because of Kylie Jenner's involvement (when Jenner tweeted that she no longer opened Snapchat in February 2018, Snap Inc's share price dropped 6.1 per cent, equal to $1.3 billion in market value). "The proof will be in the pudding as Instagram goes through its changes; whether it's improving engagement or not; whether creators feel empowered on the platform more than before or not. Those things will take time to reveal themselves."
For Billion Dollar Boy, which operates in London, New York and New Orleans, and works with names like beauty and fashion creator Patricia Bright, model Natalie Suarez and comedian Munya Chawawa, Instagram remains an important platform for content creators and brands. "The majority of the work we do is on Instagram," says East. Around 70 per cent of the agency's output is on Meta's platforms. "If you push out a video it's more likely to get more views, which would be the key metric we would look at. Comments, likes, engagements are still important too."
The push to video content is good for brands, argues East, who is finding that the brands he works with, including names like YSL and Dolce & Gabbana, want more video content in response to changing customer behavior. "With this shift to Reels, we're going to have to work with [and] will have to look for creators where this will naturally fit into their feed," says East.
Charrière has been focusing more energy on her TikTok this year, posting twice per day on the platform and reducing her Instagram output: "Everybody's competing for our attention. I feel like the only way to protest on Instagram right now is to use it less until they realise that they need to respect the people who have helped build the app." However, if the changes take hold, would she go back to posting on Instagram more regularly? "I'm like Saint Thomas — I only believe in what I see," she says. "But, in theory, of course once an oversharer, always an oversharer."
It's uncertain when Instagram will reintroduce suggested Reels, as intended. Shmulik says it is a risk. "Are [creators] going to adapt and continue to use the platform, or are they going to leave the platform en masse? It remains to be seen," he says. "Whenever any of these companies go through a redesign, it's certainly high risk and sometimes does backfire — there's no guarantee of success. But, you also need to keep reinventing yourself."
Comments, questions or feedback? Email us atfeedback@voguebusiness.com.