A lovely garden-style arrangement features decorative design elements from Smithers-Oasis—including black floral foam.
Floral design, photos, video and text by Nita Robertson, AIFD, CFD
Presented by Smithers-Oasis North America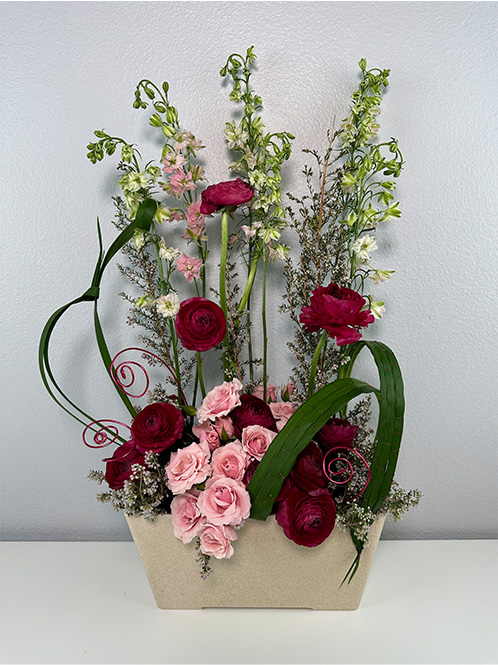 This modern garden-style design features OASIS® Midnight Floral Foam, giving the design a sophisticated look. Gray when dry, Midnight Floral Foam transforms to a rich black hue when soaked, creating the perfect canvas for any design, from traditional to contemporary.
OASIS® Midnight Floral Foam is intended to be left visible, especially in minimalist floral compositions that are both on trend and perfect for consumers with modern and artistic tastes. Because the black floral foam becomes a design element, few, if any, foliages are required, and fewer insertions reduce design labor. In this design, narrow "valleys" between some of the flowers are intentionally created, to expose the floral foam, creating further depth and interest.
The OASIS® Midnight Floral Foam is secured into an ECOssentials™ container with the new OASIS® Midnight Waterproof Tape—a perfect complement to Midnight Floral Foam because it recedes into the design.
STEP BY STEP
Step 1
Soak two bricks of OASIS® Midnight Floral Foam in FloraLife® Express Universal 300 flower food solution. Stack them horizontally, one atop the other, in an ECOssentials™ Rectangle Planter. Tape the floral foam into the container with OASIS® Midnight Waterproof Tape.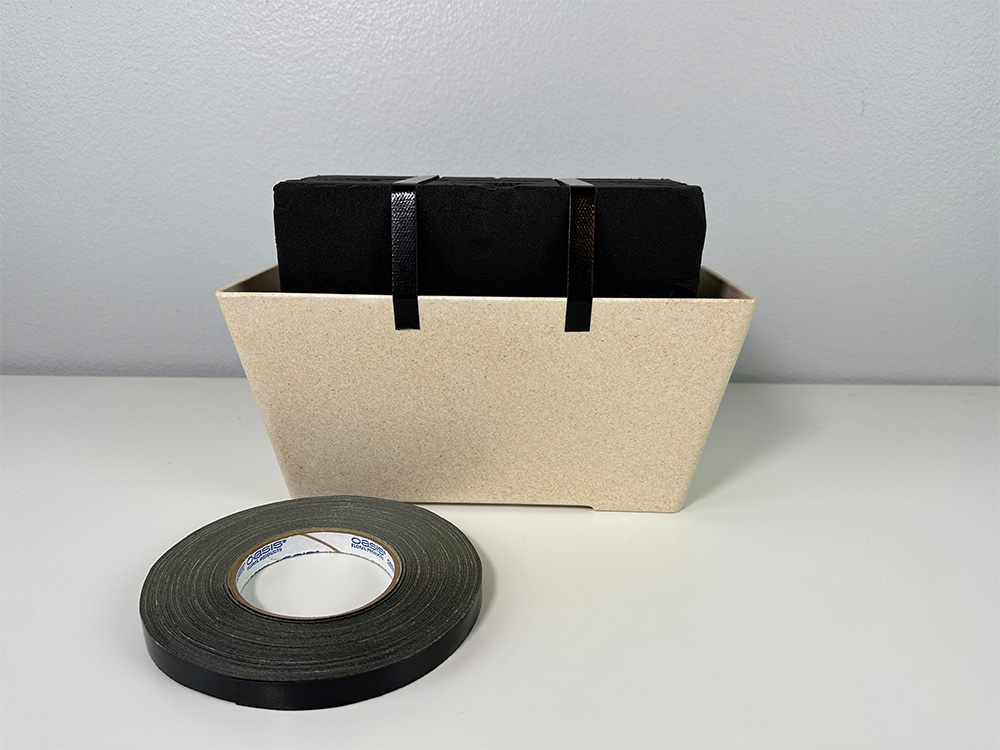 Step 2
Arrange stems of larkspur vertically toward the back of the container, from one end of the container to the other. Next, arrange stems of spray roses low in the design, in a diagonal line from the front to the back of the design. Arrange stems at varying heights, to create depth.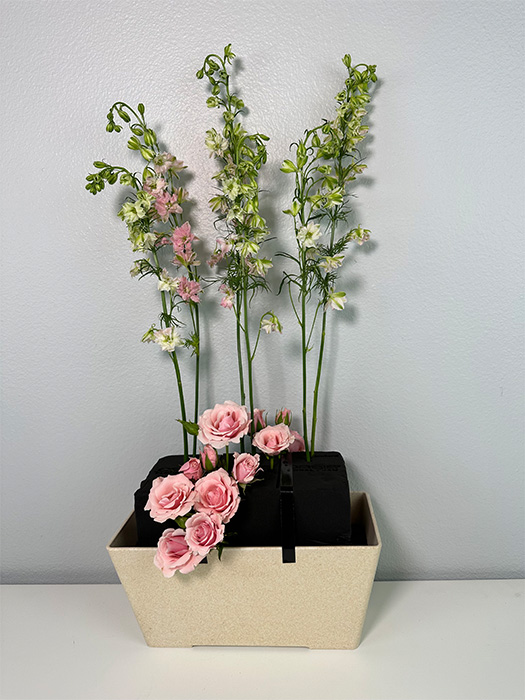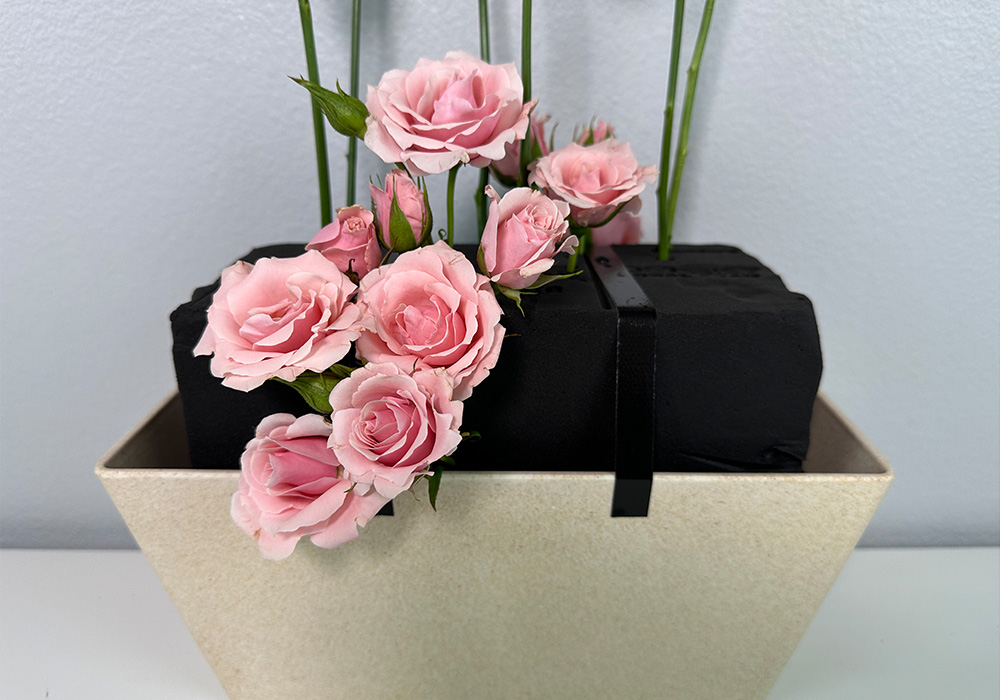 Step 3
Arrange stems of Ranunculus, some low, in the base of the design, and others higher in the design. Leave space between some of the flowers to expose the intriguing black floral foam.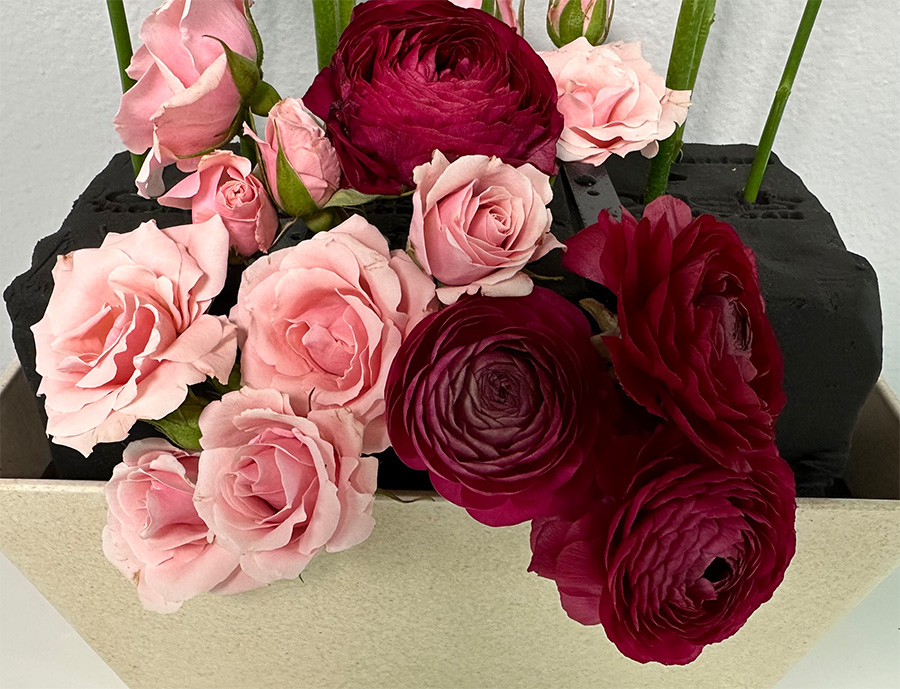 Step 4
Bind three blades of lily grass at their base (1 inch to 2 inches from the ends) with bullion wire. Next, weave the blades of lily grass together with bullion wire, starting at the ends, by weaving the wire over and under alternating blades in a zigzag pattern, until you reach the tips. Finally, bind the tips together with bullion wire. Create two of these components.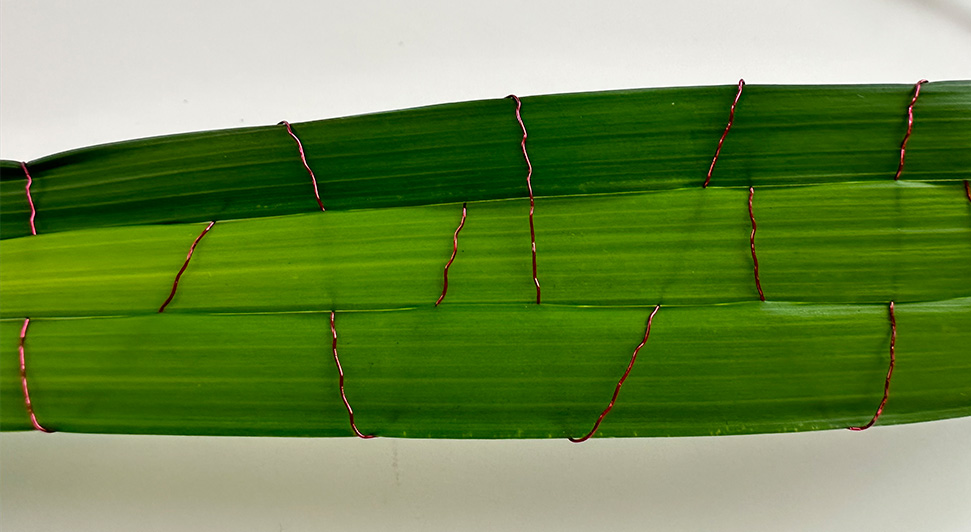 Step 5
Arrange the two woven lily-grass components into the design by inserting the stem ends into the floral foam and wiring small wood picks to the tips.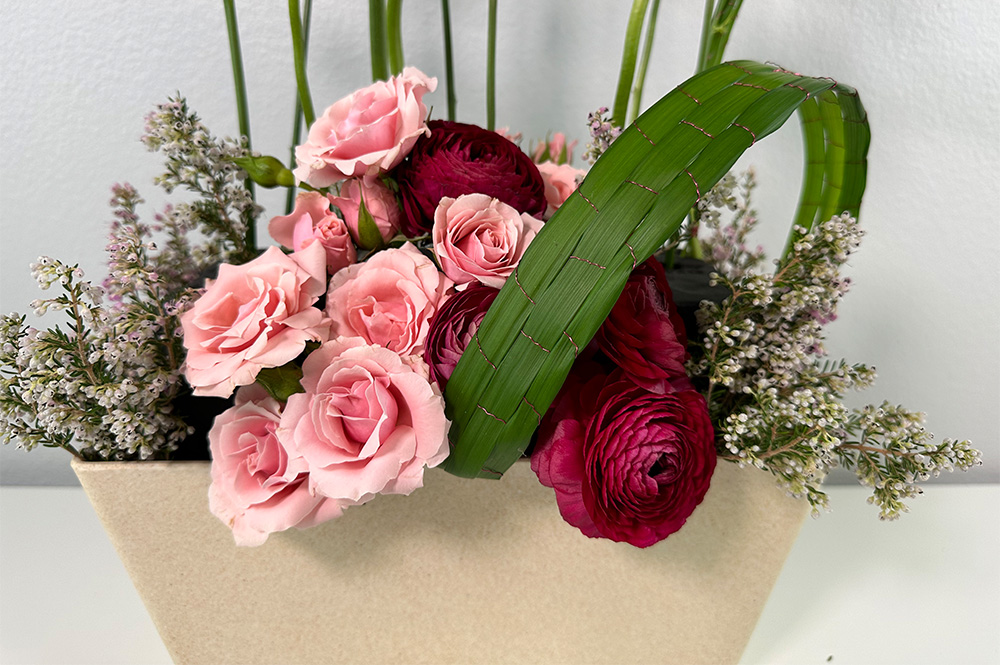 Step 6
Finish the design by arranging stems and sprigs of heather and free-form coils of OASIS™ Aluminum Wire.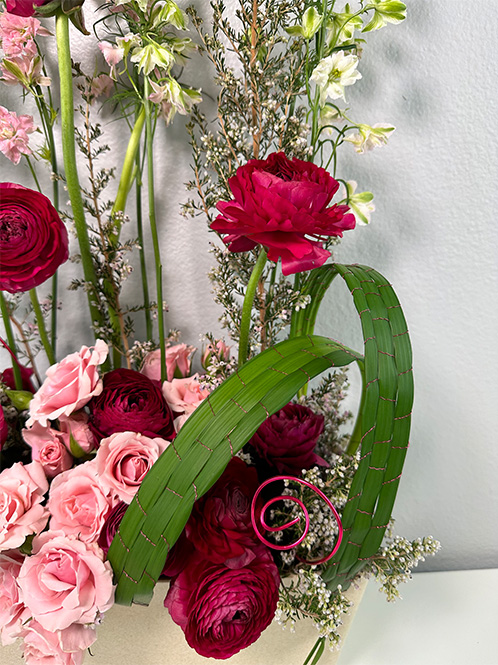 Step 7
Arrange blades of lily grass in an artful manner on the left side of the design, to reflect and balance the woven lily-grass components on the right side.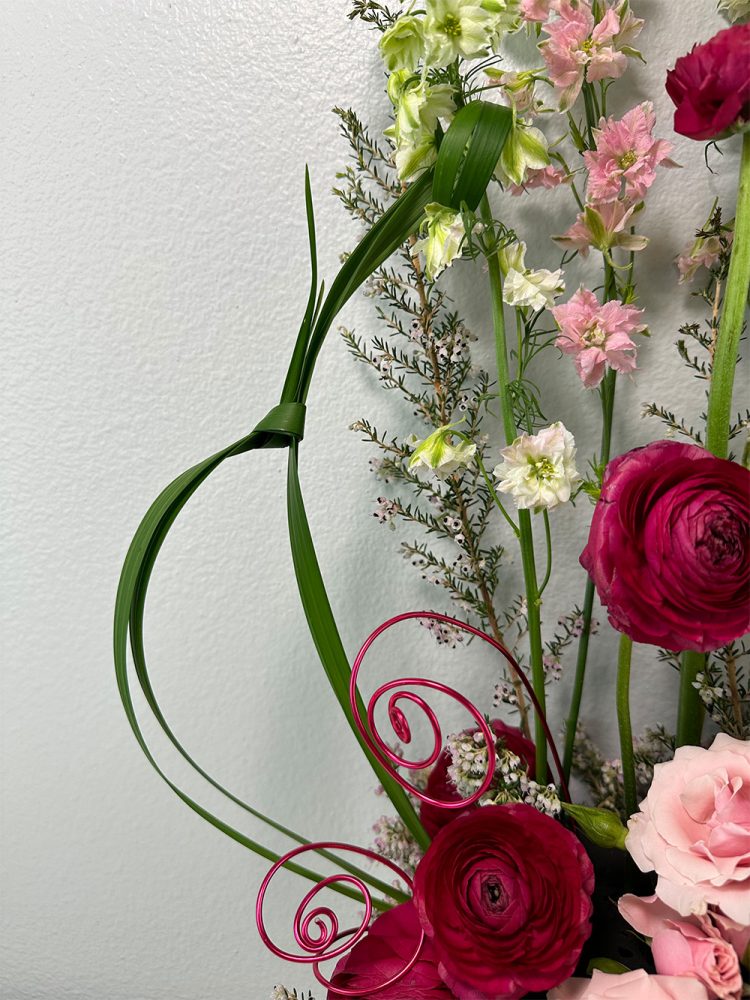 MATERIALS
BOTANICALS
Consolida ajacis/C. ambigua (larkspur, rocket larkspur, doubtful knight's spur)
Rosa spp. (spray rose)
Ranunculus asiaticus (Persian buttercup)
Calluna vulgaris (heather, Scotch heather, ling)
Liriope muscari (lily grass)
HARD GOODS
ECOssentials™ Rectangle Planter (Bamboo)
OASIS® Midnight Floral Foam
OASIS® Midnight Waterproof Tape
OASIS™ Bullion Wire (Red)
OASIS™ Aluminum Wire (Red)
OASIS® UGLU™ Adhesive Dashes
FloraLife® Express Universal 300
Wired wood picks (2.5" or 3")