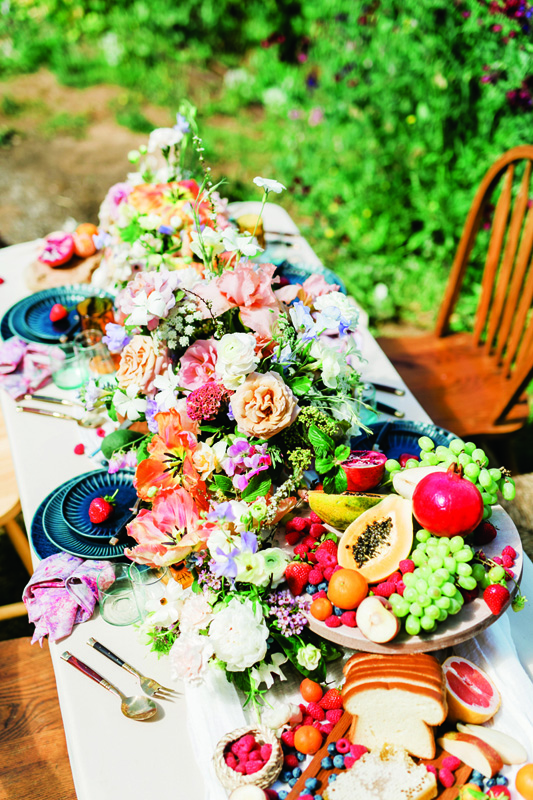 Luscious Summertime Tablescape
Floral design by Gilberto Espinoza Freihoff
Dogwood & Fir; San Diego, Calif.
Photography by Sadi, Whimsie Studios
Text by Ashley Desque
Location: Random Ass Farm; Vista, Calif.
Linens and dinnerware:
The Hostess Haven; San Diego, Calif.
Flowers courtesy of Random Ass Farm
and Mayesh Wholesale Florist
With summertime on the horizon and the challenging year of 2020 in the rear view, many of your customers will soon be planning outdoor gatherings with family and friends. And what could be more perfect for those gatherings than a perfectly crafted "country"-inspired tablescape? Here, we take you, step by step, through Dogwood & Fir's process for creating a most ethereal masterpiece that will surely impress everyone at any client's event.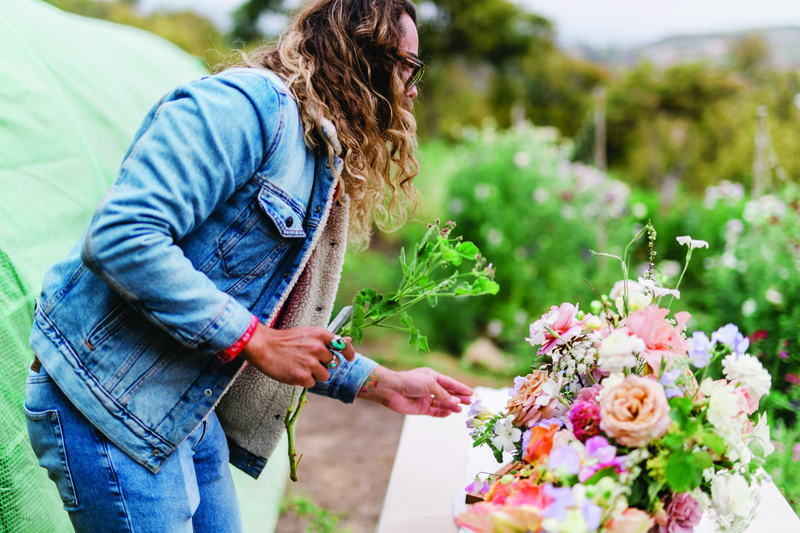 Step 1: Create a mood board. A mood board is a space to conceptualize your ideas with images that will help bring each of your floral design projects together. Gather images that represent your vision and aesthetic to organize your project's inspiration. When creating a mood board, break it down into sections, including a title page with the over- arching theme of the party, event or tablescape; a page for the specific aesthetics you aim to achieve; the color palette; potential flower choices; and the table elements. Such organization is an essential part of the creative process.
Step 2 : Breaking down each of these mood-board sections, begin with the aesthetics because they determine and set the mood and tone for the entire event. You must determine the aesthetics before you can think about colors or buy any product. The aesthetics for this summer- time cottage tablescape are seasonal wildflowers and greenery, fresh farm harvest, cottage/farmhouse, country living, and an overall rustic theme.
Step 3: Once you determine the aesthetics, define a color palette. The palette for this tablescape comprises mauve, pale pink, sky blue, lavender, rustic yellow, brown and white—as well as the "neutral" green hues of the foliages. Selecting the right colors is crucial to achieving the desired experience; they set the ambiance and tone of the table and the event.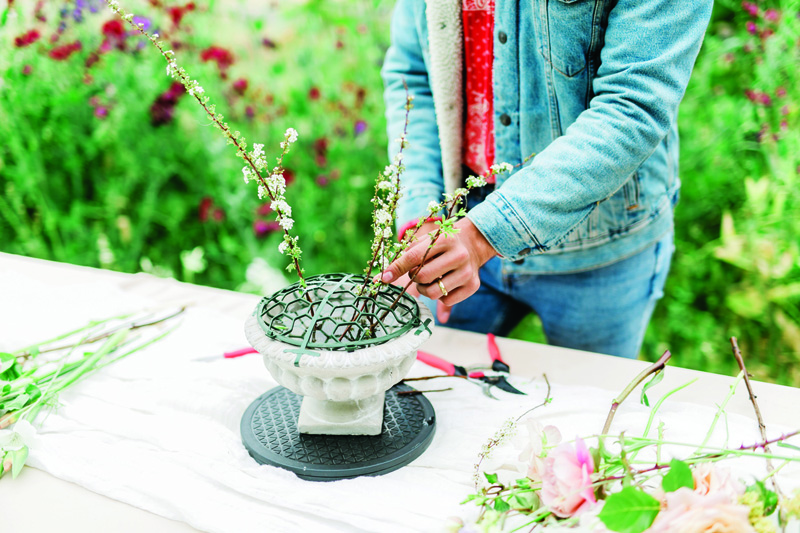 Step 4: Next, select the elements you wish to incorporate into the tablescape. The main attraction of the tablescape will, of course, be the flowers, but be sure to include a variety of elements to give the table textural depth and character. For this tablescape, we chose foods that remind us of an all-natural, country summertime: assorted fruits that complement the chosen color palette, honeycomb, homemade bread, and freshly fetched cheese and eggs.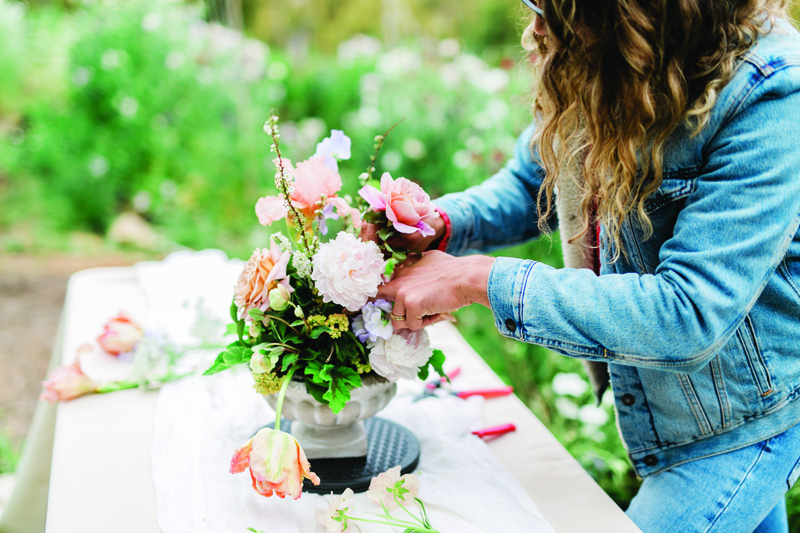 Step 5: Finally, dress the table. We chose an ivory tablecloth and a white gauze table runner to create an unmistakable cottage look, and we added country- styled chairs that one might find on the front porch of a farm home. For the tableware, we chose darker plates with a texture unlike the rest of the elements on the table, to infuse a dose of modernity among the country- inspired colors and aesthetic. The napkins and cutlery provide a beautiful contrast, where antique meets a pink summertime bliss. And last, we chose drinkware to seamlessly transition from the plates to the table- scape with colorful transparency.
By following each of these steps, you can create beautiful tablescapes for any season, occasion or aesthetic!
Materials
BOTANICALS
Rosa 'Koko Loko' (floribunda rose)
Rosa 'Distant Drums' (floribunda rose)
Rosa spp. 'Honey Dijon' (grandiflora rose, hybrid tea rose)
Dianthus caryophyllus 'Putumayo' (carnation)
Tulipa (parrot tulip)
Iris x germanica (bearded fleur-de-lis, German bearded fleur-de-lis)
Narcissus spp. (daffodil)
Paeonia lactiflora 'Duchesse de Nemours' (Chinese peony, garden peony)
Celosia argentea cristata (coxcomb, crested Celosia)
Ranunculus asiaticus (Persian buttercup)
Ranunculus Butterfly™ series (butterfly buttercup, butterfly crowfoot, butterfly Ranunculus)
Freesia
Helleborus orientalis/H. x hybridus (hellebore, Lenten rose)
Agrostemma githago 'Ocean Pearls' (corn cockle)
Lathyrus odoratus (sweet pea)
Tweedia caerulea/Oxypetalum caeruleum (blue-flowered milkweed, blue milkweed, Southern star)
Daucus carota (Queen Anne's lace, wild carrot)
Chamelaucium uncinatum (waxflower, Geraldton waxflower)
Viburnum plicatum 'Mary Milton' (Japanese snowball)
Spiraea (spirea, bridal wreath, meadowsweet)
Pelargonium foliage (scented geranium)
HARD GOODS
The Pillow® (design mechanic) from Syndicate Sales
OASIS® Waterproof Tape (1/4" Green) from Oasis Floral Products/ Smithers-Oasis Company
How to design a cascade-style bouquet with a sustainable approach Floral design, photos, video and text by Beth O'Reilly, AIFD, CFD, TMF Presented by Alexandra Farms Design mechanics for hand-tied cascade-style bouquets can be tricky, especially when taking a...
read more