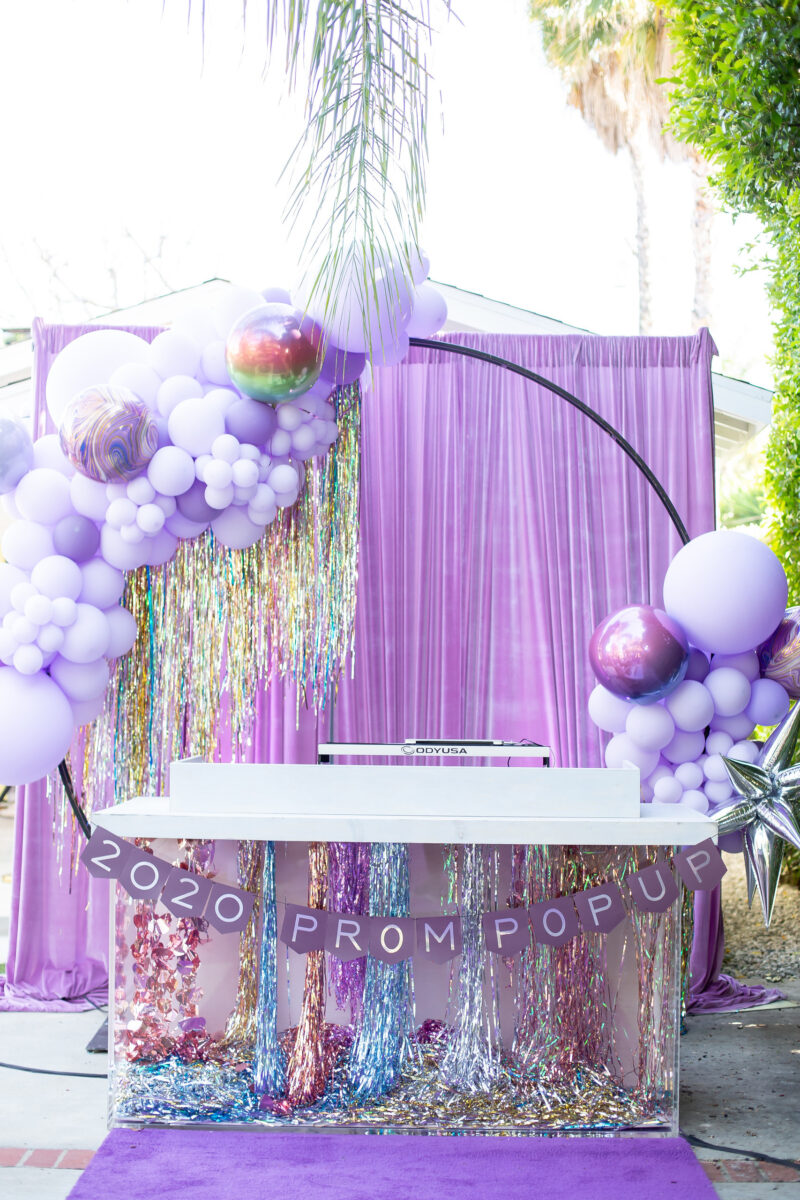 Discover how renowned L.A. event florist Shawna Yamamoto adjusted to 2020 event cancellations and kept revenue flowing   with "Porch Parties." It might be an idea you can use or adapt for your business.
By Jennifer Howard
Is your spring and summer event calendar looking sparse? Optimistic brides and party hosts were hoping spring would return us to the celebration season. But for most of the country, gatherings are still limited, and many exasperated hosts are postponing their events—again. You know your customers are desperate to kick up their heels this summer season; maybe they just need a creative nudge. Here's a quick-turn idea to get your imagination started. Let's give those soirée-loving clients something to get excited about!
Photos by Maya Myers Photography
Porch Parties
Shawna Yamamoto, of Shawna Yamamoto Event Design in Brea, Calif., usually has a full calendar of luxury corporate events and glamorous A-list celebrity bashes dotting her calendar. But COVID-19 spared her no grace last year. To keep her team busy and business afloat, she launched "Porch Parties" as a new socially distanced service for her party-enthused clients.
Yamamoto's over-the-top outdoor home events caught on with clients and the local media. Her Porch Parties now represent at least 50 percent of her current revenue. It's not a perfect solution or ideal for every florist, but read on to see which elements you can extract and apply in your business.
Party On
"People think it's great," Yamamoto reports. "They feel like they can still have a party and do something meaningful to celebrate with their family and friends." She launched the Porch Party idea by hosting and promoting her own "Grads at the Pad" event in 2020. It was a social media hit. Her outdoor events are bringing Hollywood-set-quality design to her clients' front porches, backyards and driveways, for Instagrammable photos.
Tap Your Entire Network
Yamamoto's Porch Party events are a combination of design genius and collaboration. Yamamoto teams up with her partners in related industries to add creative lighting, photography, music, outrageous entertainment and goodie boxes to her larger-than-life spaces.
"We try to include all of our 'friendors' [other vendors with whom she regularly works] to make amazing events for our discerning client base," she shares. "It benefits everyone." Her team has created home-based party magic for milestone birthdays, anniversaries, quinceañeras, graduations and prom pop-ups across Orange County.
Safety First
While many clients are initially wary of event-host backlash, Yamamoto's team prioritizes the safety and welfare of event attendees and her team. "Once clients see how it works, they are delighted. Porch Parties are a cool new experience for them, and they don't have to miss a celebration," she notes.
But Yamamoto has found that home event safety requires new thinking. "We keep the same team on a job from start to finish," she explains. "We reduce exposure by limiting the number of people in the studio and on site. That way, if there
is a problem, it's isolated." She also requests that clients limit additional vendors or, at least, schedule them for setup hours that are separate from her team. More personal space is always better.
She's even found that safety can lead to special surprises and client add-ons. "We've started offering custom-themed attendee masks, playfully orchestrated hand sanitizers, and even stylized signs for the party attendance rules," Yamamoto says.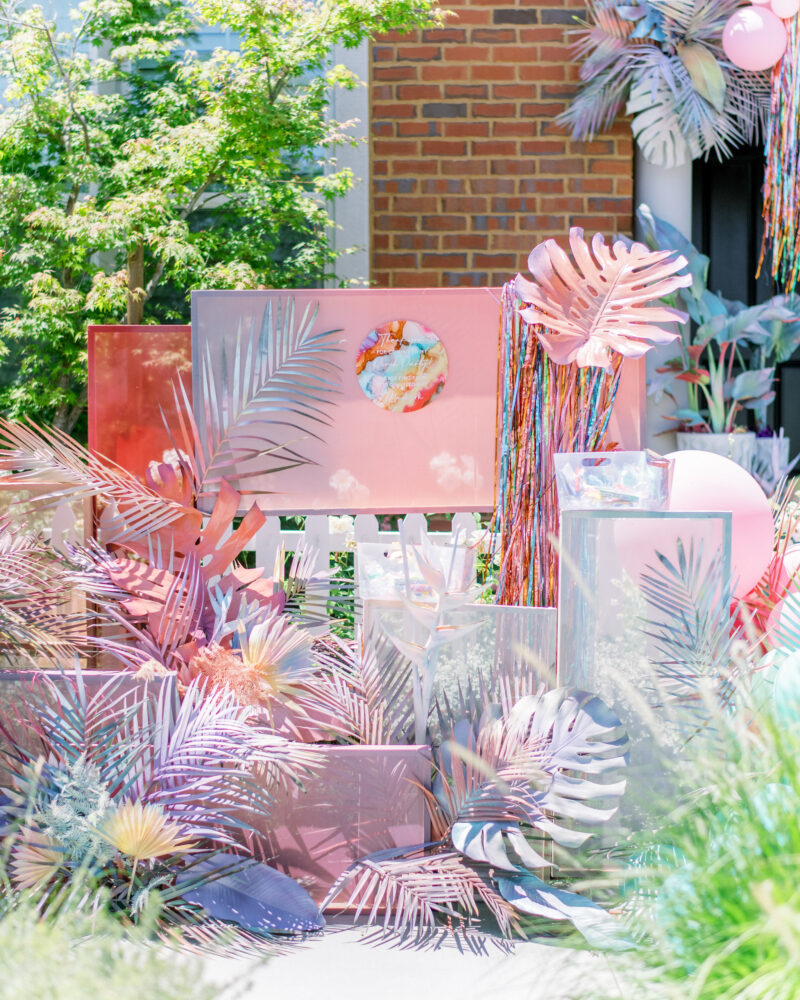 Pop-up Party Essential Elements
Directional signage turns out to be critical, Yamamoto points out. "Most people are happy to honor the hosts' requests
for traffic flow, parking, masks, personal spacing and hand washing. But they have to know how to comply. Everyone's expectations are different." Yamamoto emphasizes that party rules should be clearly posted at various locations for everyone's enjoyment.
The other essential element is the backdrop. "Don't spread your money too thinly," Yamamoto advises. "Go big on the backdrop; make it the focal point. Then you'll get some truly Pinterest-worthy photos for referrals!"
She also delights clients with special surprises like goodie boxes. "Everyone wants a piece of a party to take home. If you make it memorable, they want to keep it," Yamamoto adds.
Contract Changes and Profitability
Quick-turn events like Yamamoto's Porch Parties still require a contract similar to large-scale on-site events, with one exception—payment in full, in advance, she says.
"Educate your customers," Yamamoto advises. "The design and décor have to be flexible these days. In L.A., balloons are sold out. Flowers are accessible but limited. We increasingly rely on painted greenery and dried florals. Often these items can be reused, making our work more profitable."
But it's important to have the funds and flexibility to use what works. She also recommends examining your inventory and pulling from it as much as possible. Reusable usually means more profitable.
Challenges to Consider
As with any onsite work, the location and weather are wild cards. "Unexpected slopes and divots can wreak havoc on your design. Scout the specific area whenever possible," Yamamoto suggests.
She also cautions about the impact of weather, particularly temperature and sun exposure, to design elements. "You have to watch inflatables, fresh flowers and painted items. They can go bad fast."
Package Your Parties to Sell
It's tempting to offer everyone fully customizable events. Many designers stake their businesses on creative client collaboration. But smaller events can mean smaller budgets. Straying into too many offers can dent your profitability on small-scale jobs. Yamamoto recommends promoting clearly defined packages.
"Offer maybe three options: one with just a backdrop, then add-ons for balloons, flowers or other services. Use templates, and stick to your packages. Deviating gets expensive,"she assures.
Yamamoto admits that Porch Parties aren't a long-term play for her business. "It's not really sustainable for my business's overhead," she informs. "But I can see the potential for a boutique florist in a smaller market." (See our sidebar on the opposite page for ideas on how to adapt or modify the Porch Party event idea for your business's needs.)
The Perks of Pop-ups
Adding a mobile or small-scale event option can benefit your business and also your community. You are building goodwill by offering your clients a joyful respite from mundane pandemic life. And getting your team back out into the community will boost your visibility, hopefully seeding near and long-term referrals.
But the obvious business benefit is cash flow. If your calendar is feeling lonely this spring, think through the possibilities for Porch Parties or similar quick-turn events in your area. Let's schedule some must-have celebrations in 2021 to start the revelry and money flowing again!
More Quick Money Idea$
Porch Parties are just one way to create quick money-making pop-up events. Here are some other thought starters you can tailor to your business capabilities and market demands. Maybe these ideas will inspire you to dream up one on your own!
CREATE IT
Design a prefab, reusable pop-up photo site for drive- through at home events (graduations, proms, baby or wedding showers, retirement parties or birthday parties). Consider mocking one up to promote on your website and social platforms.
Create a highly visible traffic pattern for cars and
Communicate clear rules on attendance (hand washing, distancing, masks, event timing), and display them
FIND A VENUE
Partner with a retail outlet like a restaurant, garden center, pet salon, or popular boutique or café that already has traffic and some event infrastructure, like parking or outdoor
Draw foot traffic to your own storefront with holiday- scheduled pop-up selfie spots indoors or Turn it into an Instagram Live party spot. Then post a schedule for upcoming events.
Partner with groups, nonprofits, school PTAs or public venues to boost approved event
MARKET IT
Sell tickets online for predetermined time slots via TicketSource, Square, Ticketleap or Eventbrite, and integrate sales into social media Or, at least, require sign-up slots on SignUpGenius or other free platforms.
Sell event tickets (with add-on options) as a gift option, with an announcement
Think about the range of seasonal celebratory events that a pop-up party could support: proms, graduations, Mother's Day, Halloween and holiday festivals or light
Find ways to expand general celebrations like birthdays, anniversaries, pet portraits, with monthly seasonal displays.
Offer a donation percentage or add-on donation for a relevant charitable
UPSELL
Offer add-on purchases: corsages; take-home bouquets; wine or champagne; professional photo packages; seasonal treat bags; bath/spa gift baskets; and/or photo-printed gifts like mugs, printed wood or etched
Work with your retail partner(s) to offer packages that include dinner, flowers and a professional photo for special events (proms, Mother's Day, ). Make any day special with a selfie spot at a popular take-out place before a broadcast event (such as Academy Award night or local sporting event).
Offer photo spots as a memorable add-on to micro Coordinate with the event photographer to incorporate the guest photos into the wedding album.

Tips for responding to comments posted about your business—both good and bad reviews By Andrew Joseph According to no less an authority on not being ignored, famed author and bon vivant Oscar Wilde once said, "There's only one thing in the world worse than being...
read more