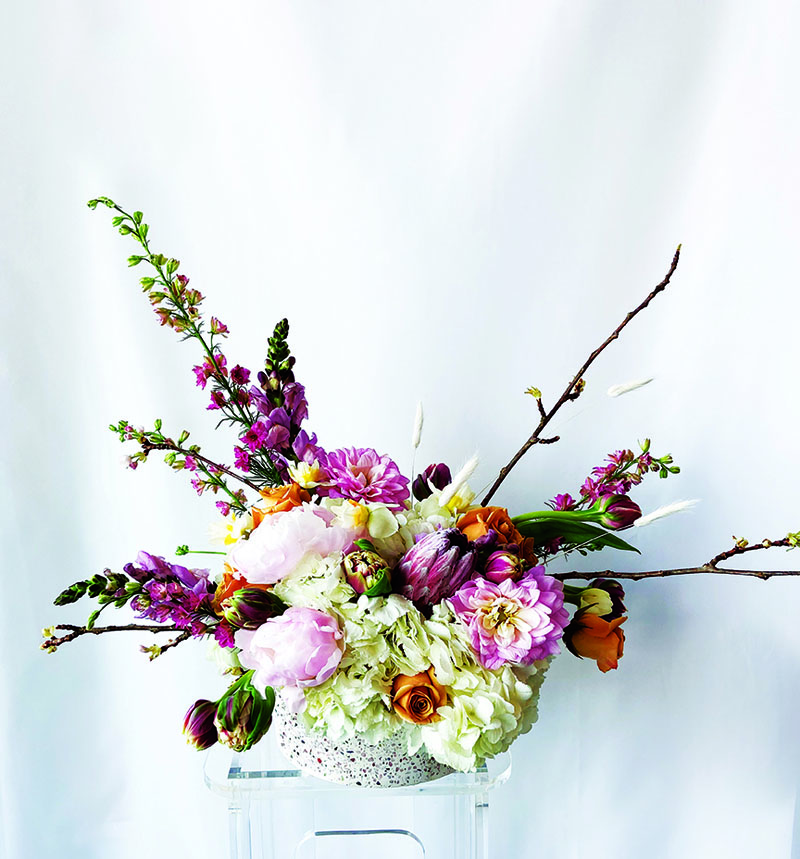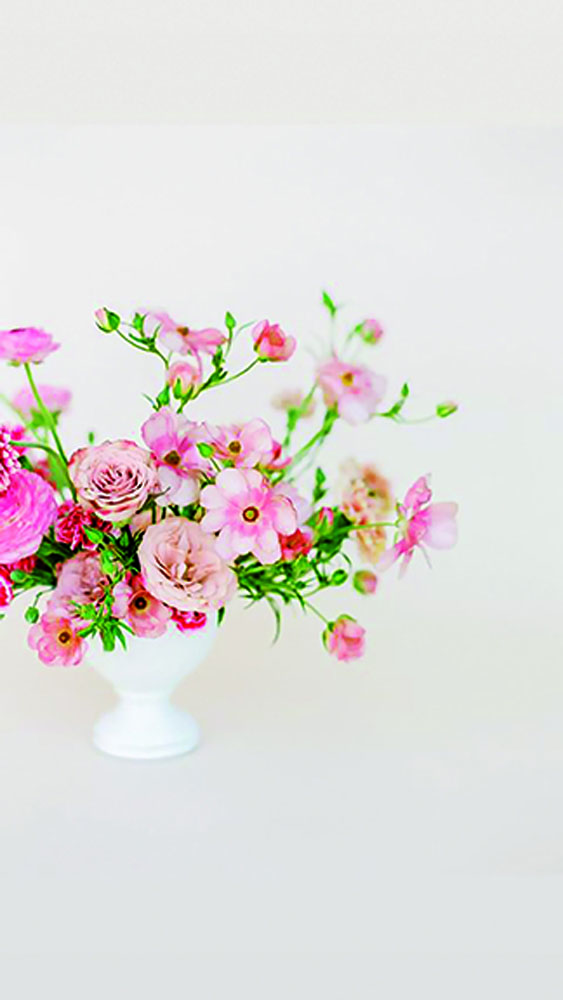 Only the Best Blooms for Mom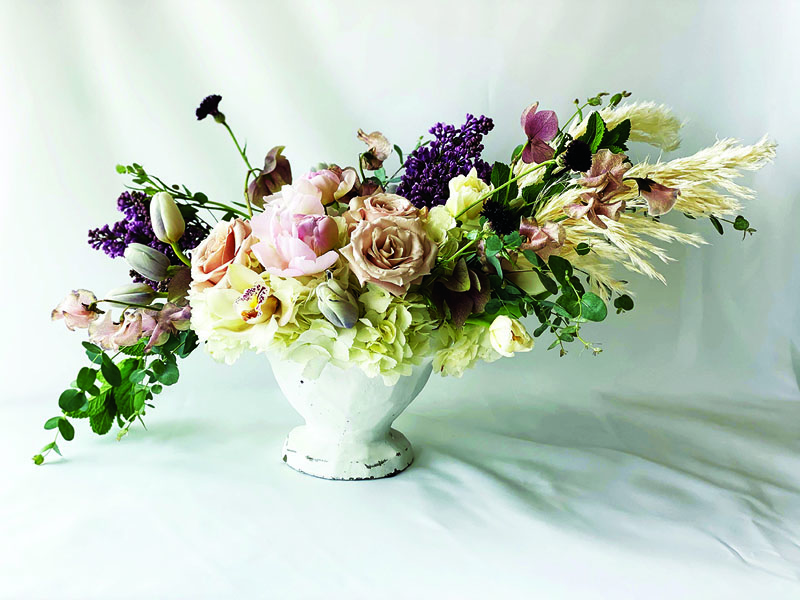 Article by Kat Castagnoli, AIFD, CFD, CCF
Designs by Jaime Webber, The Floral Bar, Texas
Anna Day, AIFD, CFD, Anna Day Designs, Arizona
Alex Nutting, Aesme Floral Studio, London
Katya Rusin, Lavka Flowers, New York
Jen Lagedrost Cavender, NECTAR + BLOOM, California
Mother's Day has long been considered the Super Bowl of the floral industry, and this year looks to be no different. The array of flowers, stylings and arrangements offered are as unique as each of the moms who are being celebrated. And whether customers prefer vase arrangements or hand-tied bouquets; soft, muted colors or bright, vivid tones; delicate blooms or hearty tropicals, these Mother's Day inspirations, from floral designers from across the U.S. and even across the pond, offer options to make any mom swoon on her special day.
Jaime Webber is the "forerunner of all designs" and owner of Roanoke, Texas-based The Floral Bar, a community-based flower shop specializing in weekly arrangements; weddings; and intimate floral design workshops—or, as Webber calls them, monthly "craft nights," with wine, flowers and friends. Webber brings 23 years of experience in creating with color and texture, which is aptly seen in these sophisticated designs featuring muted tones with natural pampas grass and white Hydrangea, with subtle pops of colored roses, peonies, Cymbidium orchids and other boutique blooms.
Top: By NECTOR + BLOOM photography by Stetten Wilson Photography
Left: By The Floral Bar
Below Left: Jaime Webber, The Floral Bar
Below Right Top & Bottom: Lavka Flowers photography by Katya Rusin
Layered Dress Trend
For brides on the hunt for a dress with some added flair but who don't want the hassle of an extra-full skirt or long train, Brown says to look no further than a gown with a layered skirt. This style adds volume and dimension—without the weight—to a ball gown or A-line silhouette.
CeCe Designs and Events - Birmingham, Ala. @cecedesignsllc | Photography by Arden Upton
Layered Dress Bouquet
The layered dress selected has a very romantic feel, which led me to select a soft color palette that includes blush hues, mauves and whites. The textural varieties of flowers, specifically the powdery pink Cloni Success 'Hanoi' Italian Ranunculus and the Helleborus, complement the romantic layered feel of the gown. Each dress should represent the personality of the bride selecting it, and each bouquet should complement the stature of the bride and allow her to shine. —Owner CeCe Todd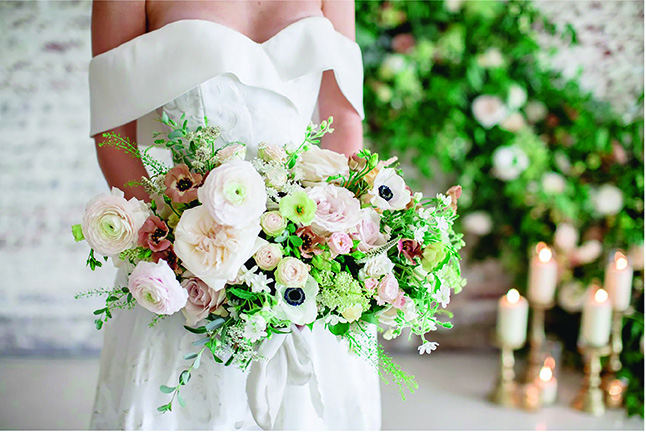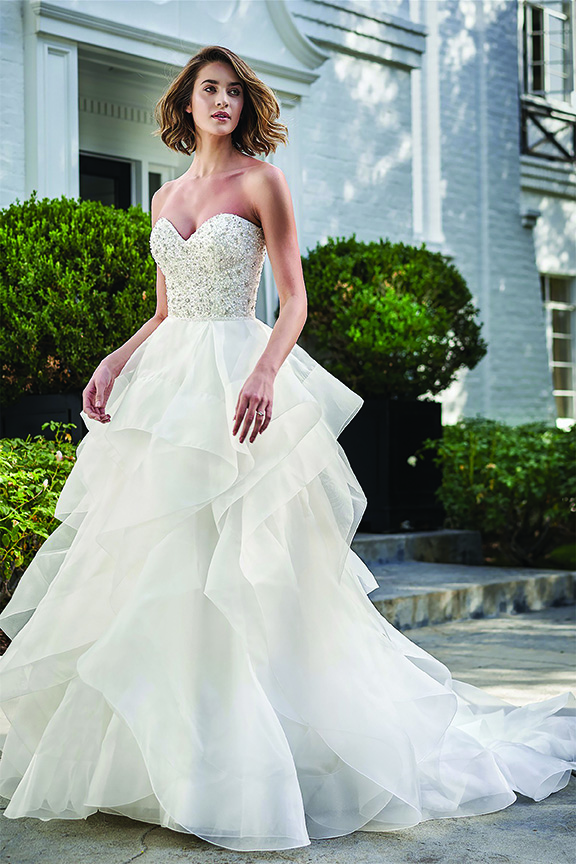 Jumpsuit Trend
These sleek dress alternatives are comfortable, figure flattering and totally of the moment, according to Brown. Bonus—it's basically impossible to put on one of these tailored ensembles and not feel like a badass. For this year, all-over lace, detachable sleeves and shimmery fabric gives the classic white jumpsuit a modern update.
Blooms & Twine Floral Design – Portland, Ore. @bloomsandtwinefloral
Photography by Widman Photography
Jumpsuit Belt
Every time a new bridal fashion style comes into popularity, I do a little happy dance. Many to-be-weds find that traditional formalwear offerings don't mesh with their personal styles or gender presentations, so I absolutely adore this year's stylish
jumpsuit options. This bouquet has nontraditional elements and styling, as well as a fun and whimsical ombré color progression. For jumpsuit wearers who want something other than bouquets, I've done floral belts, earrings, fascinators, hat pins and lapel pieces. The options are endless when you think creatively.
—Owner Katie Watkins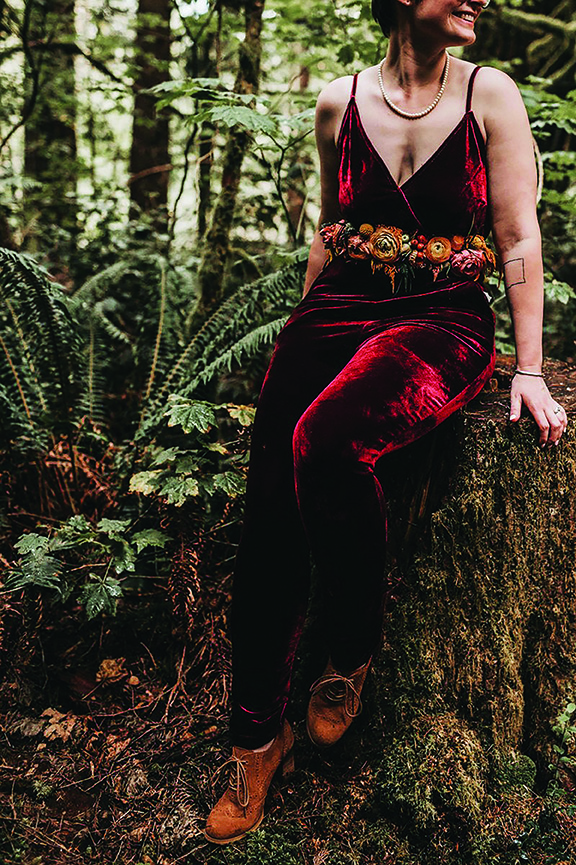 Cape Dress Trend
No veil? No problem. Brown says that not only do capes, or cape veils, offer the same benefits of traditional veils—visual interest, extra coverage and an optional train—but they're also an effortless way to kick up a bride's style a notch. Brides can go minimalist with a sheer cape or bring the drama with a beaded or printed one.
Lee Floral Design – Livonia, Mich. @leefloraldesign
Photography by Megan Jerndt Photography
Cape Bouquet
I chose a modern/boho aesthetic for this bouquet. It features Anthurium, various rose varieties, sweet peas, Ranunculus and dried botanicals. The cape, adorned with embroidered stars and moons, has a soft celestial feel, so I chose sweet peas and Ranunculus to play into this softness while the dried palm spears and Anthurium create harsh lines to curate interest. I opted for a neutral color palette filled with blushes, taupes, whites and ivories, which allowed a creamy look and feel without competing with this cape and dress.
—Owner Brandi Higginbotham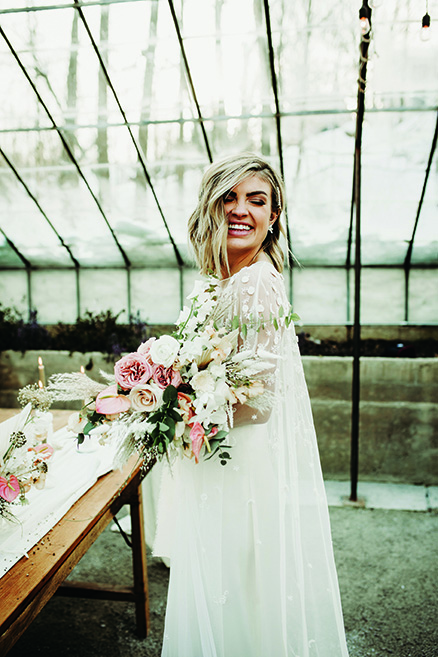 Crêpe Dress Trend
Brown says this trend is for all the modern brides out there. Clean and unapologetically minimalist crêpe looks took over the runways this year. A silk, wool or synthetic fabric with a lightly crinkled, crimped, bumpy or grained appearance, crêpe is structured but also light enough to work for any season. Brown says for those wanting a more ornate look, a crêpe skirt or trousers balance out a heavily embellished bodice or sleeves.
Jessica Logan Designs – New York City, N.Y. @jessica.logan.designs
Photography courtesy of Jessica Logan Designs
Crêpe Dress Bouquet
I absolutely love a modern bride who chooses a minimalist crêpe gown. This type of bride is looking for an architectural bouquet with a clean and airy design. When designing minimally, I like to keep the bouquet to only three or four types of flowers and focus only on flowers, with no foliage.
This gives each individual flower a moment to shine and creates that perfect minimal and airy look. For this bouquet, I chose yellow sweet peas as a base, orange 'Charlotte' Japanese Ranunculus as the star flowers, yellow 'Morocco Melilla' Japanese Ranunculus and white 'Geranium' Narcissus with orange cups. —Jessica Logan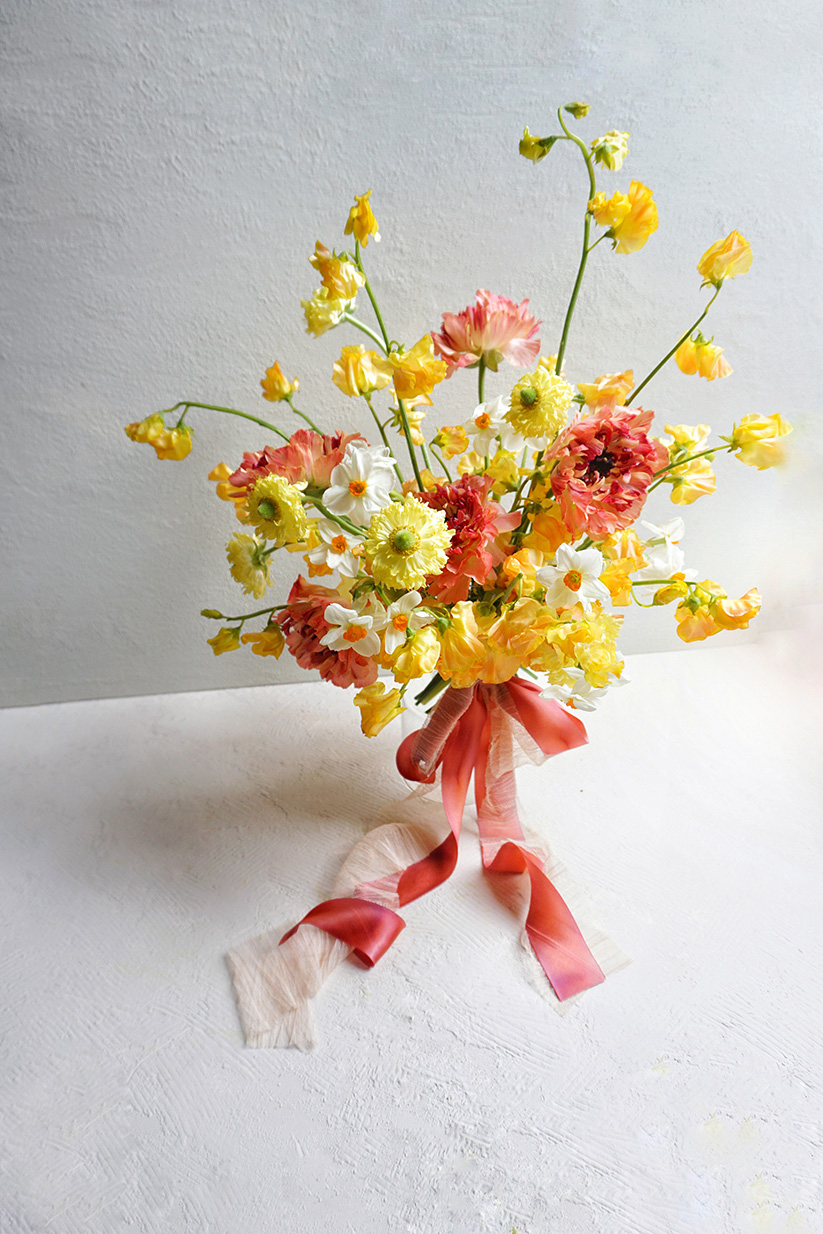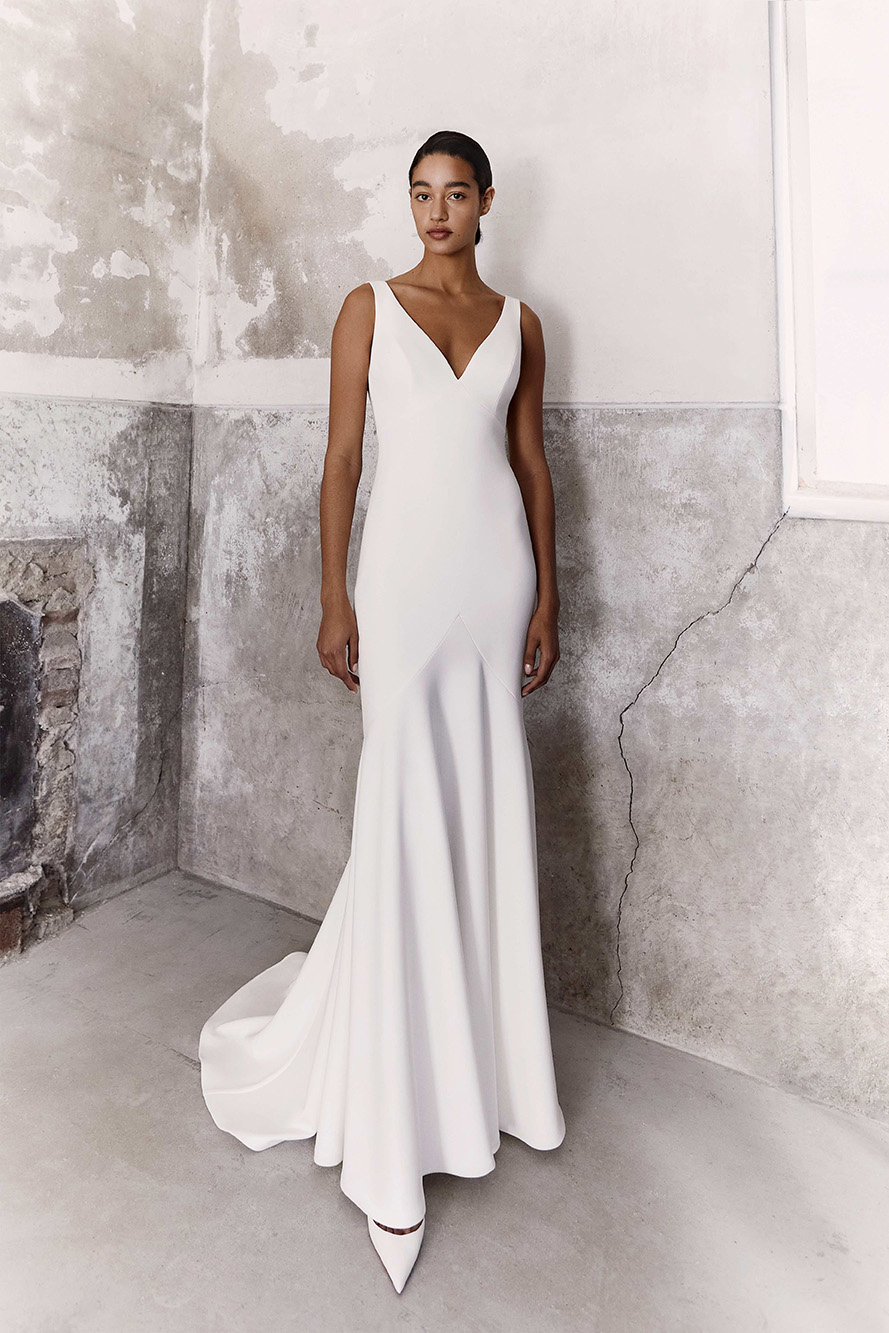 Short Dress Trend
For COVID brides planning a "minimony," Zoom wedding or elope- ment—or just looking for a good excuse to show off a killer pair of shoes—this bridal trend is ideal, according to Brown. Even if a bride opts for a long gown for the ceremony, a short dress can be perfect for a lively reception or other wedding-related events like a rehearsal dinner, bridal shower or day-after post-wedding brunch.
Rosaspina Floral & Event Design - Montclair N.J. rosaspinafloral.com |   @rosaspinafloral Photography by Diana and Korey Photo and Film
Short Dress Bouquet
Short dresses are fun and free spirited, so for them, I created this smaller-scale, wildflower-inspired   bouquet. It is abundant with texture for a look that is carefree yet elegant. The compact design won't overpower a shorter dress, and the tailored style of this bouquet is free spirited yet sophisticated, thanks to lush premium blooms paired with usually more loosely gathered wildflowers.
The sunflowers are bright and fun, and they evoke a warm summer vibe that goes perfectly with any short dress style. Its vibrant and playful combination of unique and contrasting florals packs a punch, despite its small size.
—Owner Lindsey L. Vandevier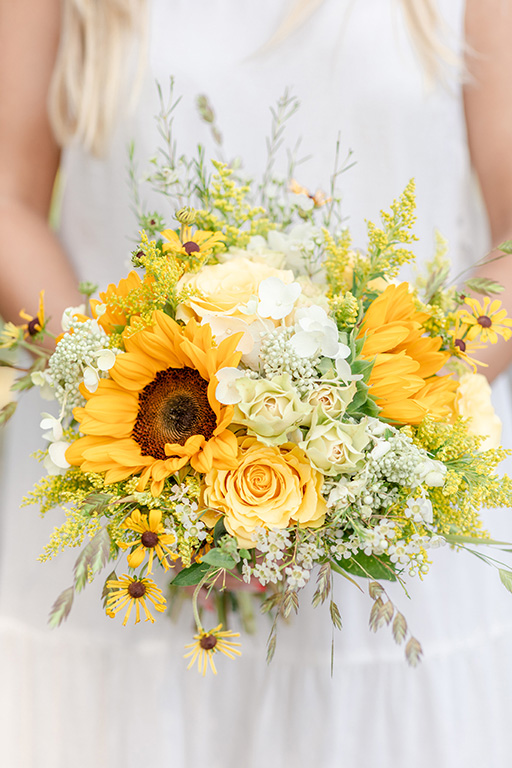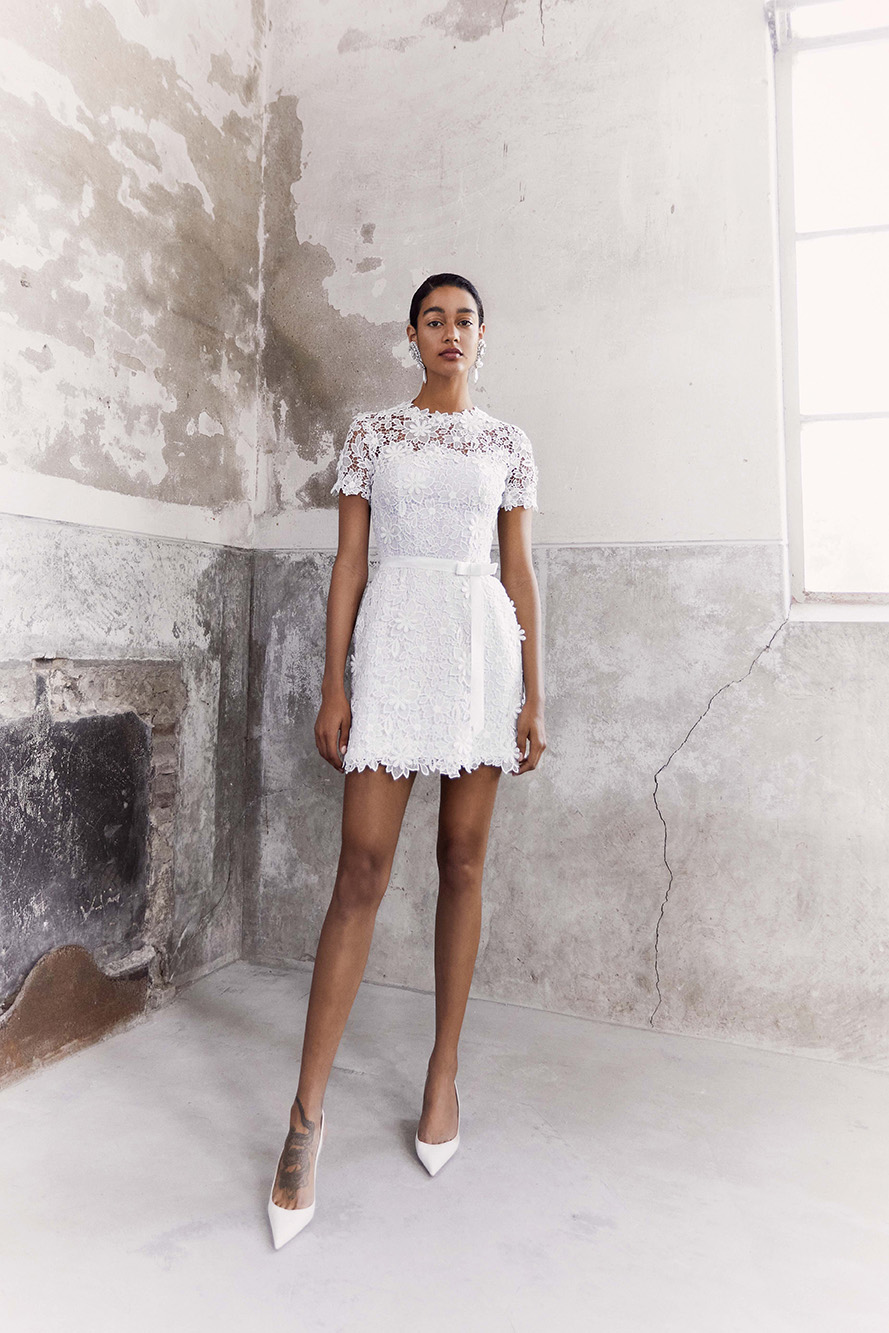 Subtle Sparkle Trend
While glitz is nothing new in wedding gowns, Brown says that the bridal fashion runways this season were all about understated shimmer in the form of glitter tulle and tonal sequins and beading versus over-the- top metallic bling of seasons past. Perfect for evening nuptials, she says this trend adds an ethereal touch to any silhouette.
Eden's Echo Floral Design & Event Styling San Antonio, Texas | @edensecho Photography by Monica Roberts Photography
Subtle Sparkle Bouquet
Subtle sparkle in a gown begs for subtle shine in a bouquet. A heavily bejeweled bouquet would clash with any soft glitter
or subdued sequins seen in a lot of hot new gown designs for 2021. I love the holographic Anthurium trend, and this over-the-top modern fantasy bouquet has just enough to add a touch of shine to complement a gown featuring subtle sparkle. —Owner Erin McLarty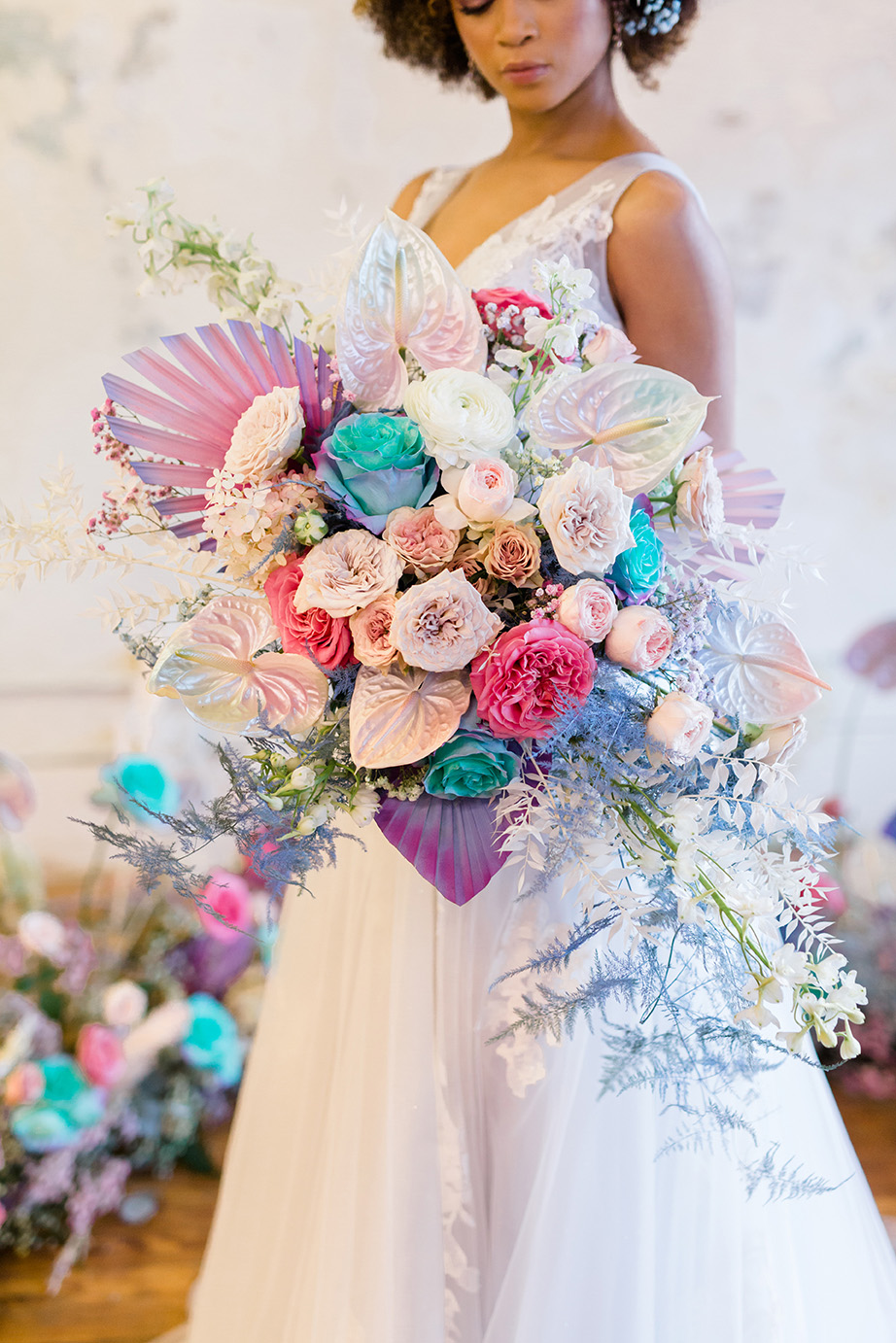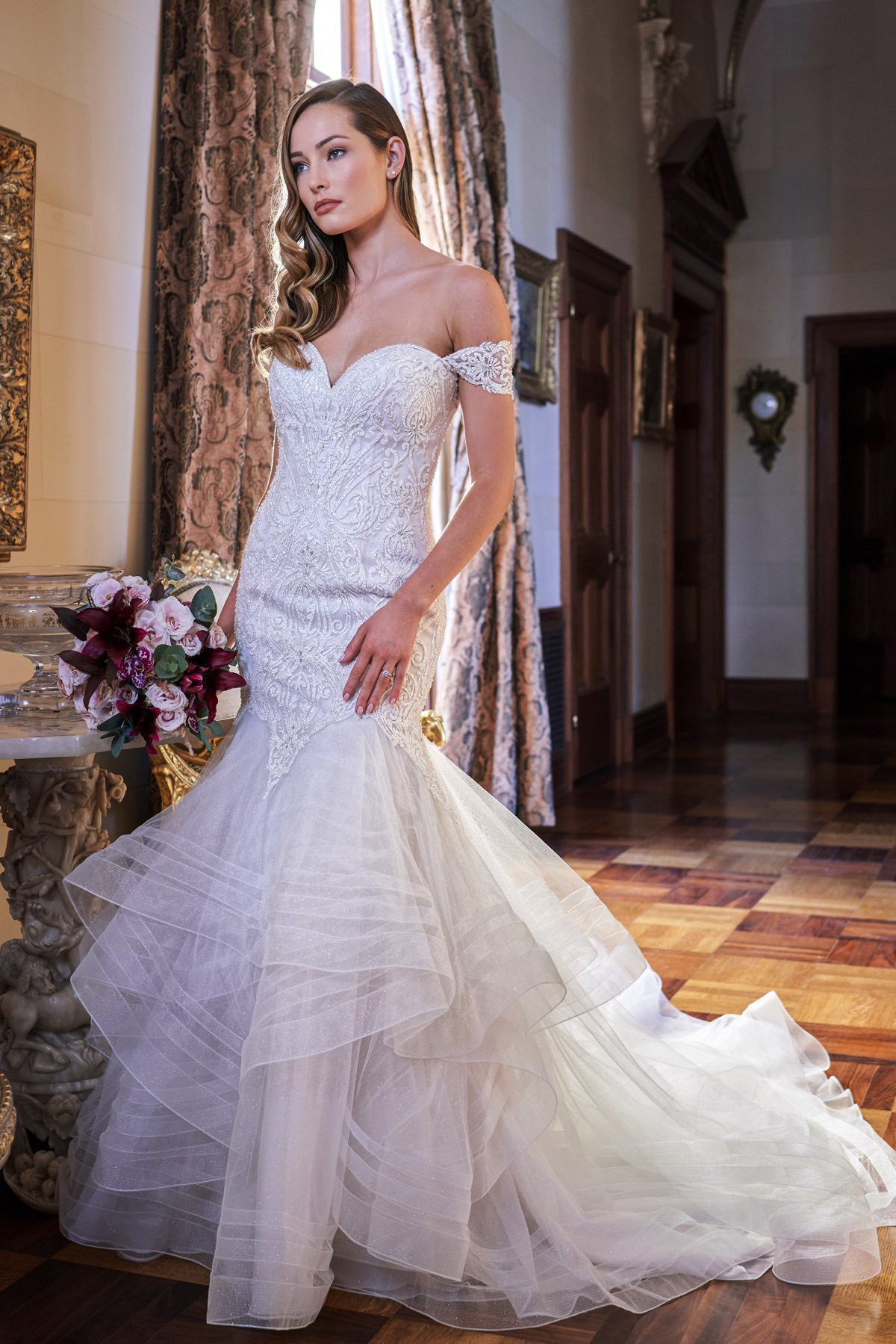 Anna Day, AIFD, CFD, is a talented freelance floral designer and owner of Anna Day Designs, in Mesa, Ariz. Her bold arrangements, exclusively created in containers from Accent Décor, feature hot-pink-tinted fan palms and colorful lines created with Midollino Sticks sheltering king Protea and pincushions, along with garden roses in a range of pink hues, Cymbidium orchids, Anthurium and hybrid lilies.
Aesme Studio was founded in 2015 by sisters Alex Nutting and Jess Lister. The London, England-based gardener-florists grow their own flowers on a farm in Hampshire using organic methods, believing that flowers grown locally and naturally are infinitely more beautiful and interesting than those that are mass produced or chemically enhanced.
Thus, the light and airy designs in delicate whites and yellows featured here are all seasonal flowers that are organically grown, including Narcissus, Ranunculus, Anemone, Fritillaria, Allium, Prunus, Forsythia, Spiraea and tulips, according to Nutting. Brooklyn, N.Y.-based Lavka Flowers was established by Katya Rusin, who hails originally from Belarus. This talented designer, who has been in the floral business for more than a decade, is most inspired by art and the visual quality that connects people. She strives to translate this through the use of color to transform individual flowers into a collective whole in her designs. As seen in this selection of modern arrangements and hand-tied bouquets, there is an artistic quality in every design and a distinctive accent, from fish-eye vases and honeysuckle wreaths to hat and wine boxes.
NECTAR + BLOOM is a poetically spirited, fine-art floral design studio based in San Diego, Calif., directed and owned by Jen Lagedrost Cavender, a published poet and former professor of composition, literature and creative writing. NECTAR + BLOOM was born from Cavender's desire to bring together her passion for the power of language and storytelling with the multi-sensory and inspirational medium of flowers.
The arrangements she shares here show a variety of soft, cheerful, energetic, graceful, vivid, robust, peaceful and endearing moods, which range in color from rich corals and soft blushes to vibrant crimsons and joyous yellows. As a floral artist, Cavender likes to move the color story in a harmonious manner, blending from color to color for a soothing and aesthetically pleasing effect.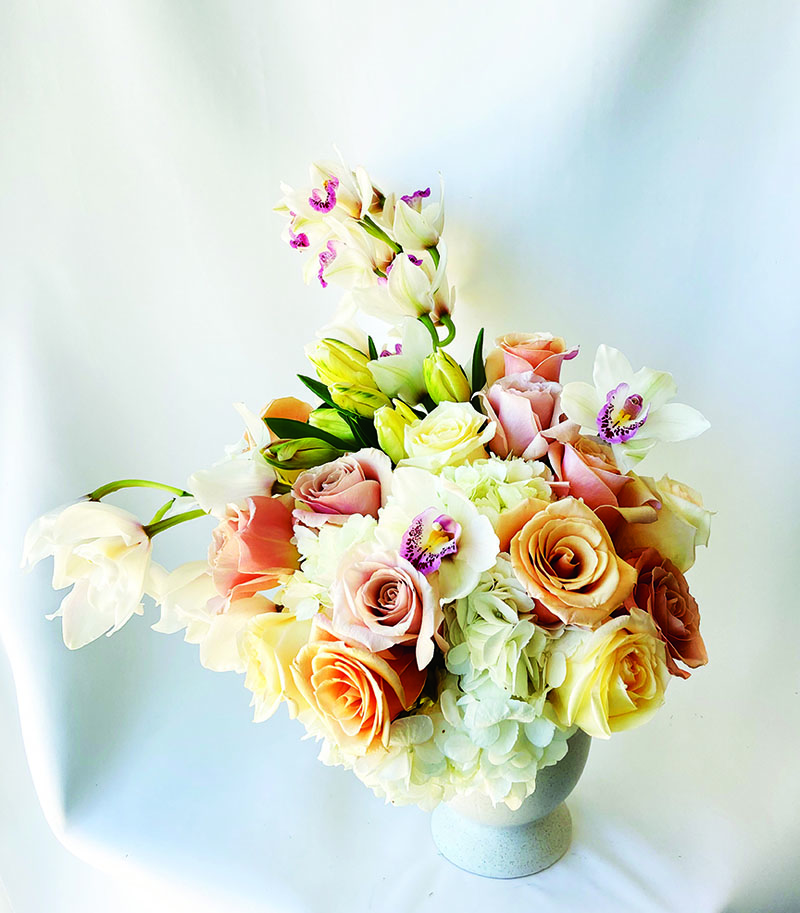 Top: Aesme Studio
Bottom: Anna Day Designs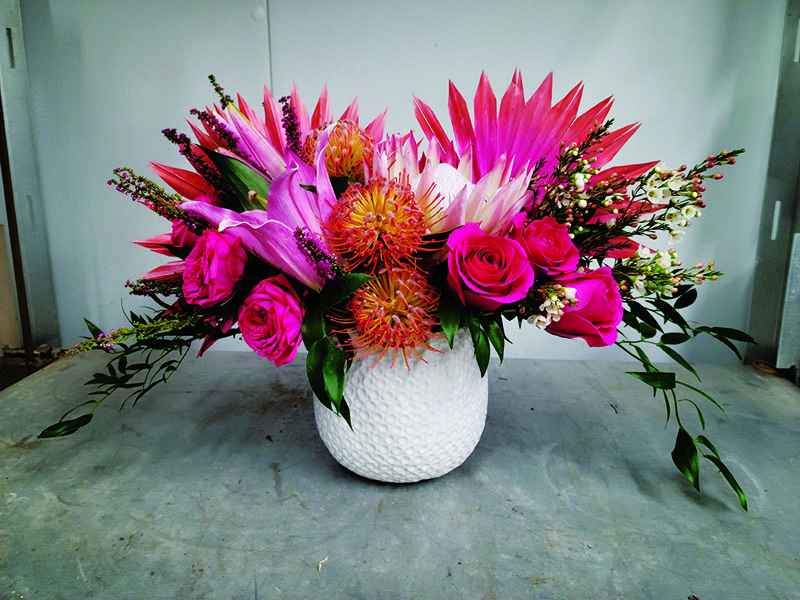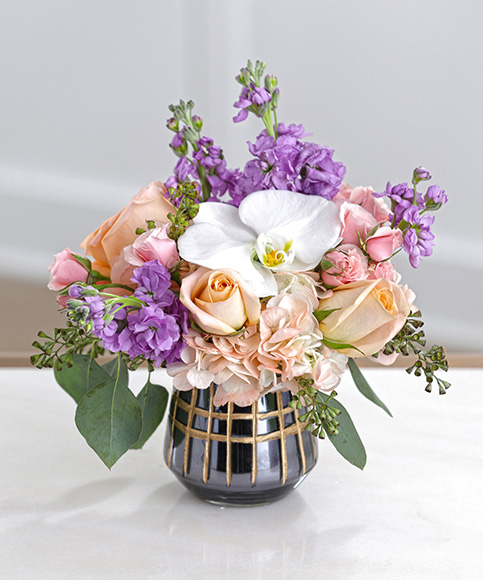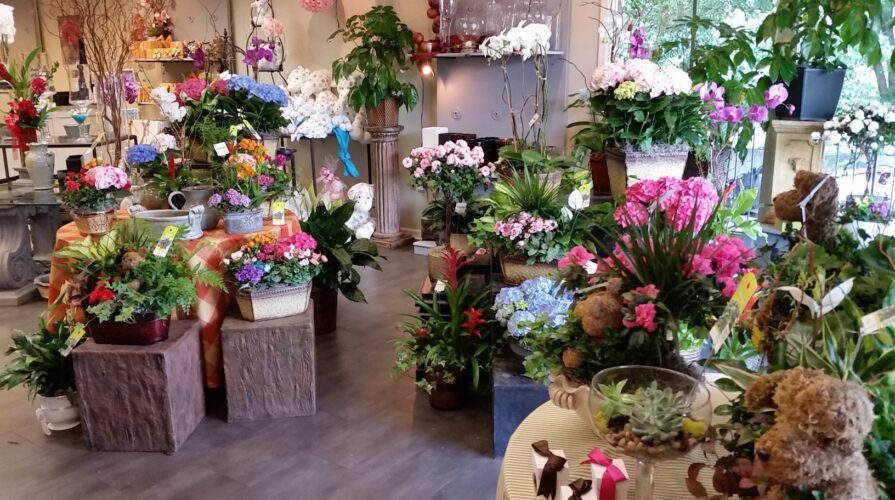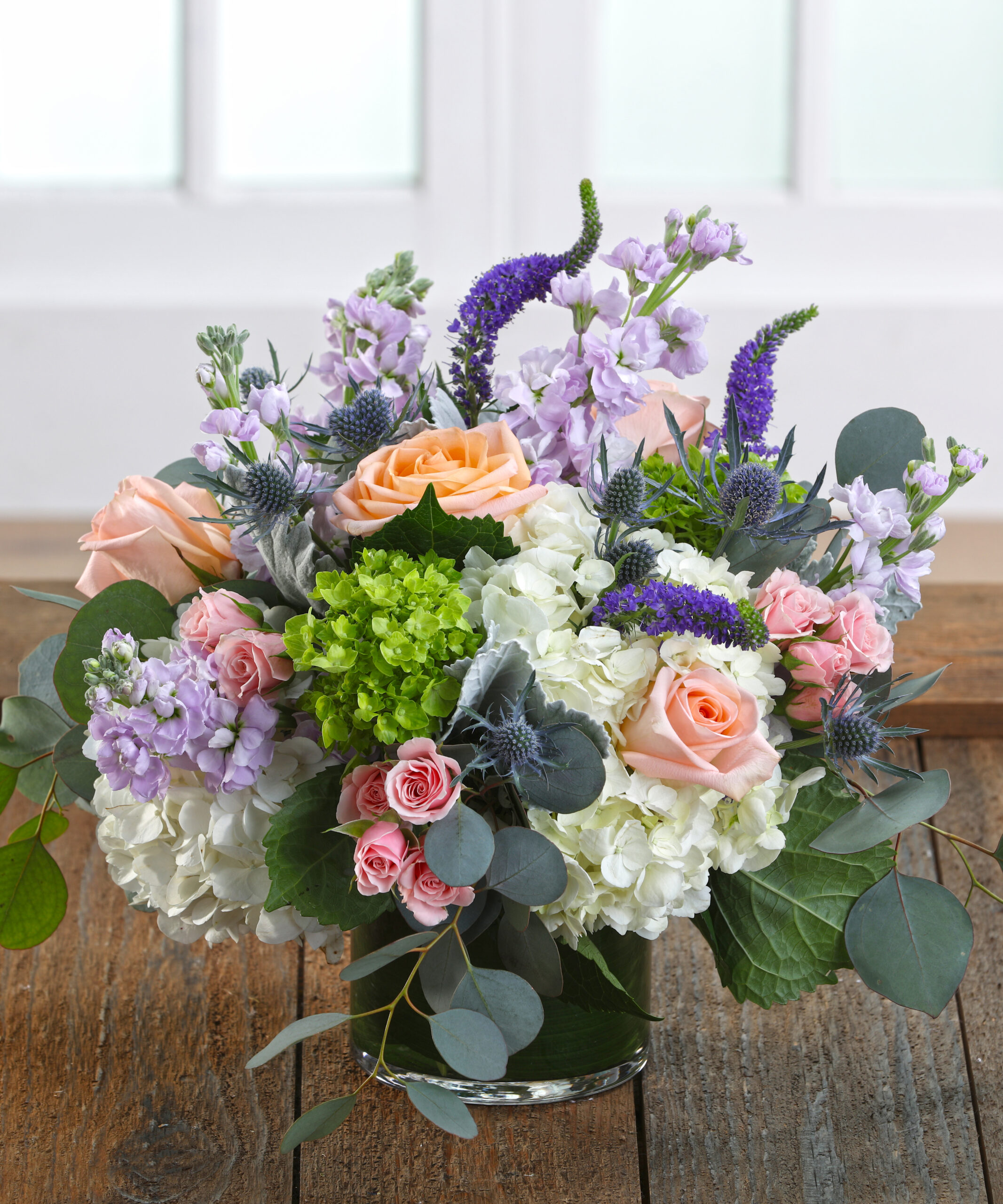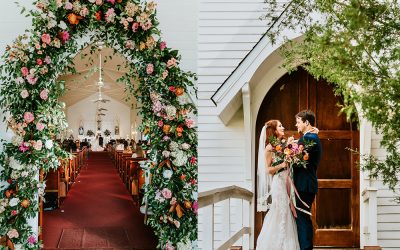 Meet the winners of our annual seasonal design competition. By Nita Robertson, AIFD, CFD The autumn season provides an enchanting environment for weddings—particularly outdoor events—with its unique blend of natural beauty and comfortable weather. The season's turning...
read more