Floral designers from around the world gathered all week to create these artistic exhibits for the Philadelphia Flower Show, which will run until March 12th.
Full Article by FlowerPowerDaily Below
Philadelphia Flower Show's "Garden Electric" Best in YEARS
Flower enthusiasts will swoon at the amazing, dazzling and jaw-dropping "Garden Electric' themed extravaganza now taking place at the Philadelphia Convention Center.
Floral designers from around the world gathered all week to create these artistic exhibits for the Philadelphia Flower Show which will run until March 12.
Although outside for the past two years, the show fortunately returned indoors. This way visitors can enjoy a wide variety of exotic and trending flowers from floral artists vs. a focus on outdoor landscape design. Having it inside allows artists to control temperatures to make flowers last vs. wilting in the hot June sun which limited their options.
So let's take a look at 8 highlights and applaud all these colossal efforts.
1. Cerebral Garden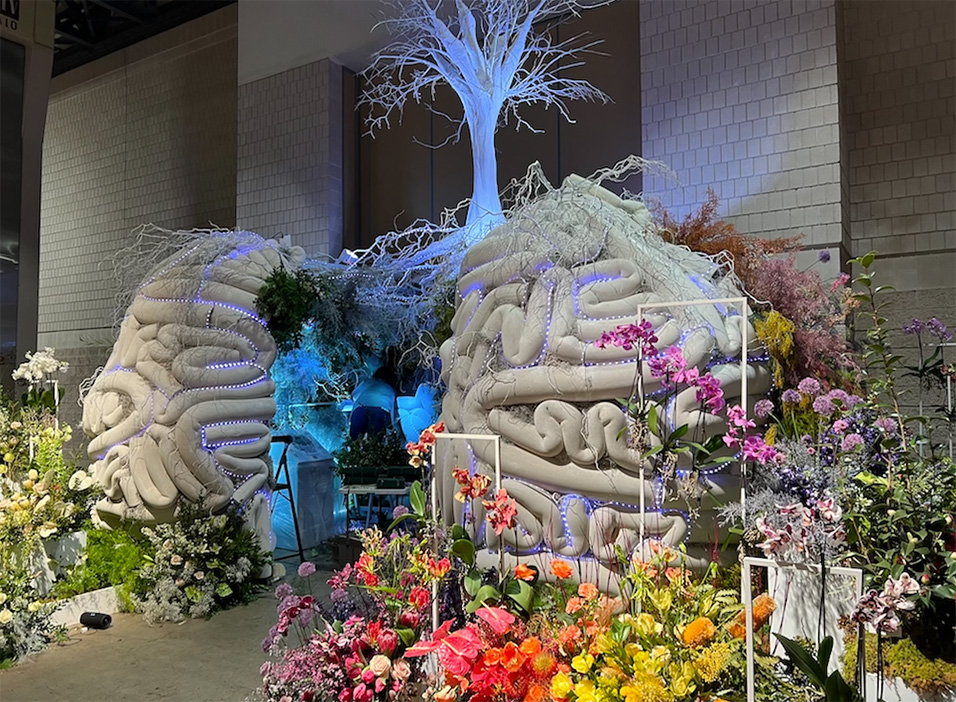 Flowers stimulate the senses. This is why Jennifer Reed of Jennifer Design Events created the concept of the "Cerebral Garden" for the Philadelphia Flower Show.
"I used upholstery foam around a metal frame to create the brain," says Jennifer, who also was helped by Dr. Jayatri Das, Chief Bioscientist at The Franklin Institute @franklininstitute. Lighting designer James Sannino also helped construct the purple lights of the brain.
So were the left side calmer colors and the right side brighter colors reflective of the left and right side brain? "No, that theory has been debunked," says Jennifer. "It's just about one side for calm and the other for your more colorful side."
Don't you love how she paired all the lilies and baby's breath for the calm and the yellow mimosa, oranges anthuriums, and blue alliums for more vibrant? The landscaping – helped by @lrdesignstudio_landscapes -was just abundant and lush. And the vibrating purple piping lighting by James Sannino really added to the overall happy effect. Having covered her work for many years, I do believe that "Cerebral Garden" is the most inspired and beautifully executed in her award-winning career.
It really is an incredible sensation to walk inside the brain cavity and see all the flowers in bloom. It's such a positive feeling.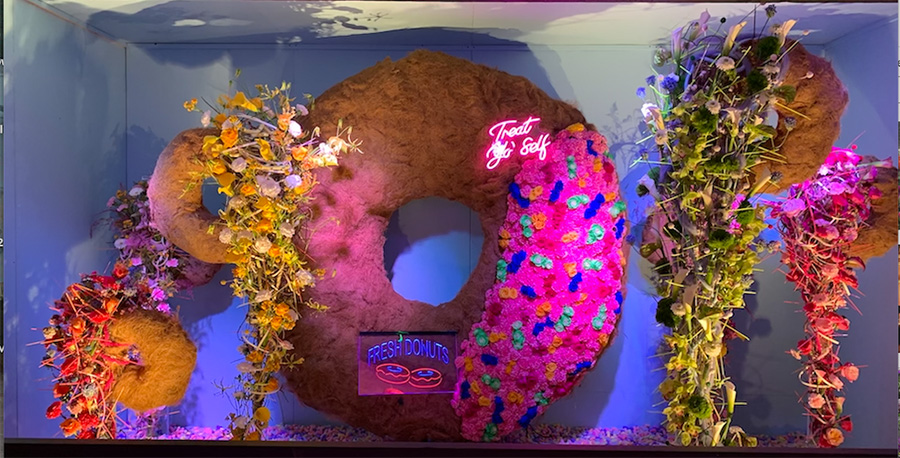 2. Eye Candy
At award-winning Schaffer Designs, who routinely win and deserve fistfuls of medals, the concept was the sweetness of flowers.
"It's inspired by the candy-coated colors, yummy fragrance and confectionary textures of flowers," says Bill Schaffer. "This floral exhibit is so sweet you can almost taste it!"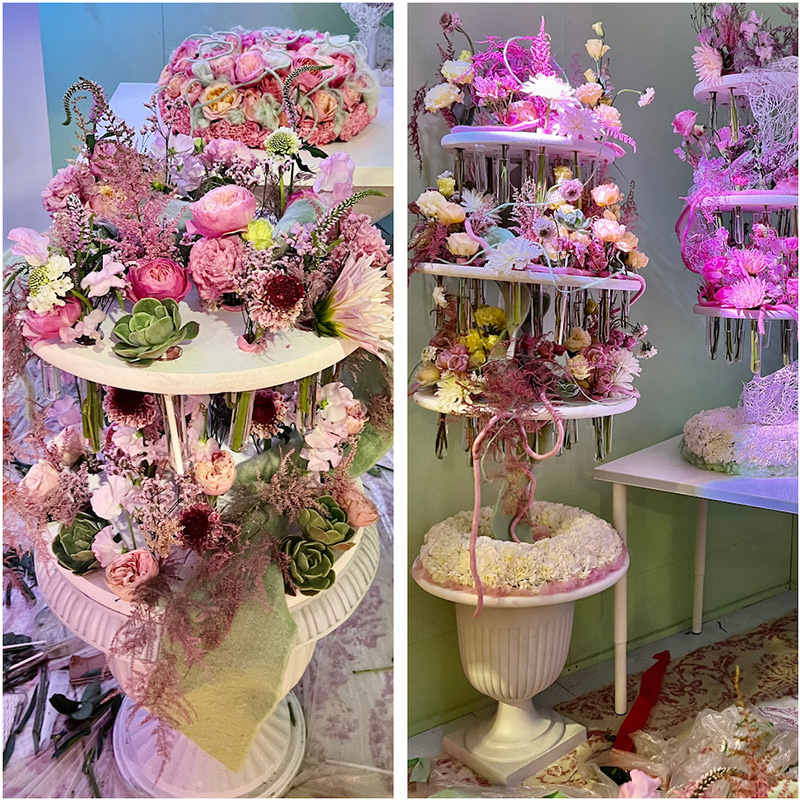 Among the flowers were lush pink scabiosa from Danziger in Israel, Paphiopesillium orchids and dancing blue alliums from Japan, and colorful pampas grasses and roses from Miami's Jet Fresh.
Forget bubblegum balls, some of the orchids were as big as lollipops. "That's because Japanese culture often focuses on one big flower vs. many," says Schaffer, noting that their growers put their efforts into the one showstopping flower.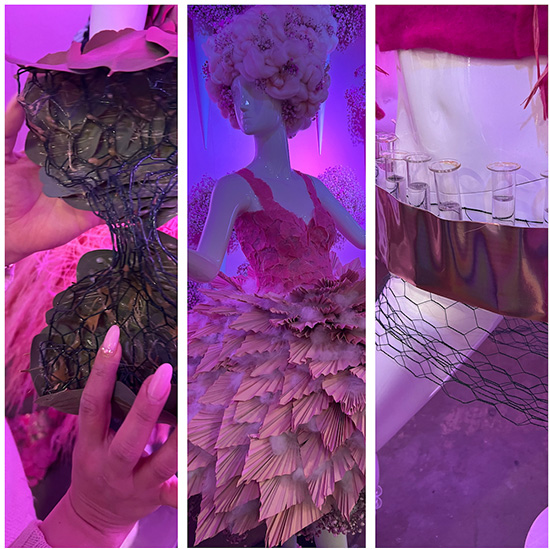 In their "Eye Candy" store, developed by Kris Kratt, the designer spray-painted eucalyptus leaves to serve as bodices and skirts. As a collector of rare papers, she also used pink tissue paper to make another character's top. You can see also the tubes in the skirt where flowers will be placed. After all, these installations have to last over a week.
3. United Through Our Pour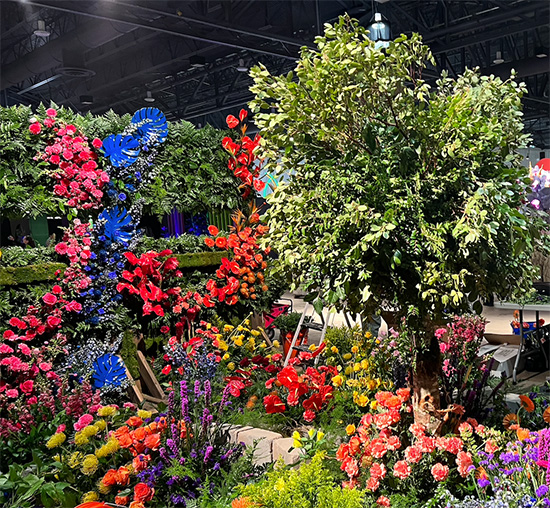 You never know where inspiration comes from. Connectivity can become electric, points out Valerie Cristostomo, who organized The Black Girl Florists network exhibit.
One of the many details to be charmed by was the illustration that no matter when you get into florals, you will continue to grow and have opportunities for work. The barrels spilling with flowers are sized differently. "It shows how some of us may be in the business for two years, others for ten, but together we can grow and build," says Cristostomo. Therefore, each color wave's barrel for each artist – red, purple and orange – were at different heights.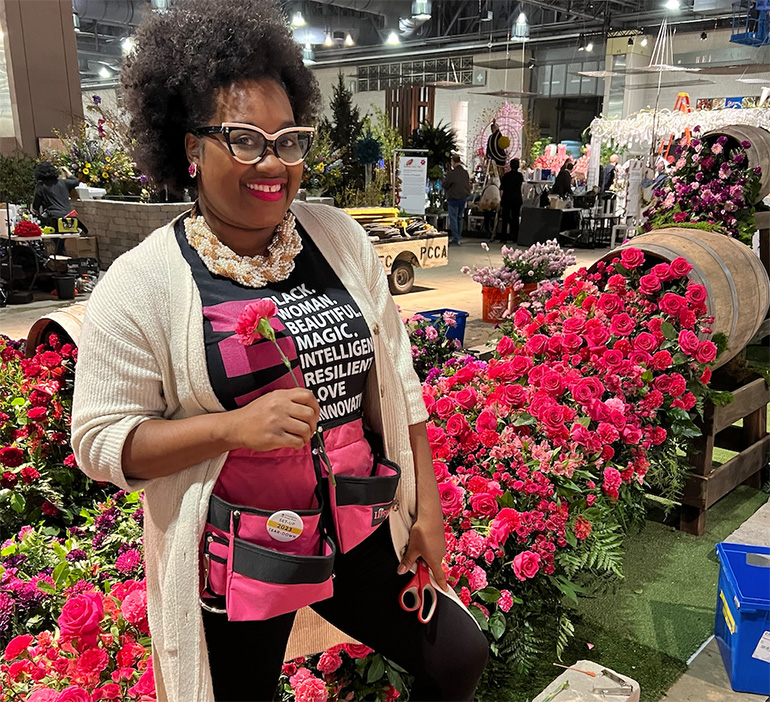 Samia Zellner created the pinkish-red barrel.
What unlocked some of her creativity? Well, a bit of Rihanna. Yes, since the florist's favorite signature lipstick is "Unlocked" made by the pop singer's make-up line, Fenty, she found glorious cherry-ripe carnations as well as the popular Pink Floyd roses as a special nod to the superstar singer and entrepreneur. Pretty, isn't it?
The overall concept was very effectively produced because as the flowers from the barrels spilled forth, the design poured into a lush 10 ft. tree. Thus it created a collective expression of the power of flowers, sisterhood and fun for this team, who also included Alexis Christein of Flowers by Alexis, Rashwan Scarbo of Bloom Bold and Tissa Rose.
4. Art & Nature Illuminated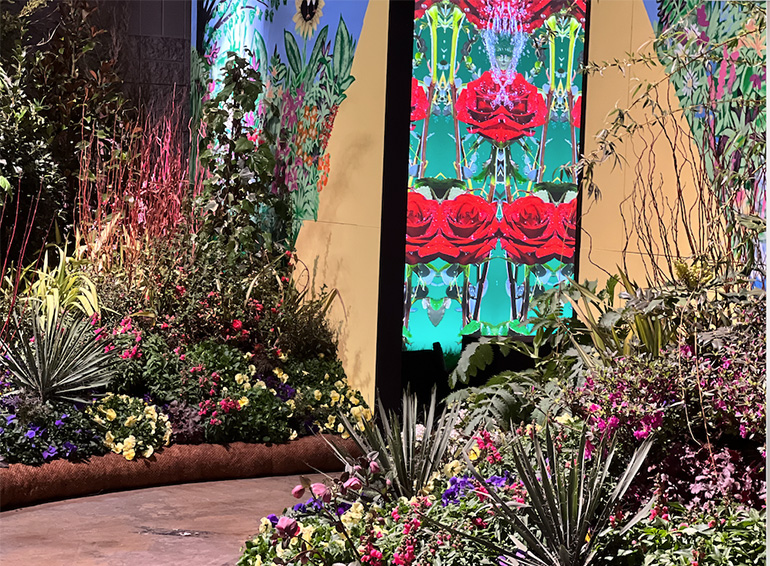 The intersection of art and flora was just so lovely in this exhibition.
Renowned and esteemed designer Jonathan Wright, Director of The Garden and Fairbanks Park at Newfields, in Indiana, created a breathtaking 360-degree, mixed-media installation featuring projections, music, and florals reminiscent of immersive Art in Bloom shows we see around the country. The mural was created by Kyng Rhodes and the projection flower art was overseen by Blackhouse Studios, both Indiana-based artists.
It was no small feat to have an abundance of flowers that matched the colors and shapes of the murals. But it really created an immersion of senses, both modern and classic. Furthermore, innovative landscape design is using artworks for outside more often and this will inspire many.
5. Immersed
Leave it to the AIFD team (American Institute of Floral Design) to immerse themselves in both philosophy and design. Each floral artist was given the task of using one monochromatic color and then letting their imagination soar. "It's pushing the boundaries of floral design by working with one color and one complimenting flower," says Theresa Colucci. "This allows you to immerse yourself in the color, the flower, and the design."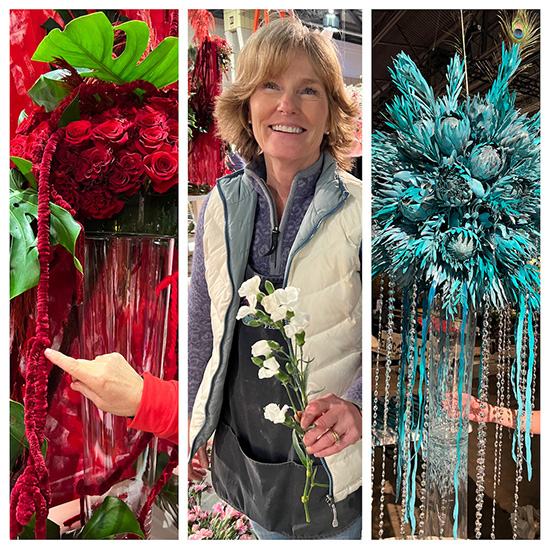 Colucci and Laurie Lemek created inspired ballerina tutus using a variety of carnations. Check out this one – called solomio dianthus. Doesn't it look like a sweet pea? One of the many appeals of this show is learning about and seeing new flowers from around the globe.
Without amaranthus readily available, Caroline Brady was so resourceful and found this fabulous yarn to illustrate her design.
Then there was the modern use of Craspedia to be outer-worldly and a turquoise explosion of protea.
6. In Search of Peace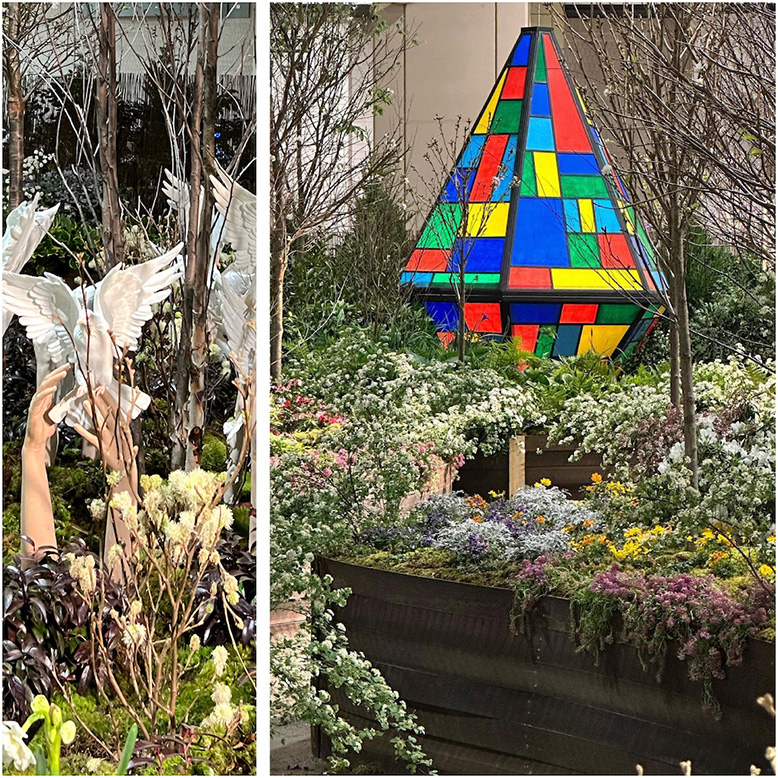 Treelinedesignz Ahmed Iftikhar was inspired by a story he heard of a Ukrainian girl calming her friends while Russians were bombing their town. "Please be calm, do not be scared. I will take you to the forest where we will run on the hidden path covered with flowering canopies, surrounded by beautiful flowers."
To Iftikhar, the water is always a metaphor for peace and calm. In this work, the stairs leading to the man-made pool are closed off. That was deliberate. "Only children with a pure heart can enter," he explains. Another nice touch was the white doves sprinkled into the landscape design.
7. A Book In Bloom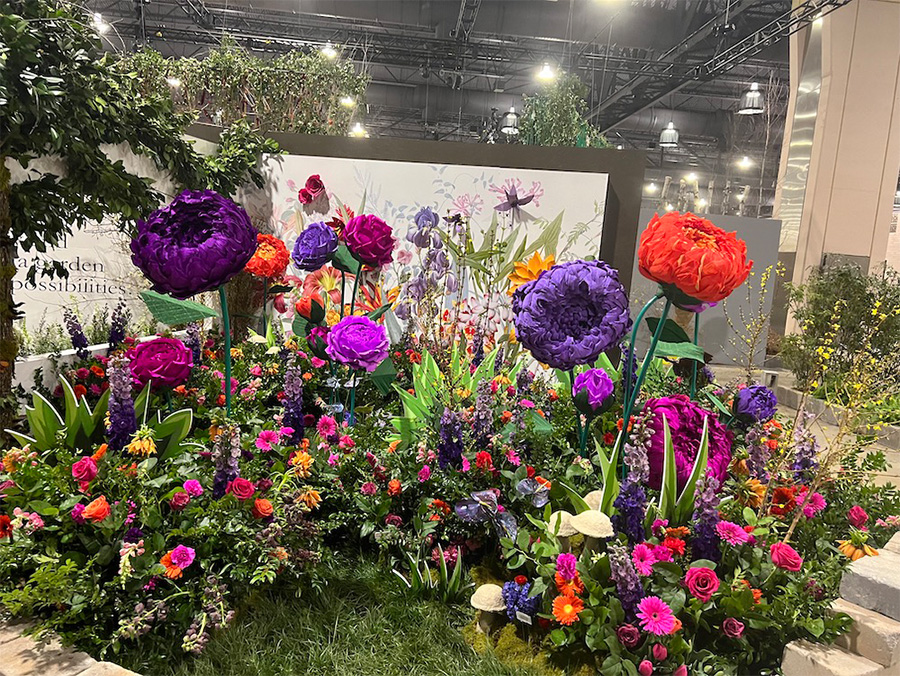 Polycarp Flowers hired artist Bridget Eileen Dempsey to create the large colorful cutouts for her book-inspired installation. The floor was decorated with lush white calla lilies, hostas, and white anthuriums as well as tangerine gerbera daisies and tall lavender delphiniums.
I loved the quotes used – especially, "She lost herself within the pages of the story and discovered a garden filled with possibilities."
8. Florid Electron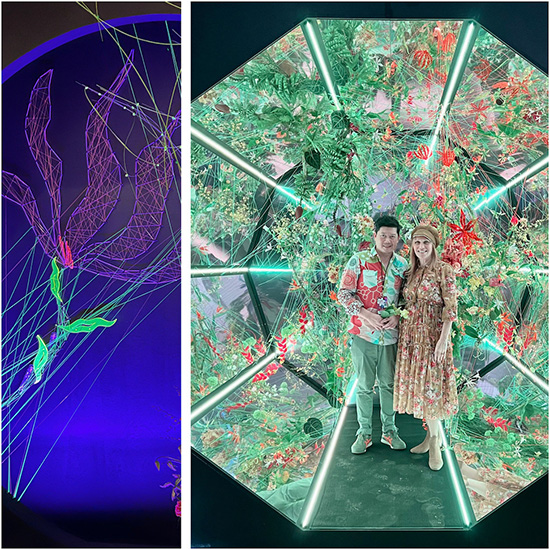 Harijanto Setiawan explored how the evening night can create electric opportunities for floral design. This won first prize at the Philadelphia Flower Show 2023. Can't you see this design at your next party? The Singapore-based Setiawan says he wanted his exhibit to be "mysteriously exuberant and playful." That sentiment was definitely achieved.
He used such glorious glorious lilies – in oranges but pinks too – to create intrigue. The wispiness of the design was subtle but so effective. He also used Venus fly trap tucked in surprising places.
These are some highlights from the show and I will share more. But these installations represent the Mt Olympus of great artists of the floral world.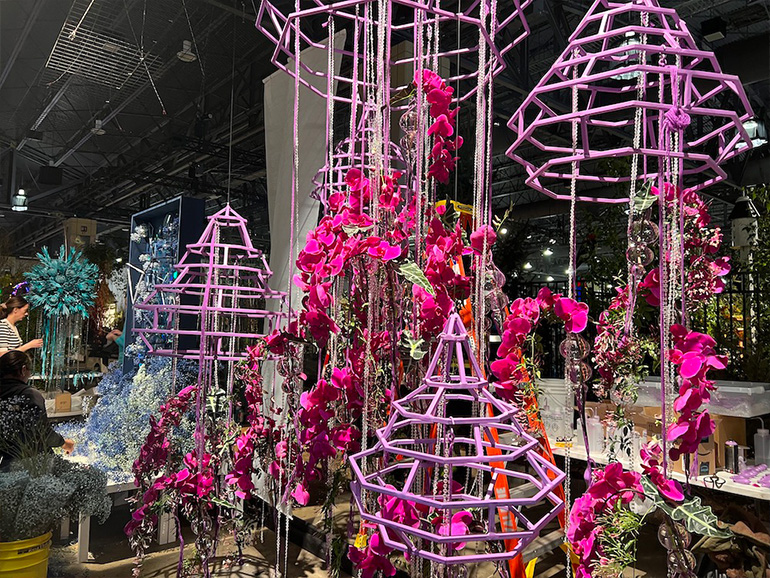 Jill Brooke is a former CNN correspondent, Post columnist and editor-in-chief of Avenue and Travel Savvy magazine. She is an author and the editorial director of FPD, floral editor for Aspire Design and Home magazine and contributor to Florists Review magazine.
Photo Credit: Jill Brooke, Flower Power Daily