A look at the mechanics and thought that went into T.J McGraths Orchid Dinner centerpiece. At the glamorous dinner in honor of the New York Botanical Garden's annual orchid show, floral artists from around the United States were asked to design an individual gala table.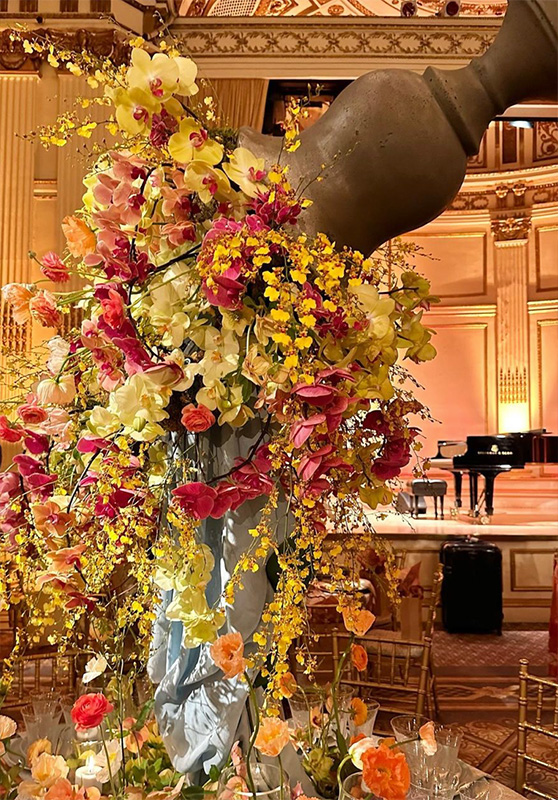 Full Article Below by FlowerPowerDaily Source
The Secrets to T.J. McGrath's Orchid Dinner Masterpiece
By Jill Brooke
If you ever doubt the creative possibility of sustainable floral design, look no further than this masterpiece by T.J. McGrath.
At the glamorous dinner in honor of the New York Botanical Garden's annual orchid show, floral artists from around the United States were asked to design an individual gala table.
Forty-six designers got this coveted invite. With armfuls of peonies, orchids, and roses, they arrived at New York City's Plaza Hotel in what was a posh version of the Tournament of Champions.
Among the greats who were assembled was Ingrid Carozzi of Tin Can Studios, Calvert Crary of FlowerSchool NY & LA, Michael Gonzalez of Verde Custom Flowers, a team from Lewis Miller Design, Kelsea Olivia of East Olivia and Beth O'Reilly of Duchess Bouquets.
Days before, the New Jersey-based florist remembers receiving his coveted invite, sparking an array of ideas to start percolating in his brain. "I knew that I would have a foam-free design and wouldn't use any painted flowers," he said.
After all, T.J. McGrath has spent what seems a lifetime championing sustainable practices and proving how not using floral foam – the easy-go-to way to secure flowers – won't diminish aesthetic outcomes.
Fully aware of the honor of the Plaza Hotel showcase, McGrath chuckled at the thought that entered his mad scientist mind. "The concept that came to me was asking the question, "What's in Your Vase?" From that idea, I thought of an inverted vase and having the flowers and fresh water spilling out." Seeing what's inside from outside is so clever, isn't it? A subtle nod to the sustainable mission.
Of course, the question then was how to achieve this idea. With his dream team, who included Gabrielle Wile, Yvonne Orchison-Yip, Kinga Erelyi, Lori Bley, this is how he accomplished his incredible floral feat.
1. BUILDING THE STRUCTURE.
First, he had to create the mechanics so the vase was suspended allowing the water and flowers to look like they were spilling out. To achieve this, he originally thought of one pipe attached to the inside of a vase that curved, and then secured to a metal plate on the table. "Local fabricator Jordan Breyer built the structure from a scribbled sketch that enabled me to 'magically' cantilever the urn above the table," says McGrath. Breyer had to do it in two sections which worked wonderfully. This way the vertical pipe could be multi-purposed. It could be used to add height on a vase to a future installation, in case you didn't want the rounded addition.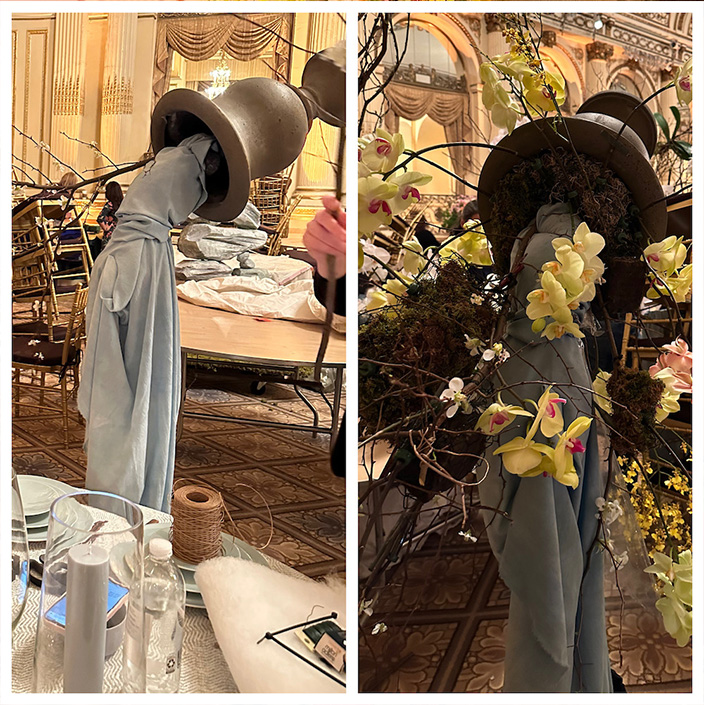 2. CREATING THE APPEARANCE OF WATER SPILLING FROM URN
To get the theme of fresh water spilling from the vase, McGrath collaborated with Brooklyn-based artist Kesiena, who naturally dyed the yards of silk which allowed me to give the water concept depth and movement."Flowers do best in water," McGrath says. Stradley Davidson provided the lux linen, chosen for the rippling, water-like movement in its pattern." The fabric was wrapped and secured around Breyer's pipes. For the tableware, The Tabletop Company provided the place settings; and Chandlerie provided the Juniper Blue, upcycled candles that matched the water inspired fabric.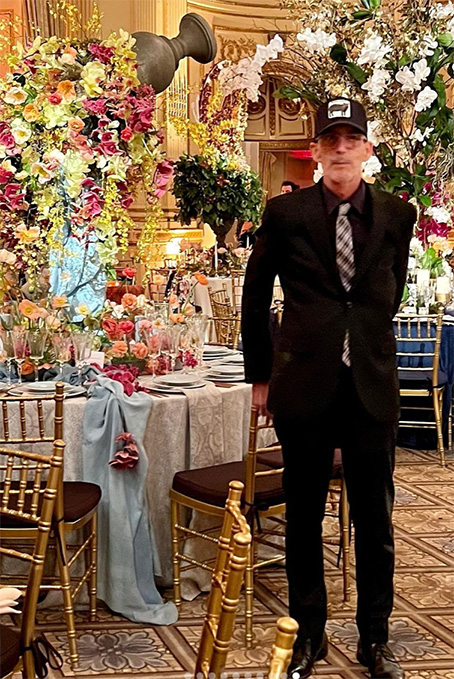 3. FINDING SUSTAINABLY GROWN FLOWERS
So how do you get sustainable flowers in the middle of winter? That was the final but most important challenge. When this process becomes a habit, sustainable florists find their sources. "Since orchids were the theme of the night, NJ orchid grower Taida Orchidsmade that possible," he says. "The orchids paired beautifully with Hautau and Son's, a three-generation old NJ family-owned farm, seasonal offering of poppies ranunculus and hellebore." Furthermore, he says proudly, he "achieved 75% local when initially I thought it would be much less." For the interior, he doesn't use the floral foam since it's not biodegradable. Instead, he used balls of chicken wire – vs. one large cluster – to place the flowers and stems.
Not only was the design a notable winner from the judges of Veranda Magazine, which sponsored the New York Botanical Garden orchid dinner with Guerlain, but the design was applauded by flower lovers from around the globe.
And one of the best compliments of all came right near his backyard. His partner Andrew Paish, not someone who is effusive always with praise, thought it was one of McGrath's best designs. "This would be a great design at an entry table for place cards," he said.
We couldn't agree more. This design will be remembered and copied for years to come.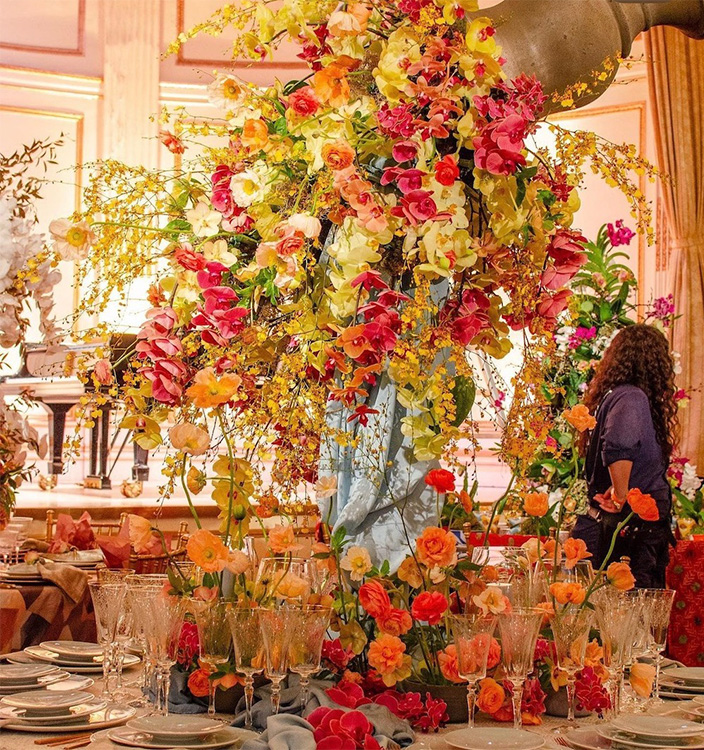 Jill Brooke is a former CNN correspondent, Post columnist and editor-in-chief of Avenue and Travel Savvy magazine. She is an author and the editorial director of FPD, floral editor for Aspire Design and Home magazine and contributor to Florists Review magazine.