Picture-Perfect Weddings of 2021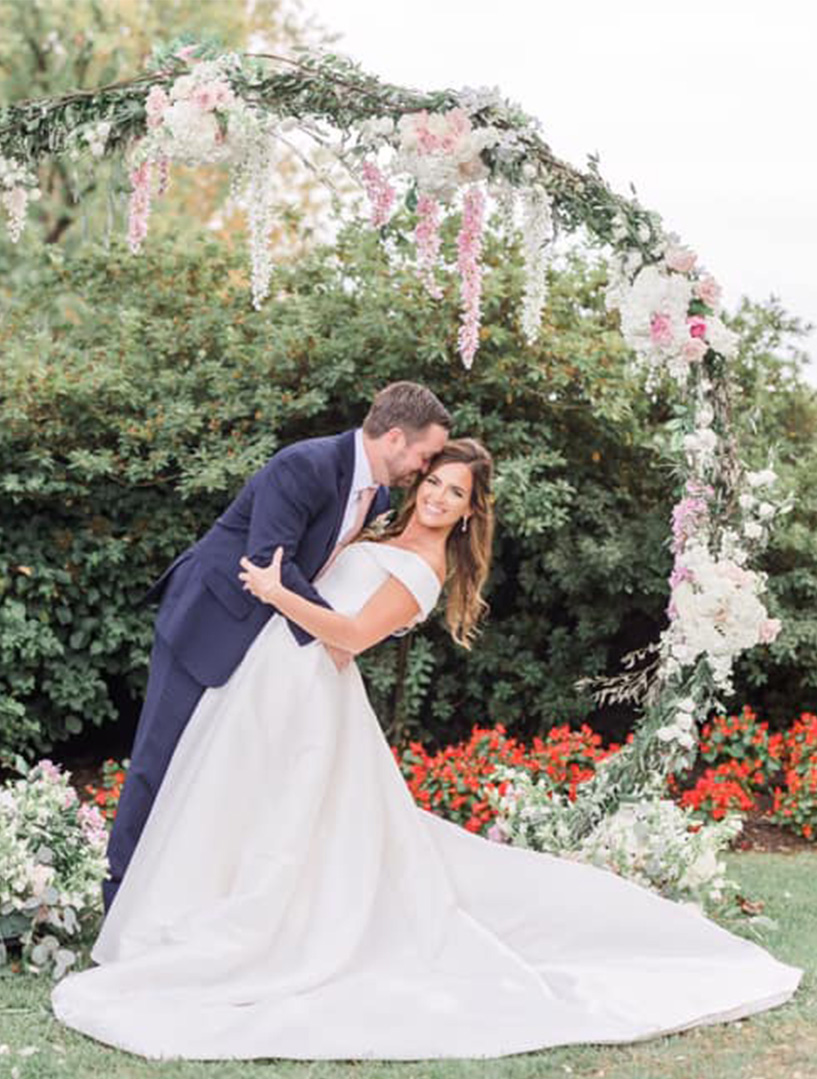 By Kat Castagnoli, AIFD, CCF
For better or worse, 2020 profoundly changed the landscape of the wedding industry. But if there's one thing last year has shown us, it's that love doesn't stop for a worldwide pandemic – and neither do florists. For over two decades, Florists' Review Magazine has proudly showcased the stunning design work of hundreds of talented designers, and 2020 was no different.
While COVID-19 forced many to scale down their nuptials, it certainly didn't hinder the level of creativity and innovation seen in so many gorgeous bouquets and wearable flowers, not to mention lavish arch pieces, centerpieces and installations.
We asked you to show us how you brought color, joy and beauty to couples for our 22nd annual Picture-Perfect Wedding Contest – and boy, did you deliver! From a stunning smilax installation and ghoulishly gorgeous Halloween reception to a bright and joyful cascade bouquet and over-the-top floral wedding, congratulations to the following designers who wowed us in 2020.
Best Overall Wedding:
Tim Farrell
When you're Tim Farrell, AIFD, AAF, PFCI, of Farrell's Florist in Drexel Hill, PA, and your daughter is getting married, COVID-19 or not – you go all out on the flowers. This classically romantic – and oh so very floral! – wedding in early October was originally planned indoors for more than 300 people, according to Farrell.
But because of the pandemic, a church ceremony and reception of about 100 was moved to the outdoor terrace of the Radnor Valley Country Club in Villanova.
For this classically romantic – and very floral – wedding, the bride wore a timeless, off-the-shoulder, A-line gown and carried a full bouquet of pale pink peonies, Sahara roses, Patience garden roses and astilbe with silver dollar and gunni eucalyptus. Her bridesmaids, all in blush gowns of varying styles, carried similar bouquets accented with mint succulents, while her groom wore a navy suit with a blush tie.
The couple married at St. Dorothy Roman Catholic Church in Drexel Hill in an intimate ceremony where Farrell left no detail to chance. Square door frames were lushly decorated both inside and out of the church in Italian and variegated ruscus, white snowberry, roses, white campanula, peonies and lisianthus, accented with hanging white wisteria. Soft gunni and silver dollar eucalyptus, white roses, hydrangea, hybrid white delphinium and lisianthus decorated each individual candle stand, as well as the two overflowing silver urns on the wedding altar itself.
Even the tall white floral pieces flanking the aisle – as well as the house crests of both the bride and groom, Farrell and Coleman, respectively – were designed as a clever way to keep every other pew empty in the church to allow for social distancing, according to Farrell.
The lavish floral details continued at the reception. A magnificent escort card table awaited the 16 attendants and 100 guests, featuring a large gold urn atop a marbled column overflowing with hybrid white delphinium, blush roses, silver dollar eucalyptus and flowing white phalaenopsis orchids, also from which a flowing garland of similar flowers lushly wound around the column and down to the table.
Gold footed centerpieces, both high and low, featured hanging crystals, white phalaenopsis orchid blooms, and more white and blush florals with eucalyptus accents. For the sweethearts, a white floral wall served as a backdrop, accented with pink spray roses, while a heavy white and blush floral garland decorated the couple's table for two.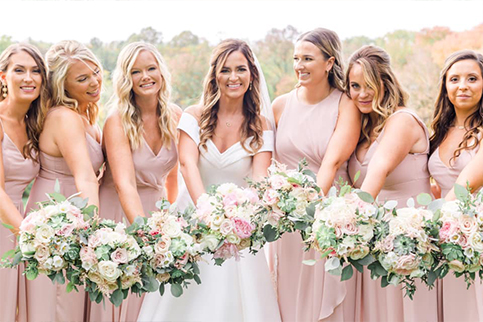 Photos by Always Avery Photography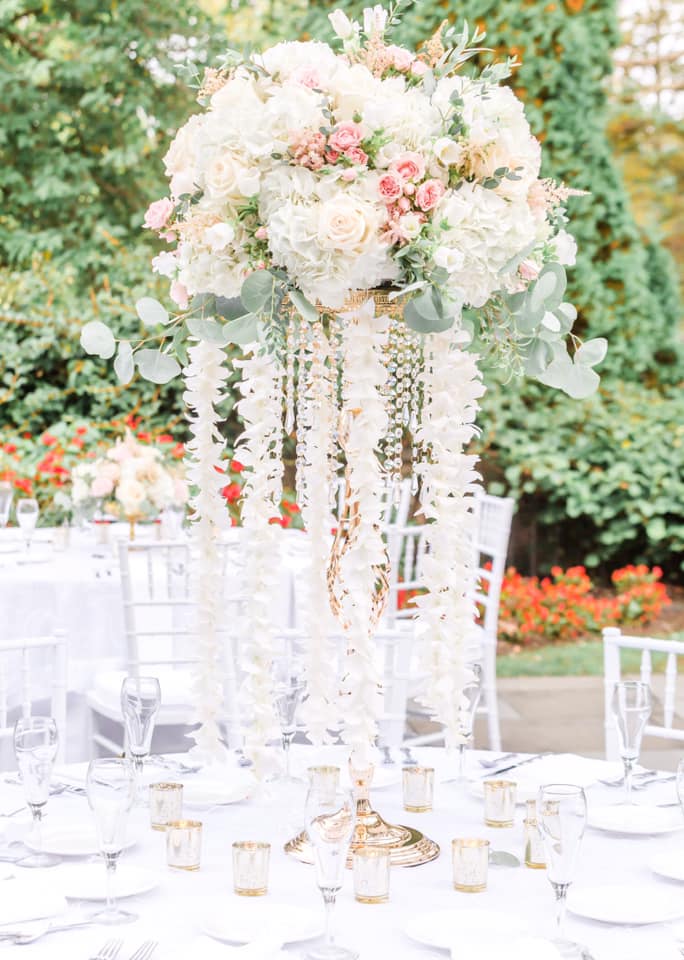 Farrell designed a moongate arch – created with variegated ruscus, white hydrangea, blush roses and white and blush wisteria – as a photography focal point at the reception, where both his daughter and new son-in-law as well as their guests could pose for selfies.
For the finale, a four-tier white cake set upon a clear glass circle appears to almost 'float' atop a table full of variegated ruscus, blush roses and trailing white Hawaiian dendrobium and phalaenopsis orchids.
As Farrell himself said, total cost of the wedding was, "Priceless…as the daughter of the owner of Farrell's Florist!"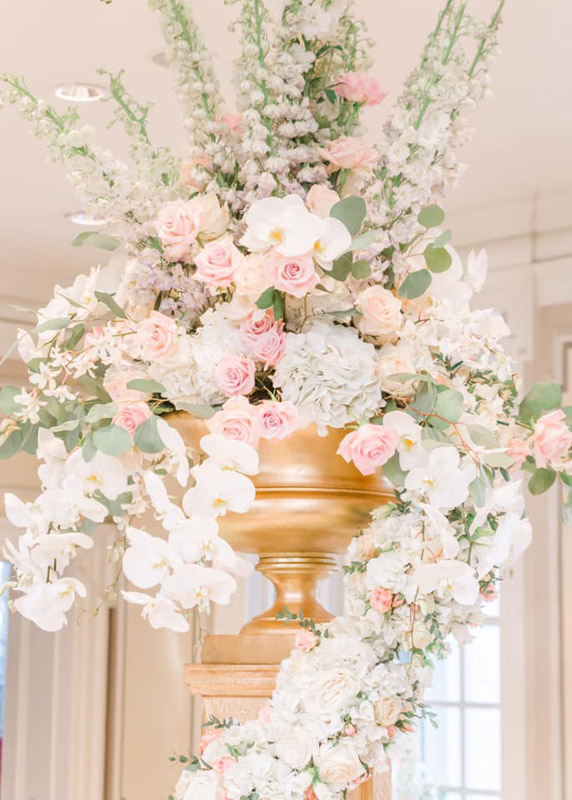 Best Micro Wedding:
Marta Sondej
Pivoting from a large New York wedding for 200 to an intimate affair in New Jersey for 20 in late October didn't hinder Marta Sondej and her team at Barlett's Greenhouse and Florist in Clifton, NJ, one bit. Her couple hosted their 12 attendants and 20 guests in black tie style with a ceremony at the Van Vleck House and Gardens and a reception at The George Hotel, both in Montclair, NJ.
Illumination was a key feature throughout the elegant event, with dozens of white pillar candles in mixed-size glass hurricanes setting the mood at both the ceremony and reception.
The bride, wearing a chic blush layered tulle gown with fitted bustier, carried a large, full bouquet of seeded eucalyptus and bay leaf with Playa Blanca roses, spray roses and ranunculus with a few black Schwartzwalder calla lilies, accented with white waxflower and million-star baby's breath. Her bridesmaids carried similar bouquets in deep emerald gowns of varying styles with her handsome groom in black tie. The couple wed on the steps of the historic, 12-acre Van Vleck House and Gardens amid soft candlelight, flanked on either side by two urns filled to overflowing with Playa Blanca roses, white mums, snapdragons and million-star baby's breath with bells of Ireland and green hanging amaranthus accents. Coordinating floral pieces decorated the base of each pillar of the house's wide porch, with tall bells of Ireland pointing seemingly upward toward the lush, overgrown greenery almost covering the house's entire second story and floating down toward the wedding altar.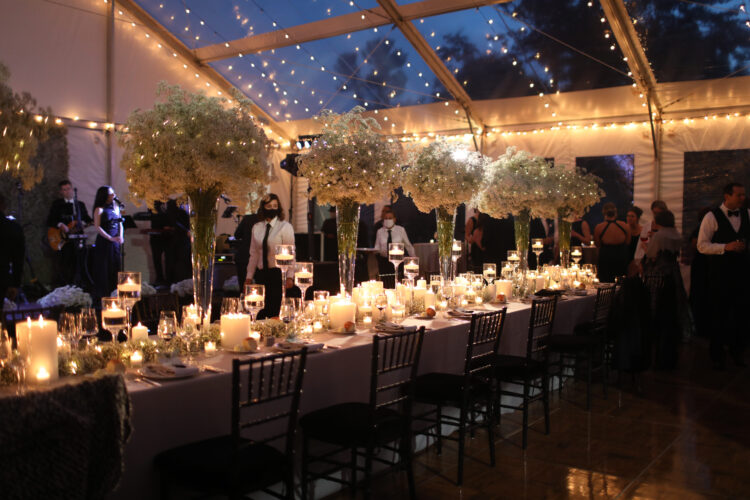 A tented reception at The George Hotel followed, with long tables covered in blush featuring tall trumpet vases filled with 'trees' of downy million-star baby's breath accented with white twinkle lights. A baby's breath garland intertwined down the center of the table amid lit white floating candles, pillars and votives of all shapes and sizes – giving the entire space a romantic and inviting glow.
The baby's breath theme continued beyond the table and over the dance floor to the live band, where panels were decorated with million star behind the musicians, as well as overflowing in black square containers along the front of the stage. Twinkle lights adorned the skylit ceiling as guests danced the night away. As Sondej concluded, "Even with COVID, a bride's dream wedding can still be a reality."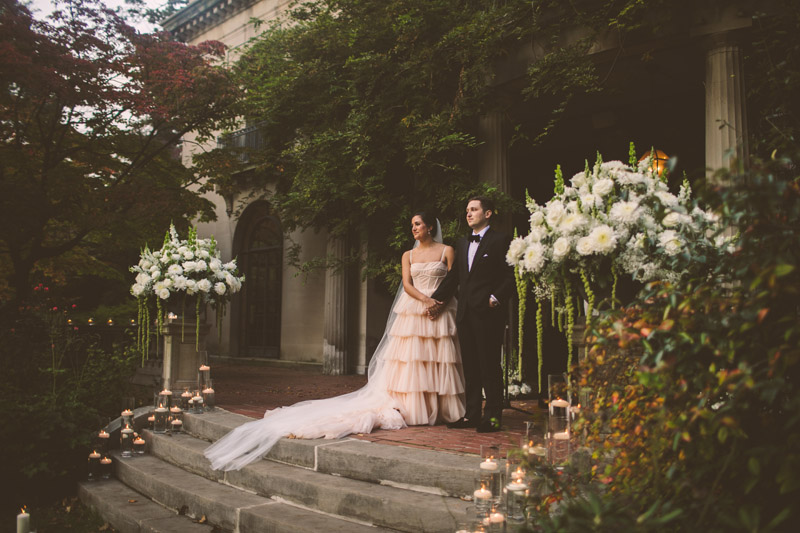 Photos by Julian Ribnik Studios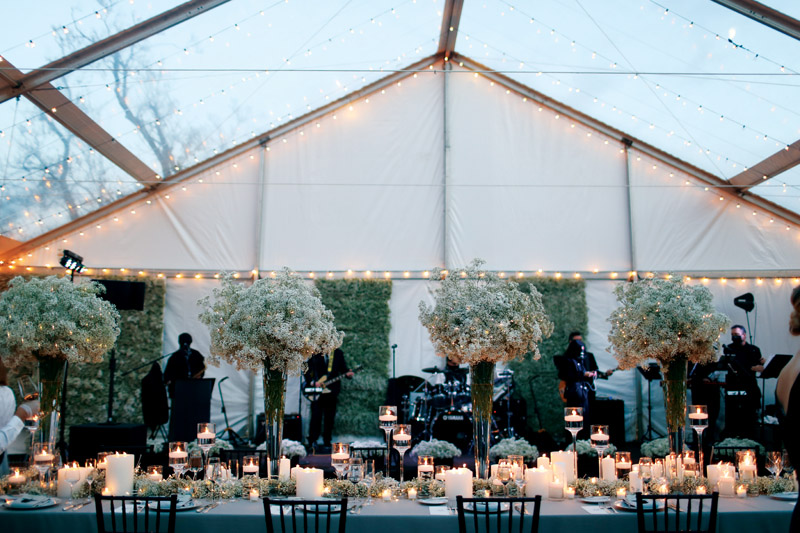 Best Floral Installation:               
Browyn Douglas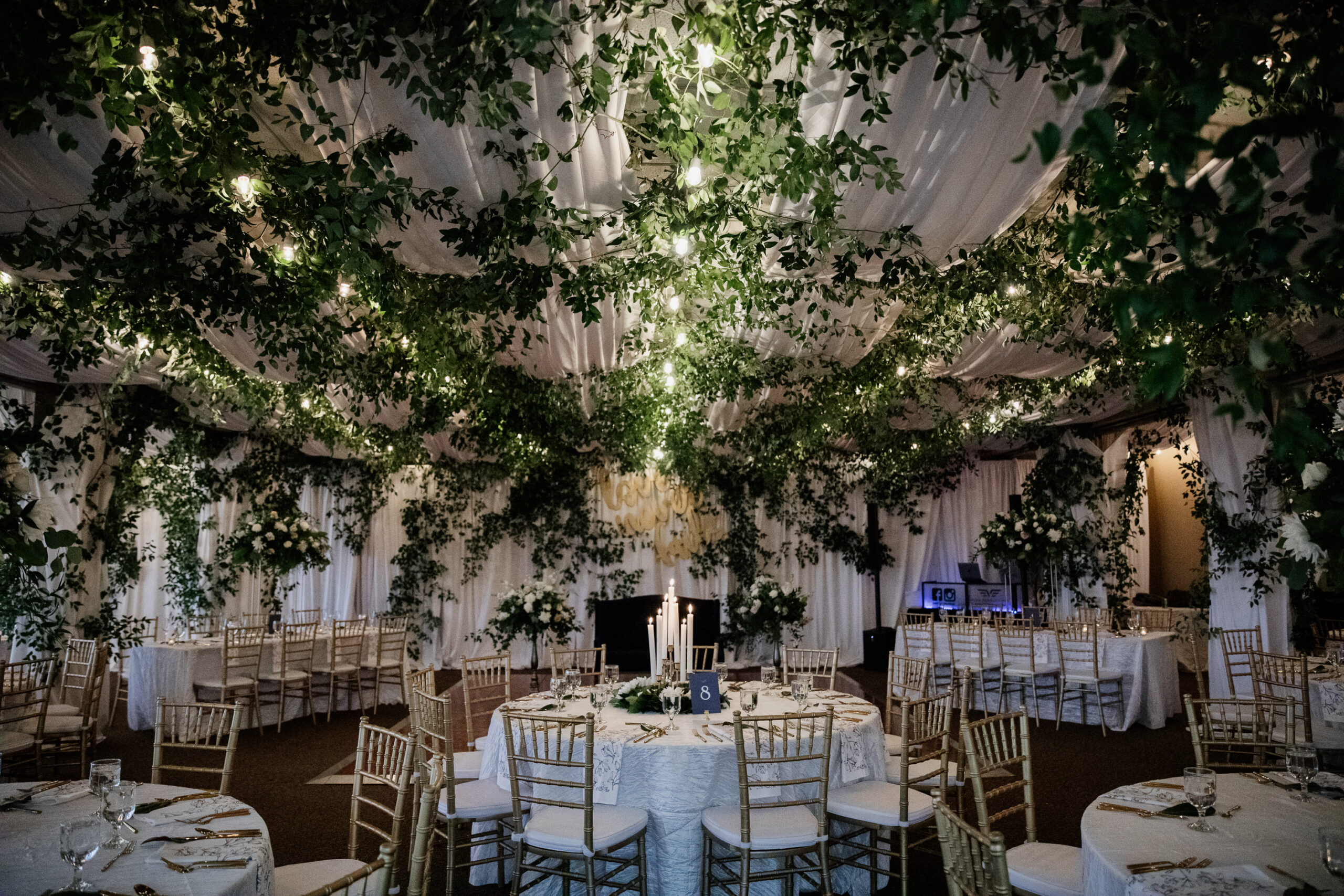 There's no doubt that Bronwyn Douglas of Kistner's Flowers in Manhattan, KS., brought the outside in with this winning floral installation. The bride and groom wanted "a slice of the Carolinas" brought to their late October wedding reception – which they'd had to move from May due to COVID-19 — at the Manhattan Country Club overlooking Kansas' scenic Flint hills. Being that this was Kistner's only wedding to take place during the pandemic, Douglas was all too happy to oblige the couple by shipping boxes of wild smilax direct from the Carolinas to hang all over the walls and ceiling of their country club reception space.
The glowing review from the bride herself says it all: "We worked together to create exactly the reception I was envisioning. To see it come to life…I was speechless! The number of compliments that we received that night (and still anytime our reception comes up) shows how truly amazing Kistner's work is!"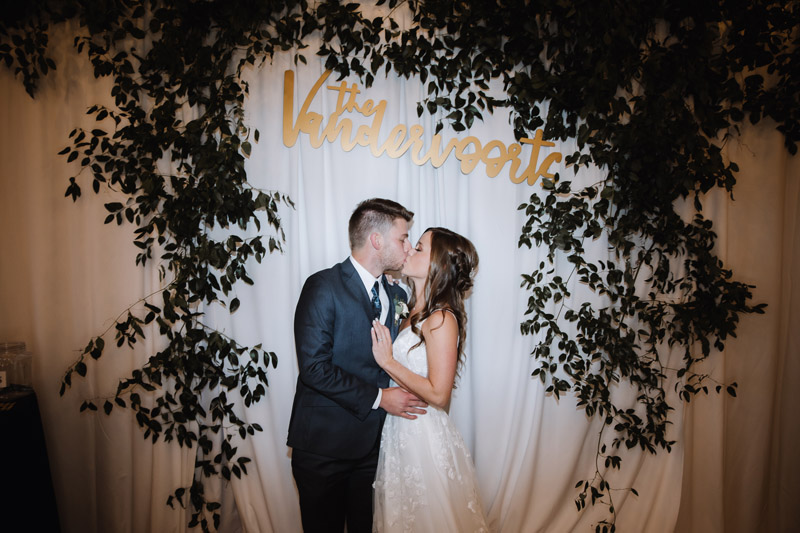 Best Bouquet:
Amber Kornett
Designer Amber Kornett of Amber and Earth in Howell, NJ, really sums up this winning bouquet best: "It's hard not to smile when you see those flowers. They just scream joy!" Bold, happy colored florals in bright shades of coral, pink, peach, orange and yellow with vibrant greens was the request of bride Emily. Kornett delivered with this breathtaking cascade of Italian ruscus, smilax, break fern, sunset-colored snapdragons, Darcey and Juliet garden roses, light pink ranunculus, white veronica, yellow celosia and Cinnamon roses with a touch of chamomile. Emily and Mike's early September nuptials took place at New Jersey's Ashbury Hotel on the rooftop overlooking the Atlantic Ocean, with their reception on an outdoor terrace under a tent lit with bistro lights. The bold, almost Miami-inspired colors popped again the hues of ocean and sky, along with the teal-colored glassware and mixed color pillar candles placed throughout the reception.
In a trendy wedding scene filled with neutrals, pampas grass and cream, ivory and blush, Kornett says, "It felt so good to create with COLOR! And after such strange and awkward few months, that color was very much welcomed."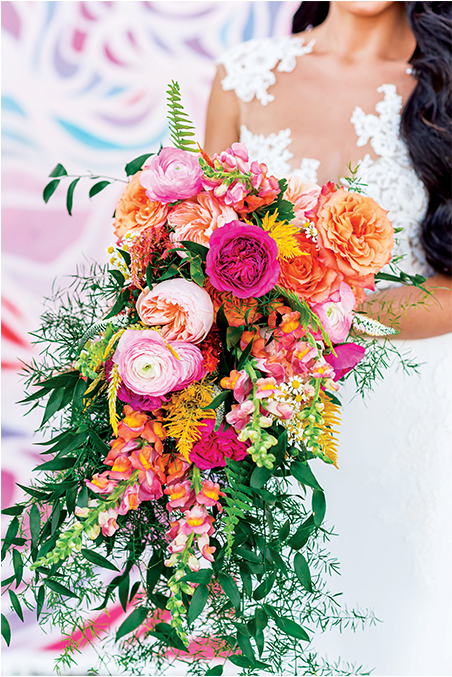 Photos by Kate Eckert, Opal & Jaye Photography
Best Ceremony:                                   
Tami McAllister
An airy, industrial feel warmed by planks of weathered wood at The Turnbull Building in downtown Chattanooga, TN., provided the ideal canvas for the ivory, bronze, peach and brown toned florals that Cleveland-based Flowers by Tami brought to this winning ceremony. Owner Tami McAllister played up the warmth of the wooden beams, burnished tones, and even the bride's reddish locks, with her draping, asymmetrical arch of pampas grass, silver dollar eucalyptus, Italian ruscus, magnolia leaf, cappuccino, blush and ivory roses, scabiosa pods and delicate champagne mini lisianthus, highlighted with natural manzanita branches.
Planner Rebecca Ellington of An Ellington Event further set the scene of this early June ceremony by placing McAllister's accompanying floral piece on the floor just behind the bride and groom at their arch, essentially framing them perfectly for their audience of 120 guests. Lining the aisle were garlands of leather leaf and silver dollar eucalyptus with the merest touch of ivory pampas grass. Trailing vines of greenery falling from the upper corners of the wooden beams and natural lighting accentuated the overall warmth of the space.
Photos by Jaime Smialek, Our Ampersand Photography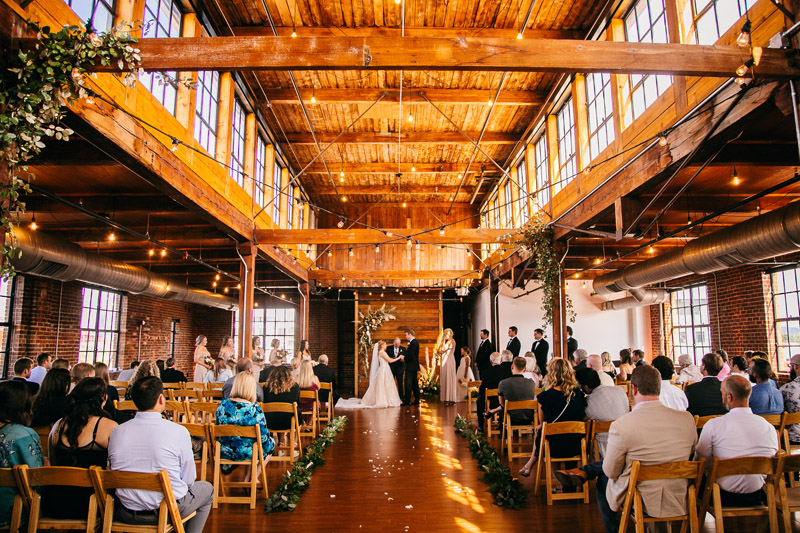 Best Reception:
Rachel Stevenson
A ghoulishly gorgeous Halloween-inspired reception, complete with custom wooden coffins and taxidermy skulls, wins our pick for Best Reception. Rachel Stevenson and her team at EverAfter Floral Design in Myerstown, PA., brought moody elegance to the spooky chic décor at Taylor and Chris's October 31st reception at the historic Tulpehocken Manor in Myerstown. Built in the 1700s, the Manor, which is on the National Register of Historic Places, boasts a rich history of guests that include George Washington, and looks to have eminent potential for ghost sightings and hauntings. This was the backdrop for the bride and groom's Halloween party to remember with nine attendants and 75 of their nearest and dearest. While masks and other fun, kitschy elements – like wooden coffin beverage holders – added to the All-Hallows' Eve whimsy, the overall look created by Stevenson was moodily elegant. Centerpieces overflowed with seeded eucalyptus, wine-colored dahlias and scabiosa, cappuccino roses, dark pink Astrantia and agonis on a bed of trailing Spanish moss. Taxidermy skulls placed in and among the flowers with lots of dark red tapers and black pattered votive candles completed the gothic look. A tent placed at the base of the Manor grounds housed this spooky celebration, providing plenty of room for guests to dance the night away.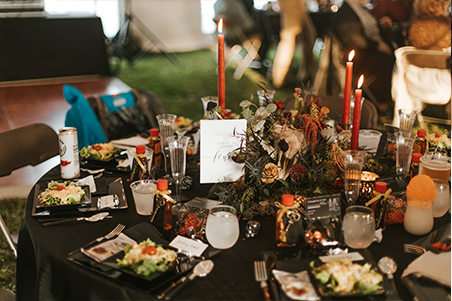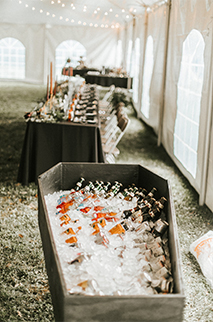 Photos by Tate Reed Photographyy
Best Wearable Flowers:                             
Srini Perera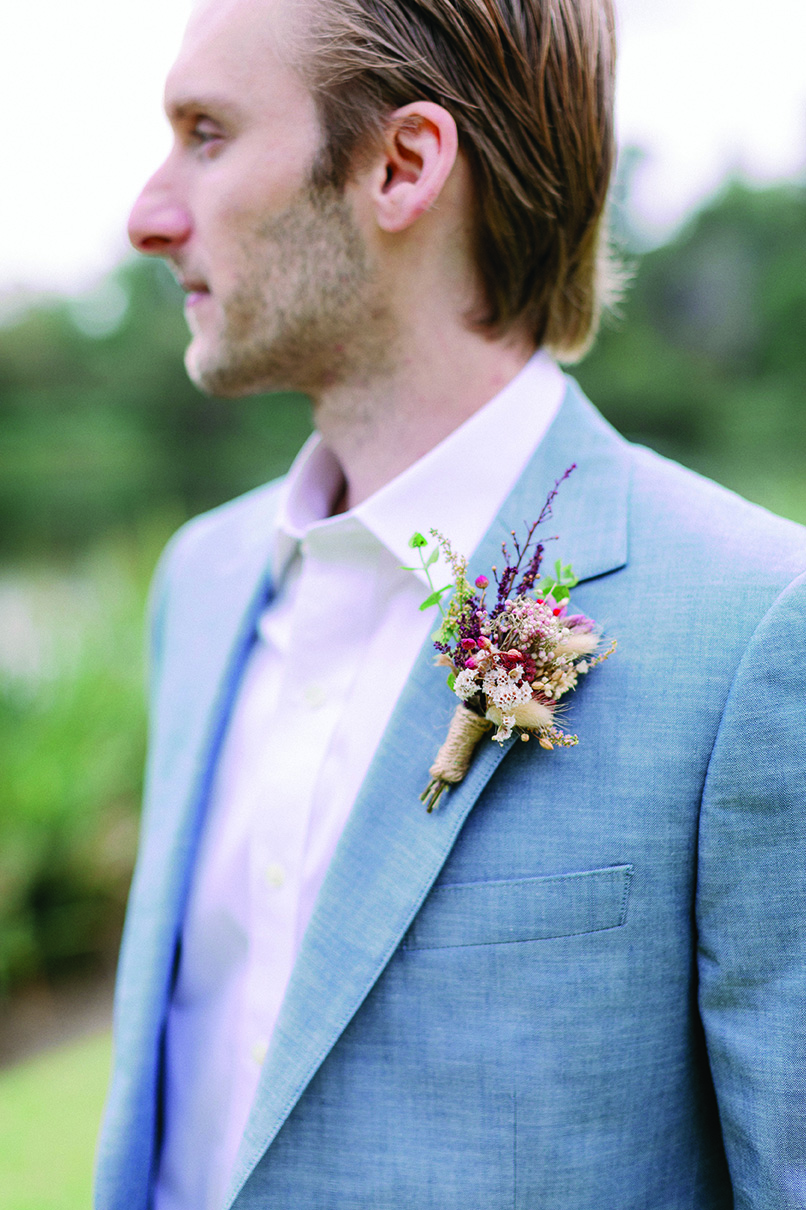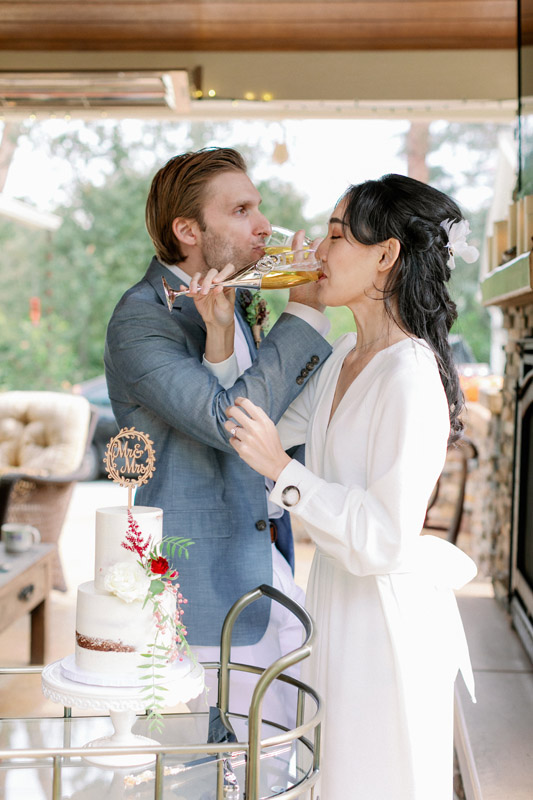 A bohemian, delicately textural boutonniere in shades of white and ivory with pops of muted reds, baby blue eucalyptus, dried florals and ivory bunny tail is our winner for Best Wearable from designer Srini Perera of Kreativehands, based in Woodland Hills, Calif. The bride and groom, Michael and Lively, opted for a very intimate, 7-person-plus-one-furry-family-member ceremony in a meadow adjacent to the Pasadena clubhouse where Michael grew up in late October. His boutonniere was the ideal accompaniment to Lively's wispy, delicate bouquet that also included baby blue eucalyptus, white misty blue, ivory spray roses, astilbe, muted red global amaranthe and dark pink astrantia. The ceremony followed a beautiful neighborhood processional through to the meadow, crossing a small bridge to a sprawling grass field with a decorated white lattice arch overlooking a serene lake. Following the ceremony, the couple poured bubbly and enjoyed a quiet dinner with guests at their family home.
Photos by Caitlin Alohilani Photography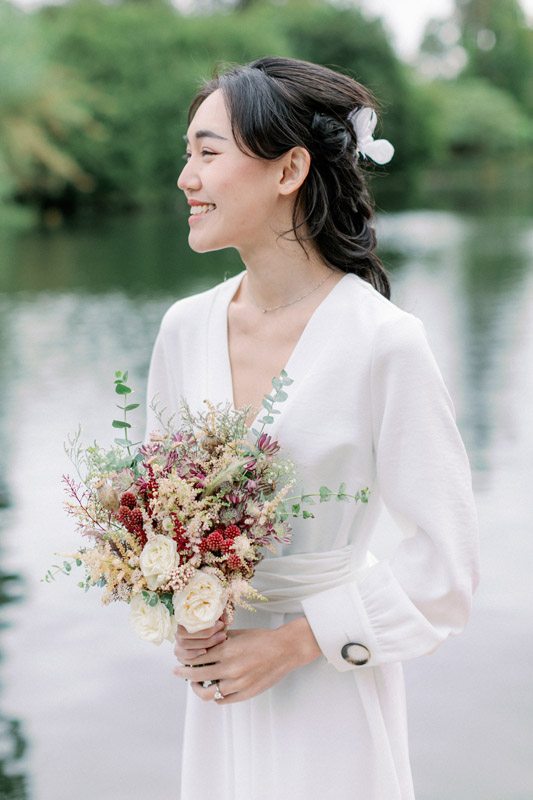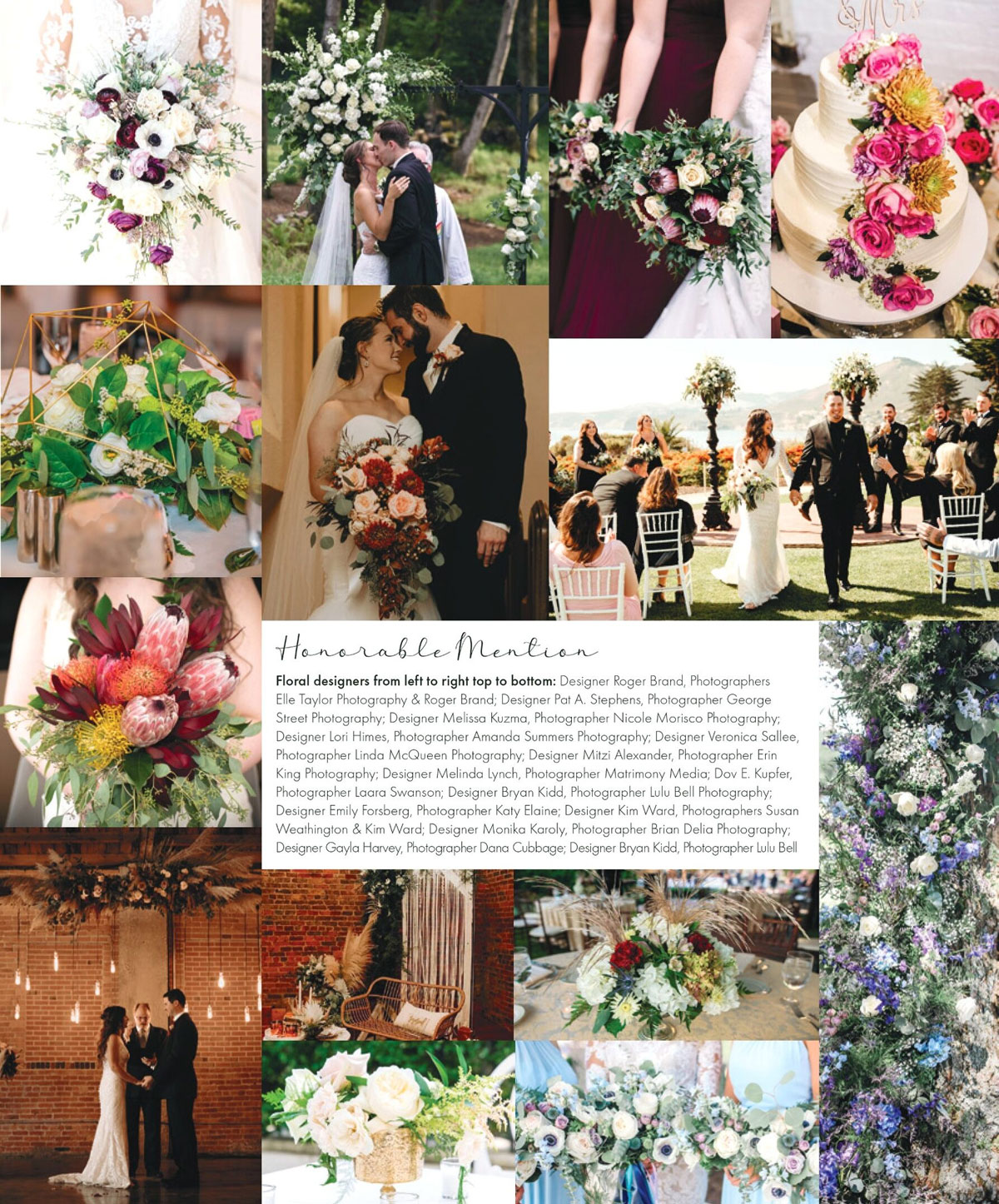 By Nita Robertson, AIFD, CFD The wreath business is big business. But has your company fully tapped into this popular niche? Consumers are shopping for creative fresh, permanent and dried wreaths all year long, but especially for the fall and winter seasons. So, if...
read more