Tips for ensuring your most successful prom season ever.
By Nita Robertson, AIFD, CFD
Prom season is around the corner and that means flowers to wear and carry. Teenagers throughout North America are planning their spring formals and proms. Dresses, tuxedos, limos, music, dancing and, of course, flowers make for a magical night to remember.
After two years of "virtual" everything, prom 2022 will be all about making a major "in real life" statement. And expectations are that this year's prom season will be a big one for all types of retailers and service providers. According to ADASA, an online party dress retailer based in Las Vegas, Nev. (ADASA.com), the most popular colors for this coming season's prom dresses are Vibrant Pink, Illuminating Yellow, Creamy Butter, Lapis Blue and Watercolor Lilac.
While there are some prom-goers who go for alternative couture, the majority choose dress styles that are somewhat traditional, but they have to a fresh and modern flair. ADASA reports that styles for prom 2022 run the gamut, from flirty short dresses and classic long gowns to dresses with high-low hemlines; from chic and even sexy (yes, sexy!) to demure and romantic; from strapless and off-the-shoulder gowns to long-sleeved dresses; and from two-piece outfits to dresses with pockets. These are not your grandma's—or even your mom's—prom dresses! We'll also be seeing lots of lace and illusion; tons of sparkle; and bold silhouettes, such as mermaid-style gowns, ADASA notes.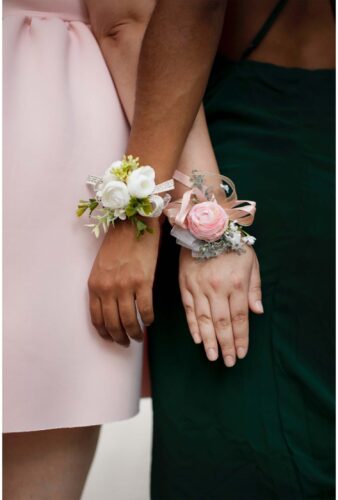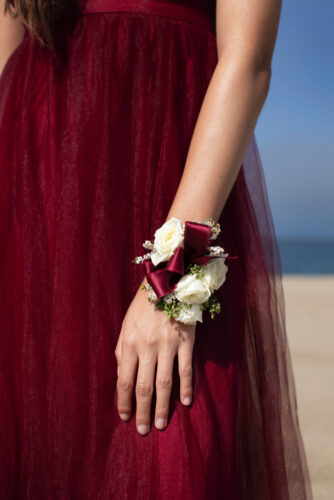 PROM FLOWERS
Prom flowers also have come along way, and there are now many ways to make them creative and unique (remember, uniquemeans one of a kind, not unusual). This generation is all about personalization, so to capture their attention, make sure your prom designs are modern, custom and personalized—with artistic flair.
Proms are important seasonal events for florists that can generate needed revenue as well as an opportunity to reach new customers who, with just the right offerings and service, could be turned into future regular flower buyers.
Make it fun and easy to order prom flowers. How can you make selling and designing prom flowers fun and easy? By utilizing modern and efficient design production as well as sales techniques geared to these Gen Z customers. With the right planning and preparation, you can have a successful prom season and grow your business by instilling a love of flowers in a new generation of consumers.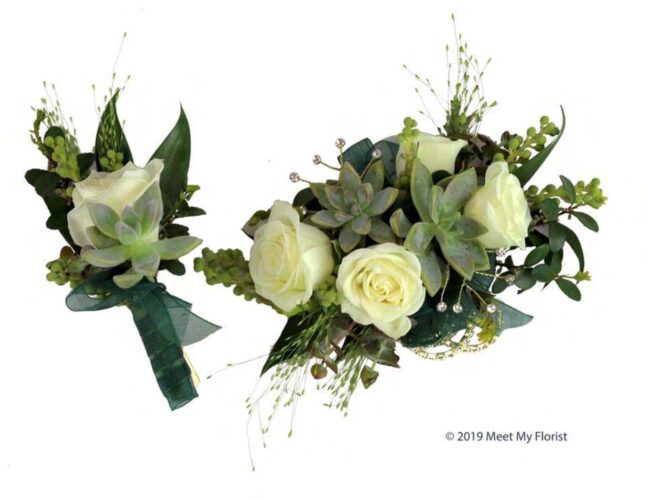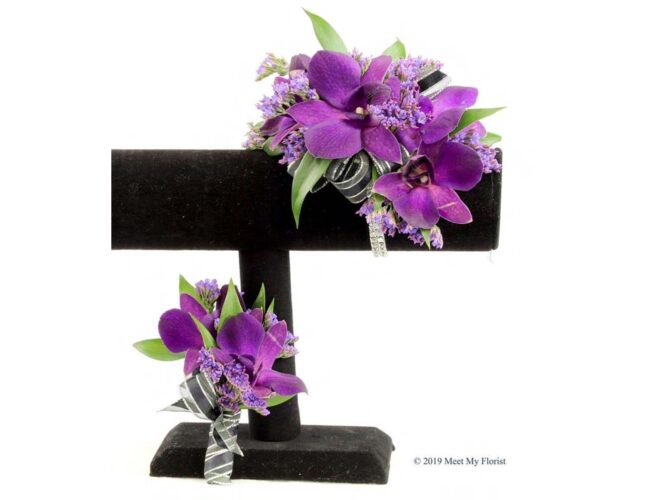 Rachelle Nyswonger-Neal, AIFD, CFD, owner of Flowers by Rachelle in Chico, Calif., is celebrating her 25th year in business, and she has seen proms evolve over those many years. Flowers by Rachelle offers amazing prom flowers, and the staff sets up up a "corsage bar" to make the sale easier and more fun. Nyswonger-Neal encourages customers to come into the store to make their purchases so they can see all of the shop's myriad prom flower options. If they cannot come in person, she recommends that they send her pictures of their dresses so she can create designs that complement the colors and styles. "Make a connection, and create a future customer," she says. "Over the years, I have had many brides and grooms come to me because I did their prom flowers. Proms provide a great opportunity to create future customers and gain future sales."
Preparation
The first thing you should do is compile a list of high schools in your area and get their prom dates on your calendar. This will help with your planning process.
Next, order your prom accessories—and flowers—if you have not already done so. Order a variety of corsage bracelets; ribbons; gems and jewels; accents; and supplies like liquid floral adhesive, magnets and pins, and corsage bags and boxes. Then, create a fun, inviting and even interactive display in your store. 
Corsages
Wrist corsages are the most popular style for prom. There are so many amazing corsage bracelets on the market that will make your customers feel special and provide them with keepsakes from the momentous event. You can also make one-of-a-kind corsage bases out of decorative wire. Accents such as rhinestone sprays (bling), gems and jewels, painted leaves, berries and decorative wire adornments can also make corsages pop.
The most popular flowers for prom are roses and Dendrobium orchids. You want to offer a selection of small lightweight flowers that hold up well out of water, such as Delphinium florets, Ranunculus, Hypericum berries, succulents, button spray mums, and miniature Phalaenopsis and Cymbidium orchids.
We all know that the retail price of prom flowers depends on the number and types of flowers used, the accents and adornments, and the complexity of the design. But are your prices keeping up with national averages? Today, boutonnières can range from $12 to $30 while corsages typically range between $30 to $70. Don't be afraid to charge appropriately for your products and creativity. Most prom-goers expect to lay out lots of cash for their special evenings; don't be hesitant to claim your fair share.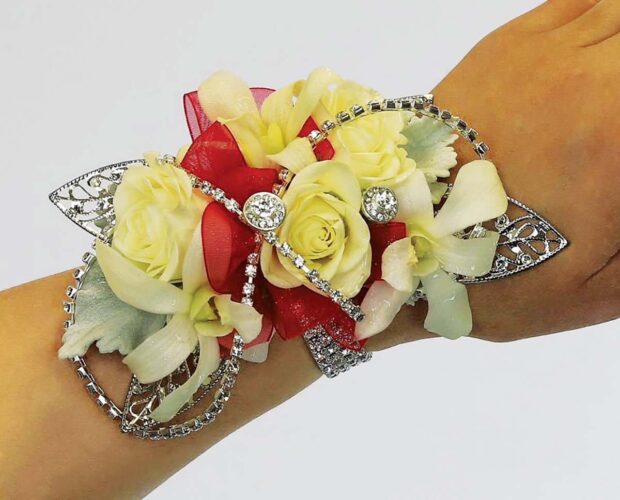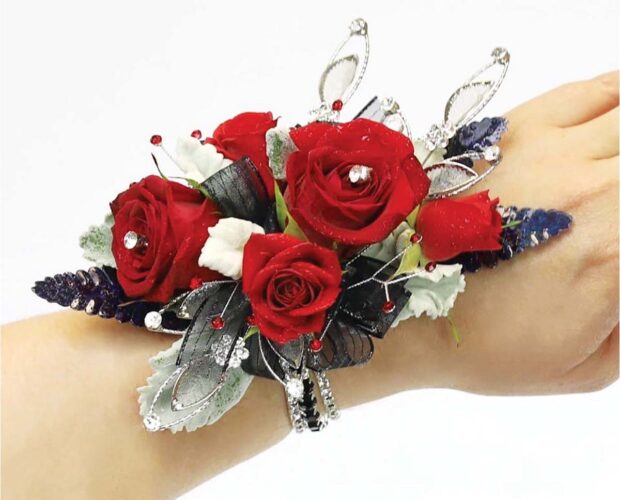 Offer flower jewelry in addition to or as an alternative to traditional prom corsages. Flower jewelry is becoming increasingly popular for proms, weddings and other formal events. Necklaces, bracelets, cuffs, rings, belts, anklets, fascinators and hair flowers are all options you should offer—and make customers aware of. Many prom-goers only know corsages; they have no idea what other types of flower wearables you can create, so you have to show them and educate them! Cash in on alternative-wearables trend by showcasing such offerings on your website, social media and in your shop. They offer prom-goers great ways to personalize and individualize their looks. The possibilities are endless, but it is up to you to promote these types of designs, to educate your customers on what is possible. It all can be very exciting—not only to them but also to your staff.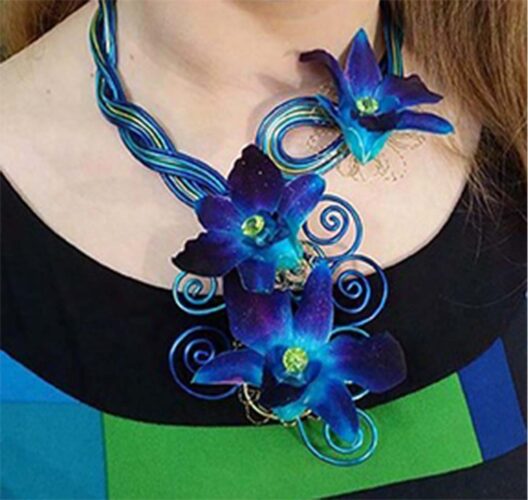 Corsage Mechanics
Liquid floral adhesive (a.k.a. cold glue) has changed the creation of corsages, especially for prom. It enables you to make multiple corsages at the same time. You can line up three to six corsage bases and do the flower gluing simultaneously. For most designers, it is faster and easier to use liquid floral adhesive to create prom flowers. Switch to the gluing method, and you can end long hours of finger-tiring wiring and taping flowers for prom corsages. If you make the basic forms in advance, it takes only minutes to glue the flowers in place.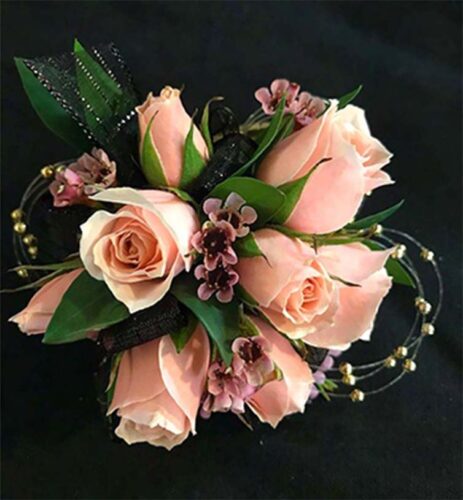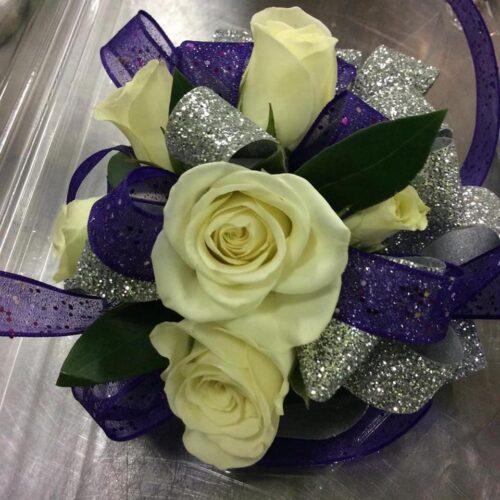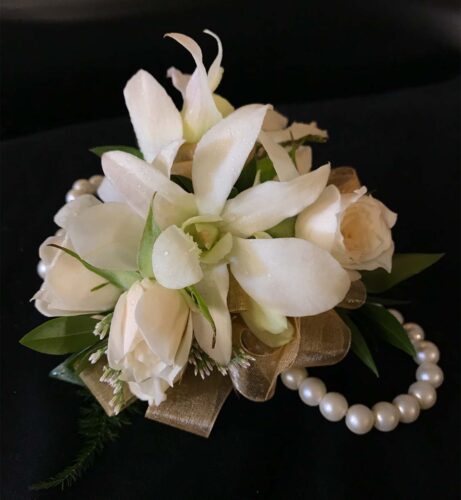 Tips for Gluing
• Place a row of bracelets onto a PVC pipe, to create several corsages at one time.
• Group designs that require flowers of the same color.
• Glue adheres to glue, so attach flowers securely by adding drops of liquid floral adhesive to both the stem tips of the flowers and the surfaces where the blooms will sit. Wait a few seconds for it to become tacky.
• Position each flower in a design, and hold it for a few seconds until the glue becomes secure enough to keep it in place.
• Wait a few minutes for the glue to completely dry in the design before packaging the designs and placing them into the cooler.
Boutonnières
Boutonnières have also evolved into more creative designs. Accents like looped grasses, decorative wire, and fabric details can make your boutonnière specials. Coordinate the flowers and accents for matching prom corsages and boutonnières. It has become trendy to ribbon wrap the stems of boutonnières, which helps match them coordinate with the corsages and provides a finished look. And be sure to offer unusual designs for the guys, too, like floral pocket squares, bow ties, arm bands—and on and on. Get creative! Today's prom-goers want something different, even some of the guys.
Boutonnière Mechanics
Depending on the style of boutonnière a client has chosen, you can either wire and tape the flowers and wrap the stem with ribbon or glue flowers onto a flat base (you also can use OASIS® UGLU™ Adhesive Dashes to attach flowers and foliage to the flat bases).
There are many options today for attaching boutonnières. For example, consider using magnets instead of pins; they make it so much easier to attach boutonnières. There are many such magnets on the market, including those sold by Fitz Design, BoutStix, Reliant Ribbon and other companies The only downside to be aware of with magnets is that they are not recommended for anyone with a pacemaker or ICD (implantable cardioverter defibrillator). For proms, you most likely won't encounter those issues, but it is a good idea to attach a note with each boutonnière containing a magnet warning of the effects.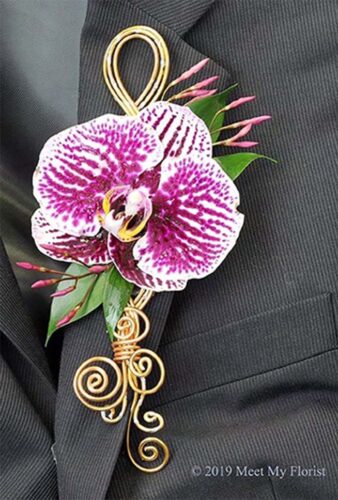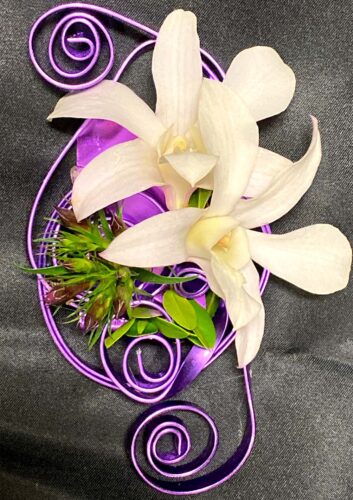 Corsage Bar
A corsage bar is a display of all of the decorative components and accessories available to create prom flowers. Customers can choose every detail to personalize their corsages and boutonnières! Showcase corsage bracelets, gems and jewels, picks and pins, ribbons, and other offerings in an inviting and interactive display. Customers love the hands on interaction of the display.
A corsage bar will help increase your prom sales by creating an easy and fun experience for your customers. Many customers will spend more than they intended once they see all the cool stuff you have available and all the cool things you can create. Be sure to showcase several corsage designs, as well—possibly made with permanent botanicals—so the customers can easily envision what the finished products can look like.
Also, be sure to having all pricing clearly displayed, as well as any package options you offer. Price every individual item, and consider offering standard, deluxe and premium packages. Clear pricing will make sales easier and will generate higher per-ticket sales.
How to Create a Corsage Bar
• Create a ribbon board showing all the various options, and label them so you can notate the ribbon color and pattern on the order. It is easier to make a bigger sale if people can see all of the fabulous options. This enables customers to match ribbons to their dresses and choose options that fit their looks. Most prom customers have no idea how many ribbon options are available.
• Display myriad bracelet options, and sell them as great values, noting that they become keepsakes from the special night. Bejeweled bracelets have become extremely popular for prom-goers, and they provide another way for customers to personalize their prom flowers, so be sure to offer a varied selection. It will be worth the investment.
• Likewise, display plenty of accent add-ons that can be added into corsages and boutonnières to make them extra special. For example, rhinestones, gems and jewels, feathers, decorative wires, et al.
• Create a sign that explains the steps to create their prom designs, to make the process easier.
For example:
• Step 1: Pick your bracelet
• Step 2: Choose your ribbon color(s) and pattern(s)
• Step 3: Choose your flowers
• Step 4: Choose your accents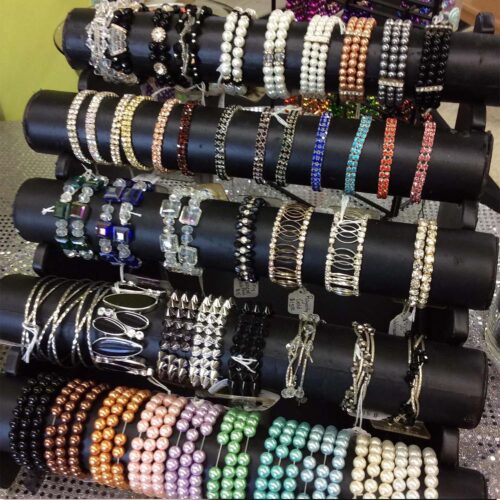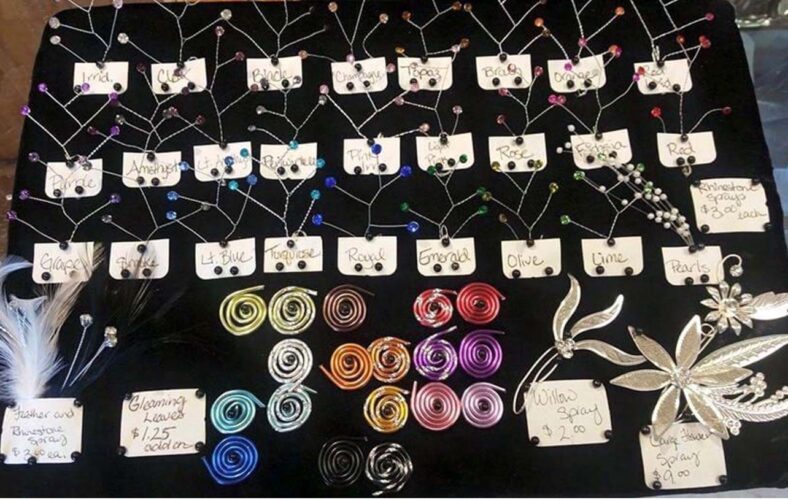 Lori Barrett, ICPF, owner of The Secret Garden in Decatur, Ill., creates a corsage bar for prom season every year. "It makes selling the add-ons so much easier," she shares. "When customers can see and touch the products, they are like kids in a candy store."
Barrett offers a variety of bracelets, ribbons and accents to enhance her prom florals. She offers magnets for attaching boutonnières and uses the gluing method to create her prom florals (she enthuses about what a time-saver gluing is). She makes all corsage bases as they are ordered and places them into a corsage box with all add-ons, and she tapes the order to each box. This keeps her organized and ahead of the game, and it helps her keep a better eye on the inventory she has remaining for sale.
Barrett also shares her system for organizing prom orders in the cooler when they are ready for pickup. She alphabetizes all the orders and gives each order a number. When a customer arrives, she looks up the name and finds the number on the order to match with the product in the cooler. With a display cooler, this procedure would prevent curious customers from knowing and seeing what other customers have ordered.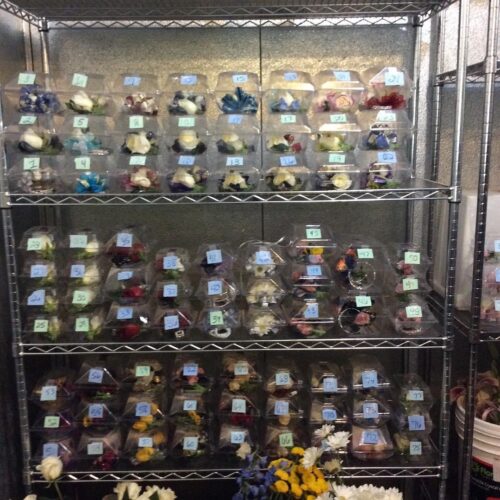 Another tip Barrett shares is listing the school on each order. She keeps track of how many prom florals are ordered by students from each school, and uses that information for marketing purposes and to plan for the following year.
Marketing
Make sure to get all of the prom dates for all of the high schools in your service area on your calendar, to organize your planning, buying and scheduling. Also, reach out to the schools and prom committees to see how you can advertise to their students. Some ideas include offering to donate a percentage of sales to the school (or a particular club) in exchange for promotion. In addition, inquire if the school will accommodate a demonstration on prom flowers.
Use the prom season to launch a social media promotion. Today's teens are on social media every waking minute, so what better chance to plug your brand into their online conversation? On social media, be sure to post pictures of your most creative, interesting and distinctive prom offerings as well as your corsage bar display. Share posts about current trends and styles. Show them what is possible!
Attach a card to every order asking the students to tag your shop on social media and share pictures. Be sure to include your shop's various Snapchat, Instagram, Facebook and Twitter info. This is the most effective kind of advertising for this customer base, and they do it for you—for free!