A nontraditional seasonal design inspired by a nighttime stroll through the winter woods.
Floral design by Paulina Nieliwocki / Text by David Coake / Sponsored by Melrose International
Drawing inspiration from the colors of the stunning cut-glass vase and the butterflies in the fanciful Butterfly Spray from Melrose, floral artist Paulina Nieliwocki, owner of Blue Jasmine Floral in Berkeley Heights, N.J., created this dramatic composition to capture the aesthetic of a starry late-winter-night stroll through the woods. Deciduous mountain laurel branches and delicate snowy Limonium establish both the personality and shape of the design, which are enhanced by a thoughtfully curated collection of blooms in a palette comprising moody blues, dusty lavenders, rich purples and deep plums—all accented with extraordinary light-brown Eustoma/Lisianthus.
STEP BY STEP
Step 1
Form a semi-flattened sphere of chicken wire (elliptical shape) the same diameter as the opening of the vase (approximately 6 inches). Wedge the chicken-wire form into the opening of the vase, and secure it with clear tape.
Step 2
Arrange deciduous mountain laurel branches into the vase, creating a large crescent shape. Next, arrange stems of Limonium among the branches, reinforcing and adding dimension to the crescent shape.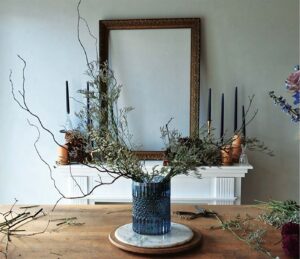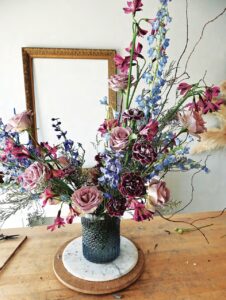 Step 3
Begin arranging flowers, one type at a time, starting with the largest and longest stemmed blooms (Delphinium, roses and Alstroemeria, in this sequence)—again, following and expanding on the crescent shape created with the branches and Limonium. Next, arrange the carnations into the design, placing some in clusters or groupings.
Step 4
Follow with stems of smaller flowers, including Eustoma/Lisianthus, Anemone and sweet peas, in this order. Be sure to create a strong focal area in the lower center of the crescent-shaped design with these flowers.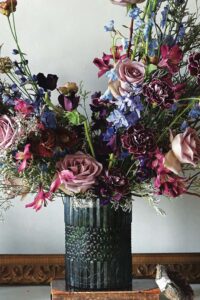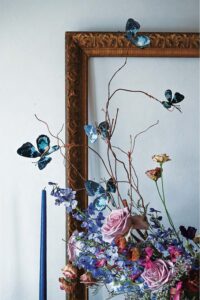 Step 5
Finally, arrange a Butterfly Spray branch, from Melrose, into one side of the design. Gently form the branch into a curvilinear shape, to reinforce and extend the crescent shape of the design.
Step 6
Accessorize the finished design with pine cones, amethyst geodes, candles, books, a picture frame and/or other accessories of your (or your customer's) choice.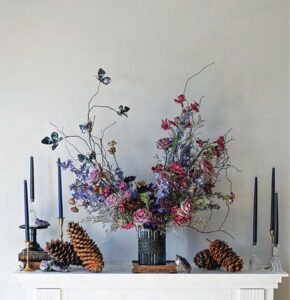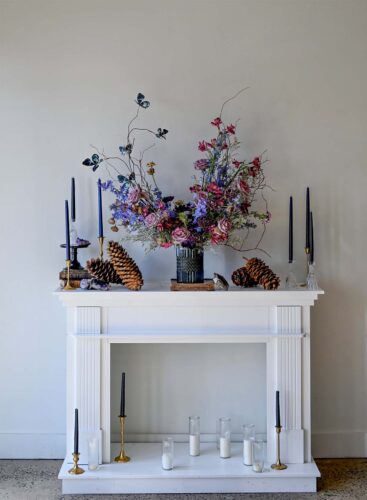 MATERIALS
BOTANICALS
• Rosa spp. 'Amnesia' (garden rose)
• Delphinium x Belladonna, light blue and dark blue (larkspur)
• Alstroemeria aurea/A. aurantiaca (Peruvian lily, lily-of-the-Incas)
• Dianthus caryophyllus 'Minerva' (carnation)
• Eustoma grandiflorum/Lisianthus russellianus 'Bohemian Mocha' (prairie gentian)
• Anemone coronaria (windflower, poppy Anemone, lily-of-the-field)
• Lathyrus odoratus (sweet pea)
• Limonium latifolium, white and light blue (sea lavender)
• Kalmia latifolia branches (mountain laurel, calico bush, ivy bush, spoonwood)
HARD GOODS
• Glass Vase (6" x 8", blue, 85494) from Melrose
• Butterfly Spray (39", 85364) from Melrose
• OASIS™ Florist Netting
• OASIS® Clear Tape
Video Tutorial