By Melinda R. Cordell
Maybe insurance is the least sexiest topic ever. But that all changes when a stolen car crashes into your storefront.
In July 2022, Native Poppy in South Park, San Diego, California, was coming out of the pandemic and getting back to selling flowers again.
Then a stolen DoorDash car came flying through the city at about 50 to 60 miles an hour and rocketed through an intersection in front of the store without touching the brakes. People managed to dive out of the way just before the car slammed into the Native Poppy.
Steven Topham, operations manager, had been making repairs inside the store with a handyman. They had stepped outside just before the car ripped the left front corner of the building.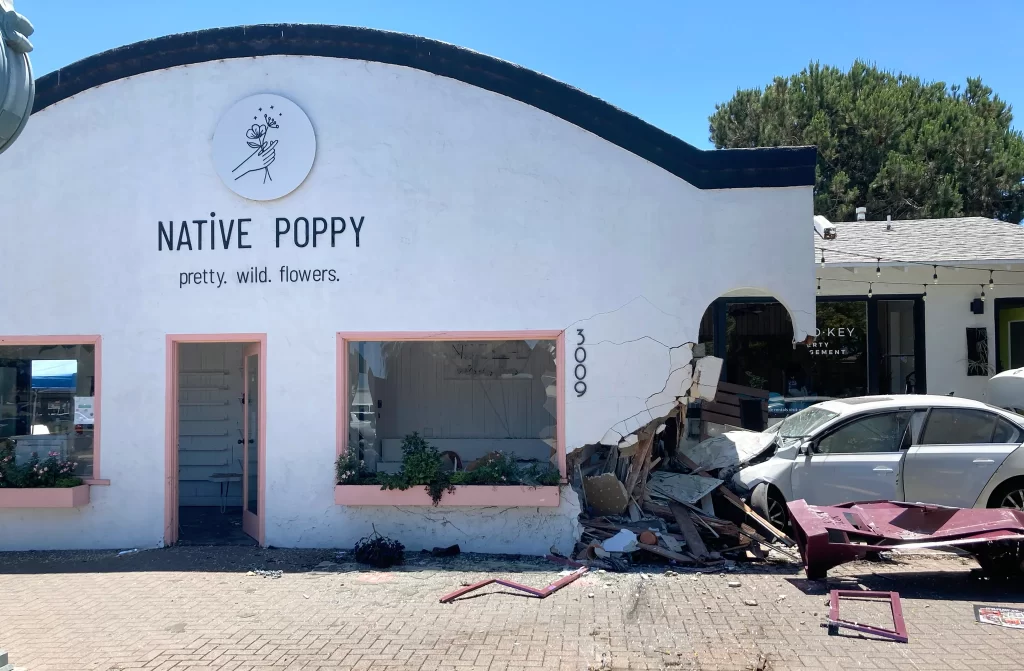 Natalie Gill, founder and president of Native Poppy, was thankful that nobody was hurt. But now what?
A good insurance company can help the florist and lower their stress levels by taking over the defense of their claim and pay what's due to the injured party. Ideally, the retail florist should come out in the spot they were in before the claim occurred.
This article is going to look at various coverages that florists need – coverage ideas that florists often overlook – and help you navigate the process a little more easily.
Business interruption coverage
The South Park shop was red-tagged and closed for six months.
In cases like what Native Poppy went through, business interruption coverage can help you get set up in a temporary location, cover extra expenses, and help with the costs of the missed business.
"Insurance covered our loss of income at that location," Natalie said, "but because the shop was still running in other avenues like online, our warehouse, and our other shop locations, we had to figure out how much money we were making at that one location, and then we were paid out for that."
Because Native Poppy rented the South Park location, their landlord's insurance covered the remodeling process. Their business insurance covered everything inside the structure, such as paint, lighting, fixtures, furniture, and gift items and supplies.
Frozen florals for four weddings
Paulina Nieliwocki, owner of Blue Jasmine Floral in New Jersey, faced a horrifying situation of her own.
She had been preparing frantically for four weddings booked in a single weekend. Then, on the Wednesday night before that fateful weekend, her cooler malfunctioned – freezing all her wedding arrangements along with all her retail flowers.
"So now it's Thursday and everything that was produced is gone," Paulina said. "I was like oh, my, gosh! What am I gonna do? That's a loss of something like five thousand dollars in product – because if you figure four weddings, you know it's a lot."
It was August, so she was able to buy out a local garden center's stock while frantically calling local suppliers and every florist she knew to help her rebuild the arrangements.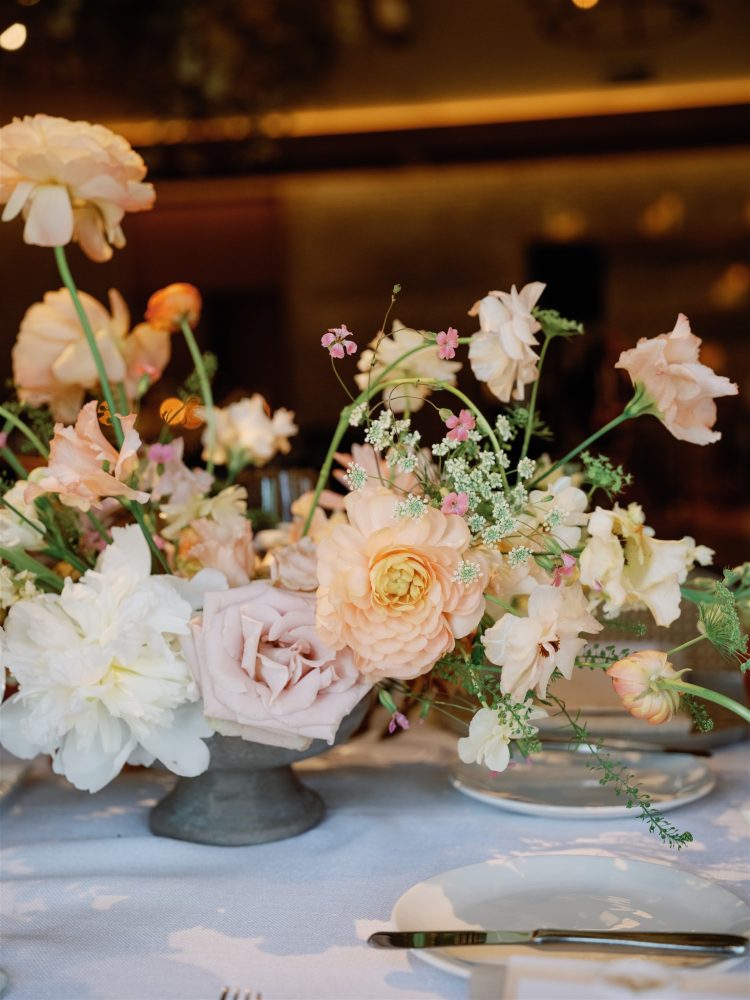 Paulina was forced to shut down her store, along with her Google page and online ordering, since she had no flowers to sell – not to mention that she and her colleagues were frantically working to replace four weddings' worth of work in the space of two days.
"I wound up double-spending on labor, replacing everything," she said.
Save your receipts!
Paulina used her liability insurance to recoup her losses. She ran a report from their POS (Point of Sale) system showing that they'd been shut down. She kept all her invoices from the garden center and the local florists who'd helped her.
"I compiled everything," she said.
She filed a claim for interruption of business. "I also filed the extra labor claim to see if I could get some of the labor back, but the insurance companies didn't understand. It's showtime. You have to just get it done and there's only so many hours."
Though insurance didn't do as well on labor costs, they did recoup the cost of the flowers and materials.
"I still made money," Paulina said. "I didn't make a big margin, but it wasn't a complete loss of a weekend. That's why you pay for insurance. That's what made me feel protected."
Keep your insurer updated.
The delivery vans at Native Poppy had custom vinyl wraps added to advertise their business with their logo and phone number, but didn't get them insured. When their driver had an accident, the insurance company covered the body work, but they wouldn't cover the cost of the wrap being replaced.
"That cost three thousand dollars," Natalie said ruefully, "so that ended up being an out-of-pocket expense." Any time you get a new big-ticket item, be sure to add it to your coverage.
Report incidents as they happen.
Traci Dooley, National Agency Sales Director at Hortica®, a brand of the Sentry Insurance Group, advises that it's best to report incidents like this to your insurance company as soon as possible.
"It may never come to anything," she said, "but a claimant, depending on where they're located, could take up to two years to file a claim."
It's a smart move to preserve all the facts surrounding that incident in your report today. "Two years down the road, a lot of things will be forgotten."
When things look dicey, upgrade!
Say you're setting up a display at a wedding venue when a guest trips over a power cord and knocks over some stuff. "I'm fine, I'm fine," they say, though they grimace when they get up.
For one wedding, Pauline had to create a big hanging installation on a tent that was anchored on suspended Sperry tent poles. Only the outer poles were in the ground – the rest of the tent was held up with only ropes and prayers.
She checked the weight limit and used her lightest materials for the interior decorations – baby's breath, Spanish moss – but it was a very complicated installation.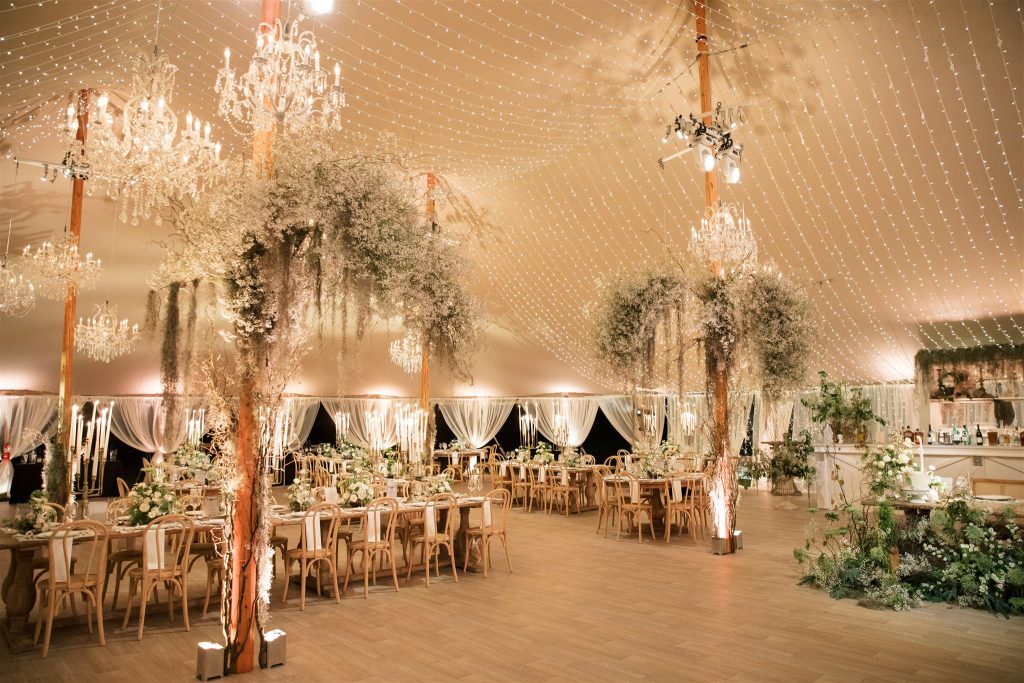 "I wound up upping my insurance coverage for that event because I was nervous," she said. "It's not that much more money, and I can breathe a little easier."
If you're setting up arrangements that involve lots of candles and kindling, or delicate Ming vases on pedestals, take a second to call your insurance broker and discuss your options.
Add cyber liability to your policy.
Cyber crime can be just as debilitating for a small florist as it is for a big corporation. Websites can be hacked; credit card information can be stolen; business and customer data can be compromised.
That's why Traci at Hortica recommends that florists look into cyber liability coverage. "If someone's able to hack into your system and get any type of personal information, whether it's a credit card with a name or an address, you have to notify your clients that this incident occurred, and you have to offer to pay for a credit report from the bureau watching over their information." Insurance can help you with that.
Don't forget errors and omissions (E&O)
Another important but overlooked type of insurance is errors and omissions coverage (also known as professional liability).
E&O is generally used for risks and accidents that happen through the professional services you provide.
An example of an E&O claim took place at an outdoor wedding. The bride and groom were standing under a gorgeous pergola saying their vows, when all of a sudden, the bride screamed and started jumping around. The pergola had been placed on a fire ant hill, and now the fire ants were attacking the distraught bride. As a result, her family wanted to sue the florist.
That's why it's a good idea to keep E&O coverage under your belt – and, perhaps, a small bottle of bourbon for times like this.
Working with insurance agents and brokers
You might even (responsibly) share that small bottle of bourbon with your insurance agent or broker, because they will smooth your path when things get rocky.
Pauline at Blue Jasmine adores her insurance broker. "She knows what we need, and she shops it. She's like, 'Utica will give us a better rate, let's just sandwich everything.' So she handles it."
The role of insurance brokers in navigating complex insurance needs is immensely important. Be sure to ask other florists for recommendations and shop around.
Natalie at Native Poppy said her broker cold-called her. "For me it was mostly a personality thing. He did his due diligence to compare quotes and constantly prove to me that he was getting the best quotes for us."
"That's the beauty of having a broker," Steve added. "It's easy to talk to them and just put those things on their plate."
Event insurance for venues
Pauline says that it's helpful to remember that different event venues require different levels of insurance. One place, an old Manhattan mansion, is "very historic, and so their insurance is very, very intense. They want the $2 million policy. They want another $2 for auto. You have to sign off on fire retardant things."
Her trick is to do an annual bout of due diligence in January, when things are slow. "Call up the venues that you're working on and see what your insurance liabilities are. Then if you have to make adjustments, you can call your broker, or your insurance. Get the fees, per venue or per event, and just get them done."
Another thing she does is call venues and say, "Hey, I would like to propose a wedding at your venue," and they discuss the venue guidelines and policies. "Then when you go to price the wedding, you know you're gonna have to step up the insurance by 5% and you can get that cost covered." It's a way to make sure you're compensated for the extra costs, and you also get some of those venue fees paid early.
Conversely, Traci said that Hortica agents would get questions from folks that didn't generally have insurance, such as floral event planners, who needed to purchase event insurance for different venues.
Traci suggested a different way. "You can purchase an event policy that covers that one event, but things go on year-round that really might impact you. An event policy costs probably about the same as an annual general liability policy." It might be better to purchase a general liability policy to cover the full year. "Then your insurance agent can supply a certificate of insurance to that venue showing proof of coverage."
Steve at Native Poppy has seen a "weird influx" of venues asking for certificates of insurance for the upcoming event season. "Maybe it's the venue just being more proactive to make sure that they know who our insurer is, so we get listed as a named insured." Being proactive about this is a good idea.
A few helpful insurance hacks.
Traci encourages florists to join a national association such as the Society of American Florists (SAF) or the Wholesale Florist and Florist Supplier Association (WFFSA). "Being a member of one of those associations is very helpful because they help you stay abreast of legislative and regulatory issues," she said.
Here's another insurance hack: Many insurance companies will provide loss control or safety services specialists who will come to your shop and identify potential hazards that you can fix to lower your liability. "They'll make suggestions to you, like changing the distance in the aisle or putting tape on stairs," Traci said.
Carefully review your policy every year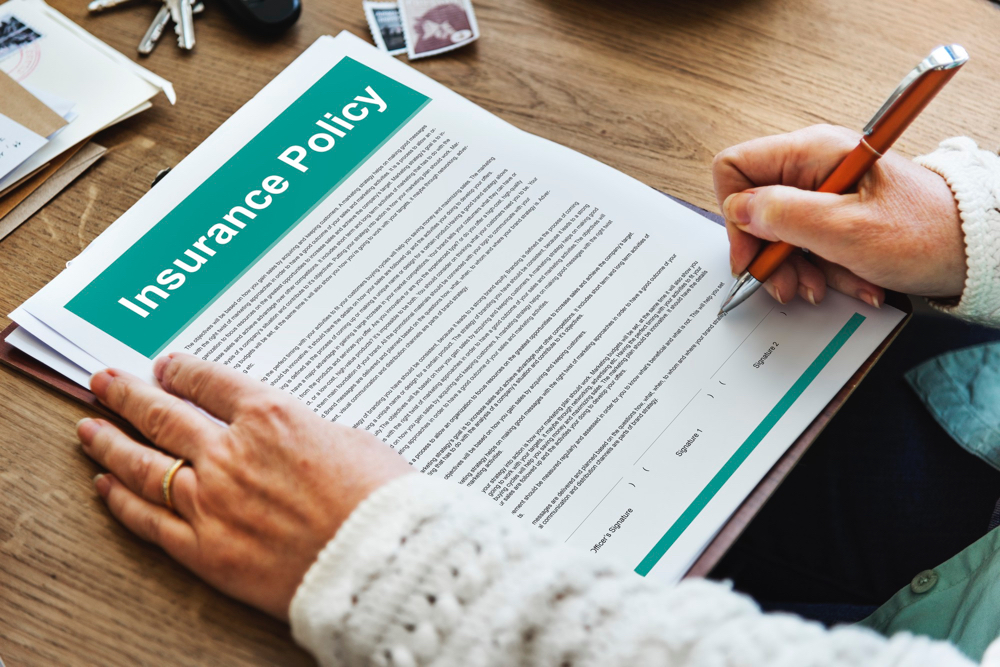 As an agency sales director for an insurance company licensed in all 50 states, Traci highly recommends talking to your agent when it's time to renew coverage, because prices and policies change.
"If you should have a fire claim or something catastrophic, such as a hurricane, are the values that you have on your policy adequate to replace your business?" she asked. "Is your coverage adequate to rebuild that building if you need it rebuilt?"
Inflation and other factors have driven the price of building materials and property sky-high – and things like this must be considered before you renew your policy. "When we evaluate policies and do a replacement cost valuation, we have found in some cases that they might be insured for half as much as what they need to be," Traci pointed out.
As a florist, Pauline understands the struggle is real for her colleagues, but she also gets how necessary it is to stay covered.
"Yeah, we pay a ton of money already," she said. "But God forbid if something happens! People are standing on ladders. They're dealing with sharp objects. It's kind of a risky business."
It's just a good idea overall to CYA: Cover Your … Assets.
Society of American Florists: https://safnow.org
Wholesale Florist and Florist Supplier Association: https://www.wffsa.org/aws/WFFSA/pt/sp/home_page
Hortica®, a brand of the Sentry Insurance Group: https://www.hortica.com