A crash-course on these once-again-fashionable botanicals
By Nita Robertson, AIFD, CFD
Dried flowers have experienced a resurgence in popularity in recent years, and it not expected to slow anytime soon. They are popular due to their natural beauty, longevity and low maintenance. Additionally, dried flowers are often chosen for their sustainable and ecofriendly qualities.
Dried Flowers Throughout History
Beginning with ancient civilizations, dried flowers have played significance roles in various cultures, from religious and ritualistic purposes to decorative and sentimental uses. Ancient civilizations, such the ancient Egyptians, used dried flowers in various religious rituals, adorning tombs and decorating their living spaces. Flowers like lotuses and roses were particularly significant. Dried flowers were used in ancient China, as well, including in traditional Chinese medicine and decorative arrangements. In ancient Greece and Rome, dried flowers were used to create wreaths, garlands and floral arrangements, which were often used in religious ceremonies and festivals and became symbols of victory. During the Victorian era, dried flowers experienced a resurgence of interest throughout Great Britain, where intricate techniques for preserving and arranging these flowers were developed, leading to the creation of elaborate floral displays and shadow boxes and other keepsakes.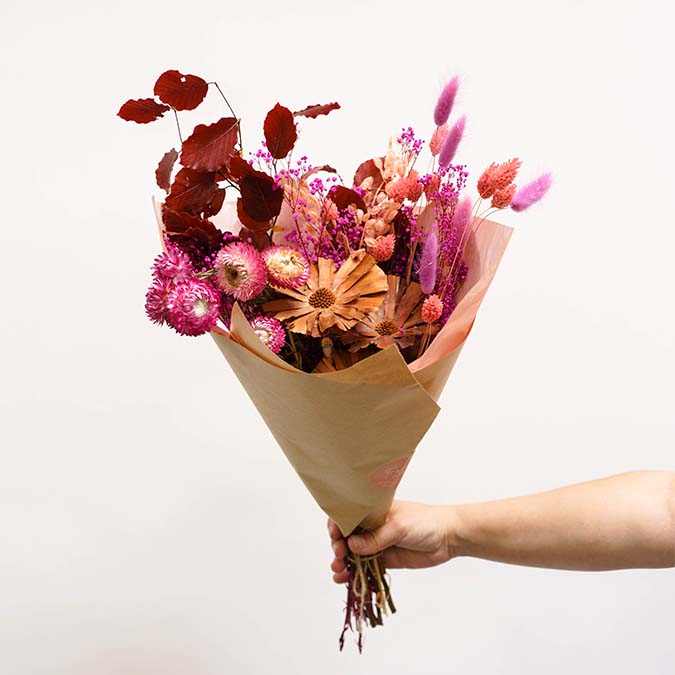 How Fresh Flowers are Dried and Preserved
Techniques and methods for drying flowers evolved over time, from pressing and drying to preserving their colors and shapes, leading to more realistic blooms and longer-lasting displays. Today, flower and foliage drying methods include air drying, freeze-drying and preserving.
Dried botanicals begin as fresh materials and are dehydrated to remove moisture, resulting in altered texture, color and, sometimes, size and shape. Once the botanicals are completely dried, they are usually treated with a setting solution and in some cases, dyed or colored. Being dried, the botanicals are often somewhat brittle.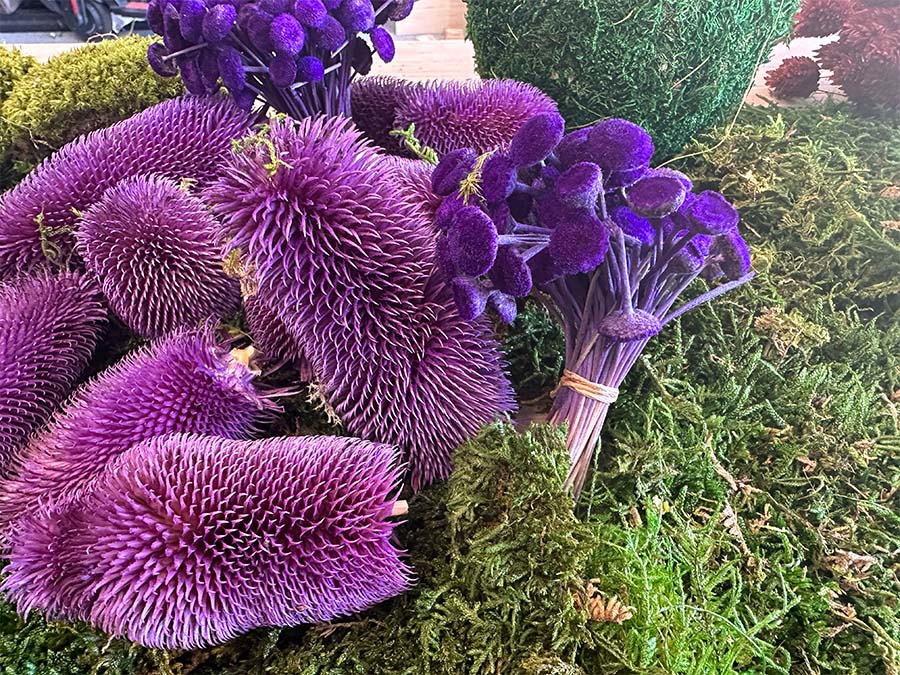 Preserved botanicals also begin as fresh materials, but their stems are placed in a solution—often glycerin based—that solution replaces the water in the botanicals. This process makes the botanicals more supple, flexible and less fragile than dried botanicals, enabling them to maintain many of their original characteristics and much of their natural appearance.
Freeze-drying, a.k.a. lyophilization, involves the careful freezing of fresh botanical materials to control the size and shape of ice crystals. Then, pressure is decreased and temperature is increased, which changes ice into water vapor, and the water vapor is released and extracted using a vacuum chamber; this process is called sublimation. Freeze-drying perfectly maintains the natural shape and color of flowers but requires specialized equipment. Botanique Preservation Equipment, in Phoenix, Ariz., offers freeze-drying machines for retail flower shops, studio florists and home-based businesses (botaniquefrzdry.com/machines).
Capitalize on Consumer Interest
Dried flowers are definitely in the eyes of consumers, with millions of tags on Instagram and other social media platforms, so be sure to capitalize on the current popularity of dried botanicals by offering a variety of dried botanicals and designs to your customers.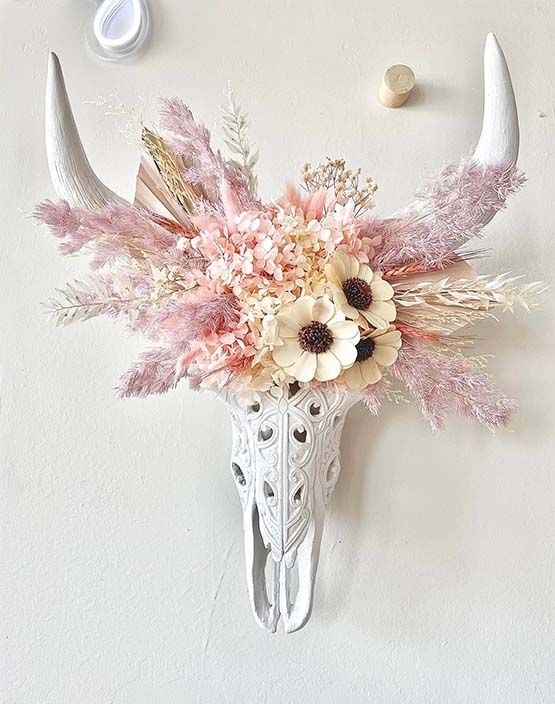 Native Poppy, a retail flower business with locations in San Diego and Solana Beach, Calif., not only offers dried flowers to its local customers but also ships them nationwide, including wreaths, flower crowns and wrapped bunches. For example, explains Liz Martin, Native Poppy's marketing coordinator, "With our 'Dried Flower Wraps,' customers can choose from three delightful color palettes: 'Sunny Honey.' featuring bursts of golden yellow; 'Peachy Keen,' with soothing pink and peach tones; and 'Mojave Mama,' inspired by desert neutrals. We offer them in two sizes, 'Classic' ($45) and 'Grand' ($95)." Native Poppy also offers a seasonal holiday bundle.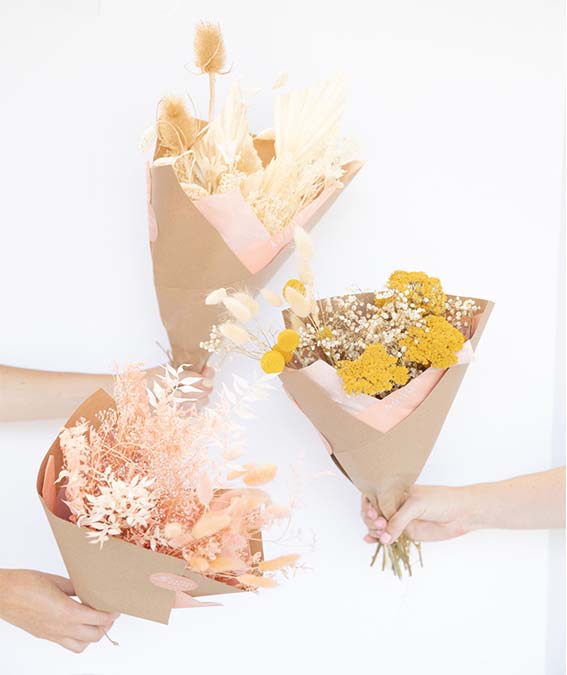 Combining Fresh and Dried Botanicals in Floral Designs
The appeal of dried flowers partially lies in their vintage charm and ability to evoke a sense of nostalgia. Mixing different types of dried flowers and blending various textures can lead to truly exquisite and personalized floral designs. In addition to being stunning on their own, dried flowers are also beautiful when incorporated into fresh floral design work.
Jacob McCall, AIFD, CFD, AAF, PFCI, FSMD, creative director at Knud Nielsen Company, a premium supplier of dried botanicals in Evergreen, Ala., loves incorporating dried botanicals into his fresh designs. "Blending the delicate beauty of dried flowers with the vibrancy of fresh blooms adds a timeless elegance to floral arrangements, breathing life into every petal and creating a captivating symphony of textures and colors," he says.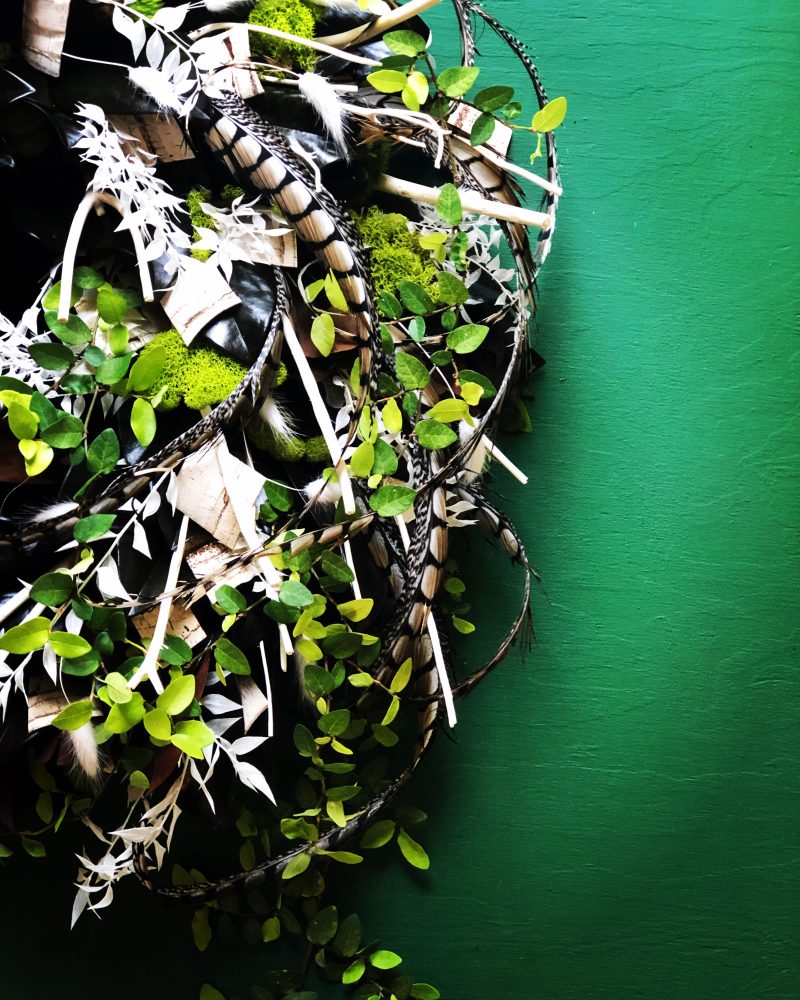 Dried flowers can be used in various applications, including home décor, wearables, potpourri, gift items and much more. In recent years, dried flowers found their way into weddings and event design. Dried flowers fit well with the bohemian and rustic design trends. They often are featured in designs that embrace a natural, slightly wild look. The creation of large floral installations for weddings is made easier by using dried flowers due to their lightweight nature, extended lifespan, and ability to retain their shape and color. Incorporating dried flowers into wedding and event work enables clients take them home and remember the magical event for years to come. It also may provide you with the opportunity to reclaim and reuse them.
What's Trending
Pampas grass (Cortaderia selloana), bunny-tail grass (Lagurus ovatus) and palm spears have been particularly popular for the last few of years. Pampas grass, with its feathery plumes, became a staple in the bohemian look. Bunny-tail grass, known for its fluffy heads, adds a whimsical touch to arrangements.
Bleached dried florals have also gained popularity. Bleached Ruscus and delicate lace ferns, for example, provide wonderful color and texture to floral designs. Vance Schuster, owner of Schuster's of Texas in Goldthwaite, Texas, a top supplier of dried materials, says bleached drieds are among his top sellers. "All the bleached ferns are selling well—Lace Fern, Long Fern, Mini Fern and Mountain Fern—as well as bleached Lunaria and Miscanthus," he shares. "Star flowers are also selling very well, as are ghostwood, grapewood and manzanita, all sanded."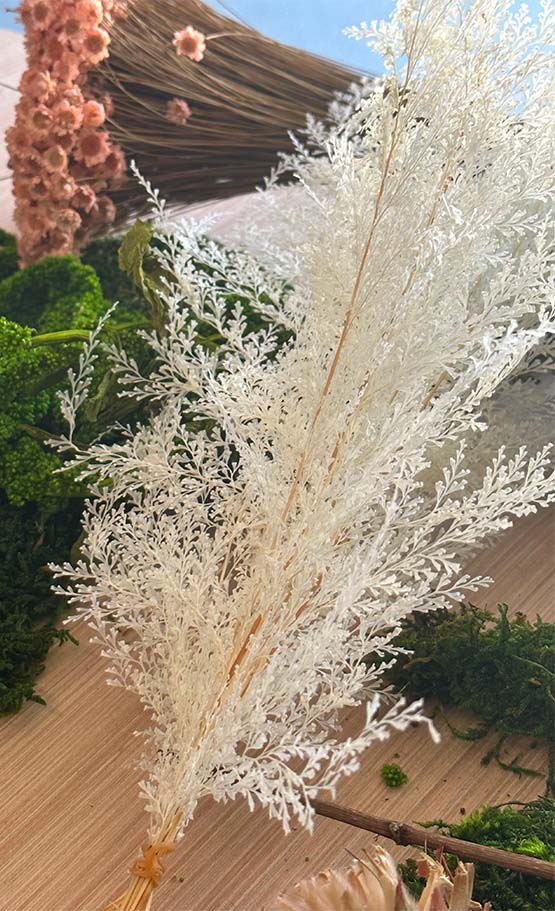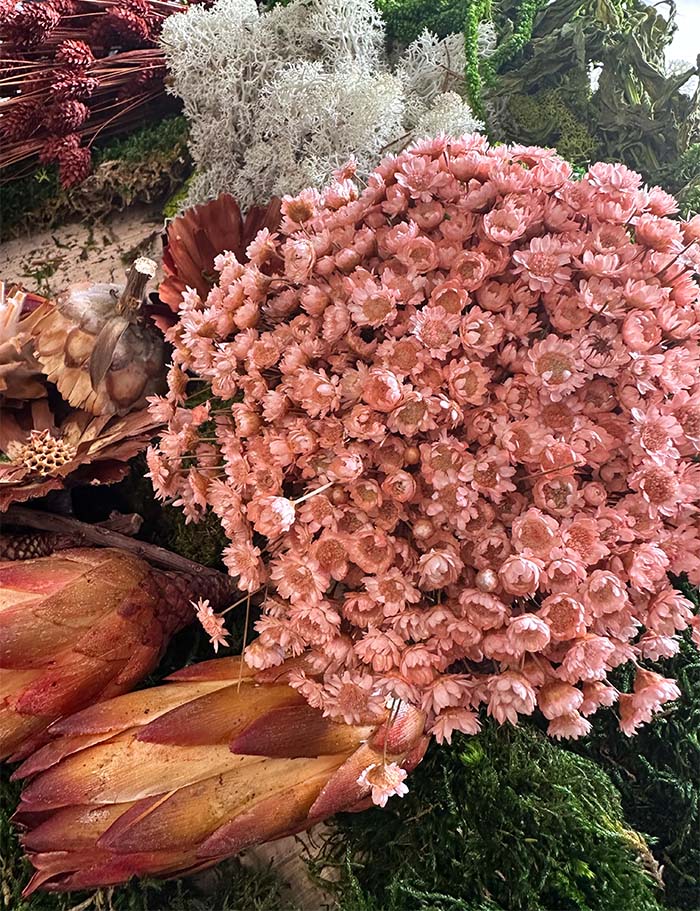 Care and Handling
Dried flowers are delicate, so handle them—and dried-flower designs—gently to avoid damaging them. Hold individual or bunched dried flowers by their stems or other sturdy parts. Dried and preserved botanicals often require dusting from time to time, which you can do with a soft feather duster; a hair dryer on a low, cool setting; or a canned-air duster (the type used to clean electronics). You can also try a professional dried flower cleaning sprays, such as Chrysal Silk & Dried Flower Cleaner, which is a water-based product that freshens both fabric and dried flowers and plants (chrysal.com/en-us/products), and DriSplendor Dried & Preserved Floral Cleaner (handpsales.com/cleaning-products). In addition, inform customers to keep dried and preserved flowers and designs away from direct sunlight because it can fade and even change their colors.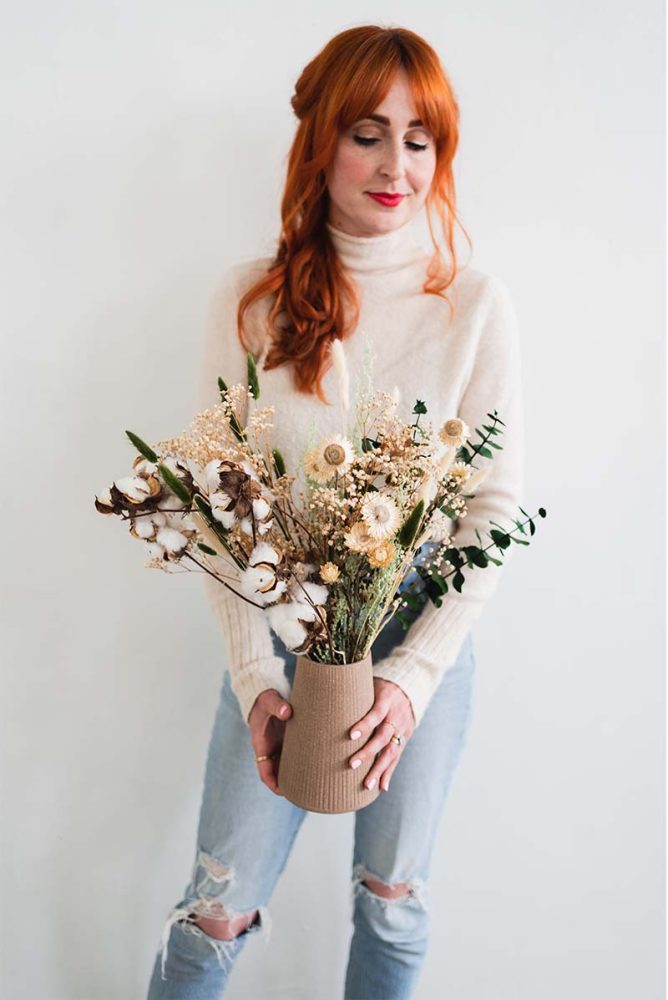 DRIED FLOWER SOURCES
Afloral
Dijk Natural Collections
Dutch Masters in Dried Flowers
dutchmastersindriedflowers.com
Holland Dried Flowers
Holex Flower
Knud Nielsen Company
Lamboo Dried & Deco
Mills Floral Company
Schusters of Texas
Vyn
Woodcreek Drieds