Tips for getting your designs to their destinations safely and easily.
By Jill Brooke
Ask any florist the best part of his or her job, and the answer will be the same. It's that time composing an arrangement and producing a symphony of color with lush roses, perky peonies and voluminous fillers, and letting creativity soar and roar. However, it isn't so much fun having to think of transporting these creations to an event.
Even the pros who have been in the floral industry for decades confirm that the challenges of the unexpected can cause stress and even destruction. However, with experience and smarts, there are ways to minimize the unexpected and build strategies for both small and large jobs.
"What florists lay awake thinking about at night is how we will fit everything into the vehicle, no matter the size of the vehicle, and making lists of things not to forget," says Dawn Weisberg, owner of Tularosa Flowers and Farm in Fallbrook, Calif. "It's always a challenge. Flowers are fragile, heavy, and sensitive to both heat and cold, and they take up a ton of space. They are a perfect storm of a logistical nightmare."
So where to start? Here are some categories to consider and contemplate.
INVEST IN CARTS AND SHELVES
Carts are a florists' "best friend." "As early as you can, get yourself rolling carts and rolling shelves," Weisberg advises. "They will triple how much you can get into a vehicle and half the amount of time that it takes to load into and out of a venue."
After all, time is money; therefore, invest in different sizes of carts and rolling shelves—commercial grade, preferably. And what should you consider when buying a cart? First is size. Measure the interior of your vehicles and the storage space in your work areas. Also purchase some larger carts that, for example, will fit into freight elevators at various event venues. Durability is also a concern, so consider purchasing commercial grade carts and shelves. Finally, make sure the carts will roll easily through different outdoor terrains such as fields, golf courses, beaches, and gravel driveways and parking lots.
"For our weddings, we transport in everything from a cargo van to a 36-foot refrigerated truck," says Weisberg. "I have at least seven different and distinct types of rolling carts, each serving a different function. You can get them from many different sources, including WebstaurantStore, Uline, The Home Depot and Amazon."
Weisberg once also used shower curtain tension rods to transport baby's-breath "clouds" for a large installation. "The clouds were made on chicken-wire bases, so they were lightweight and easy to move from the studio to the ceremony to the reception," she recalls. "We had to make only minor fixes and adjustments on site."
As with anything, be resourceful, and you'll sleep easier knowing you have the right equipment ready to roll.
ALWAYS CHECK THE TEMPERATURE OF YOUR TRUCKS OR PLANES
At Schaffer Designs in Philadelphia, Pa., Bill Schaffer, AIFD, CFD, AAF, PFCI, has catastrophe insurance because, for example, flowers can experience temperature problems during shipping that will render them unusable. Because Schaffer and his wife, Kristine Kratt, AIFD, CFD, PFCI, often do major weddings and events around the globe, anticipating transportation problems is a priority for them. "You have to always prepare for the worst," he says. The insurance means that Schaffer and Kratt can pay for quick shipping of replacement flowers, if needed.
Andrew Thomas, owner of Andrew Thomas Design in Cleveland, Ohio area—and a protégé of Lewis Miller, has worked both in Washington, D.C., and Ohio. He recommends trucks with trusty temperature controls. He advises making that a focus, even if it's pricier. "Reefer trucks should always be a preferred option because no matter what, you can have temperature control," he says. "Just don't forget to keep an eye on the temperature in case the unit freezes. Yes, that has happened to us!"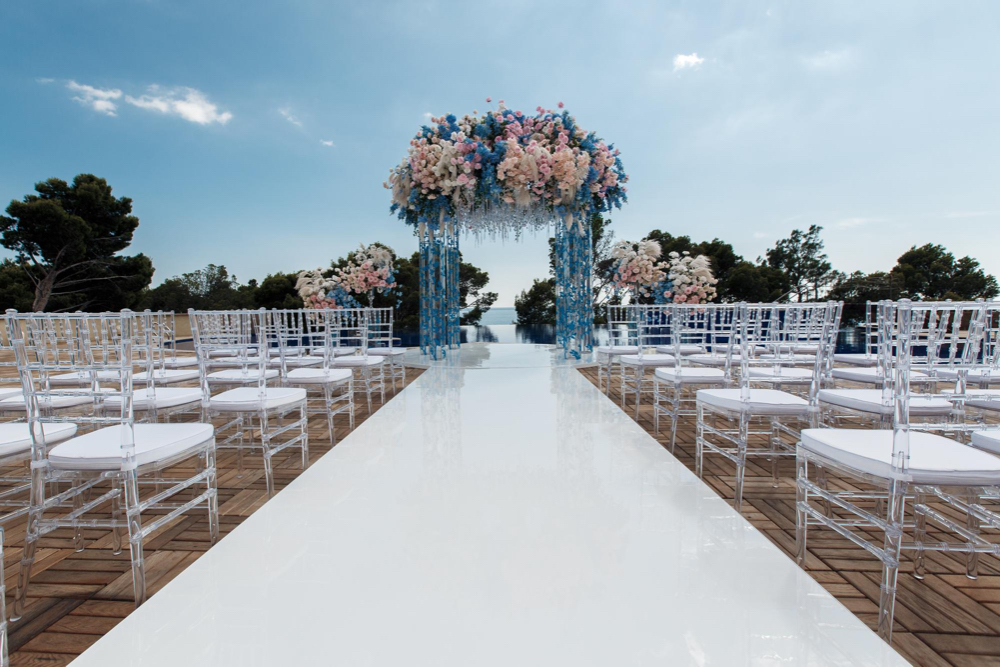 CONSIDER TRANSPORTATION BEFORE LETTING YOUR CREATIVITY EXPLODE
In a flower design space, arrangements are easy to ooh and aah over. But event planners like Tricia Swift, co-founder of Tangram International Exhibitions, with offices in Pleasantville, N.Y. and Cannes, France, encourage practicality as well as artistry. For example, make sure the flowers are placed at the event away from the area where the bartender is preparing drinks. "Bartenders will move flower arrangements if they interrupt the flow of getting drinks," Swift notes. She states that "scale is essential" and recommends anticipating the space and the needs once the event in underway. Large arrangements are ideal for entrance points but not necessarily for bar areas.
For many floral designers, the hardest things to transport are large "topiary"-style arrangements. When possible, Weisberg constructs them in containers that can be lifted off their elevated vases or stands and transported separately. "Because they are so large, they don't fit on the average rolling metal shelving," she explains. "We will maximize space by using folding tables, 'bungeed' into the vehicle. Arrangements will go both on and under the table. A standard cargo van will accommodate at least two six-foot folding tables, with room for other things, so you can transport at least eight large topiary-style arrangements."
Another pro tip? Make sure to use heavy-duty non-slip drawer/shelf liner on top of your tables or shelves, to minimize sliding and shifting of arrangements.
At The Bridgehampton Florist in Bridgehampton, N.Y., owners James Osburn and Michael Grim find that "old sheets, blankets, bedspreads, towels, pillows, etc." are useful padding and protection. "We place sheets in and around, say, 20 centerpieces," Osburn says. "For taller pieces, we use plastic milk crates stuffed with towels or, for larger ones, pillows."
So, what happens when you can't separate your flowers and vases from each other? Let's say you have a flowered candelabrum or flowers in a tall vase. "In these instances, I like to place each vase or candelabrum individually into a five-gallon bucket," Weisberg remarks. "The bucket has a large surface area of contact with the ground and, therefore, is more stable. Because these arrangements are always top heavy, the depth of the bucket prevents the vase or candelabrum from falling over all the way, and they can be loaded and placed neatly together in a van or truck."
Most florists will agree that the most important factor is to make sure that the flowers are snug, to support each other. "We will often reuse the boxes that roses come in to transport low compote-style arrangements," says Weisberg. "This keeps them snug and secure, and they can be offloaded easily from the truck into the venue."
Jenny Tobin, owner of Jenny Tobin Florist in Marlow, Buckinghamshire, England, is an award-winning wedding and event florist who also designs florals for television and film productions, including Oscar-winning films such as The Favourite and Fantastic Beasts. Tobin prefers to use buckets to secure all her flowers when transporting onto a set. She says florists need to learn layering for any truck. "I generally 'bungee' the buckets to prevent them falling forward or backward during transport," she says. "If the large arrangements are secured, then the smaller ones also remain safe."
Because wedding arches are the rage, many florists are now building these installations prior to the big days. Asking venues for permission to create them in advance saves lots of transportation headaches. Then you can just take extra flowers in a bucket and add them at the event.
ANTICIPATE THE RULES OF THE VENUE
While working in Washington, D.C., Andrew Thomas learned that historical buildings have very strict rules about carts. For example, while working at the Andrew Mellon Building, a landmark structure on Embassy Row, he had to carry all of the flowers because the wheels of the carts could impact the marble floors. This taught him to have more manpower on hand to help transport the flowers in case such as situation arises again.
WEATHER CAN FOIL BEST-LAID PLANS
Wind and rain are not a florist's friend. Such weather requires more effort by florists to secure the flowers in boxes or buckets and, perhaps, covering with tissue paper. Because some flowers, such as Ranunculus and sweet-peas, are so fragile, instead of transporting them in an arrangement, transport them in buckets and add to the arrangements on site. It's what one florist describes as an "insurance plan."
WATER PROBLEMS
Because watering flower arrangements at an event is often problematic, Holly Heider Chapple, co-owner of Holly Heider Chapple Flowersand Hope Flower Farm, both in Loudoun County, Virginia, invented plastic grid armatures—The Pillow and The Egg—that enable florists to easily remove an arrangement from a container, fill the container with water and then slip the arrangement back into the container. "Water spills out of vessels using a pin frog or chicken wire," she says. "Before, you had to worry about working around the chicken wire and cluster of stems to refill a container with water."
Chapple notes that many of her friends and colleagues are also using her armatures for installations, such as on arbors and all on walls, with Command™ brand hooks, for suspended designs."
The issue of water resonates with many florists who want to be more sustainable, some of who encourage florists not to be scared of little water. "Yes, floral foam is easier to transport because there is less water sloshing around," says Becky Feasby, owner of Prairie Girl Flowers in Calgary, Alb., Canada. "But at what cost? Water spillage is a far less significant problem than microplastic pollution."
"Packing a vehicle for an event is an art," adds TJ McGrath, owner of TJ McGrath Design in Plainfield, N.J. "For me, it's more about maximizing space than worrying about a little water spillage."
Efficiently packing a van definitely creates opportunities and choices. And Michael Grim points out that "a drop of water on a petal can be quite beautiful. Many times, we mist bouquets, which also helps keeps them fresh."
BE SMART ABOUT HOW LONG EACH PROJECT WILL TAKE
Because any great event has many moving parts, including other vendors, be mindful of the time allotted for delivery and setup. Having proper schedules and talking to the right people in charge will alleviate many potential problems.
"Asking venues for specific diagrams or layouts is a great start to be more of a community and allowing the everyone to have more of a 'schedule' when it comes to loading in and out," says Andrew Thomas. "It takes an army to put on a magical, seamless, memorable event. All of us in the floral industry would agree that we are 'in it together,' from start to finish."
But one can never forget this truth. It's always near the finish line where one can experience the agony of defeat. So, plan ahead to triumph over the transportation challenges—which can translate to more jobs, as well.