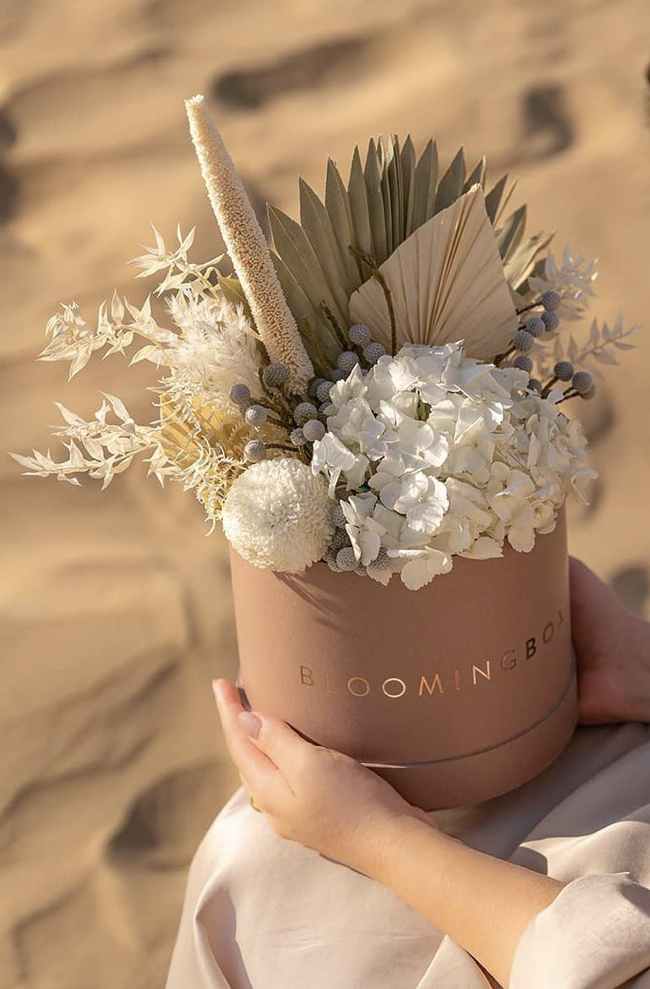 11 of the Best Florists in the UAE
By Sarah Joseph
Sometimes there's nothing more special than receiving a gorgeous bouquet of flowers. With gifting being a beautiful way to express your love, this edit of florists in the UAE create bespoke floral arrangements which are sure to bring a smile to your loved ones' faces.
With unconventional arrangements, Fine Blooms brings a fresh and imaginative approach to floristry to the UAE with beautifully sourced pieces with expert florists any time of the year. Born with the ability to transform spaces in private residences, event venues and corporate environments, each bouquet is inspired by architecture, design to spark positive bouquets. Starting at Dhs350 for an arrangement, each one comes in three different sizes.
From a selection of gorgeous blooms to a bespoke solution for all your requirements, each floral arrangement is created by a team of specialists by drawing inspiration from current trends in design, fashion and architecture, while interpreting the customer's needs. With a special edition created especially for the Holy Month, the flowers start from Dhs275 and can be ordered online or purchased from any of the ten locations in the UAE.
Florette
Bringing the freshest flowers delivered straight to you at wonderful prices, Florette aims to offer the best seasonal flowers possible at the very best prices, giving you the opportunity to make special moments and memories come alive. From sunflowers to thistles, each bouquet is wrapped in a classic manner for that sophisticated look.
 A one-stop solution for all your gifting needs and we have been consistently creating thousands of magical experiences for people across the globe. When premium quality flowers and gifts are coupled with impeccable delivery services that the brand offer, the experience is almost unforgettable.
First launching in 2020, GOFLOWER is designed to bring only the best blooms of the season into your home. With a range of options in a series of chic and modern arrangements, it's the perfect option for gifting or simply treating yourself this Eid.
With unique creations presented in the signature packaging, as each bouquet represents an innate sense of refined glamour. From faux flowers to fresh flowers in a mixed arrangement with long-life roses also on the brand's radar making Eid a special occasion for your loved ones.
Flower House Dubai
With wildflower subscriptions bringing in a new design every Thursday, fresh pieces come in from the Netherlands while catering to your needs in a chic manner. Flower House Dubai is a subscription-based delivery service bringing the freshest seasonal wildflower arrangements straight from the Dutch flower auction to your door. Not only is this supply chain sustainable as you're cutting out additional transport but the brand uses eco-friendly materials and recycled paper. You can choose between weekly or bi-weekly subscriptions and delivery comes with helpful tips on how to style and preserve your bouquet
The leading online gift shop offers a variety of premium products from plants, flowers, cakes, chocolate boxes and household items to ensure you and your loved ones have an array of options no matter what the occasion. Starting at Dhs245 for the Ramadan collection, the platform has all sorts of flowers from roses to tulips, curated beautifully for you.
The Bunch Box
From monthly rose subscriptions to customized bunches to create, the Bunch Box by Worood has also created a special Ramadan collection as this season is the best time to enjoy with friends and family and prepare your home with a beautiful selection of floral pieces to make the month even more special. From eucalyptus to chrysanthemums, the options vary and they can be created to suit your needs.
This premium flower delivery service in the UAE is offering a delightful selection of fresh flower arrangements with blue tones to go elegantly with the theme of Ramadan. With bespoke settings coming in different sizes and tastes to cater to all, this season be sure to exchange an impactful gift this Eid with a wonderful time to show your love and appreciation for friends and family.
The Lovely Flower Shop
With made-for-you floral arrangements designed for you like no other, The Lovely Flower Shop is a homegrown flower shop with bags of heart, a passion for flowers and arrangements created for those special small moments. You can have a fresh arrangement delivered right to your doorstep on the same day or the next, making every occasion special. With floral subscriptions also on the website, you can choose from an array of weekly, bi-weekly or monthly deliveries, all packaged in environmentally conscious material, with the bouquets starting at Dhs185.
Click here to view the full article
The fall of 2023 promises to be a season of transformation driven by changing consumer preferences, advances in technology, and a growing awareness of environmental sustainability. Full Article Below Source 2023 fall trends in the horticultural industry As the leaves...
read more