Another successful event for the Great Lakes Floral Association. The event was full of excitement with a full agenda including Business seminars, design classes, Main stage shows, the trade show floor as well as networking with fellow industry professionals, visitors stayed extremely busy.
Full Article Below Source
2023 Great Lakes Floral & Event Expo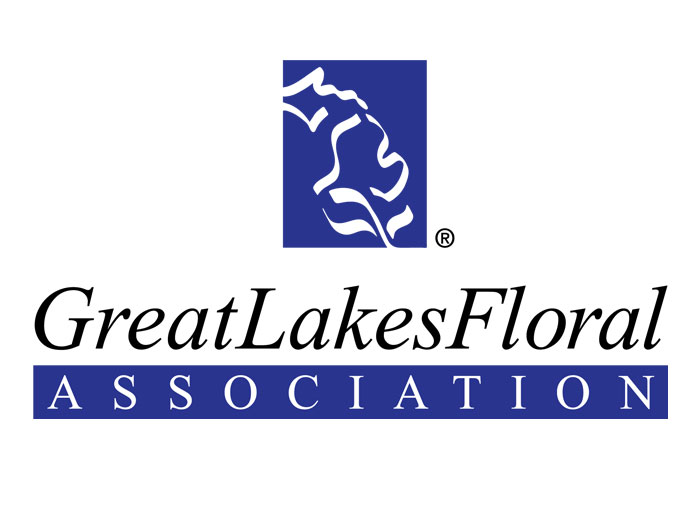 Great Lakes Floral Association Floral March 14, 2023
Haslett, MI – "A Whole New World" was bursting at the seams with excitement, design talent and attendees. The conference brought in 411 attendees this year, representing 20 different states as well as The Virgin Islands and Canada. With a full agenda including Business seminars, design classes, Main stage shows, the trade show floor as well as networking with fellow industry professionals, visitors stayed extremely busy.
Attendees left Inspired with new product ideas from the 30+ trade show vendors, new design ideas from the design contest and main stage shows, and new business strategies shared by our industry experts!
Friday night featured a Mix & Mingle where the attendees had the opportunity to meet new people, network with fellow industry professionals all while playing BINGO for prizes that included the grand prize of a Plaza Dream Package overnight stay at the Amway Grand Plaza Hotel.
Saturday was a day filled with Hands-On design classes featuring Sympathy, Weddings, Photography and Social media tips. Bob Negen returned with some Business advice on Writing your Business Vision and gaining new customers. Other sessions included Sustainability, Plant sales and a Panel Discussion from real life florists.
One of Saturday's Highlights was the Main Stage live Designer of the Year contest sponsored by FloraCraft and CalFlowers. This year's winner, Daniel Stober from Designs by Vogt's, Sturgis MI will have his designs featured in The Professional Florist magazine. Daniel also won the Chuck Bannow "Best of Show" for his first place entry. Visit www.glfee.com to view all design contest winning designs.
Saturday evening's Blooming Desert Recognition Banquet was a fun evening with great friends! New Certified Florists (CF) were celebrated and the 2023 design contest winners were announced. GLFA Industry awards presented at the banquet included: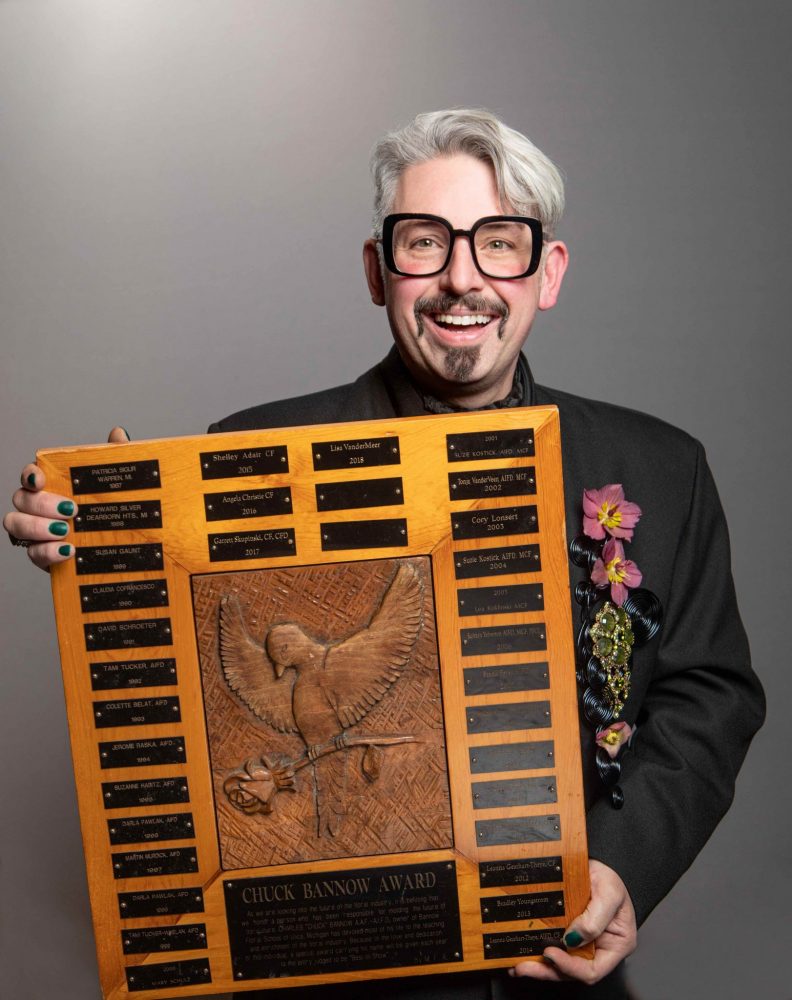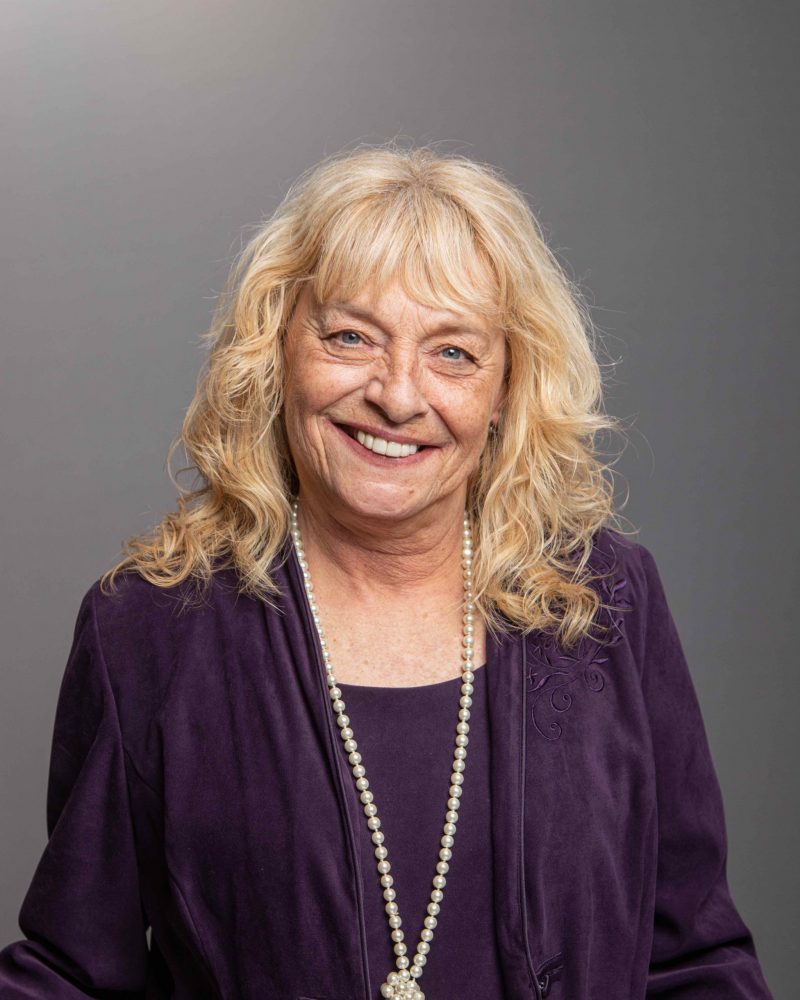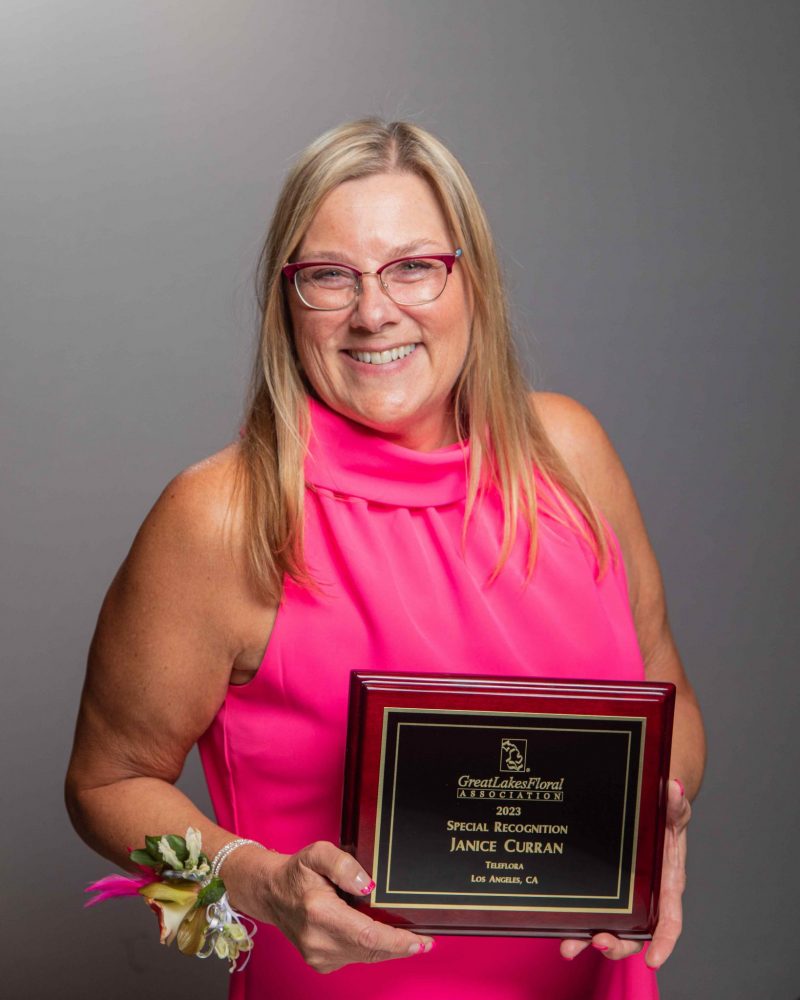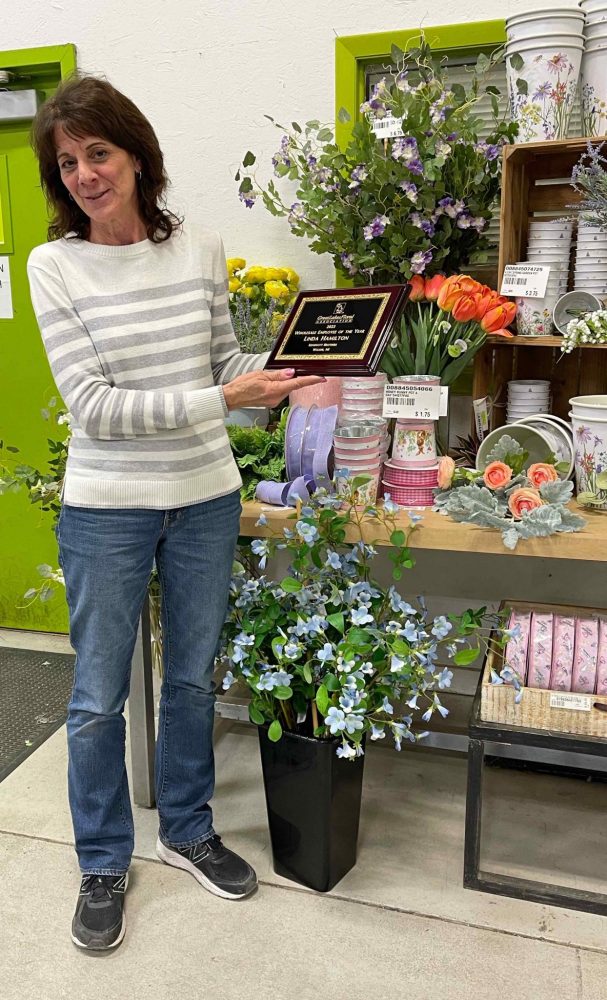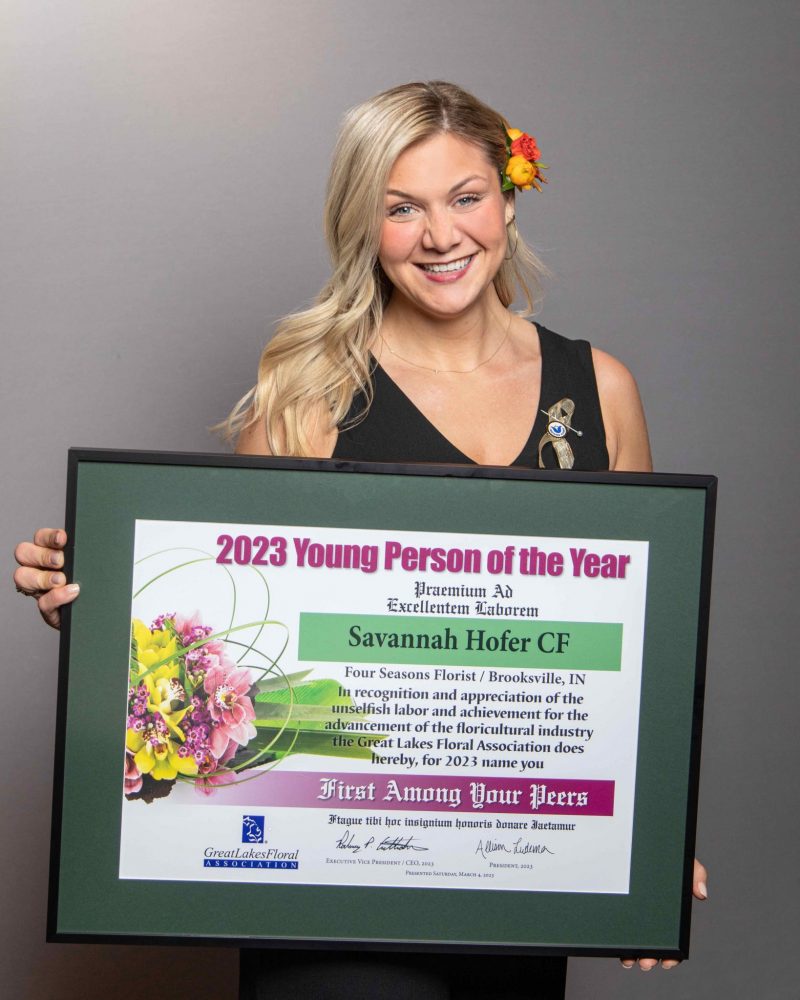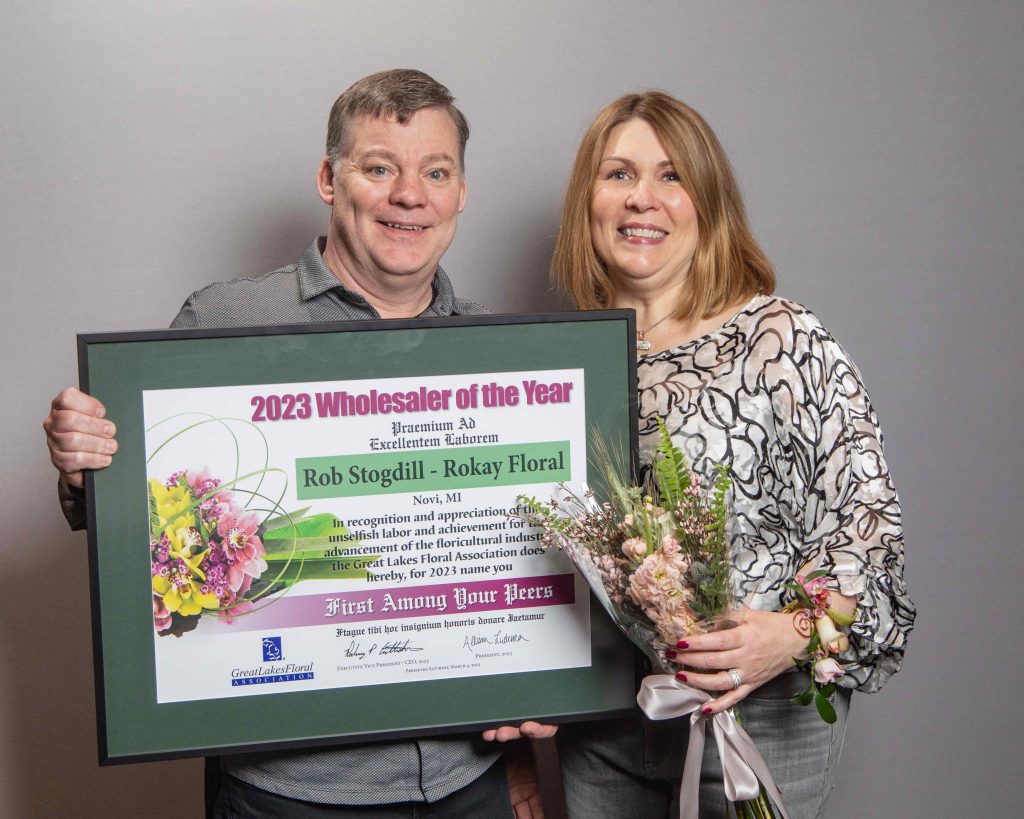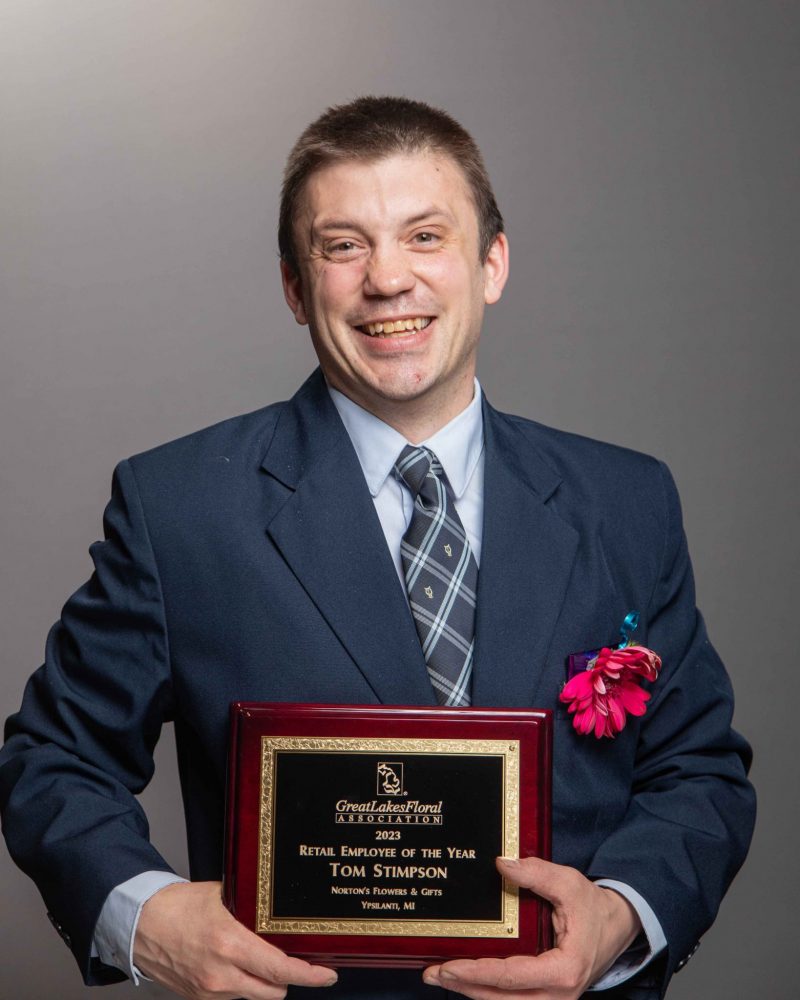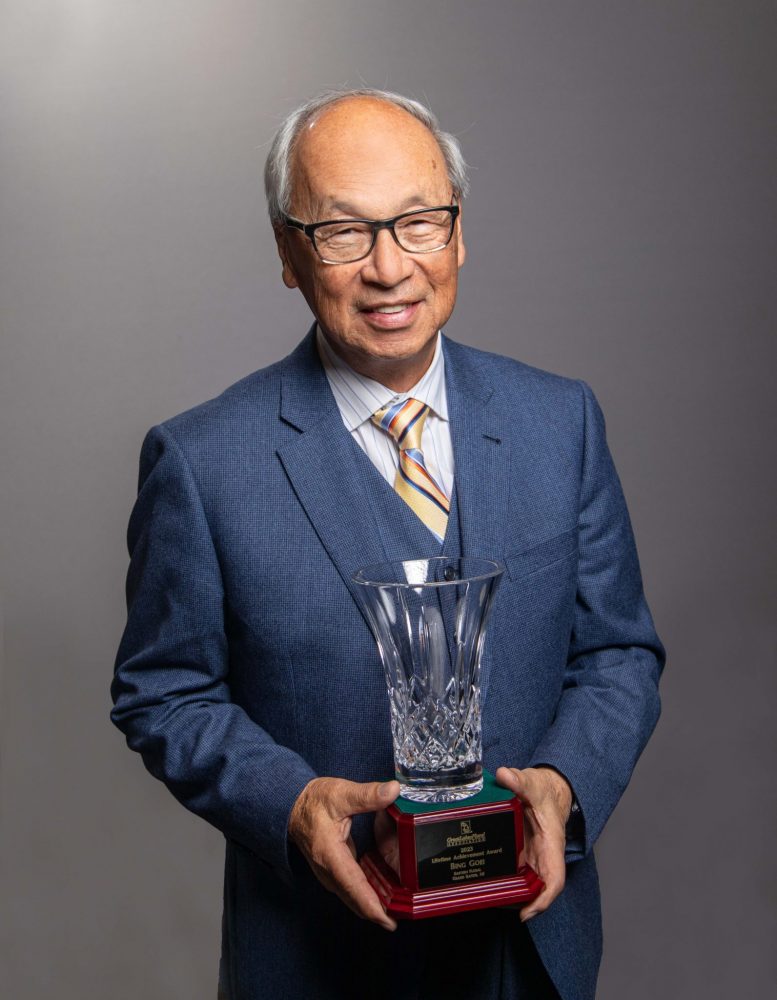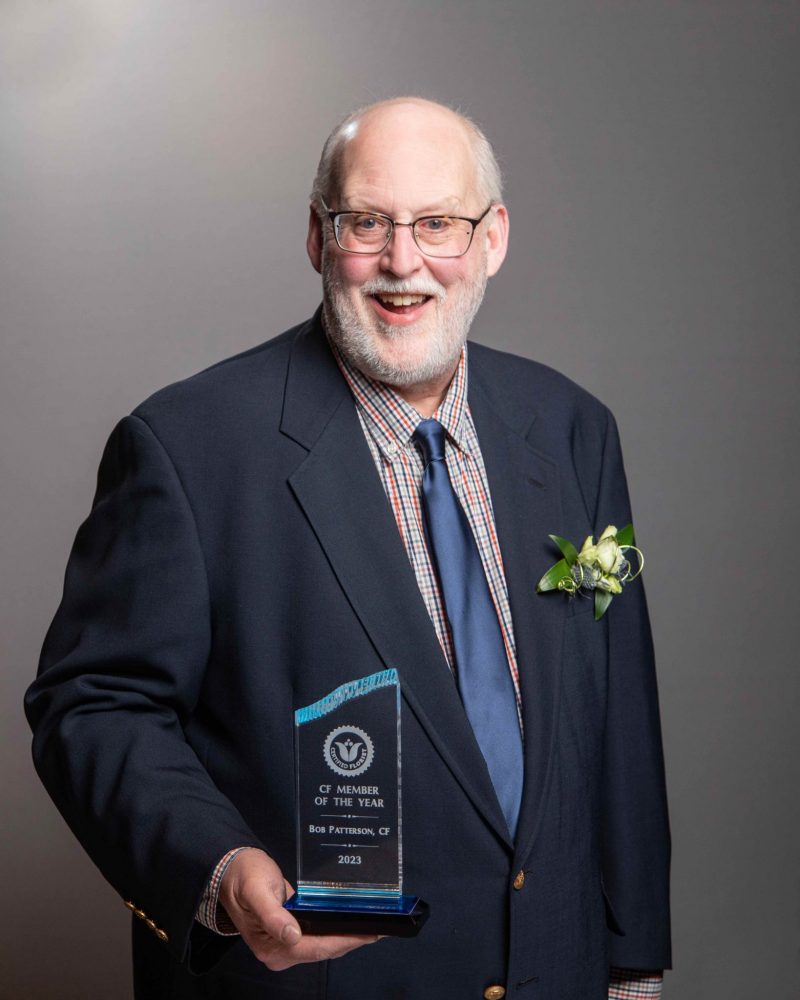 Retailer of the Year – Wanieta Bovan, Bovan Floral Group, Burton, MI
The banquet closed out with live classic rock from "Straight Shot" with Kent Lavengood & friends.
Sunday arrived quickly with another day packed with hands-on workshops, Business sessions and main stage shows. The weekend had something for everyone! The Sunday Luncheon and Annual meeting brought everyone together all attendees one more time to hear Bob Negen's Keynote address: Mighty on Mainstreet: The World-Changing Power of Independent Retailers. After our Keynote, Jerome Raska AAF, AIFD, CF, PFCI asked everyone to place a flower in one of the stunning arches created by Ace and Patience along with a pledge to donate to the Great Lakes Floral Foundation. Together we raised over $2000 to support the education of future florists and guarantee the future of our industry.
Holly Haveman CF of Kennedy's Floral & Gifts, Grand Rapids, Michigan and Chairman of 2024 GLFEE would like to invite you to attend the 2024 GLFEE "A World Of Flowers" March 1-3, 2024 at the Amway Grand Plaza and Devos Place, Grand Rapids, Michigan. "With increased technology, and improved logistics, the world has become more interconnected, and that has also impacted the floral industry. We get our flowers from growers and vendors all over the world, and we also see what designers are doing around the world as well thanks to technology. Let's celebrate this together at A World of Flowers."
Full details coming soon at www.glfee.com.
The Great Lakes Floral Association is a full-service trade organization representing more than 400 florists, growers, and wholesalers. Located in Haslett, Michigan, GLFA offers group savings on insurance, financial services, credit card processing and supplies, office supplies; is the sponsor of the Certified Florist (CF) program; creates and hosts the annual Great Lakes Floral & Event Expo; conducts educational seminars throughout the year at the association headquarters and various other facilities; publishes The Professional Florist magazine; hosts the GLFA website, and interacts with state/federal government agencies. For more information on GLFA, visit their web site at www.greatlakesfloralassociation.org.