Tulips and fresh branches provide welcome seasonal elements in a charming, salable design.
Floral design, photos and text by Nita Robertson, AIFD, CFD
This delightful and affordable spring-spirited design receives additional volume and dimension—and perceived value—with circular sheltering structure of corkscrew willow. Such structures are quick and easy to create, and they can be made in advance, with the flowers being added when an order is received. To add more seasonal pizzazz, consider incorporating a butterfly or two, a small bird or even a small bird's nest.
STEP BY STEP
Step 1
Soak a brick of floral foam in properly proportioned flower food solution until saturated, and then cut a block to fit into the container of your choice. Tape the floral foam into the container with waterproof tape.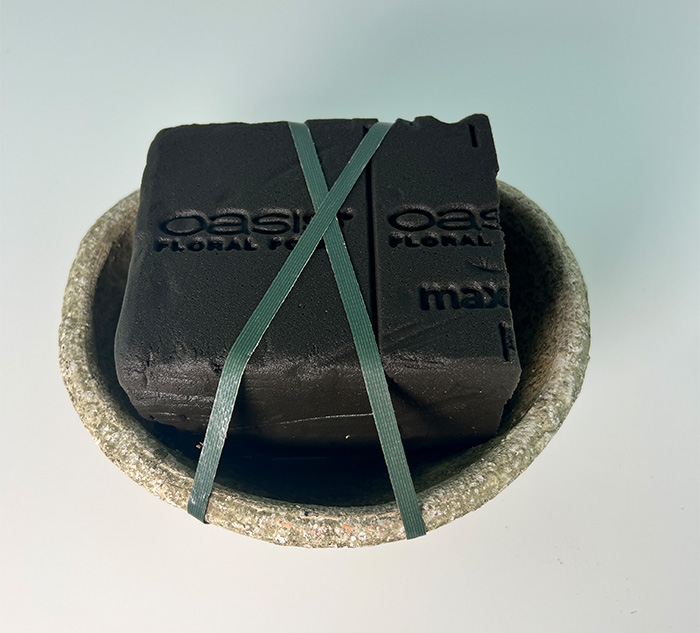 Step 2
Insert the ends of two long branches of fresh corkscrew willow into the floral foam, on opposite sides of the foam. Bring the tips of the two branches together to create a free-form circular "sheltering" structure, and bind the tips of the branches together, where needed, with paper-covered wire.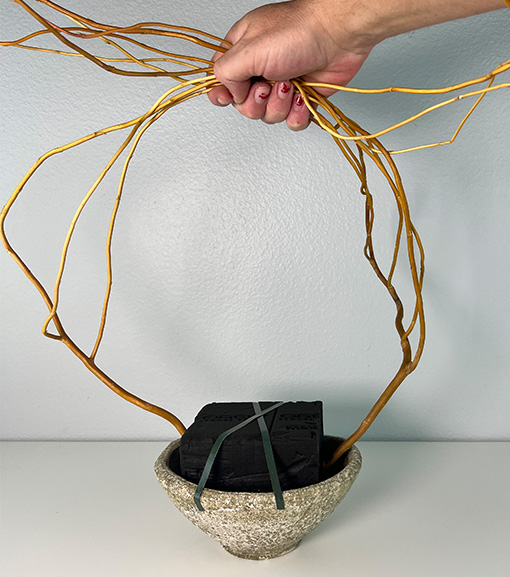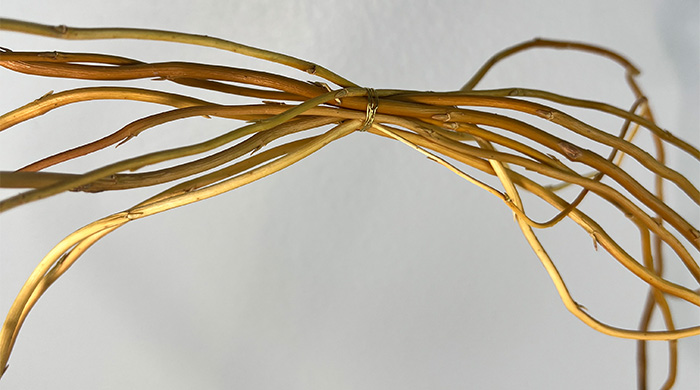 Step 3
Create Aspidistra leaf loops by curving the stem end of a leaf and piercing the upper portion of the leaf, near its center spine, with the stem end. Secure the tip of each leaf to the midsection of the leaf with an adhesive dash, to complete the loop formation. Arrange the leaf loops around the edge of the design to cover the floral foam and tape.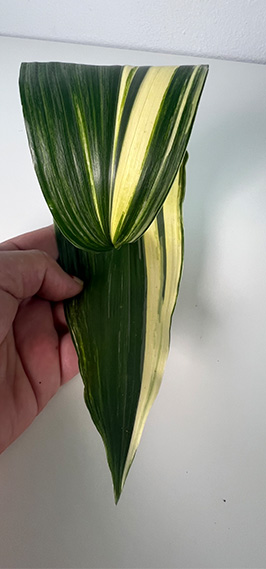 Step 4
Arrange the flowers within the confines of the corkscrew-willow structure, starting with two stems of Alstroemeria. Follow those insertions with three tulips (reflex the petals of one or two of the tulips, if desired); three stems of spray roses; and sprigs of seeded Eucalyptus.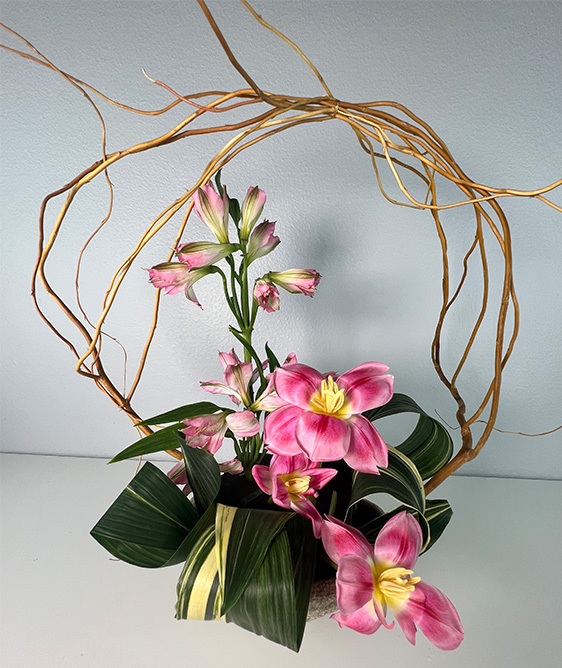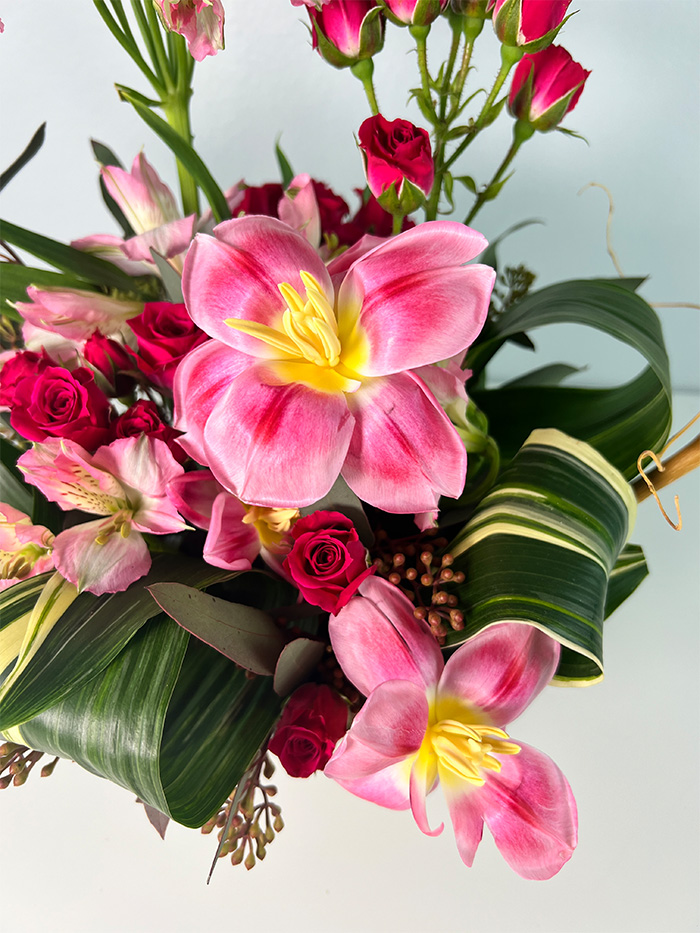 DESIGN TIP: Reflexing Tulip Petals
Gently place a thumb on the backside lower portion of tulip petal (where it is connected to the stem), and gently curve the petal backward over the thumb. Repeat this procedure with as many petals as you want to reflex. NOTE: This procedure works best with tulips that are room temperature.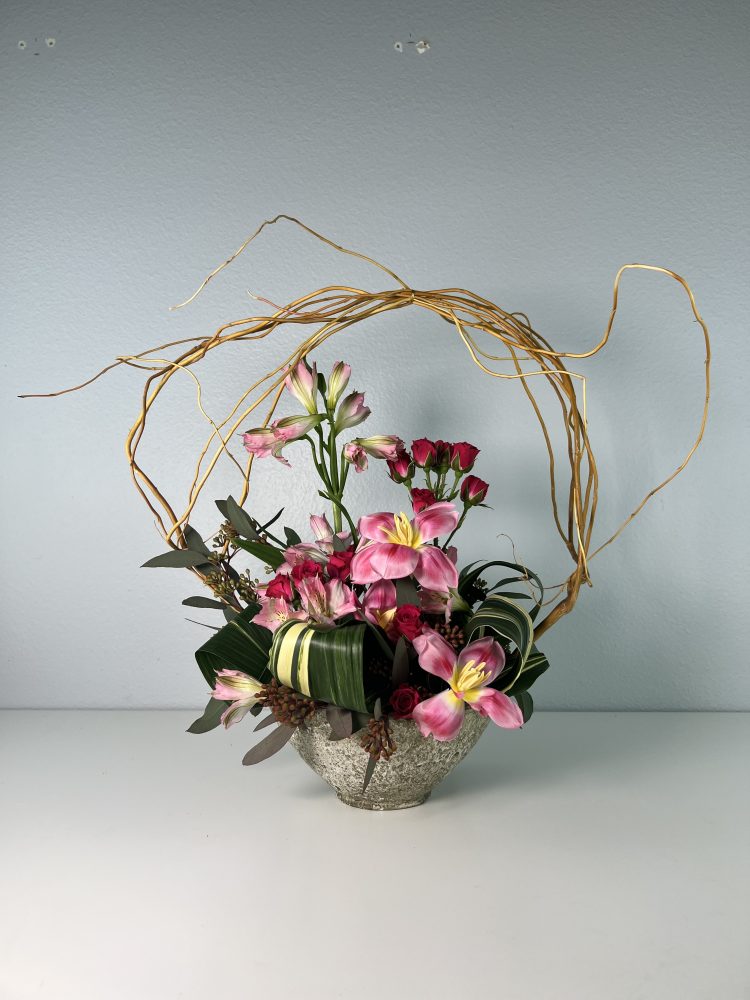 MATERIALS
BOTANICALS
Rosa spp. (spray rose)
Alstroemeria aurea/A. aurantiaca (Peruvian lily, lily-of-the-Incas)
Aspidistra elatior (cast-iron leaf, barroom plant leaf)
Eucalyptus spp., seeded (seeded eucalypt, seeded Australian gum)
Salix matsudana/S. babylonica 'Tortuosa' (corkscrew willow, curly willow, contorted willow)
HARD GOODS
Ceramic bowl
OASIS® Midnight Floral Foam
OASIS™ Bind Wire
OASIS® Waterproof Tape (1/4" Green)
OASIS® UGLU™ Adhesive Dashes