A simple but sophisticated composite design celebrates the beauty of fall.
Floral design, photos and text by Nita Robertson, AIFD, CFD
Inspired by the fall season, I wanted to create an easy yet modern composite design that can would be appropriate for any autumn celebration or everyday occasion. The collection of vases and tray makes a lovely gift that the recipient can reuse time and time again—buying replacement flowers from your shop, of course!
For design efficiency, I chose one type of flower—sunflowers—but, for interest, of three varieties, creating a trendy monochromatic and monobotanical composition. Then I elevated the seemingly simple design with dynamic loops of bear grass and feathery stems of fountain grass, along with eclectic and unexpected accents of peacock feathers and contemporary copper wire spheres. Adding interesting design elements and artistic accents can quickly, easily—and quite profitably—upgrade everyday designs, making each a custom creation.
Not Your Grandma's Sunflowers
If you haven't explored the wonderful world of sunflowers recently, you will likely be blown away by the incredible new varieties.
There are sunflowers with short to long ray florets (petals) in hues of lemon yellow, "white" (actually a pale lemon yellow), peach, orange, amber, green, mauve, pink, purple, red, burgundy, copper, bronze, mahogany and chocolate brown. And, of course, there are the dramatic bicolors, including 'Shock-O-Lat' and the ProCut® Bicolor Series, as well as astounding novelty varieties, such as 'SunFill™ Green', 'SunFill™ Purple', 'Astra Rose', 'Astra Brown' and 'Astra Gold'—to name just a few. You must check them out!
You'll also find sunflowers with center disks in green, yellow and "black"—both large and small; varieties with double-petaled fluffy or shaggy pompon-like blooms, often with no apparent or visible center disks (e.g., 'Sungold', 'Tiger's Eye', 'Astra Gold', 'Goldie'/'Goldy', Goldy Honey Bear', 'Gummy Bear', and 'Teddy Bear', the variety that started it all); and even miniature (dwarf) and branching types. It's a whole new sunny world!
STEP BY STE
Step 1
Secure three decorative bud vases of varying shapes and sized into a round tray with adhesive strips (or hot glue).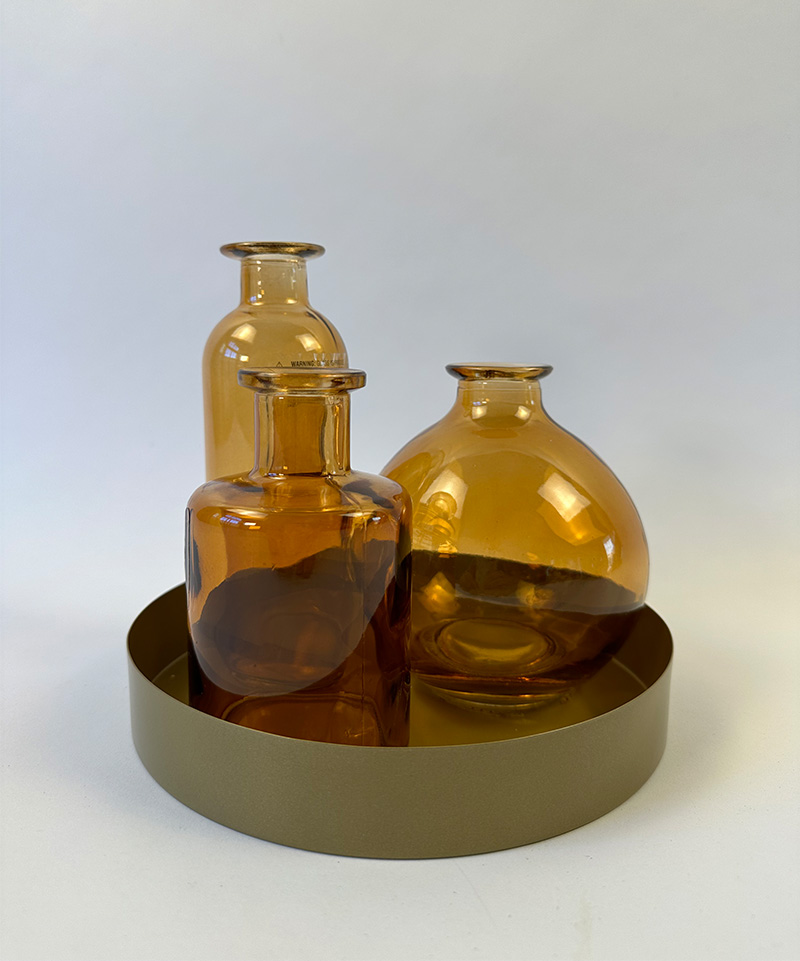 Step 2
Arrange multiple varieties of sunflowers into the three vases, at varied heights and depths.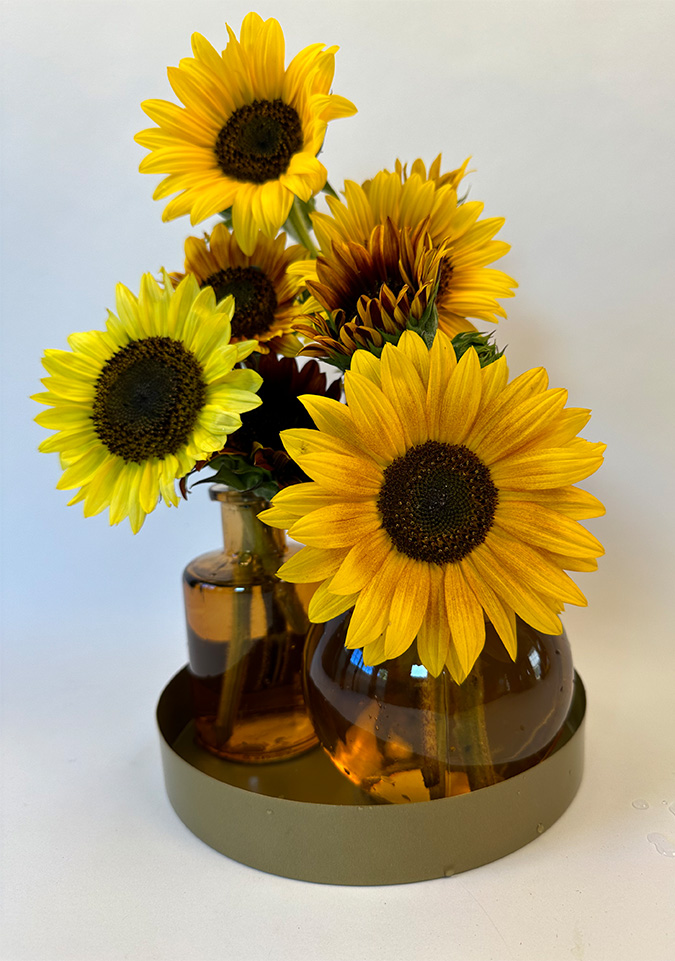 Step 3
Arrange stems of fountain grass and peacock feathers, for some added texture and interest. Trim any peacock feathers that are too wild in shape.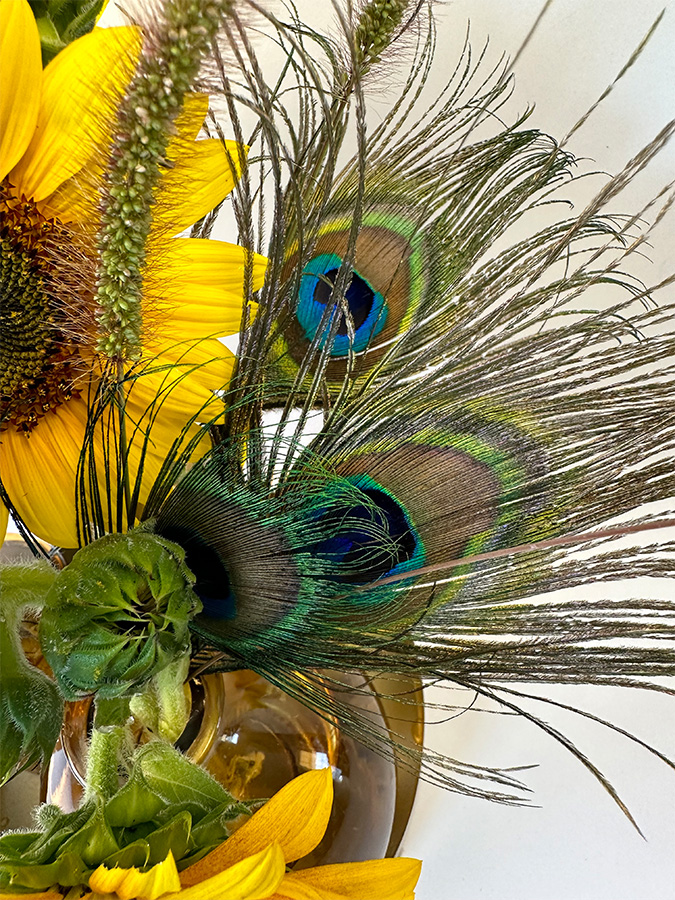 Step 4
Form spheres of bullion wire by unrolling handfuls of bullion wire and bunching it into a wad. Shape the wad into a tight ball by rolling it between.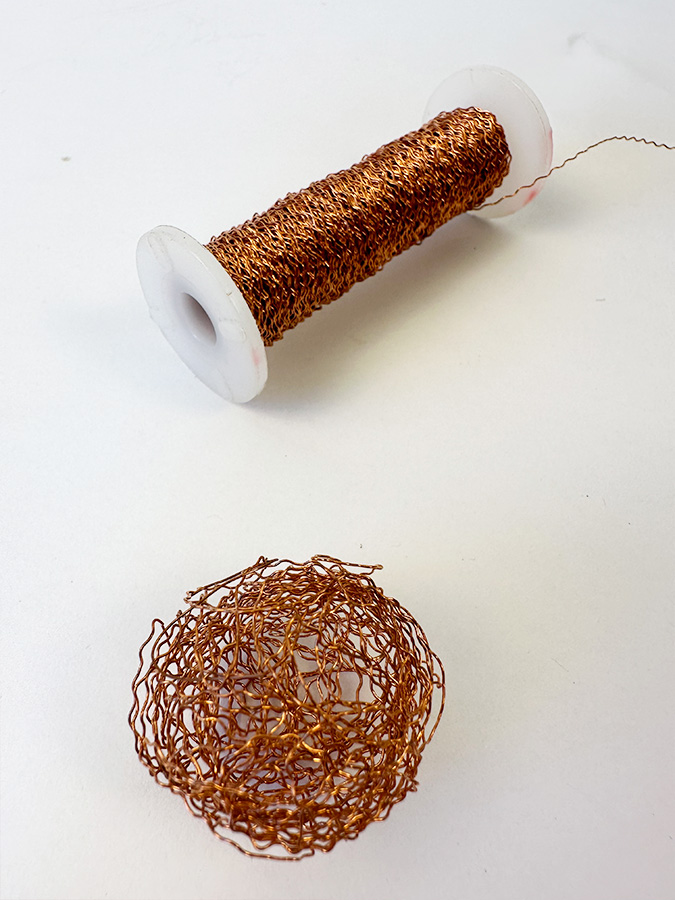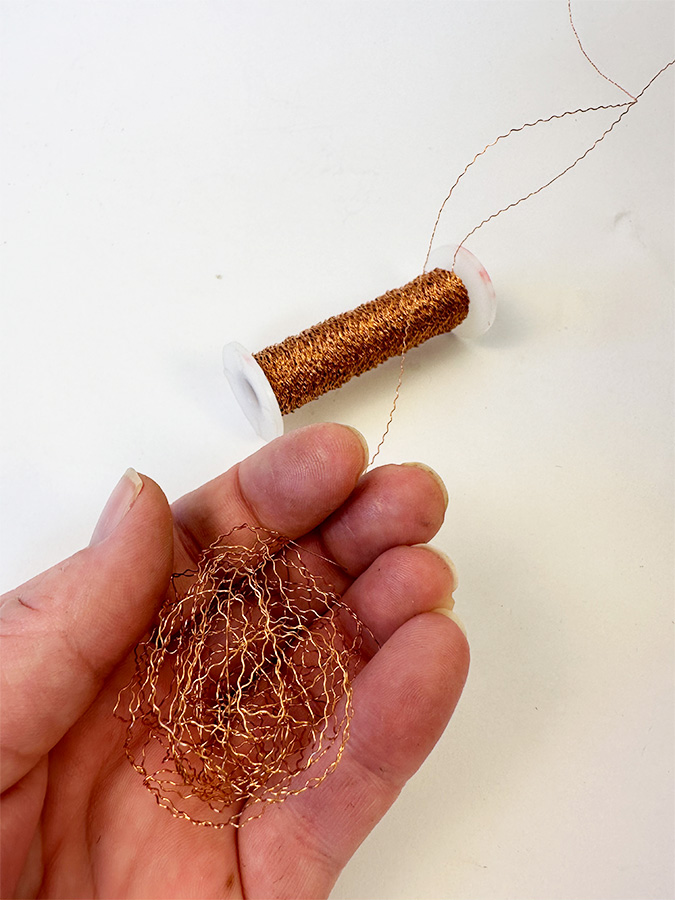 Step 5
Thread two blades of bear grass through each bullion-wire sphere, positioning each sphere where desired along the blades and knot the blades underneath the spheres, to secure them in place. Arrange the blades of bear grass to cascade outward throughout the arrangement.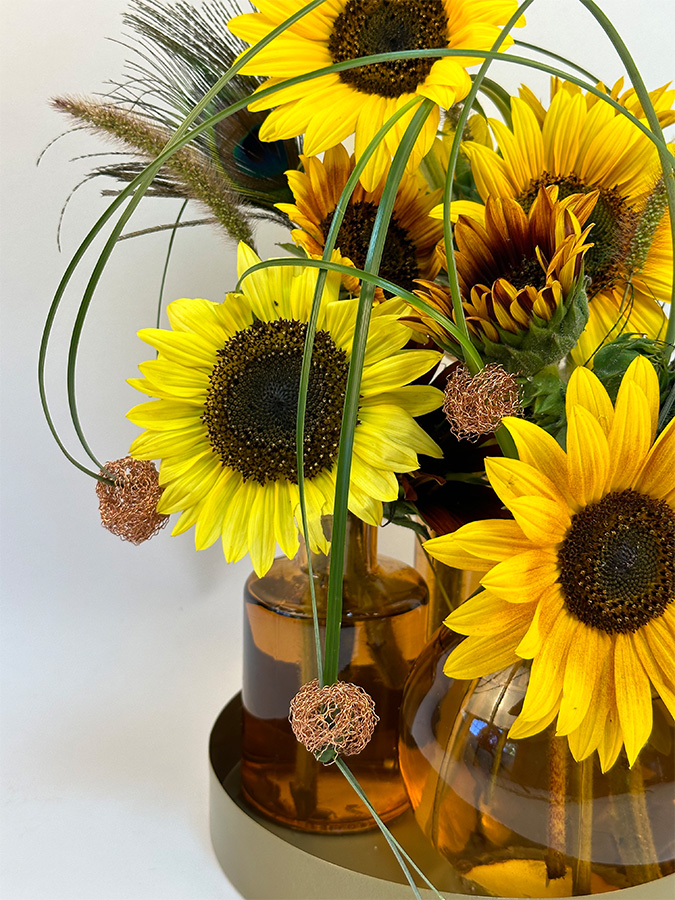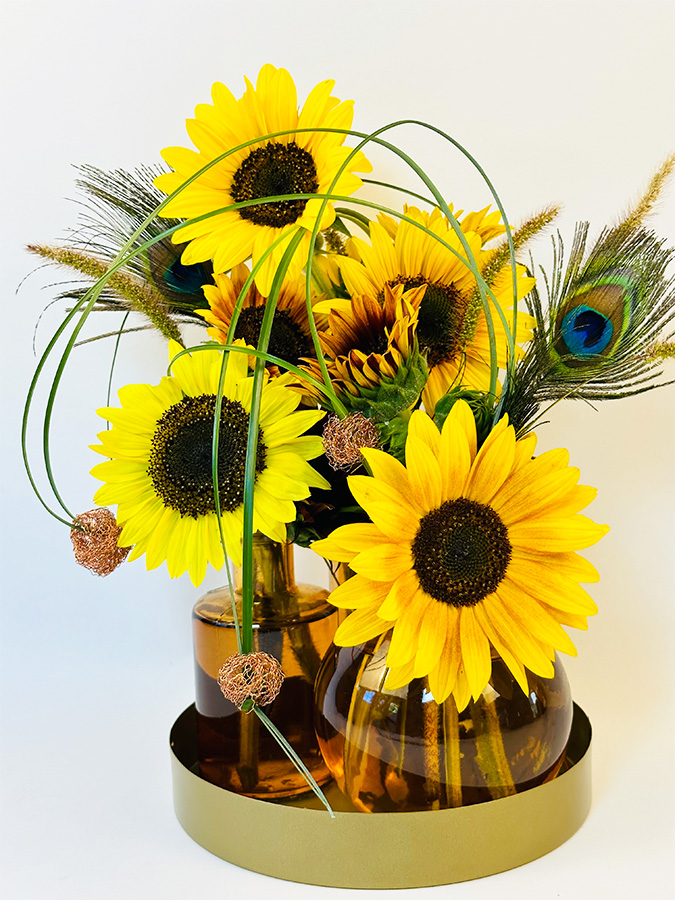 Materials
BOTANICALS
• Helianthus annuus (sunflower, mirasol)
• Xerophyllum tenax (bear grass, elk grass)
• Pennisetum setaceum (fountain grass)
HARD GOODS
• Amber glass apothecary-style bud vases (3)
• Round tray
• Peacock feathers
• Bullion wire (copper)
• OASIS® UGLU™ Adhesive Dashes