Win a Florist Spotlight feature in Florists' Review magazine and have your work featured across all of our social media platforms, AND win a $500 credit with Certified American Grown partners AND $300 credit from Smithers-Oasis!!!!
Floral designers are invited to submit photographs of 3-4 of your original floral designs online to be chosen as a semi-finalist in our bi-monthly Best in Blooms contest. Four semi-finalists from the submissions will be chosen to compete in the final competition.
Each semi-finalist chosen will be delivered a selection of flowers provided by Certified American Grown partners, Continental Floral Greens, Mellano & Company, Sun Valley Floral Farms, and Len Busch Roses. Contestants will also choose a container from the Oasis Floral Products Nachtmann collection.
All semi-finalists will be featured in our Florists' Review July Issue and across all of our social media channels.
The deadline for submission to become a semi-finalist is May 21, 2021.
If you submitted an entry in our last contest, please feel free to enter again. Contestants must be located in the Continental United States.
See the semi-finalists and winner of our last Best in Blooms Contest
Contest Guidelines
Entryway Centerpiece: Create an oversized and opulent showstopper taking inspiration from the glamourous and luxurious Art Deco and Gatsby era of the 1920's.
Requirements: use of at least 3-5 different greens; vase must be at least 90% visible in photography; accompany the centerpiece with a styled tablescape that takes us back to the 1920s.
**Please note that as a semi-finalist you will receive your flowers June 1-2. You must be able to photograph and video your creation and/or a tutorial and return your files to us by July 10th, 2020 (within 7 days of receipt of your flowers). All images and video footage must be copyright-free to publish across all Florists' Review platforms.
Have fun, get creative and build your brand with Florists' Review!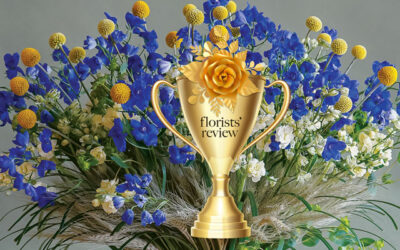 Sponsored by Alexandra Farms & Smithers-Oasis North America Submission for the Florists' Review BEST IN BLOOMS Fall 2023 Contest Enter Florists' Reviews Best in Blooms Design Contest today for your chance to win a Florist Spotlight feature...
read more