Meet the winner and finalists in the "Certified American Grown" edition of FR's flower design contest.
By Nita Robertson, AIFD, CFD
Sponsored by Certified American Grown

Florists' Review is delighted to present the winner and finalists in our latest "Best in Blooms" contest series. More than 75 floral designers from across the country submitted photos of their work for our jury's consideration. From those, four florists were chosen to compete in celebration of "American Grown Flowers and Foliage Month," which is this month (July). Each finalist received an abundance of product from Certified American Grown-member flower farms to create a flower installation. The contributing farms are Sun Valley Floral Farms, in Arcata, Calif.; CamFlor, in Watsonville, Calif.; Mellano & Company, in Oceanside and Los Angeles, Calif.; and FernTrust, in Seville, Fla.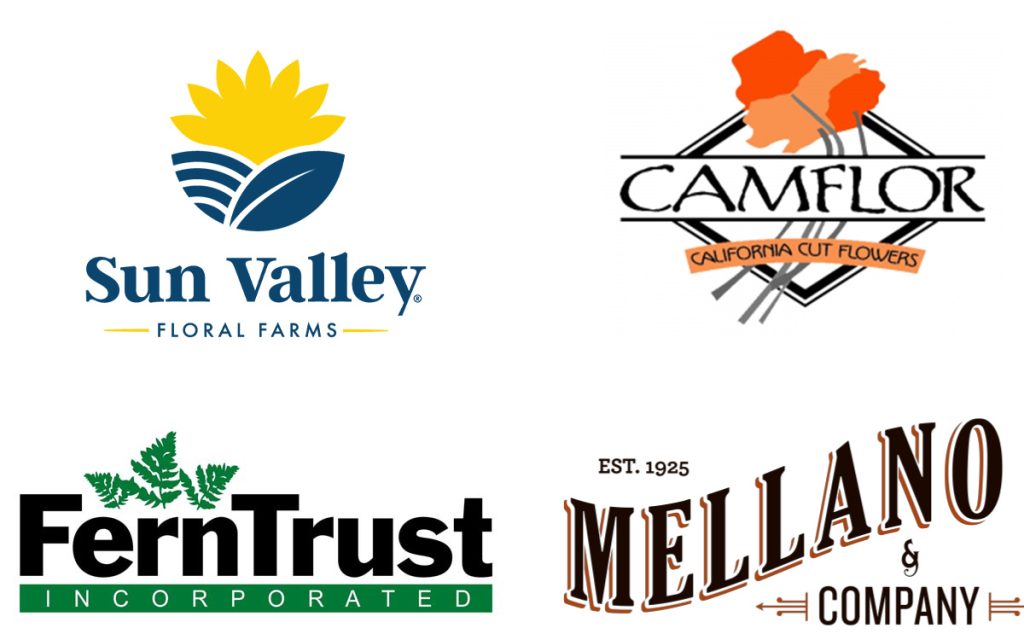 The winner will be featured in a "Florist Spotlight" article in an upcoming issue of Florists' Review, have her work featured across all of our social media platforms and receive a $500 product credit with our Certified American Grown partners.
For information about how you can enter future editions of the contest, visit our website at FloristsReview.com.
WINNER
Mallory (Mal) Strunk
Zealous Designs
Taylorsville, Utah
zealousdesignshop.com
@malthecreative
Photography by Taylor Elaine Photography
@taylor.elaine.photo
It's important to me to reduce my art's impact on our world, so I use sustainable mechanics and source locally grown flowers, whenever possible. This installation was inspired by the color wheel because of all the colors of flowers and foliages provided by Certified American Grown. I color-blocked the flowers to melt from one hue to the next and to give the eyes the feeling of circling the color wheel. I also wanted to give little nods to different elements of nature, like rain, a lush meadow and the sun. I am grateful for the opportunity to create with these incredible American-grown flowers and foliage.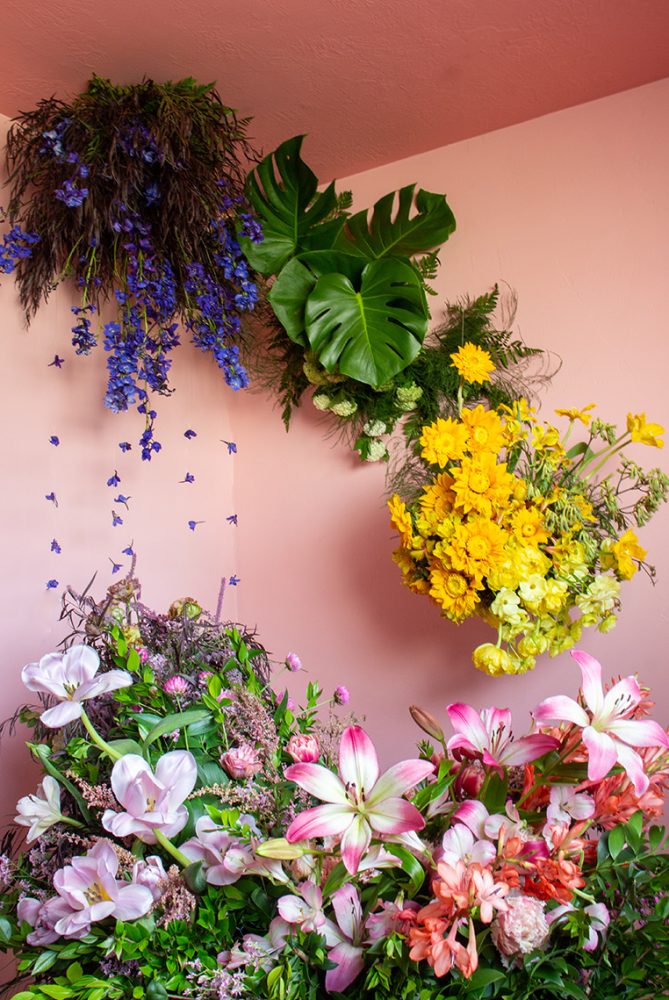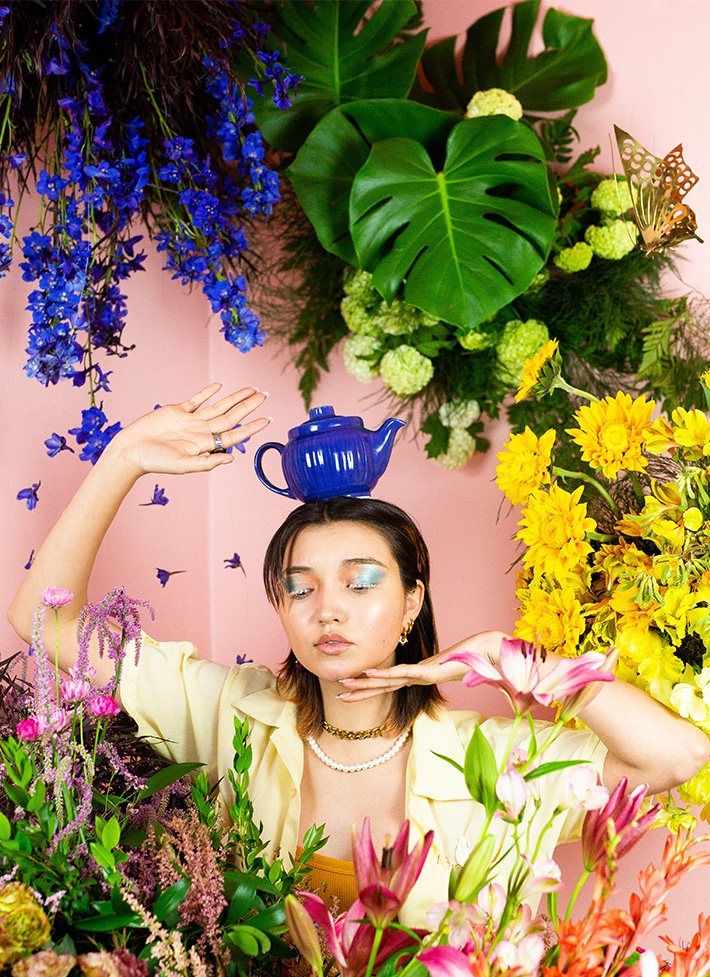 BOTANICALS FROM CAMFLOR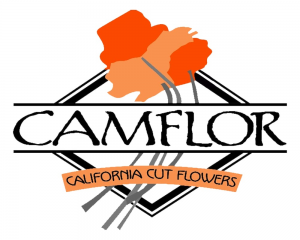 • Eustoma grandiflorum/Lisianthus russellianus (double-flowered prairie gentian, brown)
• Geum spp. 'Mango Lassi' (avens)
• Freesia spp.
• Xerochrysum bracteatum (strawflower)
• Anigozanthos flavidus (kangaroo paw)
• Limonium latifolium x bellidifolium 'Misty' series (sea lavender)
• Psylliostachys suworowii, syn. Limonium suworowii (Russian statice, rat-tail statice)
• Boronia heterophylla (pink Boronia, Kalgan Boronia)
BOTANICALS FROM MELLANO & COMPANY

• Delphinium × Belladonna (larkspur)
• Alstroemeria aurea/A. aurantiaca (Peruvian lily, lily-of-the-Incas)
• Helianthus annuus (sunflower, standard and miniature)
• Agonis flexuosa (peppermint willow, Australian willow myrtle)
• Myrtus communis (common myrtle, true myrtle)
BOTANICALS FROM SUN VALLEY FLORAL FARMS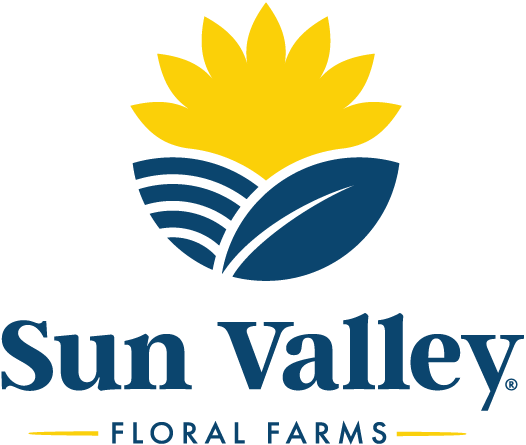 • Lilium hybrid (hybrid lily)
• Ranunculus spp. Butterfly™ series (butterfly buttercup, butterfly Ranunculus)
• Tulipa spp. (Fringed tulip, Crispa tulip)
• Tulipa spp. (double-flowered tulip, Double Early tulip)
• Viburnum opulus 'Roseum' (snowball, Guelder rose)
• Astilbe japonica (false goat's beard, false spirea/Spiraea, florist's spirea/Spiraea)
BOTANICALS FROM FERNTRUST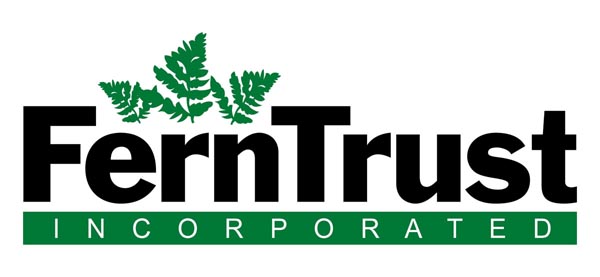 • Monstera deliciosa (Swiss-cheese plant, split-leaf philodendron)
• Rumohra adiantiformis (leatherleaf fern, leather fern)
• Asparagus virgatus (tree fern, tiki fern, broom fern)
• Nageia nagi, formerly Podocarpus nagi (broad-leaf Podocarpus, Asian bayberry, nagi)
FINALISTS
Val Foote
Sungrove Blossoms
Rochester, N.Y.
sungroveblossoms.com
@sungroveblossoms.com
Photography by Shauna Zurowski
SLZ Photography
@slzphotography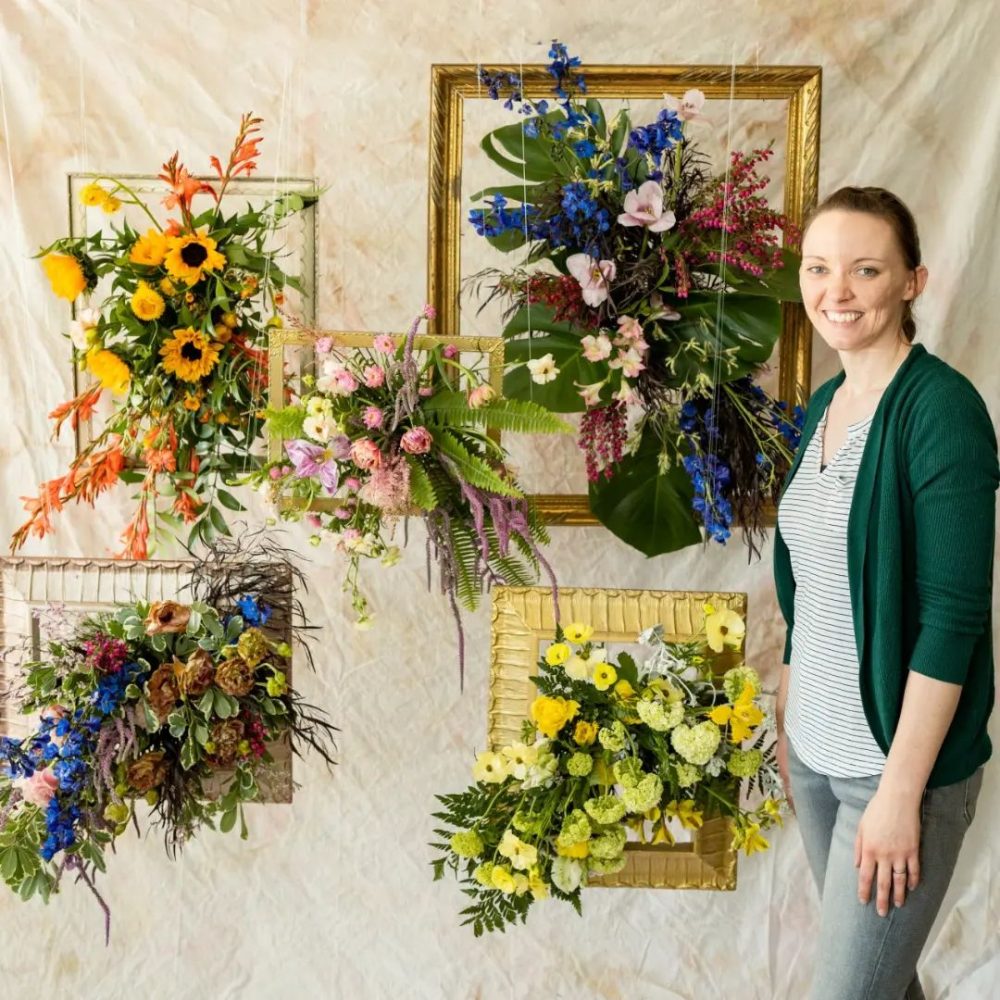 I wanted to create something that was "floating" in midair and would really feature—or "frame," if you will—the beautiful Certified American Grown flowers and foliages of the season. I was inspired by an old picture frame, which sparked the idea of a classical Greek museum with marble walls, ornate gold frames and artwork so beautiful that it literally jumps out of the frames. I wanted each frame to have its own character yet fit together as a collection. Each piece has a beautiful base of foliage, with complementary flowers as bold or whimsical as the greenery.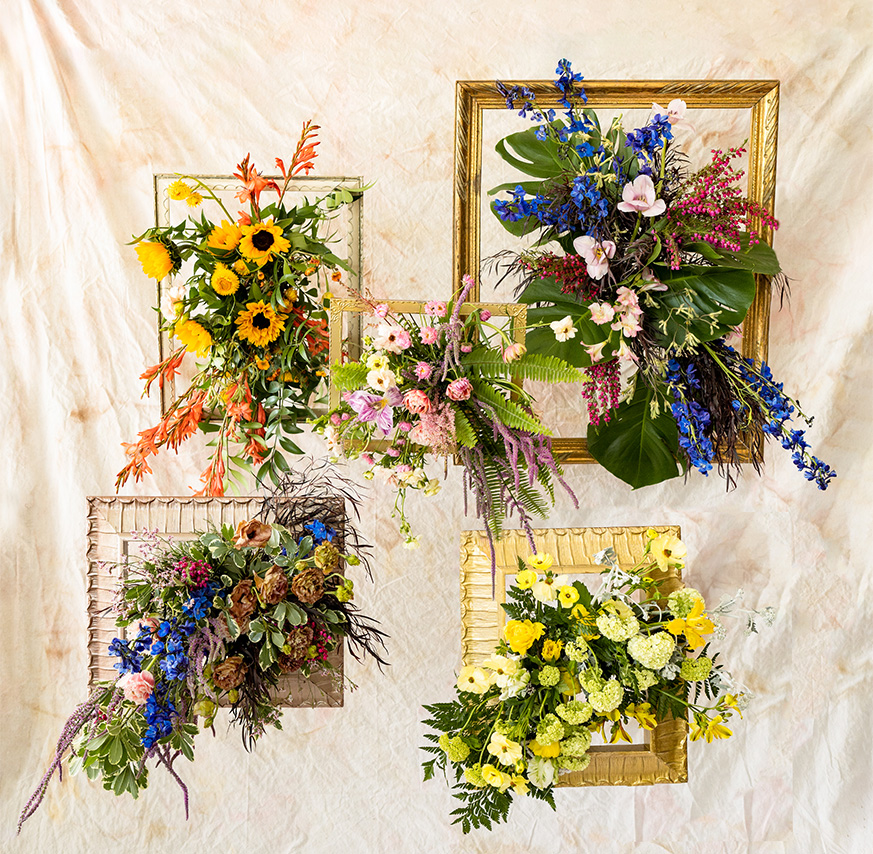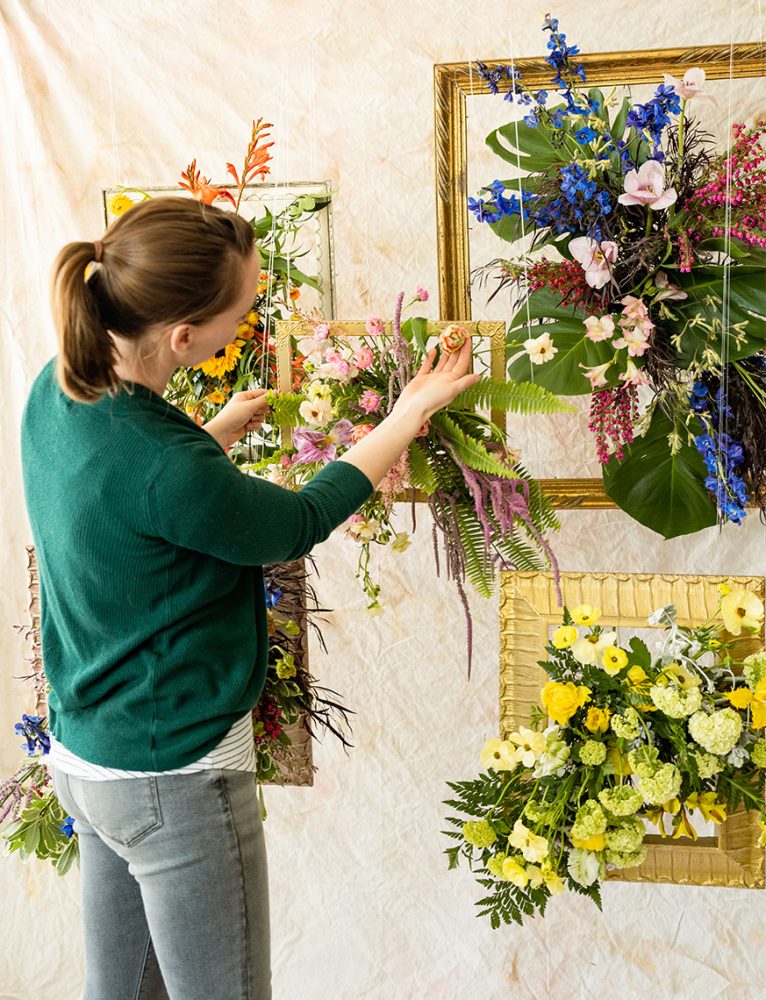 Christina Yan
Bellevue Floral Co.
Napa, Calif.
bellevuefloralco.com
@bellevuefloralco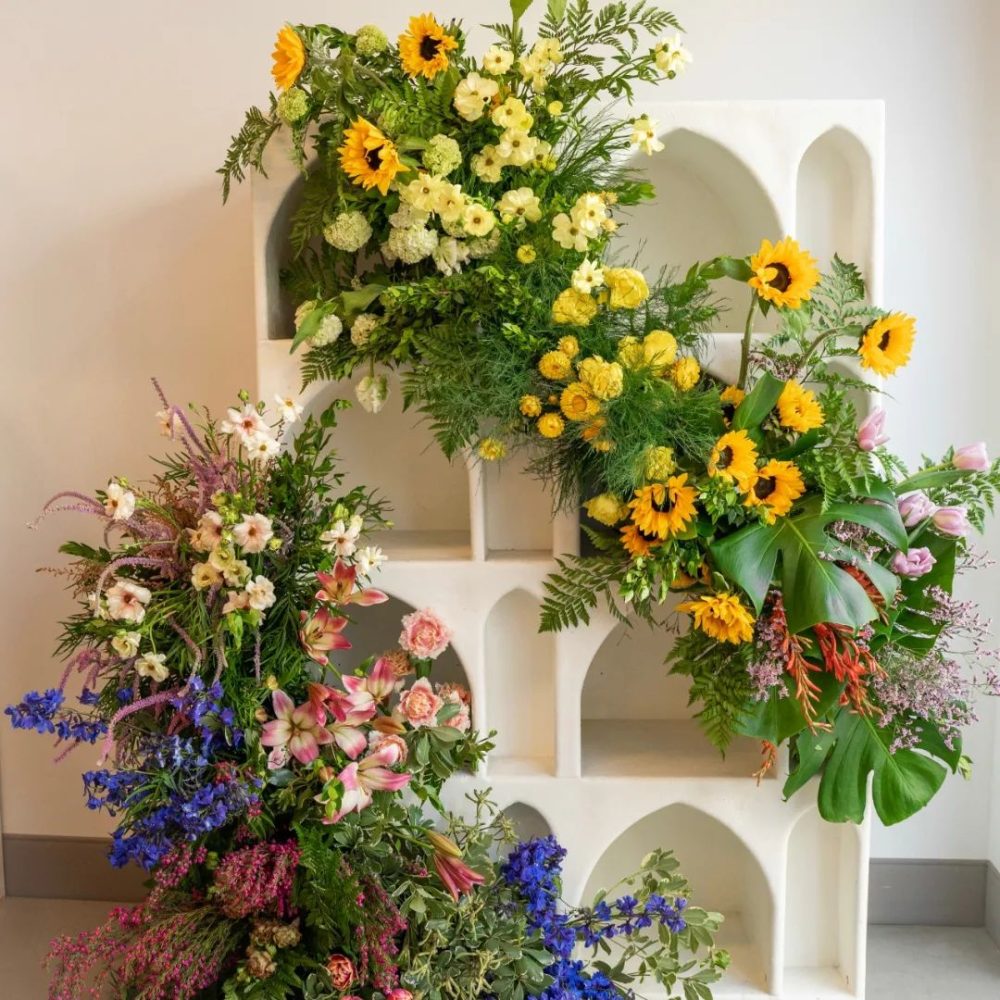 This was a fun challenge that gave me the opportunity to design outside of my usual color palette and preferred flower types. The boxes were so fun to open, and after seeing the rainbow palette, I knew that I would need to lean into color blocking, to ensure that the display looked modern and cohesive. I also decided to utilize only what I had on-hand in the studio, so I used my merchandising shelves as the structure for this foam-free installation. I think this installation would make for a fun seating-chart display in an event setting.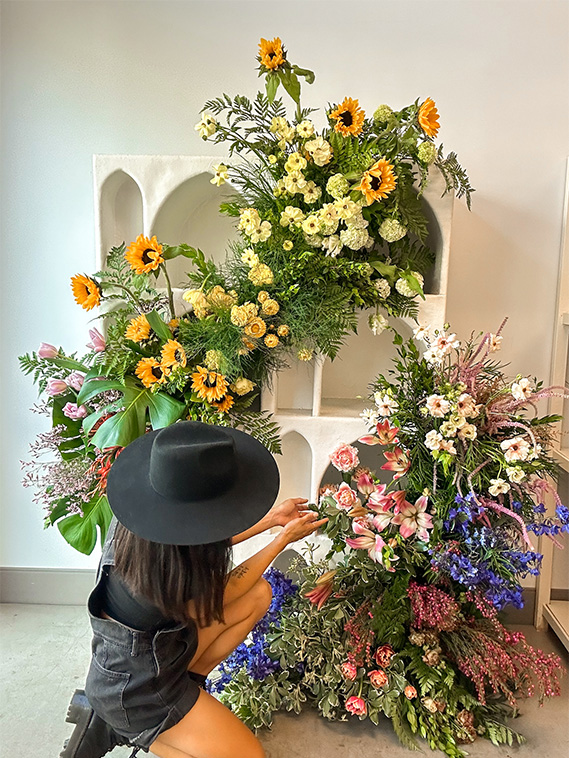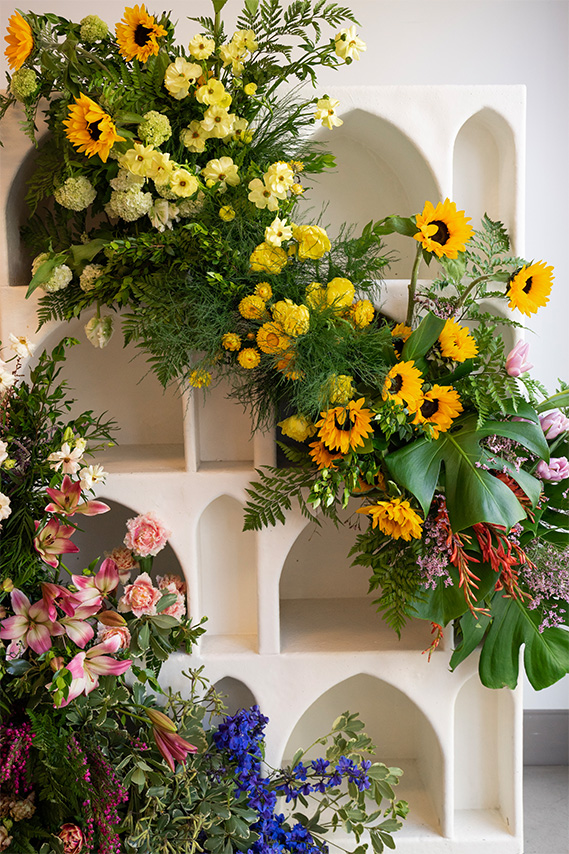 Jennifer Reed
Jennifer Designs
Mullica Hill, N.J.
jenniferdesignsevents.com
@jenniferdesignsevents
Photography by Allison Bast
Bast Brothers Garden Center
@alliebast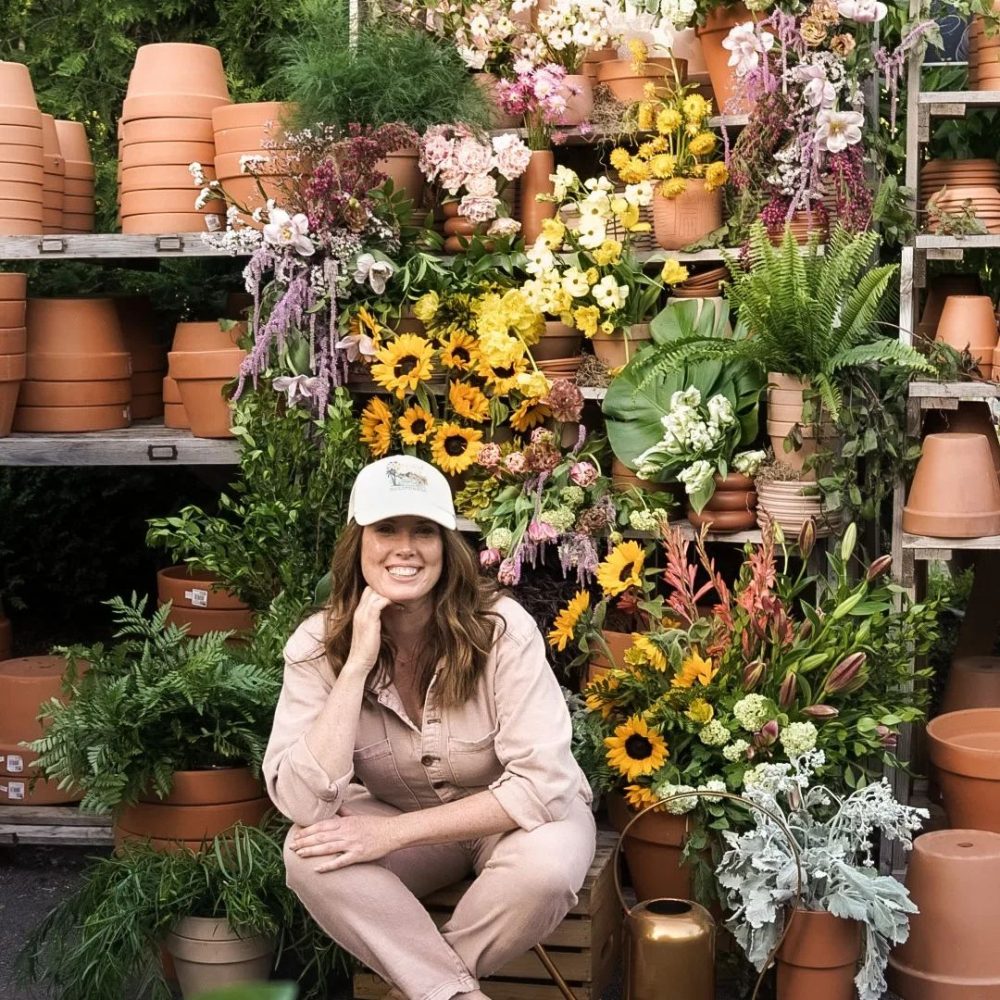 When I opened the boxes of Certified American Grown flowers, with every new stem, I kept saying "wow"! I wanted this installation to be sustainable, and I wanted to showcase each type of flower and foliage individually while allowing each to blend softly into the next. I used every flower in the boxes, and it was the perfect combination. It was a treat to work with so many amazing flowers from four incredible U.S. flower farms. We left the installation up for a couple of days for the shoppers and staff at Bast Brothers Garden Center to enjoy and take pics in front of.