Floral Installations Reimagined
By Jill Brooke, founder FlowerPowerDaily.com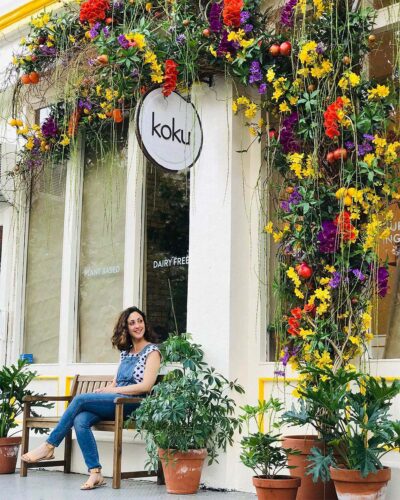 It used to be that floral arches were only used for weddings for that picture-perfect nuptial moment. Even during the pandemic, with shrinking guest lists and budgets, the floral arch and bridal bouquet were items that were sacred- while other floral wedding enhancements were pared down or eliminated. Perhaps because these arches, decorated with botanical pampas grass and plump roses, and a rainbow of distinctive styles ranging from free-flowing boho-chic to elegant classicism, are so enduringly popular, florists starting reimagining where they could be used effectively.
In New York City, Carlos Franqui, owner of Floratorium jokes that necessity is the mother of invention. Local restaurants started hiring him to create elaborate outside floral installations for diners hungry to forget they're eating in a former parking space.
"I'm proud that we helped make people feel like they were on vacation someplace in the Mediterranean," Franqui says. Floratorium also single- handedly weeded out the false notion that faux flowers—which could endure low temperatures—couldn't be artfully assembled with fresh greenery to create enchanting environments. New York City is keeping the parking areas as permanent outdoor restaurant dining, and Franqui's fame has him creating floral arches and installations in Palm Beach, his homeland of Puerto Rico and around the globe.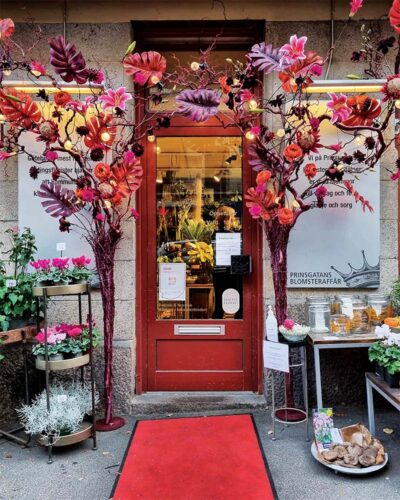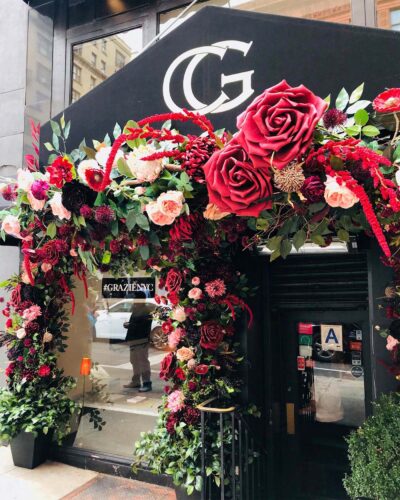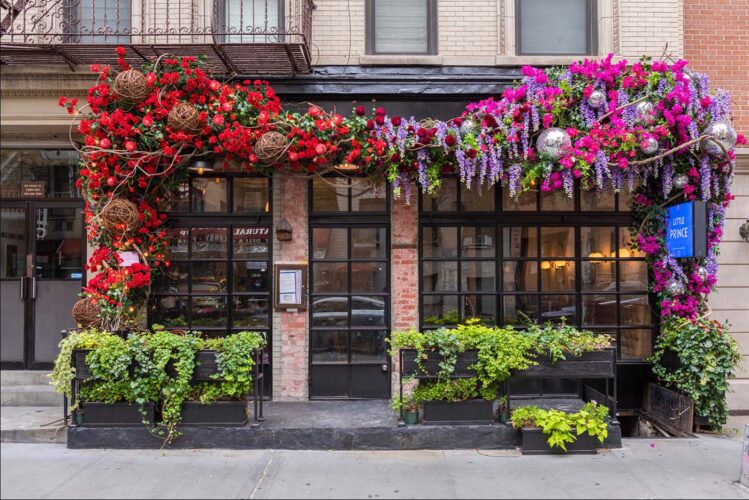 Simultaneously, the inventive ladies at Fleurs de Villes started to create floral couture installations to be catnip for shoppers inside high-end malls like Bal Harbour Shops in Miami, Fla. Along with the fabulous rose-festooned mannequins were several floral arches designed to attract customers who reveled in the beauty and fun of these floral displays. Says Fleurs de Villes co-founder Tina Barkley, "We don't do a show without them."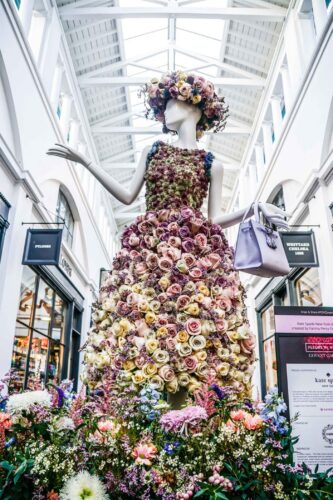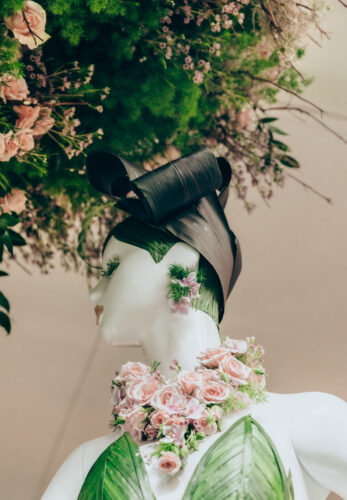 Although the source of these arches in design are, perhaps, from the chuppahs used in Jewish weddings, now everyone wants them and expects them.
This is also why entrepreneurial- minded florists must have several styles as part of their repertoire to show clients. Perhaps pitch them as "Nothing like having your troubles disappear than being under a swath of vines popping with flowers." Make sure you have pictures of window displays for stores and restaurants as well as several options for weddings. And, of course, don't forget your own shop window while doing everyone else's.
So let's start with your own store first.
WINDOW DISPLAYS
Think of what your specialty is, and showcase it. This is a marketing tool for your brand. Branches last a long time, and create a mix of faux and fresh flowers for an effective welcome. "If your window faces a road, keep this in mind," notes Rich King, industry consultant and retired florist from South Carolina. "Your display must be able to convey a message in three seconds. This means your display has to be eye-catching. Window displays are important for a florist because they advertise to the public who and what you are. They help solidify your identity as a florist and a business. They can draw in customers to see your shop and the products you have to offer."
TIP: From King's experience working on floats for the Rose Parade, he learned the trick of adding a white line around the perimeter of an object, perhaps a Valentine's Day heart, to make it more visible from afar. Other tips shared by King include using advancing (warm) colors in your window displays. "You want the product to advance, not recede," he points out.
Monarch Garden & Floral Design, in Petosky, Mich., points out that one can be creative with all budgets. Consider taking a trip to a thrift store, to get props for your displays. This is an opportunity to put your creativity to the test. You can use old doors and large pieces of wood for backdrops, if needed. If your location and climate permits, display plants or a garden box in front of the shop, to entice passersby to come in. Make sure your displays are inviting and interesting enough to give passersby a reason to enter your shop. It is also important to change your displays frequently, to keep interest in your shop alive.