A glorious springtime bridal bouquet, designed to highlight flowering branches, can be reinterpreted for every season of the year.
Floral design and Photography by Paulina Nieliwocki
Capturing the glory of the spring season, this splendorous hand-tied bouquet—created by floral designer Paulina Nieliwocki, owner of Blue Jasmine Floral in Berkeley Heights, N.J.—can establish the tone and mood for a seasonal ceremony, whether the desired aesthetic be casual, formal or somewhere in between.
Conceptualized to showcase the flowering branches of springtime—flowering quince, in this case—this natural free-form styling can be translated for any season, with a simple reassignment of botanicals. For summer, fall or winter nuptials, consider leafy, fruited or even deciduous branches or vines—all with character, of course—as well as seasonally appropriate blooms, to reinterpret this design style throughout the year.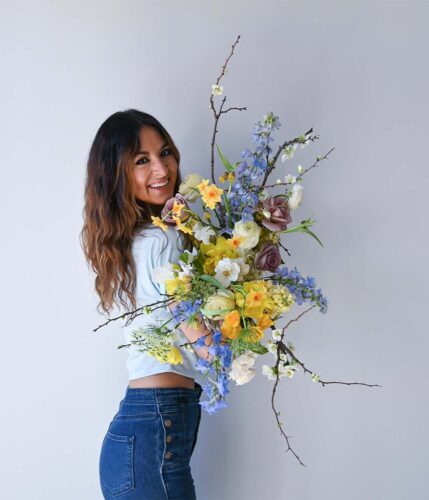 STEP BY STEP
Step 1
Begin the creation of this bouquet by arranging stems of Camellia foliage (or other sturdy woody-stemmed foliage) in your hand, using the spiral hand-tying technique. Next, layer in a few flowering quince branches (or other texturally interesting flowering, fruited or even deciduous branches, depending on season), followed by stems of stock and Delphinium (or other line flowers of your choice), to create the outer dimensions and define the form (shape) of the bouquet.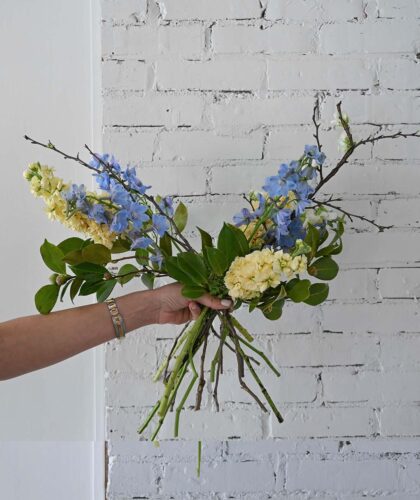 Step 2
Next, arrange stems of mass or form flowers (garden roses, tulips and spray roses in this bouquet), continuing with the spiral hand-tying method. These flower placements can further define or extend the dimensions of the bouquet as well as begin forming the center focal area of the bouquet.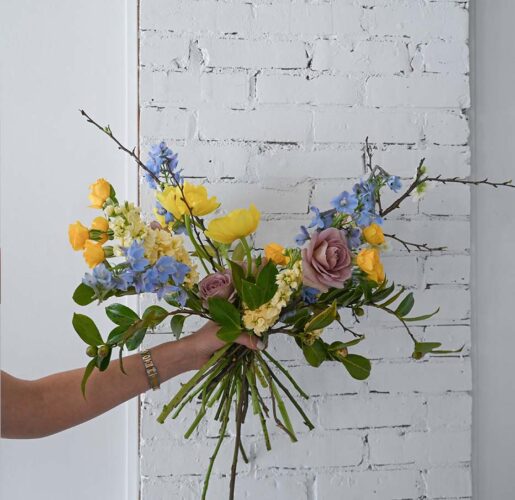 Step 3
Arrange stems of Ranunculus and polyanthus daffodils (or other smaller specialty blooms) in both the center the extremities of the bouquet, to further develop the focal area and define or reinforce the shape of the bouquet.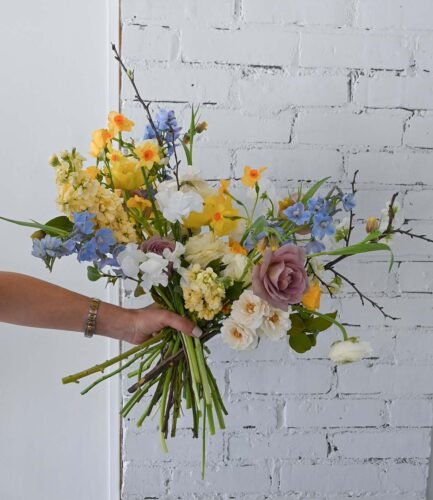 Step 4
Finally, layer in delicate and filler/accent blooms, such as sweet peas, fritillaries and Queen Anne's lace, as well as a few more flowering branches and foliage, placing them where needed to finish the bouquet and create additional dimension and movement.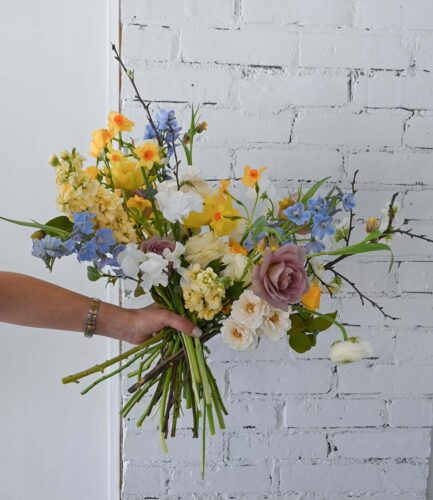 Step 5
Bind the stems of the bouquet with waterproof tape, stem wrap, self-fusing binding tape, waxed twine, raffia, taped chenille stem or other material of your choice. Tie a simple two-loop bow with luxurious No. 40-width double-face satin ribbon around the binding point.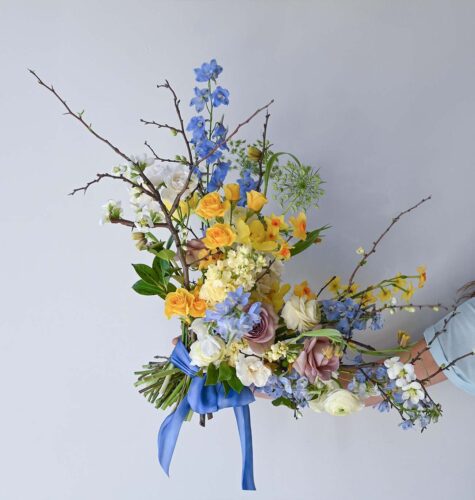 MATERIALS
BOTANICALS
• Delphinium x Belladonna (larkspur)
• Matthiola incana (stock, gillyflower)
• Rosa spp. 'Amnesia' (garden rose)
• Rosa spp. 'White Majolika' (spray rose)
• Rosa spp. 'Yellow Babe' (spray rose)
• Tulipa spp. (double-flowered tulip)
• Ranunculus asiaticus (Persian buttercup)
• Lathyrus odoratus (sweet pea)
• Narcissus tazetta 'Martinette' (polyanthus daffodil)
• Fritillaria uva-vulpis (fox's grape fritillary)
• Ammi majus (bishop's weed, false Queen Anne's lace, bullwort)
• Chaenomeles speciosa (flowering quince, Japanese quince)
• Camellia japonica (common Camellia, Japanese Camellia)
HARD GOODS
• OASIS® Waterproof Tape (1/2"), Floratape® Stem Wrap, OASIS™ BIND-IT™ Tape or other binding material of your choice
• No. 40-width double-face satin ribbon