What is it, and where do we start? The "FREESIA Challenge"!
By Hitomi Gilliam, AIFD, CFD
All floral designs are crested by Hitomi Gilliam and photographed by Colin Gilliam
"We believe flowers and plants are essential to the well-being of humanity. We believe innovation and creativity will produce design-driven solutions to support sustainability in the green profession. We believe in the goals of the zero-waste hierarchy to Rethink, Redesign, Reduce and Repurpose. We encourage and respect your efforts to pursue these goals. Can we come together, commit and move these goals forward in this direction?"
This was the statement on "Sustainability in the Green Profession" published from "Trend Summit 2020" in Vancouver, B.C., Canada. Thinking "sustainably" has taken hold for Gregor Lersch and me during the two years since this statement was published. We have sought ways to put this statement into action, to implement its intent and to act on the credo.
In August 2021, Gregor and I collaborated to teach a virtual workshop, "ORGANICS: Sostenible con Flores" [Sustainable with Flowers], exploring creative ways to design 100 percent organic bouquets and arrangements. A formidable and eager group of students from around the world engaged in creating completely organic designs, including supplies and accessories. They became the inspiration, conducting their own independent experiments to produce projects without introducing contaminants into the process of making. The willingness to share these ideas and innovative material uses seemed like an ideal way to further the search for sustainable practices in floristry, to continue to learn and innovate together.
Formulated on the power of collaboration through the sharing of ideas, "FREESIA Challenge" was launched on March 1, 2020. FREESIA—an acronym for Florists Recognizing Environmental & Eco Sustainable Ideas & Applications—is an initiative to engage florists and floral educators to motivate a new generation of green professionals who challenge themselves to seek creative and sustainable solutions in floristry, including open-sourcing new and exciting ideas that will lead our profession forward environmentally and eco sustainably.
The inaugural "FREESIA Challenge" comprises four categories, is free to enter and will run from March 1 to August 31, 2022. (Visitfreesiachallenge.com for more details and to enter any or all of the design challenges.)
Category 1: 100% ORGANIC HAND-TIED BOUQUET CHALLENGE
Category 2: LIVING PLANT DESIGN CHALLENGE
Category 3: ECO SUSTAINABLE SYMPATHY DESIGN CHALLENGE
Category 4: INNOVATIVE EVENT DESIGN CHALLENGE
Each of these design challenges asks participants to satisfy various eco-sustainable criteria, equally important to consider and to understand.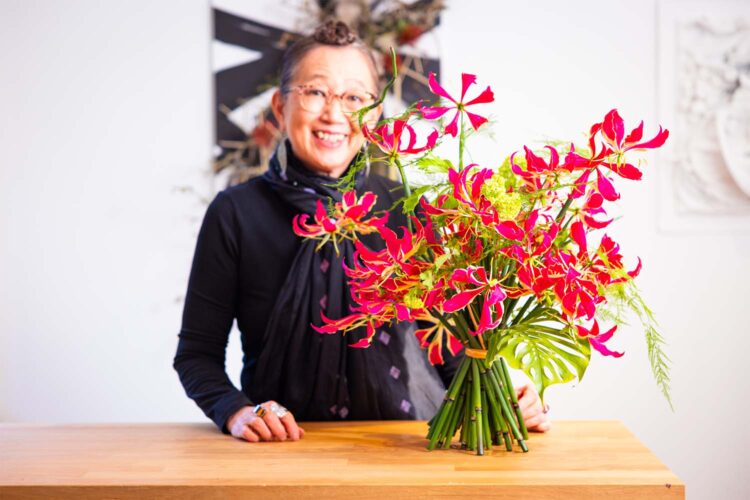 IT BEGINS WITH THE HAND-TIED BOUQUET
What is considered a 100-percent-organic hand-tied bouquet? In the "FREESIA Challenge," it's a bouquet that comprises only completely organic product, including the tying materials. The bouquet may be as creative as you desire, and it may have a structure/armature to support it both mechanically and/or aesthetically. The use of synthetic glues, paints, wires or accessories will greatly affect the sustainability score negatively. The process of identifying and understanding each ingredient used is the biggest lesson from this challenge: Entries must include a complete list of every material used in the bouquet and to create it. Botanicals are considered organic materials because they compost and break down naturally. Supplies used should be natural and considered compostable, to naturally breakdown into nontoxic organic material.
The challenge is designed to make each participant more aware of materials we use within the flower design profession—to become more informed about the materials we use and whether something is considered compostable, biodegradable and recyclable or is destined for a toxic landfill.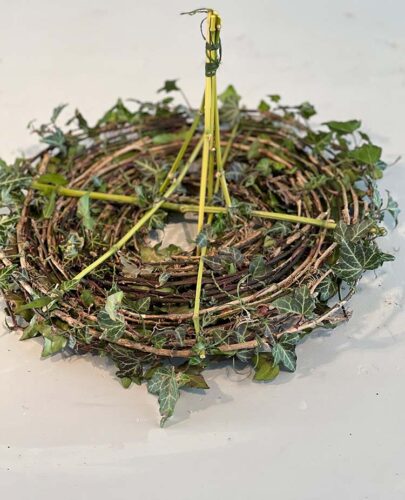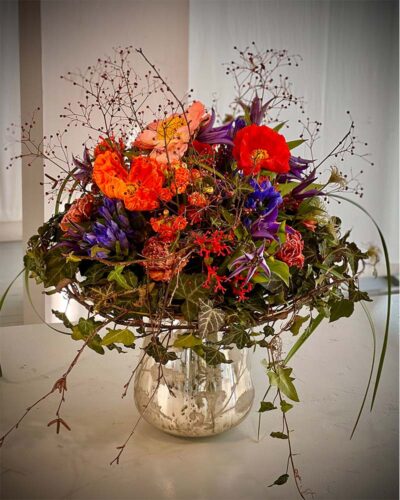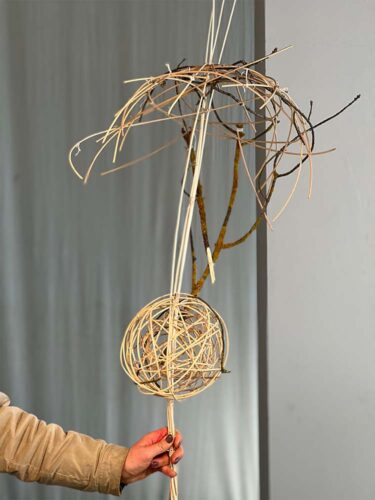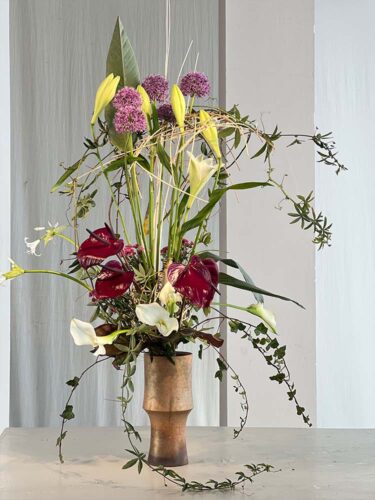 BEYOND HAND-TIED BOUQUETS
The "Living Plant Design," "Eco Sustainable Sympathy Design" and" Innovative Event Design" challenges are the other three categories that make up the "FREESIA Challenge." Each design challenge begins with the assessment of additional supplies florists traditionally use. Types of containers and supplies, both decorative and functional, come into play and require a closer inspection regarding whether they are needed and what they are made from.
REDUCE, REUSE, RECYCLE. These three pillars of waste management assist us in identifying ways we can best deal with the products we use. There are always alternative solutions, from products made sustainably using eco-friendly materials to recycled products that give new life to discarded materials, to durable and well-made products that will lead us away from dreaded "single-use" items.
Reducing and eventually eliminating the use of anything that will end up in a landfill is the key. To eliminate the use of single-use petroleum-based products, which often break down into harmful microplastics, permeating our soils, waterways and oceans, has become the biggest concern of all. Ingestion of the harmful pollutants that penetrate all life forces is the biggest contributor to today's waste crisis, from the landfill to the amount of greenhouse gases affecting our atmosphere.
In these three categories of floral designs, the challenge is to learn about the materials we use, to identify the contaminants and to find alternative solutions—creating designs that employ mechanics that can be reused and are easy to install and dismantle, as well as finding techniques that highlight and embrace the use of compostable materials. Floristry requires efficiency to be sustainable; therefore, critical thinking on the making and using of supplies that are convenient and effective while being environmentally friendly is important in each of these challenges. Environmental and eco-sustainable solutions will thrive within the model of open-sourcing—building on the existing collective of shared information through further experimentation. These are the purposes of these design challenges.
Perhaps the most exciting part of these challenges is that creativity and innovation can now be routed to sustainability in addition to creating art and beauty. The degree of awareness that we can gain from learning to be responsible in controlling our impact will help ease our environmental consciences. It becomes self-gratifying to craft a business model for our profession in which the effort to save the planet for future generations plays a vital role—a model to engage young, new florists who will not be hindered by what floristry was but will be propelled by what floristry can and will be: A clean profession that supports nature's most beautiful gifts—flowers. 
THE FUTURE OF THE SUSTAINABLE FLORISTRY MODEL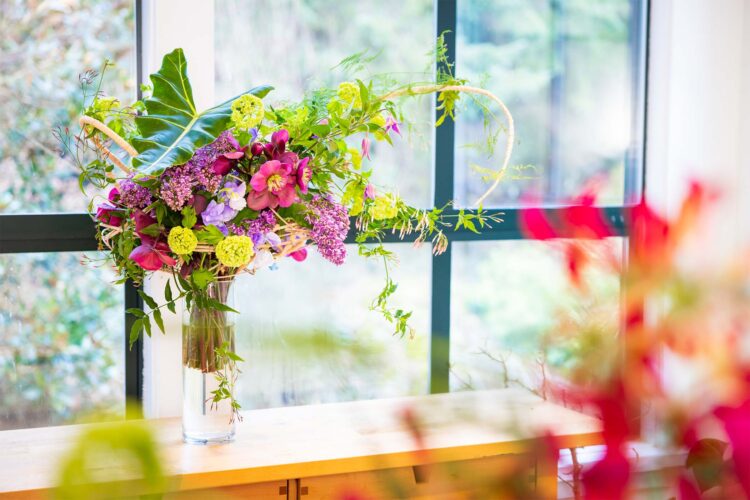 • A beautiful selection of hand-tied bouquets that are 100 percent organic, to sell as gifts packaged in organic wraps or reusable flower totes, which consumers can put into vases that are both beautiful and durable, for reuse in their homes.
• Arrangements designed in beautiful durable-quality vases, without any contaminants attached to them and from which the flowers can be easily removed, that can be discarded directly into a compost or green bin. Make it easy for your customers to separate the organic from the reuse items.
• If you are creating structures to place flowers into the design, beautifully craft them so that the customers will save them for reuse. The quality of a structure and its usefulness must be intentional and evident so that it does not get mistaken for garbage and end up in a landfill. Teach your customers about your sustainable practices so that they understand your business model and your intention.
• Extension of the sustainability credo to include, "To make things intentionally for reuse, not for the convenience of one-time use." The system of sustainable floristry is generated by you, the florist, so that it passes on to your core customers and becomes a system of which they want to be a part.
Some retail florists can shift their business models to liken CSA—Community Supported Agriculture, selling flower delivery subscriptions, weekly or monthly, to consumers, with which they receive the best of seasonal, locally grown product, in rotation. This is a new model to implement, in addition to the standard retail demands of occasions and holidays.
Something like "CSF—Community Supported Floristry" can supply flowers to consumers as weeklies or monthlies, with subscription dollars being used according to each customer's need for flowers. Subscription customers are guaranteed to receive the best of the seasonal, locally sourced flowers—trusting in your artistry and creativity—to further extend the community aspect and the "buy local" initiative. The most exciting aspect of this business model is that the designs you deliver come back to you—the container and the structure—to dismantle and reuse. In turn, each customer receives a greater variety of styles, shapes and sizes of quality containers and handcrafted structures that are "rental only." This allows for the reuse of everything in your inventory and provides customers with an amazing selection of containers and/or structures that they don't own or buy. This alone takes away the possibility of items ending up in a landfill. It's COOL to REUSE! And it's also COOL to be able to spread the flower experience beyond basic affordable vases and flowers, even on a smaller subscriber budget. Customers can afford to experience more style and artistry with this model.
A local florist who has the support of his or her community can now generate guaranteed monthly income with flower subscriptions. This can bring a sustainable florist and a sustainable-thinking customer together based on shared ideals, supporting a healthy planet together with flowers.
Why sustainable floristry? Because we can be more creative and innovative in the ways we conduct the business of flowers, with many layers of participation and actively seeking solutions from each other.
FREESIA: Florists Recognizing Environmental & Eco-Sustainable Ideas & Applications
• To register for any of the FREESIA design challenges and/or the "FREESIA Challenge Lecture Series," visit freesiachallenge.com.
• Instagram: wearefreesia