Full Press Release
Floral coronation robe unveiled ahead of Salisbury Cathedral's 2022 Flower Festival
A replica of the Queen's coronation robe made of dyed grasses and gilded ferns was unveiled at Salisbury Cathedral today (Monday 3 May) ahead of the 2022 Flower Festival, Celebration – A Festival of Flowers.
Created by flower arrangers from the Salisbury Cathedral Flowers team, the robe was installed temporarily in front of the altar, where it will stand with a specially crafted orb, scepter and crown for the duration of the festival. 
Behind the robe, an altar cloth created out of fabric used during the 1953 Coronation service in Westminster Abbey covers the High Altar. The blue and gold cloth was found recently hidden away in a Cathedral chest for over a decade.
The replica robe will be removed and stored until 'staging' day – the day on which more than 450 flower arrangers from across the diocese and region including Jersey, will put together the displays ready for opening on Tuesday 10 May.
Celebration: A Festival of Flowers has been designed by Michael Bowyer, Salisbury Cathedral's Creative Director of Flowers, and floral designers Angela Turner and Pam Lewis. The theme, Celebration, references the Queen's Platinum Jubilee and the Cathedral's past and present – along with a host of other reasons to rejoice.
Tickets for Celebration: A Festival of Flowers are on sale via the Cathedral website and, for those looking for a very special experience, tickets to a Festival Preview event on the evening of Monday 9 May are also available online.

For those looking for an exclusive experience, early morning tours with a designer followed by breakfast in the Refectory are also on sale. Check the website for further details.
Groups (10 people or more) interested in visiting the festival should contact groups@salcath.co.uk or phone 01722 512156.
For any other enquiries or further information contact Marie Thomas on 07857 144691 or m.thomas@salcath.co.uk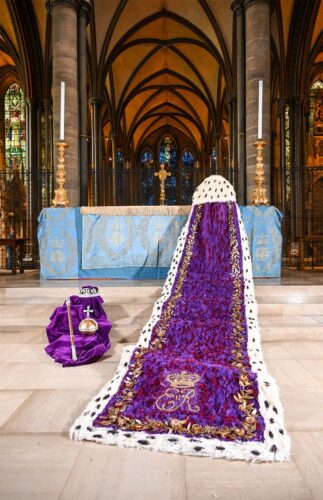 Salisbury Cathedral is one of Britain's finest medieval cathedrals. It offers a warm welcome to
all who visit and seeks to strengthen church and community life in the diocese. It is committed to protecting liberty, encouraging creativity, and celebrating God's eternity through exceptional worship and outreach and, as the home of one of only four remaining copies of the 1215 Magna Carta in the world has a special commitment to challenging injustice and fostering reconciliation, both at home and abroad.
The Cathedral is usually visited by over 250,000 people annually, who come to marvel at the peace and beauty of the more than 800-year-old building, which boasts the tallest Spire in the country (123m), visible for miles around, and the oldest working mechanical clock in the world. To ensure we keep our visitors safe our visitor capacity is currently limited to 80 people per 15 minutes so booking ahead is strongly advised.
The Designers:
Michael Bowyer MBE, Salisbury cathedral's Creative Director of Flowers
Michael Bowyer is the National President of the National Association of Flower Arrangement Societies. An experienced flower festival designer, he is qualified as a NAFAS National Judge, Demonstrator, Speaker and Teacher. He is also an adjudicator and instructor for Judges, Demonstrators and Speakers, and trains Teachers. He is an Associate of Honour of the Wessex and Jersey Area, where he is President of Salisbury Flower Club, and a NAFAS Special Associate of Honour. He was awarded MBE for his services to flower arranging and to charity. Michael is Creative Director of Salisbury Cathedral Flowers, a member of Musical Theatre Salisbury, Studio Theatre and History at Large.

Angela Lewis
Angela Lewis has worked on numerous cathedral flower festivals in both Salisbury and Winchester Cathedral. She is a qualified professional florist and lecturer in floristry, who has been arranging and designing for over 30 years. She travels extensively teaching, judging and demonstrating in the UK, Ireland, Spain, France and Japan. A regular exhibitor at RHS Chelsea Flower Show she has won six coveted RHS Gold medals. She is one of very few to be a Gold Medallist in both Professional Floristry and Floral Design. A NAFAS National Demonstrator and Teacher, she was awarded Area Associate of Honour of the Wessex and Jersey Area of NAFAS. She is also Honorary Member of the British Florist Association in recognition of her varied and valuable contribution to both NAFAS and the floristry industry over many years. Angela was a member of the Flower Festival Design Team behind Magna Flora, Salisbury Cathedral 2015 Flower Festival.
Pam Lewis
Pam Lewis lives near Devizes, where her beautiful garden is open under the National Gardens Scheme. A noted gardener and a conservationist, who designs and creates wildlife gardens, Pam specialises in making and managing wildflower meadows. She is a NAFAS national demonstrator, is well known for her skills as a blacksmith and was the demonstrator at the National Assembly (Bath 2010). Pam started flower arranging in the early 1980s and then studied for her City and Guilds. When she could never find the right containers for her designs, she taught herself blacksmithing and her original wrought iron containers are very popular. She has been a member of Devizes Flower Club for over 30 years