Agapanthus, Centaurea (cornflower), Delphinium, Eryngium, Hydrangea, Iris, Muscari, Nigella, Tweedia, Veronica, Viburnum berry and Vaccinium berry (blueberry): Should you expect shortages?
At the end of each autumn, floral designers play a game of speculating, prognosticating and purely guessing the Pantone "Color of the Year." Like waiting for Santa, we count down the days and prepare ourselves for something new to play with for the following year. What will it be? Will it be something wild and crazy? Will it be something we can see coming? Will it be one color or two (remember 2016)? Will we love it? Will we hate it? Whatever is announced, we will talk about it for the next year and then some.
Photo courtesy of Pantone Color Institute
Photo courtesy of Pantone Color Institute
Photos by Amy DeYoung Events by Wilkinson-Rhodes Floral design by Schaffer Designs
The Wayback Machine …
Two years ago – and more – color analysts began researching the "what's next" in color trends. Society is examined and placed into categories, such as "Global Trends." Global Trends will ultimately have megatrend offshoots based on geographic region, culture, age group, and even the media that influences them. Megatrends allow these explorers of our societal chromatic options to look at the big picture of who we are as innovators, creators and sellers connected to consumers. Within these groupings of color stories, macro-trends begin to emerge and then, finally, current trends – though this doesn't even account for "fads" or micro-trends.
This is the 21st year that Pantone has selected a color of the year. Pantone deep dives into these world trends and reports its findings. They have connected to the psyche of what many of us choose to use to create products for our consumer bases and groups that we hope to connect with. For 2020, Pantone's "Color of the Year" is CLASSIC BLUE (Pantone 19-4052: #0F4C81).

"We are living in a time that requires trust and faith. It is this kind of constancy and confidence that is expressed by PANTONE 19-4052 Classic Blue, a solid and dependable blue hue we can always rely on. Imbued with a deep resonance, Pantone Classic Blue provides an anchoring foundation. A boundless blue evocative of the vast and infinite evening sky, Pantone Classic Blue encourages us to look beyond the obvious to expand our thinking, challenging us to think more deeply, increase our perspective and open the flow of communication."
~ Leatrice Eiseman, executive director of the Pantone Color Institute.
Blue seems to be a megatrend for Pantone: In 2000, it was Cerulean Blue; 2008, Blue Iris; 2016, Serenity; and 2020, Classic Blue. An interesting note on this color selection is that, when looking back over the past 21 years of Pantone's selections, the color authority has chosen a blue hue for its Color of the Year during four of the past six presidential election years.
Classic Blue has been on the design radar for a while now, but timing is everything. Pantone had Classic Blue as one of its featured colors for spring/summer 2020 as far back as 2018. Numerous other professional trend-forecasting companies also have had blue, in increasing importance, in their predictions. .
It takes the alignment of people's psyche, culture and connection to bring a color forward as we need it. Classic Blue is calm and soothing in our search for balance and well-being. As people more than ever focus on their physical and mental health, this color comforts and quiets. The rich hue is reminiscent of the sky and the oceans and the vastness of our world.
Classic: Serving as a standard of excellence; of recognized value … traditional, enduring"
~ Merriam-Webster
Blue: "… the color of the sky and the sea. It is often associated with depth and stability. It symbolizes trust, loyalty, wisdom, confidence, intelligence, faith, truth and heaven. Blue is considered beneficial to the mind and body."
~ color-wheel-pro.com
In early summer of 2019, we started seeing a full shift into the blue tones, with a fuller connection to nature and the colors of our planet (think "big blue marble"). This connects with the growing North American interest in shinrinyoku, the Japanese concept of "forest bathing," where you stroll amid nature, taking in your surroundings. Paint companies began forecasting nature's colors for 2020 online with a large number of press releases in mid-2019. This means that they had also been doing serious long-term research and were already in production for these colors to be distributed nationwide and beyond.
• Sherwin-Williams – Naval, a rich shade of blue that's reminiscent of the night sky.
• PPG Paints – Chinese Porcelain, a contemplative blend of cobalt and ink blues
• Dunn-Edwards Paints – Minty Fresh, a green that reflects purity and new beginnings
• Behr Paints – Back to Nature, a mellow meadow green
• Valspar – chooses "colors" of the year, and although they do include two blue hues, it still represents a return to nature.
This is the February 2020 edition of Florists' Review, so all of this "color of the year" news is probably not new to you. At the time of writing this article in mid-December 2019, we had been observing an overwhelmingly positive reaction to this color throughout the floral world. But it is not for everyone; some are disappointed.
Color is very personal to people; there is never a perfect selection that can please everyone. However, the story of this color choice is about a global mind-set. People are searching for meaning and answers, and this color is deep and thoughtful.
Regardless of the guessing games we play, the Pantone "Color of the Year" is a serious and creative tool for designers in all industries all over the world. It shifts fashion, beauty and home décor, and the media hype drives consumers to be aware of color, which benefits all of us. When we explore uses for this rich blue hue, we discover it is a casual neutral in the same way that denim jeans can go with anything. It's about the way other colors blend with it.
Classic Blue in Floral Design
To show that you are a trend-worthy designer does not mean that you need to saturate every creation with Classic Blue! In home interiors, you may use accessories, such as throw pillows, to bring the color into a room. You may even paint a small wall Classic Blue, with a few similar-hued accessories scattered around. In fashion, you do not need to purchase a new outfit from head to toe in Classic Blue. A scarf, handbag, belt or shoes can add the color into your wardrobe without making a lifelong commitment.
Blue is a great base for society's continuing love of metallics. Gold and copper, aluminum and silver all work with this color of the year. For event designers, blue doesn't need to be a flower. Linens, plates, lighting, furniture, containers, ribbons and other textiles can all bring Classic Blue into an event.
Florists always wish we had more varieties of blue blooms, but we really do have something wonderful in every season (see the opening paragraph). When we don't have the perfect Classic Blue flower – or any blue flowers – available, we can always turn to containers, ribbon and packaging to add that pop of color. Chinoisserie is trending, and is the perfect blue. We can also find this color in beautiful organic pottery glazes and much more.
For floral design, blue connects everywhere. It is the perfect accent color for some of our most-asked-for wedding colors: peach and pink. If you purchased an abundance of coral containers from Pantone's 2019 Color of the Year (Living Coral), blue creates a great complementary harmony, especially when further connected to orange and lime (e.g., dark blue Delphinium, 'Coral Reef' roses, orange Protea and mini green Hydrangea).
In January 2020, Florists' Review released its biannual "American Floral Trends Forecast" for 2020-2021, expertly curated by J. Keith White, AIFD. Of the four trends identified by White, "Metropolitan" is heavily centered around a deep, rich blue hue, and showcases an entire aesthetic based around the hue.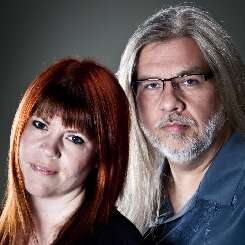 Bill Schaffer, AIFD, AAF, PFCI, and Kristine Kratt, AIFD, PFCI, are the creative directors behind Schaffer Designs, a floral event company. Bill and Kris are diverse contributors in the floral industry, specializing in not only trend translations, education, product development, and showroom and trade-show design but also commissioned floral installations. They're also award-winning authors. Email bill@schafferdesigns.com and/or kris@schafferdesigns.com.