The mechanics used to create all manner of floral wearables are critical to their comfort and longevity. Here is one easy method for creating dramatic flowery headwear.
Sponsored by BallSB
Floral design and photos by Beth O'Reilly, AIFD, CFD, TMF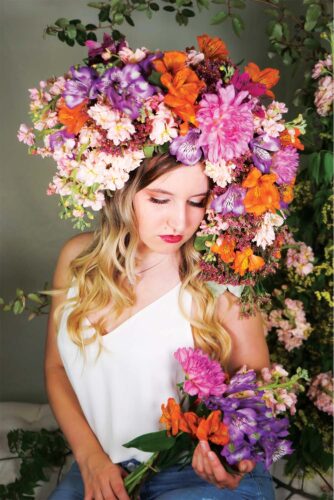 Whether you're designing floral headwear for a paying customer, an editorial photoshoot or a charity headdress ball (BTW, Las Floristasheld its 84th annual event this year!), the mechanics used to create the design—and there are many methods—are key for comfort, stability and security. Here, floral designer Beth O'Reilly, AIFD, CFD, TMF, demonstrates a relatively simple option that will allow you to go as big and wild as your imagination (and budget) permits, all while providing comfort and security for the wearer. This versatile method can be used for floral headwear ranging from "oversized hat" to full-blown showgirl-style headdresses.

STEP BY STEP
Step 1
Create a structure into which the floral materials will be arranged by first shaping a piece of floral netting (chicken wire) into a bowl-shape form. Attach the wire form to a welding helmet ratchet-type headgear replacement with zip ties. Be sure not to cover the adjustment knob on helmet headgear replacement so it can be tightened or loosened to fit any size head before and after designing.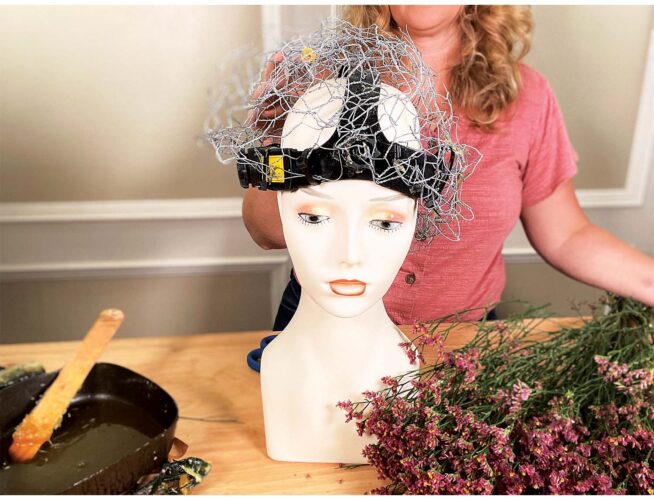 Step 2
Heat hot-melt (pan) glue to just the right temperature and consistency. The glue should not burn to the touch, but it needs to be hot enough to adhere the botanical materials to the chicken wire. If it's too hot, it will not only burn the botanicals' stems but also be too runny, which is messy and dangerous. Check the glue's temperature and consistency with a few stems before designing.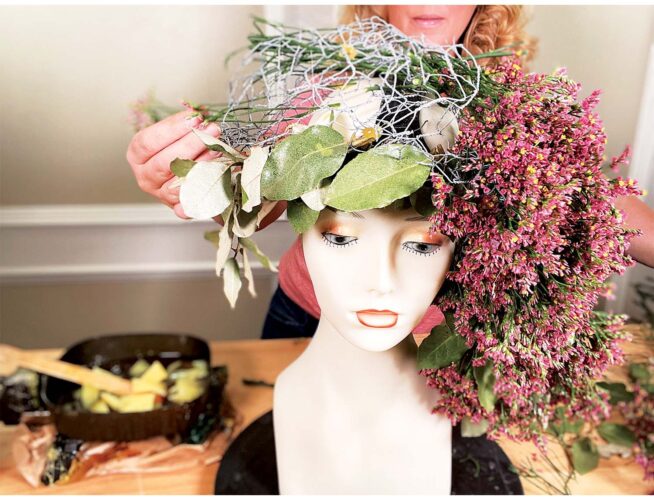 Step 3
Begin arranging flowers by first dipping each stem end into the hot-melt glue and then inserting the stems into the chicken-wire armature. Start with the Elaeagnus and Limonium, then add the stocks, and finish with Alstroemeria and Dahlia. Create a grid-work with the stems for maximum security. Continue until the chicken-wire armature is covered with floral materials.
Step 4
Finish the design by adding cascading stems on the sides of the headdress, for maximum drama and visual impact.
DESIGN TIPS: Create a focal area with the largest blooms. Group and color-block the flowers to create the greatest interest.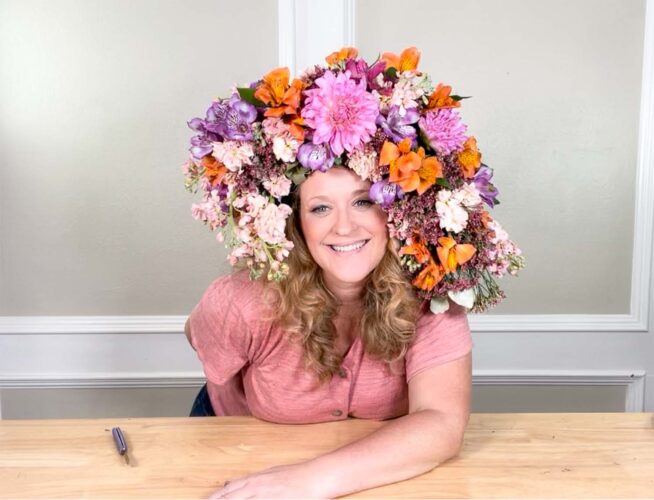 MATERIALS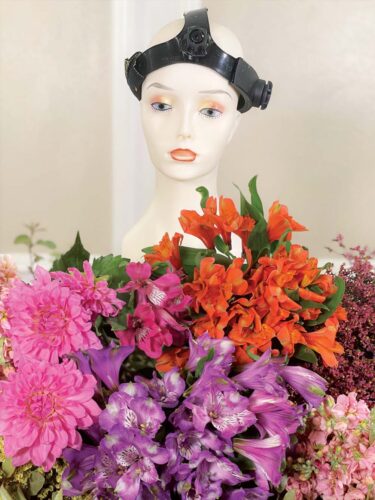 BOTANICALS FROM BALL SB
Dahlia spp. 'Pink Quartz' (semi cactus Dahlia)
Limonium sinensis/L. sinense 'Terracotta' (sea lavender, statice, marsh rosemary)
Alstroemeria aurea/A. aurantiaca (Peruvian lily, lily-of-the-Incas)
Matthiola incana (stock, gillyflower)
FORAGED BOTANICAL
Elaeagnus spp. (oleaster, wild olive)
HARD GOODS
Welding helmet ratchet-type headgear replacement
Mannequin head
OASIS™ Florist Netting
OASIS® Hot-melt Glue
Zip ties