An alternative-style flower crown has become a signature item for a Miami florist.
Floral design by Ana Isabel Vivas
Flower crowns have been wildly popular for several years now, for both formal events, like weddings, casual wear for spirited, fun-loving individuals. So, to further establish a reputation for her flower business as a source for unique, creative designs, Ana Vivas, owner of Aniska Creations in Miami, Fla., developed alternative tiara/headband-style flower crowns, and her designs have become major hits and buzz-generators among her clientele. "They're something that makes us unique," Vivas reports. Here are the basic steps for creating Vivas' flower tiaras/headbands.
STEP 1
Select a variety of small and medium-size blooms in your chosen color palette and with an interesting variety of textures.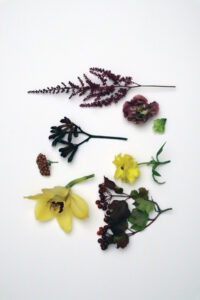 STEP 2
Glue one of the larger flowers to the top of a 2-inch-wide hard plastic headband, slightly off-center and facing slightly forward, with liquid floral adhesive. Liquid floral adhesive takes a minute or two to become tacky, so press the flower firmly onto the headband, without damaging the flower, until the flower is secure. Alternatively, apply liquid floral adhesive to a section of the headband, and allow it to become tacky before placing the flowers.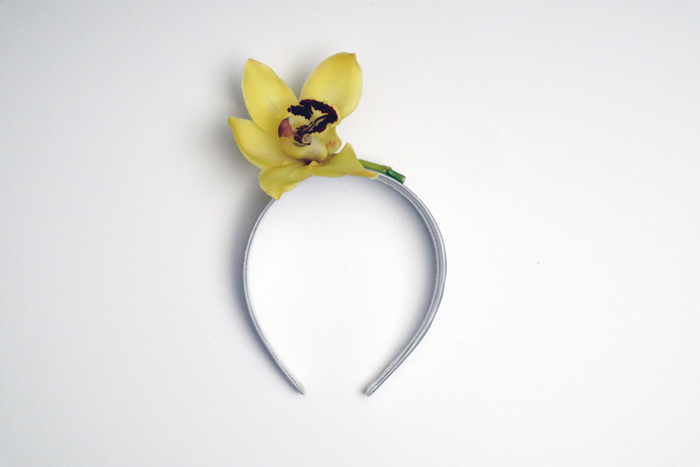 STEP 3
Glue a second and third large flower (the same type and color as the first or one similar in size) next to the first, also slightly off- center and behind the first flower. TIP: Work both sides of the headband, front and back,one after the other, to balance the size and form of the design.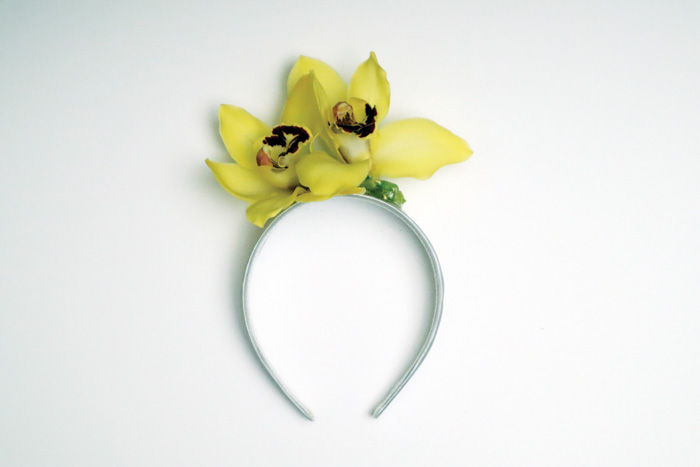 STEP 4
Glue other botanicals—flowers, foliages, grasses, etc.—into the center section of the headband with liquid floral adhesive, to add texture and interest.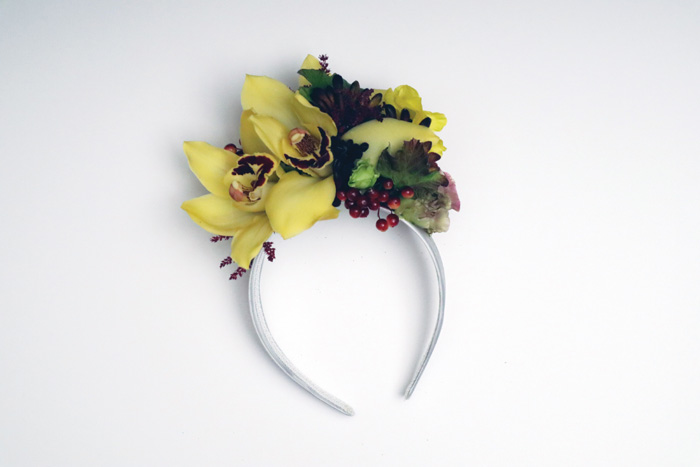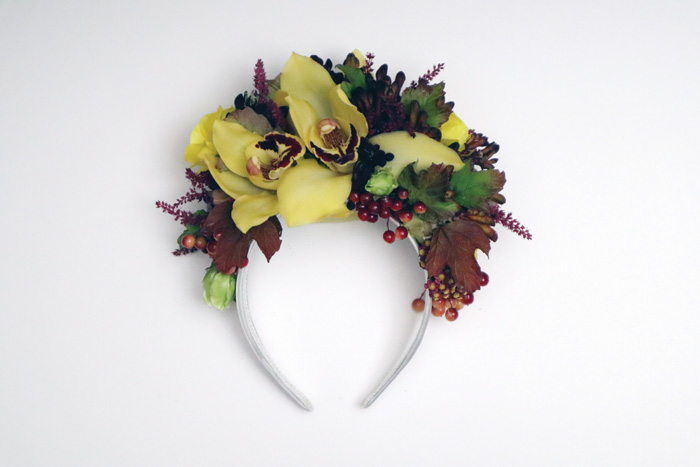 STEP 5
Once the design is finished, allow the adhesive to fully dry. Then, spray the flowers lightly with an exterior-coating finishing spray like Floralife® Crowning Glory®, and allow that to dry. Once the finishing spray has dried completely, place the design into an air-tight plastic bag, and refrigerate it at the proper temperature for the types of flowers used until it is ready for delivery or use.
BOTANICALS
• Cymbidium orchids
• Astilbe japonica (false goat's beard, false spirea/Spiraea, florist's spirea/ Spiraea)
• Achillea millefolium (common yarrow, cottage yarrow, Western yarrow, milfoil, devil's nettle)
• Anigozanthos flavidus (kangaroo paw)
• Ranunculus spp. ButterflyTM series (butterfly buttercup, butterfly crowfoot)
• Eustoma grandiflorum/ Lisianthus russellianus (prairie gentian)
• Viburnum spp. berries
HARD GOODS
2-inch-wide hard plastic headband
OASIS® Floral Adhesive
Floralife® Crowning Glory®