These amazing floral displays are blooming at Chelsea storefronts and streets this week. Dive into these amazing photos of floral installations around Chelsea taken by Jill Brooke of the streets of Chelsea.
Full Article Below Source
Flowers Festival Blooming at Chelsea Storefronts and Streets
By Jill Brooke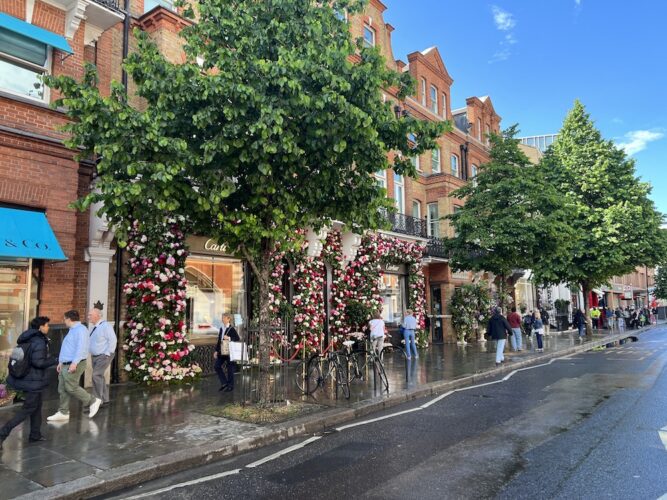 As is the tradition, hundreds of stores and restaurants support the week-long Chelsea Flower Show by agreeing to be part of Chelsea in Bloom, and follow a floral theme in design or just creating their own floral designs to join the fun.
For 2022, the theme was British icons in anticipation of Queen Elizabeth's 70th-year jubilee in June. As store owner Kiki McDonough said, "there is a bit more effort this year because of the Queen's milestone."  Like in previous years, participants included themes of"Extraordinary Voyages" in 2019, there is a collective effort to be sustainable and foam was discouraged while chicken wire and alternatives were encouraged.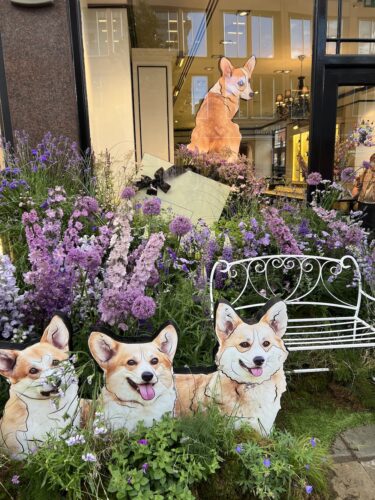 Because the Queen loves her corgis and horses, there were plenty of animals including horses.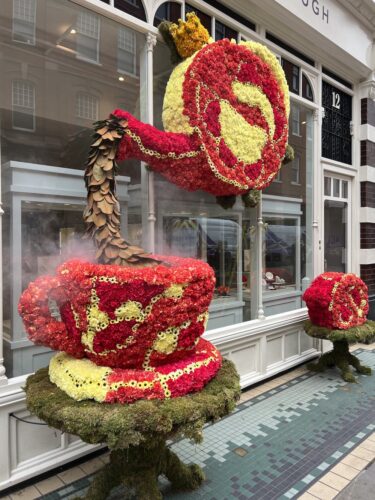 And of course, since the British love their tea, there were clever interpretations of beloved libations.
I particularly admired the concerted efforts of Philip Corps who created Kiki McDonough's storefront tea installation. Yes, there was steam coming up from it which provided quite the challenge to incorporate for this talented florist who created several installations – including Jo Malone's purple haze of delphinium and alliums with corgis.
"Here in England, we don't have iced tea but prefer hot tea," he explained. What to do? They found a steam machine that was built into the installation and turned out to be one of the favorite installations which will be judged at the end of the week.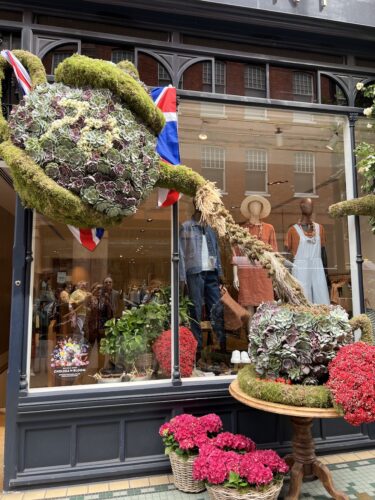 Next door at the store Peony, floral artist Rob Van Helden interpreted tea drinking using succulents and decorated with strawberries as well. Owners Luke Dashper and his talented wife Hannah's clothing line uses sustainability in their production which is what inspired the use of succulents. Ironically, with great minds thinking alike, their next-door neighbor Kiki did the same. It is a brilliant display of two great minds thinking alike.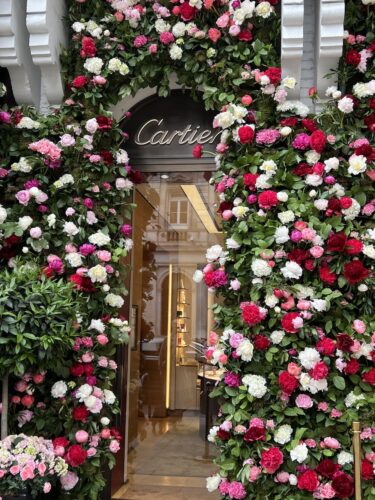 Many marveled at the sheer number of plump deliciously sensual peonies and roses that created an eye-catching jaw-dropping arch around the Cartier store. I heard that the jewelry company spent over $30,000 just on flowers. But judging from the reaction of passersby, it was totally worth it.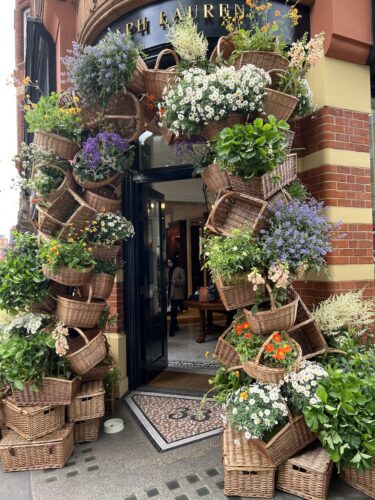 Ralph Lauren created a beautiful meadow with baskets decorating its awning and side street and certainly gave me ideas of what to do in my own garden.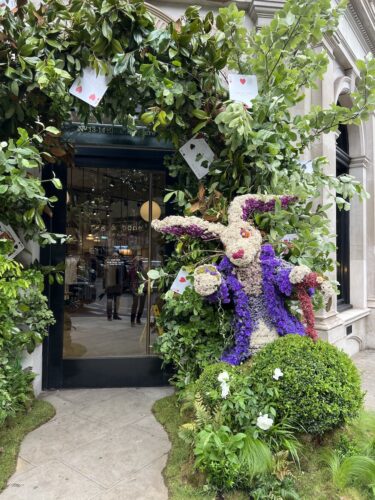 Rags & Bones focused on a Mad Hatter rabbit as did so many others since Alice in Wonderland was written by Lewis Carroll. You do get to see how artists interpret an idea when comparing the various installations. "We had no idea others would be doing the same," says Becky Stordy, store manager, citing how these plans are conceived for weeks with mood boards and meetings.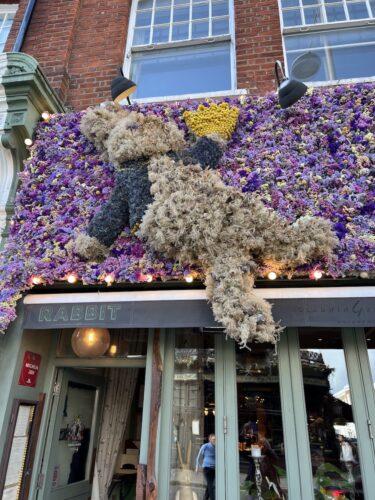 It made sense that the store Rabbit used a rabbit icon but the others were a surprise. But all creatively so fun.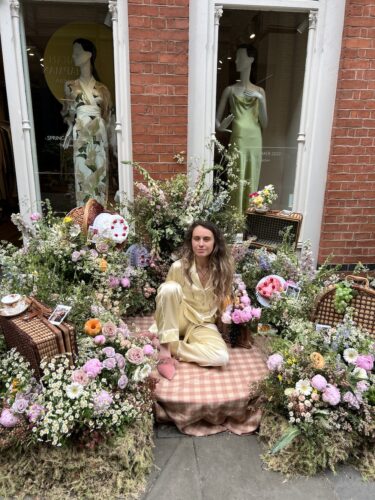 Another favorite was how the Olivia Von Halle store created a picnic for Alice in Wonderland and people were encouraged to take pictures. This charming installation was created by Phohm florists.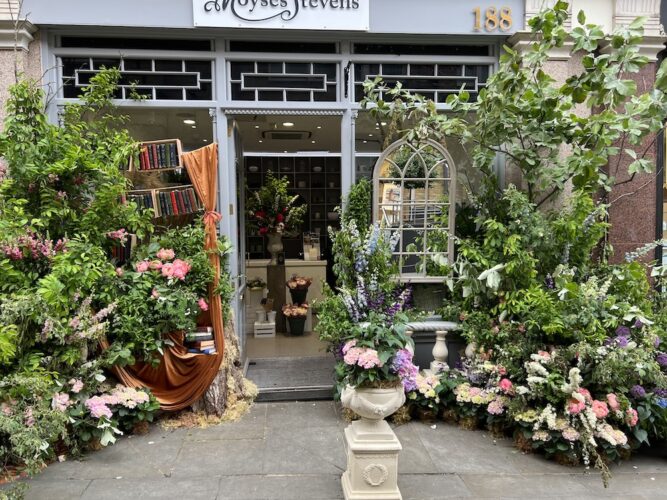 I also liked the nod to Shakespeare, one of the greatest writers in history. This Moyes Stevens floral store created a garden using many of the flowers Shakespeare invoked. Still, was so surprised this was the only interpretation of Shakespeare vs. Lewis Carroll.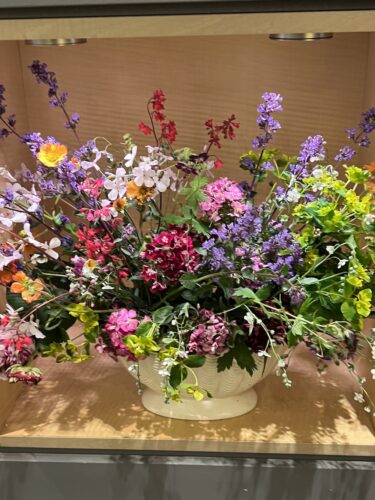 Smythson's wisely used Amanda Willgrave to create their installation inspired by Constance Spry, considered the Grande Dame of floral design from the 20th. century who also was commissioned to design the flowers for the Queen's coronation in 1953. As Smythson executives explain, one of Spry's design signatures was the distinctive shape of her arrangements, with sweeping, gravity-defying sprigs of greenery emerging from low wide vases.
As Willgrave explains, she also has a penchant for unconventional foliage, often incorporating wildflowers, grasses and even vegetable leaves into her design. "What she was doing has now become so popular today," marvels Willgrave.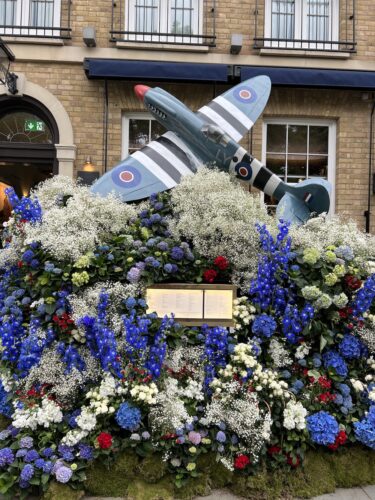 Another highlight was the Beaverbrook Townhouse Hotel's interpretation of the spitfire plane which Lord Beaverbrook created when he was the minister of the airforce production during World War II. A model of the plane is also in the hopping hotel's bar.
Manager Jake Greenall worked with the talented Rob Van Heldon on this one which had delphiniums flying high along with baby's breath.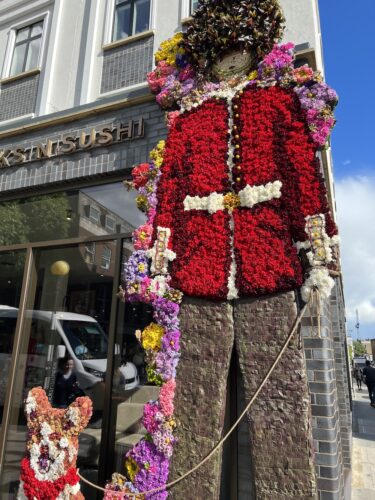 Of course, there were plenty of interpretations of the infamous red uniforms of the Buckingham Palace guards.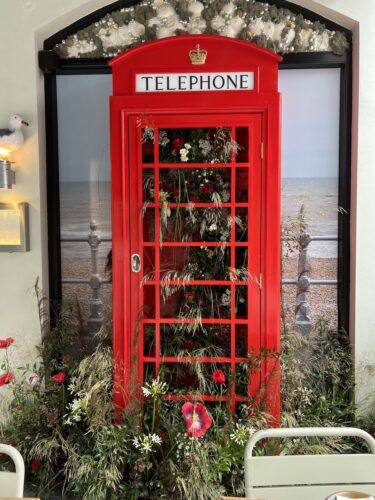 And the iconic red telephone booths.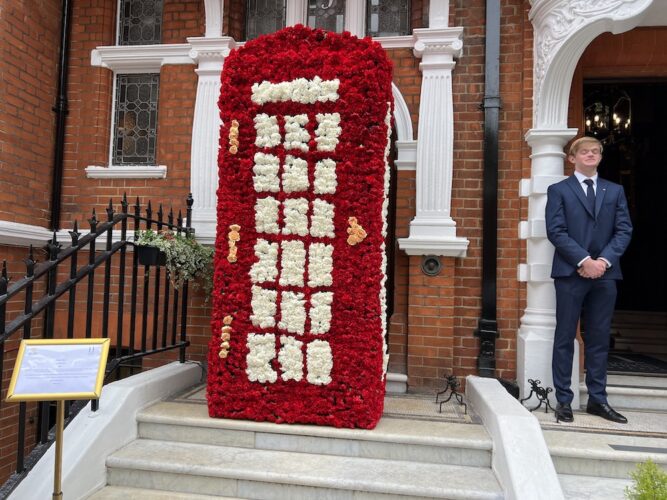 At 11 Cadogan Gardens, the in-house florist created one using carnations.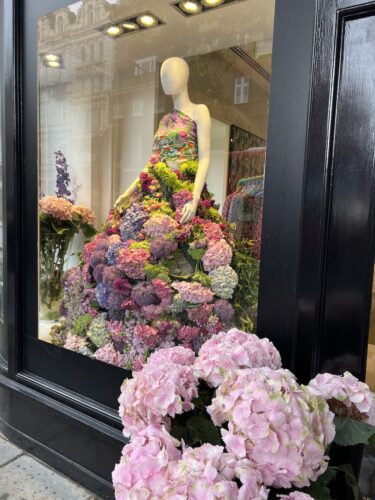 There weren't many Fleursdevilles type mannequin installations except for Catherine Provost and Wolford. However, the Provost store won hands down because the display wasn't old-fashioned but instead modern and pretty with a skirt of colorful hydrangeas that complimented the cheery designs of the store.
There were only two inspirations for the Beatles and the Sloane Square Hotel won easily. Turns out the Beatles stayed there back in the day. What I loved about this installation is that it wasn't big on costs but big on execution and charm.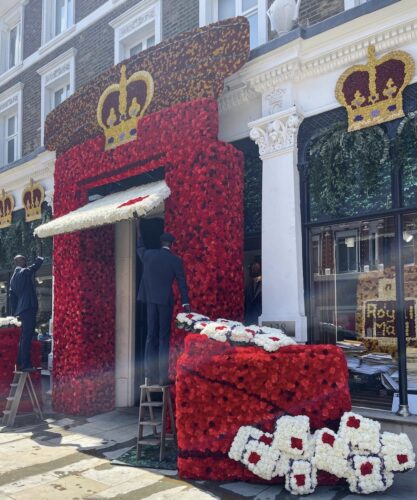 All these collectively are love letters in some form to the Queen and therefore this is why I am ending this overview with the installation of Royal Mail. This installation was in front of Hackett and there was another one that was in the same theme in front of Faconable – owned by the same company.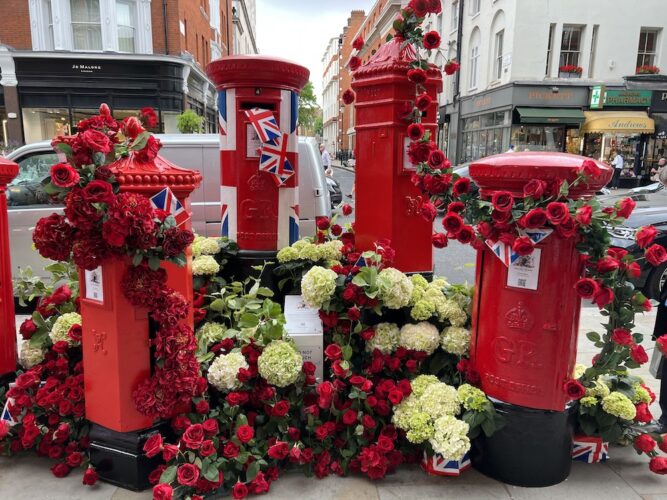 Both were elaborate but dignified and sparked plenty of conversations about why the Queen is so admired and loved for her duty, her manners, and her endurance. Plus, of course, the importance of traditions like the Chelsea Flower Show and this outdoor festival.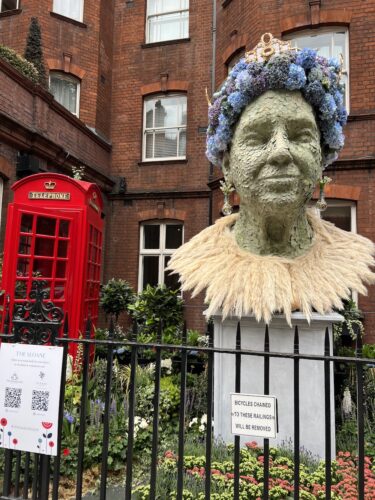 Jill Brooke is a former CNN correspondent, Post columnist and editor-in-chief of Avenue and Travel Savvy magazine. She is an author and the editorial director of FPD, floral editor for Aspire Design and Home magazine and contributor to Florists Review magazine.
Photos: Jill Brooke, FlowerPowerDaily