Themed gift baskets provide year-round opportunities to increase sales with upsell items.
By Brenda Silva
Among the most traditional gift and gourmet baskets are seasonal fruit baskets and fancier baskets with chocolates and/or other sweet treats. Both of these types of baskets typically arrive attractively wrapped in cellophane and ribbons, but, arguably, they don't do much more than deliver a rather generic, nonpersonal, one-size-fits-all gift.
Luckily, generic traditional styles of gift and gourmet baskets have evolved into vastly improved gifts. The latest trends in gift baskets are all about themes and individual personalization; in fact, offering tailored, unique products and shopping experiences is one of the biggest factors in successful retailing today.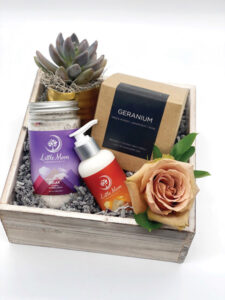 Themed and personalized baskets account for a large percentage of baskets currently being sold, and, as such, the opportunity to enhance the value of gift baskets with upsell items—such as flowers, plants and/or other products that reflect a recipient's lifestyle and personality—allows retailers to increase the price points and number of gift baskets they can sell year-round, without much more effort required.
Holiday and Every Day
With the holidays just around the corner, many consumers are already feeling overwhelmed with trying to find a perfect gift for every friend or family member on their shopping lists. Themed and personalized gift baskets offer consumers an easy way to make each recipient feel special and appreciated. Because every gift basket can include items that are specific to someone's life or hobby, the thought behind each gift will likely remain long after the holidays are over. And, best of all, they're also the perfect gifts for year-round occasions and events.
According to retailers, when creating a themed gift basket, you should include no more than five to seven items, depending on the size of the basket. A few examples of popular themed baskets include:
• A basket for gardeners or garden aficionados that includes a potted plant, seed packets, gardening gloves, a trowel, and a "basket" constructed from a garden hose.• A teatime basket that comprises a lovely assortment of teas, a teapot and teacups, appropriate snacks, and a tea towel.
• A housewarming basket that features a scented candle, a small potted plant, hand soap, a hand towel and wall décor.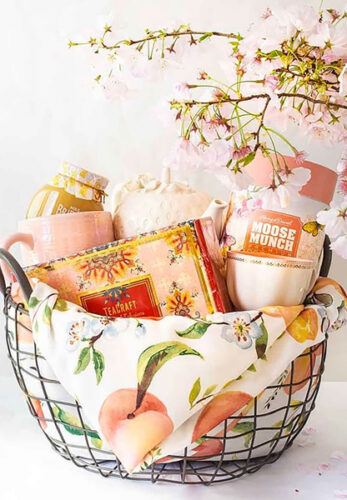 Themes for gift baskets are as limitless as your imagination. For year-round gifting, innovative basket ideas can include family game night, date night, movie night, teacher appreciation, coffee lover, baking supplies and sports. What types of things are consumers in your market area interested in? Retailers are quick to point out that the greatest advantages of themed gift baskets are that they never go out of style, and the items included in the baskets can always be updated based on the age and changing interests of the recipients.
Not only do gift baskets offer the option for personalization but they can also be enhanced with various upsell items, including many different types of flowers and plants, chocolates, and age-appropriate products such as candles and spa items for adults and plush items and balloons for younger recipients. By suggesting complementary or related add-on products, retailers can easily increase the price of every gift basket ordered or purchased in store. In addition, retailers who go a step further by creating inspiring gift-basket window and in-store displays that feature suggested add-on items also increase the potential for more walk-in traffic and sales simply by using creative merchandising techniques.
Basket Theme is Key
When choosing a theme for a gift basket, one of the first considerations for retailers should be the availability of the items chosen for the basket, as well as the availability of upsell products that can increase the price of the basket. In addition, other concerns for retailers are color and seasonality and how complementary items can serve to validate the increased costs of themed gift baskets.
Erin Hornstein, owner of Plum Sage Flowers in Denver, Colo., explains how the seasonality of upsell products like flowers affects how gift baskets look throughout the year. "Plum Sage always selects flowers based on the freshest availability and seasonality," she explains, "so that means our winter gift basket designs look hugely different from our spring and summer gift basket arrangements. Our most popular upsell item is actually extra flowers. It's so special to deliver a bespoke arrangement that's a little larger than what someone might expect, along with a gift box full of delectable goodies. It makes a big impact."
Brenda Ray, owner of Petal Me Home in Walla Walla, Wash., chooses botanicals for her gift baskets based on the occasion. "For example, when we design gift basket to celebrate a new arrival, we choose flowers, gifts and colors that are suitable for that occasion," Ray notes. "Three of our most popular upsell items are balloons, chocolates/candy and handmade cards. I have also been incorporating air-filled balloons, which can easily increase the price of a basket by $10 to $20 and create a substantial impact."
Promote and Pamper for Success
After a bit of in-house retail experimentation with various upsell items, many florists have discovered that certain products can practically ensure gift basket success and increased sales. "The most successful gift boxes for us include unique and locally produced items," Hornstein shares. "We know that clients who choose to send a gift box are trying to say something special, so we select only products that we, ourselves, would like to receive. For example, our 2021 Mother's Day gift box included classic items including a bespoke luxury handcrafted candle from Rosy Rings in Denver and all-natural body-care products from Little Moon Essentials in Steamboat Springs, Colo. It also included something cheeky and playful: a craft cocktail in a can from Candid Cocktails in Denver."
Another woman who knows just how moms should be pampered is Tabitha Blue, founder of the "Fresh Mommy Blog," life coach, author, "professional encourager" and a mother of six herself. Blue's "Ultimate Pampering Mother's Day Gift Basket" is sure to make any mother feel like a queen for much more than a day.
Blue began the creation of the pampering basket with a color palette of blush and vanilla. She continued the theme with a vanilla-scented candle and a range of high- quality products such as exfoliating and softening soaps, as well as body brushes, scrubs, and lotions, all of which serve to create a calming spa-like ambiance for a relaxing bath. Also included in Blue's Mother's Day basket—which can be perfect for a birthday as well— are various chocolates and a bottle of favorite wine or other beverage. In addition, Blue suggests using towels, washcloths or a robe as the basket's base and filler— and remember to save room for a vase of beautiful flowers as the finishing touch.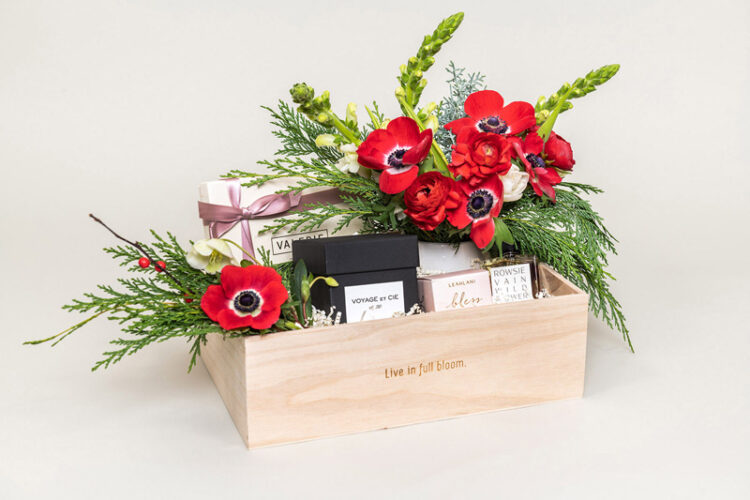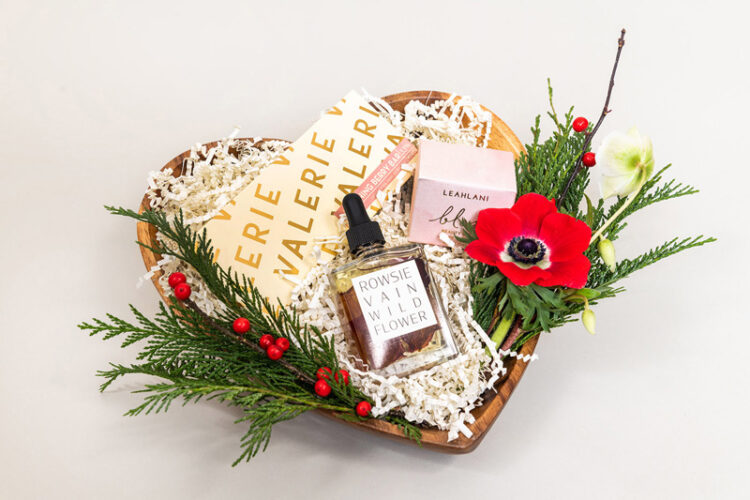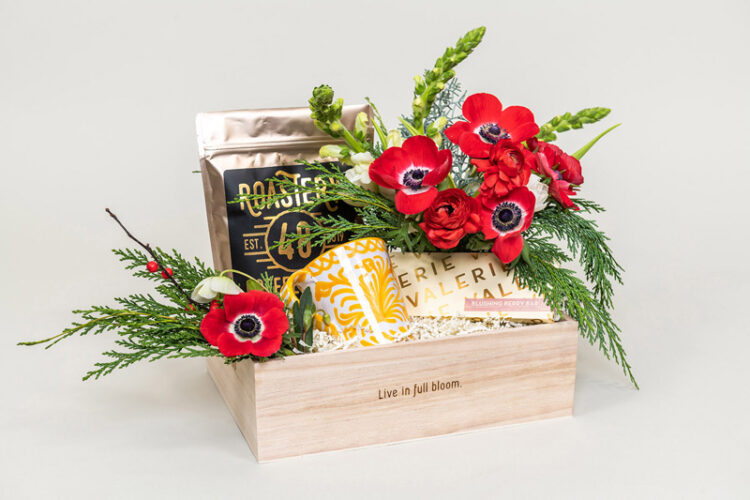 "The great thing about this gift basket is that it's a perfect template," Blue states. "You can replace any of the items with other favorite products, colors and more, to customize it for any client or occasion."
Also commenting on products that have proved successful for Mother's Day gift baskets, Ray says, "Gift baskets with fresh flowers, a greeting card, bath salts, a candle and chocolate always do well."
Regarding gift baskets for events and occasions other than Mother's Day, Ray reports, "I have found success with gift baskets that incorporate plush animals,
organic items, chocolates and candles, and I always include fresh flowers—either a single stem or a bouquet."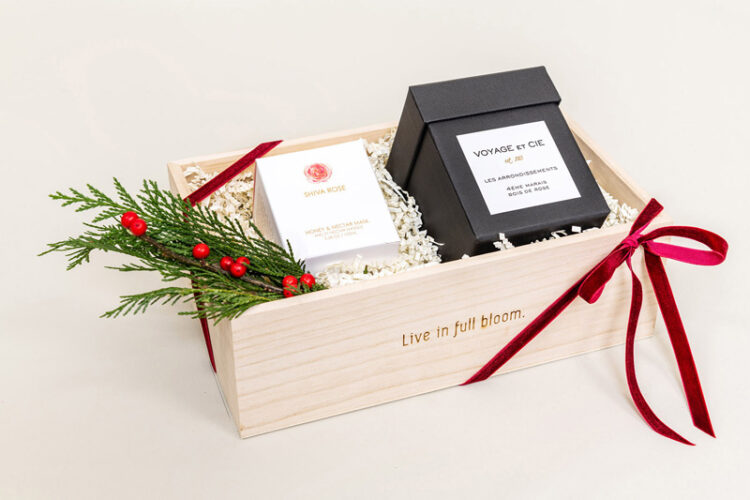 Tips for Creating Perfect Gift Baskets
When special occasions approach, a search for the perfect gift begins. But when consumers can't find the perfect gift in a store or online, we can help by asking questions like, "What does she like to eat?" "What is her favorite color?" and "What does she like to do when she goes out?"
With a little attention paid to details, creating a personalized gift basket for any occasion can be easy. The following tips can help you get any gift basket started.
Theme: This is the most important thing to remember when making a gift basket. A recipient may like movies and ice cream, but you wouldn't typically put both in the same gift basket. Focus a theme on a specific personality trait of the recipient.
Type of container: The container doesn't always have to be a wicker basket. Consider choosing a wire basket with a liner or a useful ceramic bowl, bucket or decorative box. You can also create your own unique containers, possibly using an item that corresponds with the theme, such as a coiled garden hose for a gardening enthusiast.
Organizing the gifts: Consider the sizes of the gift items intended for the basket. Arrange them in some kind of order, to make the gift more appealing. Place taller gifts in the back and center of the basket, followed by medium-sized items in front of the taller ones, and smaller ones in front. Remember to evenly distribute the weight within the basket.
Wrapping the gift basket: If you use cellophane, select a color and/or pattern that will complement
the basket's colors, theme and/or occasion. You can also get creative with wrappings; for example, wrap a basket for a new arrival in a baby blanket. Gift baskets for local delivery do not always have to be wrapped (as long as the products within are secure and steady), but remember: People like to "unwrap" gifts.