The family of new "taupe"-colored roses now have a connotation in the language of flowers.
Red roses are getting some competition in the love department. Their new cultural rival? The new family of taupe-/sand-/tan-/beige-/toffee-/light-brown/earth-toned-colored roses.
Because sales of these roses have soared by more than 50 percent over the past two years, flower leaders and scholars, including Florists' Review and FlowerPowerDaily.com, have joined forces to introduce these roses into the language of flowers. "Because every color of rose—red, pink, orange, peach/apricot, yellow, white and lavender—has a special meaning in floriography (the language of flowers), we debated what this color represents, based on its popularity and influence," says Jill Brooke, founder of FlowerPowerDaily.com and a speaker on the cultural impact of flowers. "These roses, which are blends of white, yellow, brown and even pink hues, not only represent multi-colorism but also reflect the growing trends in marriage."
"According to the Pew Research Center, 17 percent of all marriages in 2022 were of mixed races and ethnicities. The toffee/taupe rose seems a perfect one to represent that cultural shift," Brooke reports. "That's why we are assigning taupe-colored roses a special entry: open-minded, open-hearted and blended."
"Sales of sand-, toffee- and nude-color roses now make up 30 percent of the color assortment," says Joey Azout, president of Alexandra Farms, which produces David Austin Wedding & Event Roses—a collection of 17 exceptional cut garden roses—among other brands.
Anticipating the popularity of this color wave, Rosaprima, a grower of more than 150 varieties of luxury roses based in Miami, Fla., introduced 'RP Moab' last year. The company describes it as "a rocky, earth-toned color rose," and says it initially planted 20,000 plants and will now triple that production this year because of demand.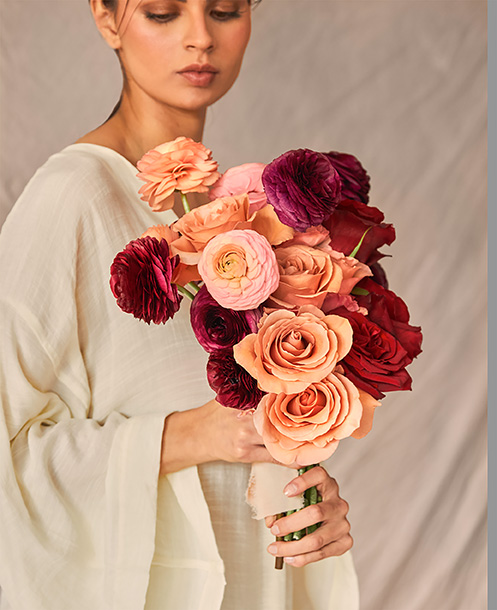 "We have seen a large increase of florists requesting roses in this color palette and wanted to examine the reasons behind the popularity," adds Jules Lewis Gibson, owner of Florists' Review magazine, which has been publishing since 1897.
It's also good business focusing on these flowers, says Joost Bongaerts, CEO of Carpinteria, Calif.-based Florabundance, a nationwide wholesale flower distributor offering more than 1,800 varieties. "Anyone can buy red roses these days from a supermarket, but these are rare specialty flowers stocked by florists," Bongaerts says. "They enable florists to offer something unique and special."

That's helpful because supermarkets are cutting into florists' revenue streams. They buy in such bulk that they can offer lower prices than most florists. Furthermore, a report from the International Fresh Produce Association, a trade association for the fresh produce and mass-market floral supply chain, shows that, in 2019, supermarkets and other mass-market retailers reported an average gross margin of 47 percent on cut flowers. Because flowers stimulate the senses and make shoppers happier, more supermarket chains are displaying them close to the stores' entrances so they are the first things customers experience as the enter. "If you get someone's nose and saliva glands working, [he or she becomes] a less-disciplined shopper," explains Paco Underhill, founder and CEO of behavioral research and consulting firm Envirosell.
All these factors, collectively, have helped increase the sales of and desire for taupe-hued roses. "We live in a multiethnic, multicultural world; what better palette to represent this than the multicolored, blended taupe roses," says Debra Prinzing, PFCI, author and founder of the Slow Flowers Society, herself part of an interracial marriage. "The family of taupe and toffee roses has many unique varieties. They are roses to celebrate the beautiful diversity and deeper meaning of what we value in humankind."
Many varieties of garden roses are considered in the taupe family, including 'Honey Dijon', 'Koko Loco' and 'Distant Drums', from small boutique rose farms in the U.S., such as Rose Story Farm in Carpinteria, Calif., and Menagerie Farm & Flower in Live Oak, Calif., as well as 'Quicksand', 'Miyabi Brown,' Sahara Sensation' and 'Symbol' from Alexandra Farms and the aforementioned 'RP Moab' from Rosaprima.
With Valentine's Day one of the most popular days for engagements, expect a new round of flower demands. In 2022, according to The Knot, there were 2.6 million weddings, and in 2021, the average cost for wedding flowers was $2,300. Experts note that taupe roses, given their scarcity, run $1 to $2 more per stem than average roses. But they also are hues that "blend" into so many color palettes that they are desired by wedding event planners, says Holly Heider Chapple, who also owns Holly Heider Chapple Flowers and Hope Flower Farm in Loudoun County, Va. "We can't get enough of them," she says.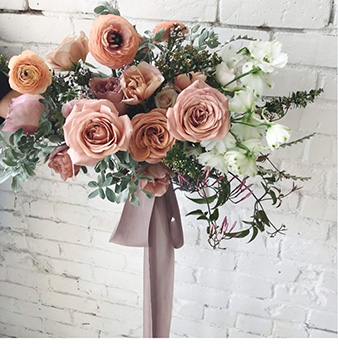 Taupe roses may be new, but they share a romantic symbolism with other roses. In floriography, red stands for passion and love; white for innocence and young love; pink for elegance, admiration and charm; orange hues for enthusiasm and fun; peach/apricot for gratitude and thanking someone; yellow for friendship and courage; and lavender for love at first sight. Now, the taupe rose will represent open-minded, open-hearted and blended—a fitting addition to our changing social landscape.
New roses are intriguing, but the symbolic meaning of flowers has been a tradition since the early 1800s, when Charlotte de La Tour (also spelled as de Latour) published Le Langage des Fleurs. But flower experts rarely make additions. This is the first time since the 1970s, with the "tie-dyed" rose, representing gay rights and based on Gilbert Baker's rainbow flag—which, incidentally, originally comprised eight colors, each with a specific meaning (glbthistory.org/rainbow-flag), that there has been a new flower the experts say so deserves to be anointed.
Adds Jill Brooke, who spearheaded this project, "Open-minded, open-hearted and blended" does speak to 2023.