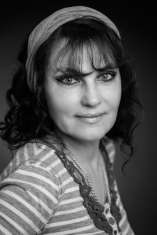 Thanks to a grandmother who worked with flowers, Olena TCACI, AIFD, EMC, always wanted to be a florist. Originally from Ukraine, she is an engineer with a background in the fashion industry and has been in the floral industry for the past 10 years. Her unique way of "seeing" the world of flowers has given her the freedom to open the Dandelion Seeds Floral Art Salon (dandelionseeds.art) in the Chicago, Ill., suburb of Winnetka. Olena has worked to create a retail experience in which the public engages with her floral art while fulfilling their floral needs with products and services typically provided a traditional flower shop.
What are your sources for creative inspiration?
I get creative inspiration from traveling, meeting new people and experiencing different cultures. I am always inspired when I am working on international teams creating large art installations.
Nature is also a big source of inspiration; however, it comes mostly from within and not from the physical world I see. For example, I could be getting ready for work and open my closet to pick out clothes, and, out of nowhere, I'll get an idea. Or I'll be in the airport and pass by a person whose body language, outfit and energy will create an idea in my head.
What do you do to "play" with creativity and strengthen your creative muscles?
I believe that when you're practicing a mechanical technique, you should set aside time every day to focus on that technique. Similarly, every day, I must create new ideas. It isn't scheduled. I can be driving, cooking or looking out the window when I get an idea, but once I get the idea, I sketch it. Even if the sketch will get dusty somewhere and I never use it, that's OK because my brain already completed the important process of generating creativity.
What new ideas have you opened yourself to that have stimulated your creativity?
I am not an organized person, so nothing goes as planned. Everything depends on my mood. I don't think you can turn on your creativity, so my quests just happen. I enjoy experimenting with concepts that shouldn't be combined. For example, with textures, colors and shapes, if they're not supposed to go together, I challenge those rules and open myself to so many new creative possibilities.