"Our 20th annual contest showcases the talents of nearly 50 florists across the U.S" 
"A picture is worth a thousand words." For a bride and groom, those pictures are captured memories of intangible moments from the happiest day of their lives. For the floral designer who has been part of that wonderful journey, bringing that day to fruition, the photos of the bridal bouquets, wearable flowers, floral-covered reception tables and ceremonies under flower arches make those memories picture-perfect.
For 20 years, Florists' Review has had the opportunity to share the spectacular floral design work of hundreds of florists with you. This year's 77 entries offered a wide range of interpretations of the design categories, giving you a glimpse into the trends, nuances, and creativity in the wonderful world of weddings. We are proud and pleased to present the amazing work of the entrants in our 2018 "Picture Perfect Weddings Contest."
Best Wedding
Maryetta Downing
Bartlett's Greenhouses & Florist
Clifton, N.J.
| | |
| --- | --- |
| Ceremony Site | Liberty State Park; Jersey City, N.J. |
| Reception Venue | Liberty House Restaurant & Events; Jersey City, N.J. |
| Date | July 13, 2018 |
| Number in Wedding Party July | 14 |
| Number of Guests July | 150 |
| Approximate Retail Floral Value July | $19,500 |
| Photos | George Street Photo & Video |
With the groom being a Philadelphia Flyers hockey fan, Maryetta Downing, third-generation owner of Bartlett's Greenhouses & Florist in Clifton, N.J., was tasked with creating a picture-perfect wedding by incorporating orange into every aspect of "A New York Minute" theme.
"The venue and the New York skyline, the setting for the ceremony, both have gray undertones. At sunset, Manhattan has an orange hue that emanates from the buildings," explained Maryetta, who paired orange, green and gray, creating a seemingly effortless flow tying the entire wedding together.
For the ceremony, the couple was framed within an architectural arbor set at the edge of Liberty State Park, providing a breathtaking view the Manhattan skyline. The construction was adorned with gem garlands and orange Mokara orchids, providing transparency and an unobstructed view of the city.
Creating repetition of the architectural elements, parallel floral arrangements, with spiky Eremurus, lined the aisle. To fulfill the bride's desire for a romantic feeling, Maryetta, and staff designed classic hand-tied bouquets. The bridal bouquet incorporated white 'Vendela' roses and Astilbe accented with 'Babe' spray roses, Ranunculus and Hypericum in tints and tones of orange.
"For the bridesmaids, the bride wanted to keep it clean and monochromatic, with textural elements. We used pincushions (Leucospermum), tinted Craspedia, roses, and succulents because of their longevity," explained Maryetta. For the groom and groomsmen, the designers created pocket squares of Ranunculus and succulents to complement the bouquets.
Repeating the architectural elements at the reception venue adjacent to the park, Maryetta designed a floral wreath incorporating tropical and temperate flowers with the couple's initials. "I wanted to frame the couple again, in the reception setting, with the Manhattan skyline in the background," Maryetta noted.
The creative staff also created large vase arrangements by marrying two different arrangements together. "We used an 18-inch wreath with an armature on the bottom and another floral arrangement placed on the top. When the guests looked up into the arrangement, they saw flowers and no mechanics. Also, the menus were decorated with small floral pieces. The guests wore them during the reception," Maryetta chuckled.
"I have never seen two kids so much in love," reflects Maryetta. "The wedding was about them and not about the event. It was the perfect night."
Best Bouquets
Jeni Peterson
Westvirjeni
Shepherdstown, W.Va.
| | |
| --- | --- |
| Ceremony and Reception Site | Blue Valley Vineyard & Winery; Delaplane, Va |
| Date | Sept. 16, 2018 |
| Number in Wedding Party | 14 |
| Number of Guests | 175 |
| Approximate Retail Floral Value | $7,000 |
| Photos | Emily Gude Photo |
Embracing the fall moodiness of an earthy yet romantic rustic vineyard wedding in Virginia's Shenandoah Valley, Jeni Peterson, owner of Westvirjeni in Shepherdstown, W.Va., created her signature boho-style bouquets for the happy bride. "I have a permaculture farm where I grow an abundance of flowers such as Dahlias, Zinnias, Scabiosa, and Amaranthus," Jeni explained. "Because this bride booked early, I was able to grow the burgundy Dahlias for her bouquet."
Being given the freedom to create what feels right for the bride, Jeni incorporated fresh cut florals that blend wonderfully into the matching bride's and bridesmaid's bouquets, which she finished off with ribbon.
"I love incorporating beautiful trailing ribbons into my bouquets," Jeni shared. "The more freedom a bride gives me, the happier she will be. I ask lots of questions about her and the groom, their styles and life-styles, their desires for their wedding, why they chose the venue they did and so on. I am able to give her want she wants even if she doesn't know that is what she wants!"
Best Ceremony
Gretchen Rogers
Moose Lake Florists
Moose Lake, Minn.
| | |
| --- | --- |
| Ceremony Site | Novy's Buckhorn Ranch; Moose Lake, Minn. |
| Reception Venue | Doc's Bar & Grill Pavilion; Sturgeon Lake, Minn. |
| Date | Sept. 28, 2018 |
| Number in Wedding Party | 12 |
| Number of Guests | 220 |
| Approximate Retail Floral Value | $6,000 |
| Photos | Brian Bossany |
Desiring to have her wedding at a place near and dear to her heart, the bride chose her grandparent's Novy's Buckhorn Ranch in Moose Lake, Minn. The ceremony site was tucked away in a wooded area close to the house, allowing guests access to the venue without walking through fields.
"The bride wanted an organic feel to her wedding that was trendy, woodsy and relaxed, with lots of greenery and no birch," explained Gretchen Rogers, lead designer at Moose Lake Florists in Moose Lake, Minn. "Her wish was that I use a bale ring, which holds hay to feed the cattle, to create an arbor."
Turning the 8-foot-diameter ring on its side, Gretchen covered it with Virginia creeper and grapevine harvested from her house, along with curly willow and sword fern.
The bride's grandfather watched in amazement as Gretchen constructed the arbor, adding touches of burgundy Amaranthus, Hydrangeas, kale and pampas grass.
"You could not tell what the structure was when it was finished," she smiled. "It was so wonderful that the bride trusted me to create something above and beyond the ordinary for her and her groom's special day."
Best Wearable Flowers
Shirley Cook
Sugar Snap Events
Kill Devil Hills, N.C.
Ceremony and Reception Venue: Grande Ritz Palm rental home; Duck, N.C.
Date: May 13, 2018
Number in Wedding Party: 14
Number of Guests: 50
Approximate Retail Floral Value: $4,125
Photos: Brooke Mayo Photography
"I bought wood bow-tie forms and glued locally sourced ring bearers, and the bride said yes," Cook explained. Ornithogalum, succulents and Eucalyptus pods to them." These florals played wonderfully into the earthy, natural vibe for this waterfront. The flower girls wore headbands adorned with Scabiosa and spray roses. "I have learned that the younger the flower girls, the more unpredictable their behavior," Cook shared. "That why I always suggest headbands." Only the fathers of the bride and groom wore boutonnières. "It is becoming more and more common for the grooms to weigh in on what they will and won't wear for weddings," Cook commented. "This is one of the reasons, along with the men not wearing jackets, that no boutonnières were worn."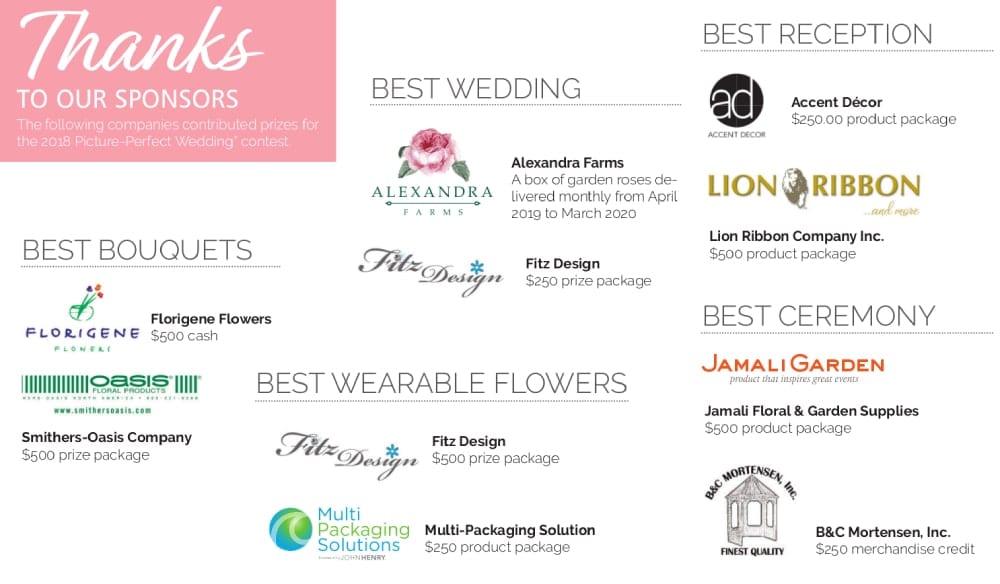 1. Amy Utech
Sisters Florals
Emerson, Neb.
Photo: Gleason Photography
2. Allison Hassard
The Frugal Flower
Sudbury, Mass.
3. April Soldi
Lagana Florist
Middletown, Conn.
Photo: Marie Tony Photography
4. Vernetta Kosalka
VK Events Floral Planning
Omaha, Neb.
Photo: Complete Weddings
5. Emily Kunaschk
Belles & Thistles Floral Design
Glenwood, Ill.
Photo: This is Feeling Photography
6. Candy Cannon, AIFD
The Flower Studio
Sun Prairie, Wis.
Photo: SM Photography
7. Emily Kunaschk
Belles & Thistles Floral Design
Glenwood, Ill.
Photo: This is Feeling Photography
8. Kim Ward
A Southern Wedding Flower
Ranburne, Ala.
Photo: Whippler's Photography
9. Cassie Osterloth
Wonderland Floral Art & Gift Loft
St. Petersburg, Fla.
Photo: Lifelong Photography Studio
10. Kelly Bishop
Buds & Blooms by KMB Designs
El Centro, Calif.
Photo: Demi Sue Photography
11. Bridgette Arnold
Posey Peddler Flowers & Emporium
Jonesboro, Ark.
Photo: Melanie Rusnick
12. Ann Engelbrecht
Sprout Fine Floral Concepts
The Woodlands, Texas
Photo: Sallee Photography
13. Jodi Staska
Floral Designs by Jodi Owatonna, Minn.
Photo: Stephanie Lynn Photography
14. Janet Gallagher Designs by Janet Geneva, Ill.
Photo: Mary Rose Widmer Mary Rose Photography
15. Eva Vaisman Just for Fun Flowers Van Nuys, Calif.
Photo: Genesis Weddings
16. Cindy Trick
Cindy Trick Floral Design Beavercreek, Ohio
Photo: Locke Innovations Photography
17. Ranee Nash
Flowers by Ranee
Colfax, N.D.
Photo: Abby Anderson
18. Jodi Staska
Floral Designs by Jodi
Owatonna, Minn.
Photo: HD Wedding Photography
19. Celeste Landry
Just for You Flower & Gift Shoppe
Houma, La.
Photo: Calvin Gavion Photography
20. Kim Ward
A Southern Wedding Flower
Ranburne, Ala..
Photo: Laura Wilkerson Photography
21. Jeni Peterson
Westvirjeni
Shepherdstown, W.Va.
Photo: Misty Higgins
22. Emily Kunaschk
Belles & Thistles Floral Design
Glenwood, Ill..
Photo: YK Photography
23. Carrie Wilcox
Carrie Wilcox Floral Design
Fairfi eld, Conn.
Photo: Carla Ten Eyke
24. Jeni Peterson
Westvirjeni
Shepherdstown, W.Va.
Photo: Candice Adele Photography
25. Megan Waltman
Pearls & Petals
Intercourse, Pa..
Photo: Erin Krespan Photography
26. Gretchen Cummings
Clementine's Divine Designs
Thornton, Colo.
Photo: Shea McGrath
27. Liz Nidy, AIFD
Seifert's Flower Mill
North Canton, Ohio
Photo: Jessica Landis
28. Ranee Nash
Flowers by Ranee
Colfax, N.D.
Photo: Emily Koska
29. Rachel Stevenson
EverAfter Floral Design
Myerstown, Pa.
Photo: April Elizabeth Photography
30. Linda Miller
Florals of Elegance
Hutchinson, Kan.
Photo: You Are More Photography
31. Nancy Zimmerman
Fancy Florals by Nancy
Fairbury, Ill.
Photo: Kara Evans
32. Jodi Staska
Floral Designs by Jodi
Owatonna, Minn.
Photo: Holly Karsejens
33. Rachel Stevenson
EverAfter Floral Design
Myerstown, Pa.
Photo: Char Co.
34. Kim Ward
A Southern Wedding Flower
Ranburne, Ala.
Photo: Whippler's Photography
35. Tammy Tripler
Island Dreamweaver
Swans Island, Maine
Photo: Erica Godino, Closer North
36. Shirley Cook
Sugar Snap Events
Kill Devil Hills, N.C.
Photo: Kayla Cole Photography
37 Liz Nidy, AIFD
Seifert's Flower Mill
North Canton, Ohio
Photo: Buckeye Entertainment
38. Holly Urban
Froggy's Garden Flowers
Kintnersville, Pa.
Photo: Laura Billingham
39. Jodi Staska
Floral Designs by Jodi
Owatonna, Minn.
Photo: Jodi Staska
40. Nancy Zimmerman
Fancy Florals by Nancy
Fairbury, Ill.
Photo: Rachael Schirano
41. Lori Himes, AIFD
Abloom Ltd. Flowers & Events
Walkersville, Md.
Photo: Side A Photography
42. Mary Simmons
Persephone Floral Atelier
Chicago, Ill.
Photo: Summer Leigha Photography
43. Marta King
Hand Tied Memories
Middletown, Ind.
Photo: B&E Photography
44. Eva Vaisman
Just for Fun Flowers
Van Nuys, Calif.
Photo: Rocio Zambrano
45. Mary Burkholder Abloom Ltd. Walkersville, Md.
Photo: Pamela Renee Photography
46. Meredith Wallace Rocking Bird Flower Co. Washington, D.C.
Photo: Ryan Elizabeth Photography
47. Rachel Stevenson EverAfter Floral Design Myerstown, Pa.
Photo: Light + Color Photography
48. Randi Reifel, TMF
Floral Designs by Randi Burnet, Texas
Photo: Kayla Snell Photography
49. Maureen Toner
Mays Floral Garden
Eau Claire, Wis.
Photo: Stacy Reit
50. Megan Waltman
Pearls & Petals
Intercourse, Pa.
Photo: Sarah Brookhart Photography
51. Taylor Pritchett
Lilium Floral Design
Colleyville, Texas
Photo: Swan Photography
52. Pat A. Stephens
Weddings by Pat at Bucks County Roses
Holland, Pa.
Photo: Rachel Beck Photography
53. Holly Urban
Froggy's Garden Flowers
Kintnersville, Pa.
Photo: Stacy Salvatori
54. Molly Tiesma
Eastern Floral
Grand Rapids, Mich.
Photo: Tana Helene Photography
55. Melinda Lynch, AIFD
Festive Designs
San Luis Obispo, Calif.
Photo: Tayler Enerle
56. Mary Forstner Enchanted Florals.
St. Cloud, Wis.
Photo: Mary Forstner
57. Lori Himes, AIFD
Abloom Ltd. Flowers & Events
Walkersville, Md.
Photo: Side A Photography
58. Kathy Simeone I Do Floral Woodland, Calif.
Photo: Greg Petersen
59. Mary Forstner Enchanted Florals St. Cloud, Wis.
Photo: Mary Forstner
60. Norman Northen
Precious Memories Florist & Gifts
Temple, Texas
Photo: JC Images
61. Megan Waltman Pearls & Petals Intercourse, Pa.
Photo: Andrea Daugherty One Thirty Nine Photography
62. Lori Joyce Garden Party Florist Mukwonago, Wis.
Photo: Rachel Christians
63. Melinda Lynch, AIFD Festive Designs
San Luis Obispo, Calif.
Photo: Tina Loveridge
64. Pat A. Stephens
Weddings by Pat at Bucks County Roses
Holland, Pa.
Photo: Cassie Claire Photography
65. Maureen Christmas, AIFD, EMC Floral Notes
Acton, Mass.
Photo: Carly Michelle Photography
66. Juliana McWilliams
Sweet Memories Flowers Visalia, Calif.
Photo: Amber Smith, Simply Smith
67. Lori Joyce Garden Party Florist Mukwonago, Wis.
Photo: Vanessa and Garden Party Florist
68. Melinda Lynch, AIFD
Festive Designs
San Luis Obispo, Calif.
Photo: Adam and
Danielle Poffenbarge
69. Lori Joyce Garden Party Florist Mukwonago, Wis.
Photo: Stephanie Gordon, Stephanie Leigh Photography
70. Eva Vaisman Just for Fun Flowers Van Nuys, Calif.
Photo: Rocio Zambrano
71. Kathy Simeone I Do Floral Woodland, Calif.
Photo: Darci Terry
72. Pat A. Stephens Weddings by Pat at Bucks County Roses Holland, Pa.
Photo: When We Dance Photography