This year, especially, prom-goers will want to make personalized statements and lasting impressions with their attire and their flowers, so be ready with plenty of beautiful ribbons and accessory options to create the perfect floral wearables for their all of their individual personalities.
Floral design, photos and text by Nita Robertson, AIFD, CFD
Sponsored by Reliant Ribbon Corp.

Because prom season is approaching, we wanted to share inspiration for creating amazing prom florals. Proms offer you an opportunity to show off your creativity to a younger generation of future flower buyers. By incorporating fabulous ribbons, sparkly accents and other adornments into your wearable floral designs, you can make something unique, individual and personalized for every prom customer who chooses your shop. So, stock up on prom supplies now, and get prepared for a busy spring.
For this feature, I created a traditional wrist corsage and coordinating boutonnière. I chose beautiful purple ribbons and paired them with a rhinestone bracelet and jewel sprays and picks, all of which are provided by Reliant Ribbon Corp. Reliant Ribbon offers so many ribbon, bracelets and wristlets, jewels and gems, and accessory options that you can create custom designs for prom-goers of every taste, from traditional to alternative.
STEP BY STEP
Step 1: Create a Designer Bow
Overlap two 5/8-inch-width (No. 3) ribbons, and tie a multiloop bow. Secure the bow with florist wire. Adjust and separate the ribbon loops, for a fluffy, multitextural bow.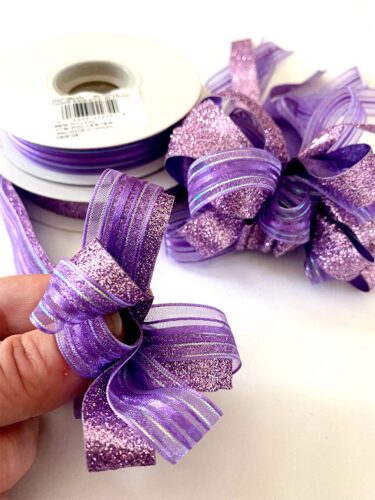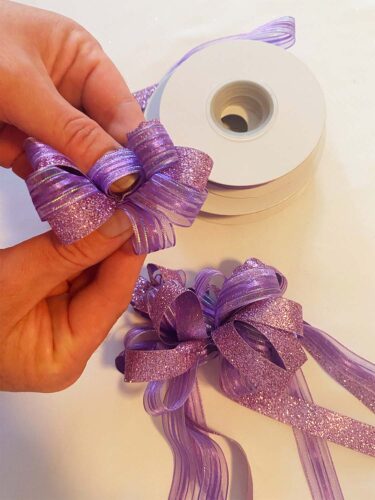 Step 2: Attach the Bow to a Corsage Bracelet
Apply liquid floral adhesive to the plastic base on a corsage bracelet. Place the corsage bow onto the base, and allow the adhesive to dry. For additional security, tie the ribbon on the bracelet base around the bow.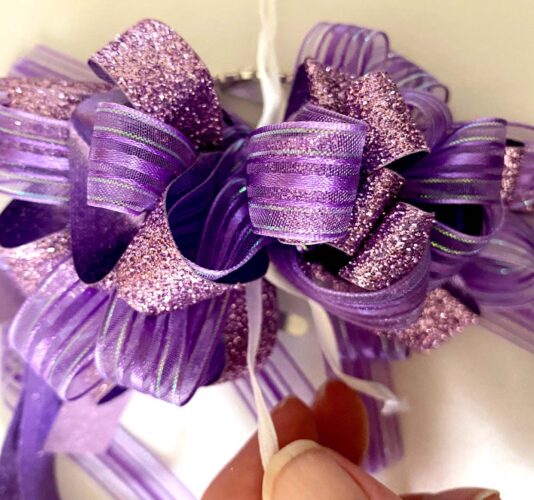 Step 3: Glue in Foliage
Glue small bits of foliage (and/or individual leaves) under the bow and among its loops with liquid floral adhesive. Allow the adhesive to dry.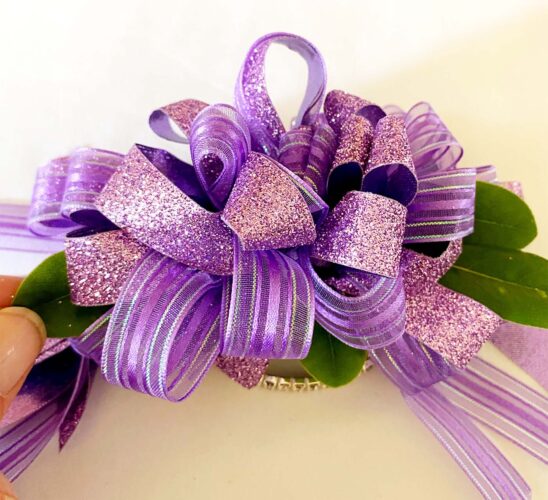 Step 4: Glue in Botanicals
Choose lightweight flowers that last well out of water, and cut off individual blooms with a flush cut at the base of each flower. Glue the flowers into the bow by applying drops of liquid floral adhesive to both the stem end of each flower and the surface where the bloom will sit. Allow the adhesive to become tacky, then place each flower into the design, holding each in place for a few seconds until the glue becomes secure.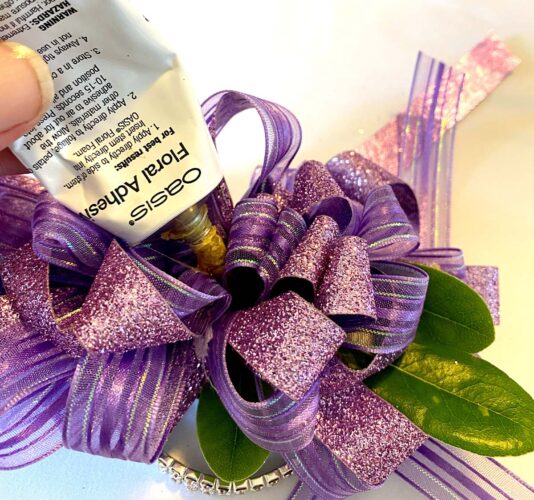 Step 5: Add Corsage Accents and Finishing Touches
Glue in accents, such as rhinestones, to add some sparkle, texture, dimension and interest. I chose rhinestone sprays to coordinate with the rhinestone bracelet, and I placed a single larger rhinestone into the center of each of the focal spray roses. As a final touch, I added a few small tufts of Spanish moss, for additional texture and interest.
Spray the finished corsage with an exterior-coating finishing spray, like Floralife® Crowning Glory®. Allow the finishing spray and liquid floral adhesive to dry completely before packaging the corsage and placing it into a floral cooler.
NOTE ABOUT FINISHING SPRAYS: Exterior-coating finishing sprays, like Floralife® Crowning Glory®, are formulated for designs that have limited or no access to water, such as corsages, boutonnières, headpieces, hand-tied bouquets, etc. Cellular-level finishing sprays, such as Floralife® Finishing Touch, are developed for use on finished arrangements that have a water source via a container or floral foam.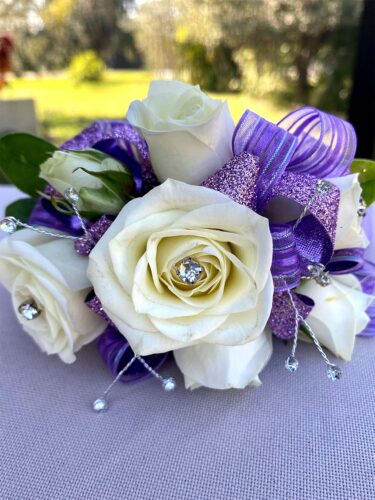 Step 6: Create a Matching Boutonnière
Wire and tape a matching spray rose (or two, if small), then add bits of foliage and accents by wiring and taping or gluing.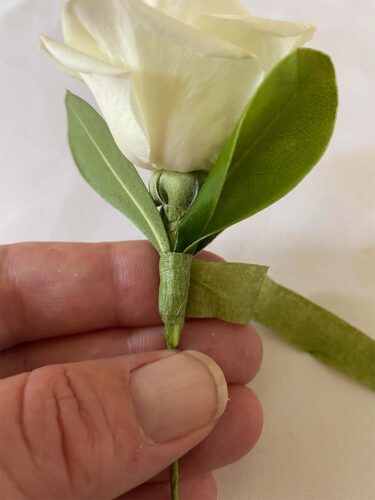 Step 7: Add Finishing Touches
Wrap the boutonnière stem with ribbon to give a professional, finished look and to coordinate it with the corsage: Beginning at the bottom of the stem, tightly wrap ribbon upward to the base of the flower, and then tie it off with a knot. Also add rhinestone strands and sprays. Spray with a exterior-coating finishing spray, and allow to dry thoroughly before packaging and storing in the cooler.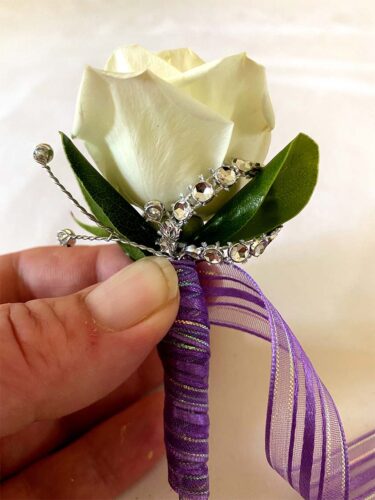 MATERIALS
BOTANICALS
• Rosa spp. (spray rose)
• Pittosporum tobira (Japanese Pittosporum, Australian laurel, mock orange)
• Tillandsia usneoides (Spanish moss, graybeard)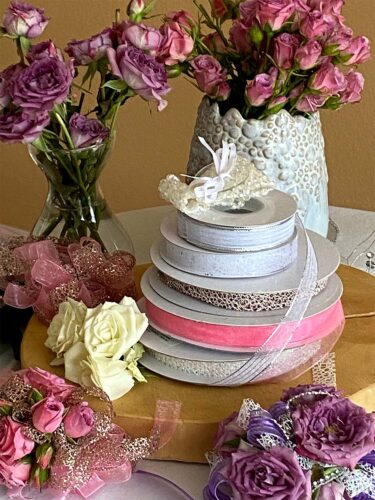 HARD GOODS
From Reliant Ribbon:
• Glitter Web Mesh, 5/8 inch (No. 3), Rose Gold and Iridescent
• Glitter All Rd, 5/8 inch (No. 3), Lavender
• Organza Stripe, 5/8 inch (No. 3), Purple
• Sophisticated Lady Flower Bracelet Rd, Dazzle
• Rhinestone Quintet Rd, Dazzle
• Kara's Kisses Diamond Spotlight, Dazzle
Other:
• OASIS® Floral Adhesive
• OASIS™ Florist Wire
• Floratape® Stem Wrap
• Floralife® Crowning Glory®
• Rhinestone strands (River of Diamonds) from Fitz Design