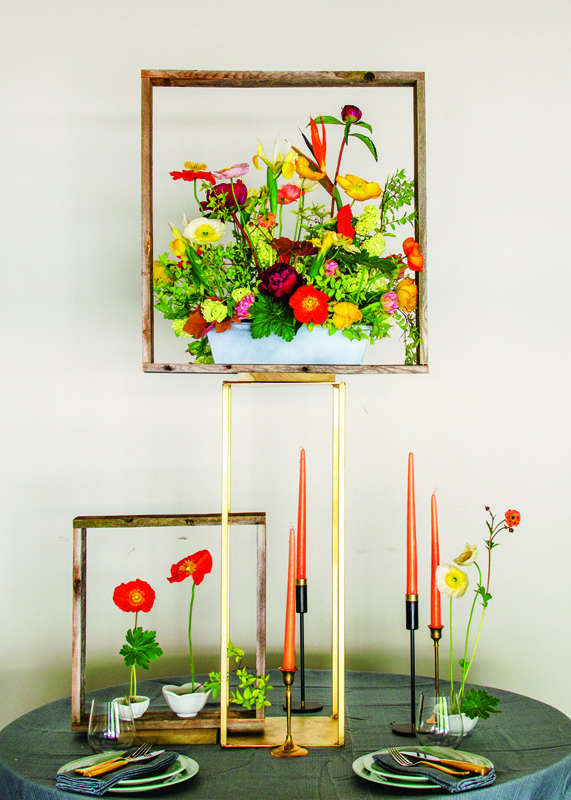 Real-Life Still-Life Tablescape
Inspired by centuries-old Dutch and Flemish paintings of flowers, this versatile component design offers opportunities for many applications and derivations.
Floral design and photos by TJ McGrath
Text by David Coake
Events are springing back to life this year, and floral design- ers' creative juices are flowing again. Here, flower artist
TJ McGrath
, owner of
TJ McGrath Design
in Plainfield, N.J., offers a versatile component tablescape inspired by the still-life flower paintings from Dutch and Flemish painters of the 15th, 16th and early 17th centuries.
This inventive design concept's versatility is ideal for today's "post-COVID" events, which range from small and intimate (still) to grandiose and over the top. The component pieces here can be multiplied, as needed, to accommodate any size of event, and flower choices, containers and frame styles can run the gamut, to create any style and aesthetic a client has in mind.
DESIGN NOTE:
"Flemish"-inspired flower arrangements are characterized by a great variety of flowers, colors and textures. There may be only one or two stems of each flower type (note the single bird-of-paradise in this design), and there is a total disregard for seasonal or geographical compatibility. Traditionally, bulb flowers are
de rigueur
, and foliage is used sparingly. The color palette typically comprises warm hues—reds, oranges and yellows—although white, tints of the warm hues (pastels) and touches of blue are often incorporated to create contrast.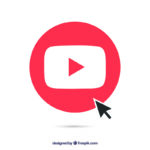 Watch an instructional step-by-step design video at Youtube.com/c/FloristsReview
Step By Step
1. Frame and Base Construction
Build two wood frames, one larger and one smaller, using whatever wood is available to you. In this design, McGrath used 4-inch-wide reclaimed flat-top cedar fence pickets. For the larger frame, he cut the pickets to 28 inches in length.
Cut two squares of plywood as bases for the square wood frames. Those used in this design are approximately 6 inches square, but size yours to fit atop whatever type of stand(s)/riser(s) you use.
Attach the square wood bases to the wood frames with wood screws.
Wire the larger frame/base structure atop a metal stand/riser with heavy-gauge spool or paddle wire.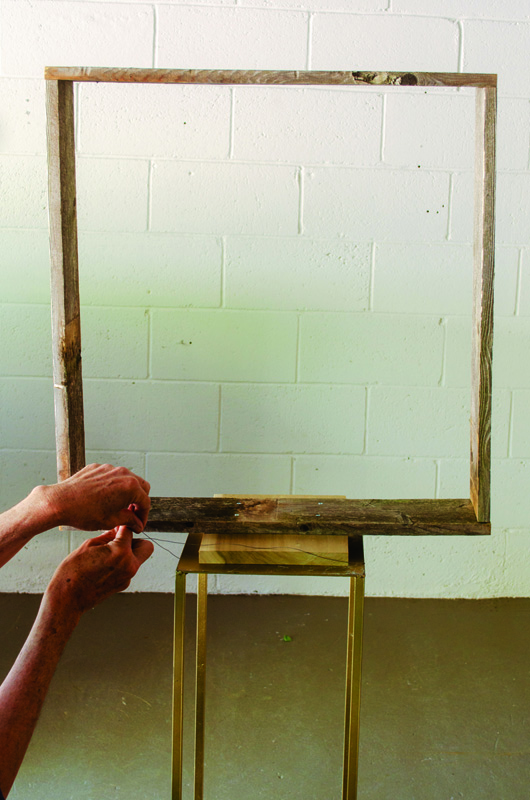 2. Container Prep
Adhere two strips of hook-and-loop fastener to the bottom (exterior) of a rectangular container (in this example, a plastic drywall mud pan spray-painted white), positioning one strip near each end of the container.
Affix a pin-frog cup into the center of the container with floral adhesive clay.
Place rocks into the container, to add weight.
Form three pieces of chicken wire into spheres, each 3 to 4 inches in diameter, and wedge them into the container. Secure the chicken-wire spheres into the container with waterproof tape.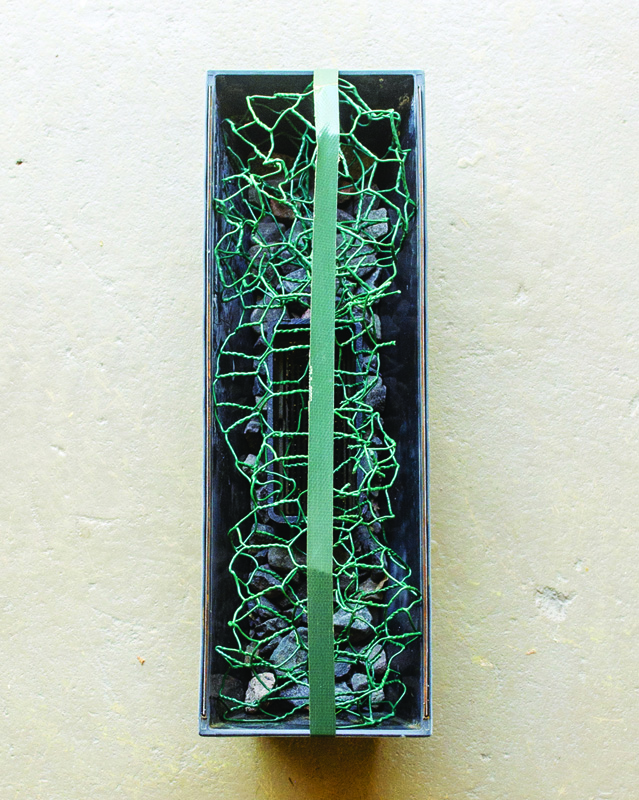 3. Floral Design
Arrange Heuchera and scented geranium foliage around the edges of the container, to cover the mechanics and the rim of vessel. Arrange branches of Spiraea through the center of the container, to further cover the mechanics.
Next, arrange stems of Viburnum, as you choose, into the design.
Finally, arrange the other blooms (peonies, poppies, avens, tulips, Iris and a single bird-of-paradise), grouping flower types and colors to create the height, width and shape of the design. Make sure to keep the blooms within the dimensions of the frame(s).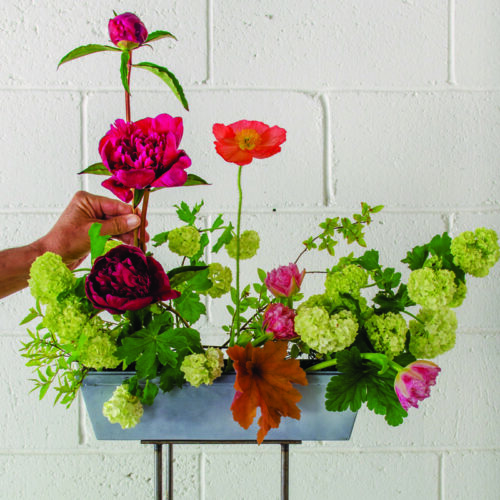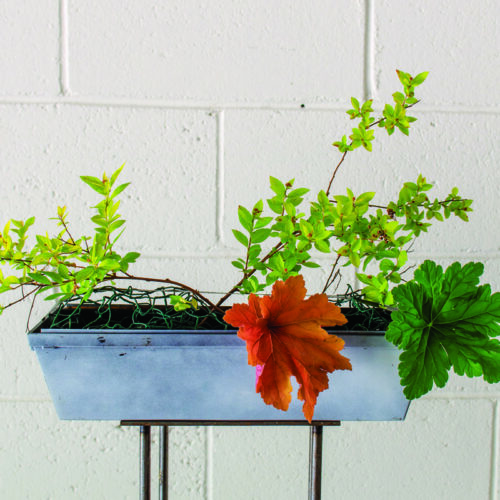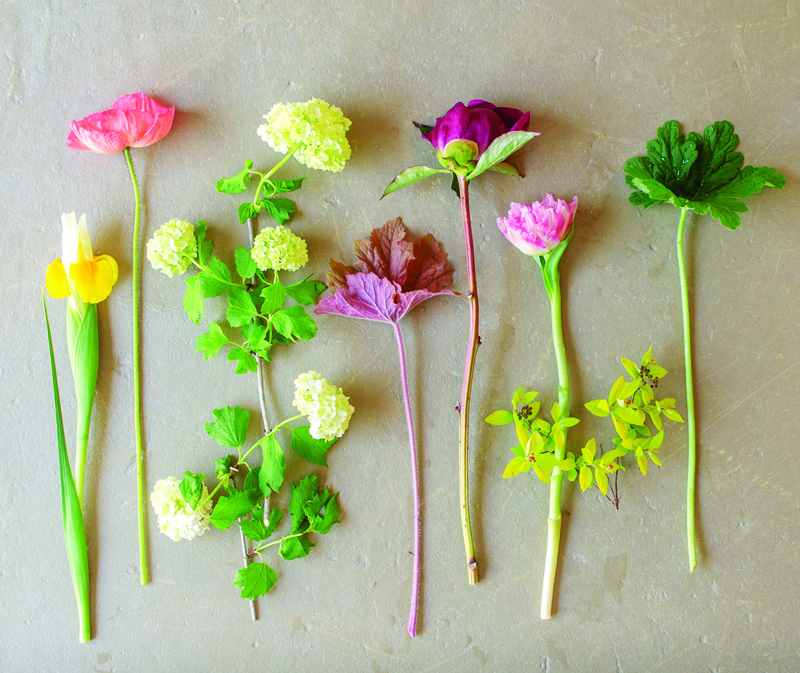 BOTANICALS
Papaver nudicaule (Iceland poppy, Icelandic poppy, Arctic poppy)
Geum (avens)
Tulipa (double fringed [Crispa] tulip)
Iris (fleur-de-lis, flag)
Paeonia lactiflora (Chinese peony, garden peony)
Strelitzia reginae (bird-of-paradise)
Viburnum opulus 'Roseum' (snowball, Guelder rose)
Spiraea japonica 'Gold Mound' (Japanese spirea)
Heuchera sanguinea foliage (coral bells)
Pelargonium spp. foliage (scented geranium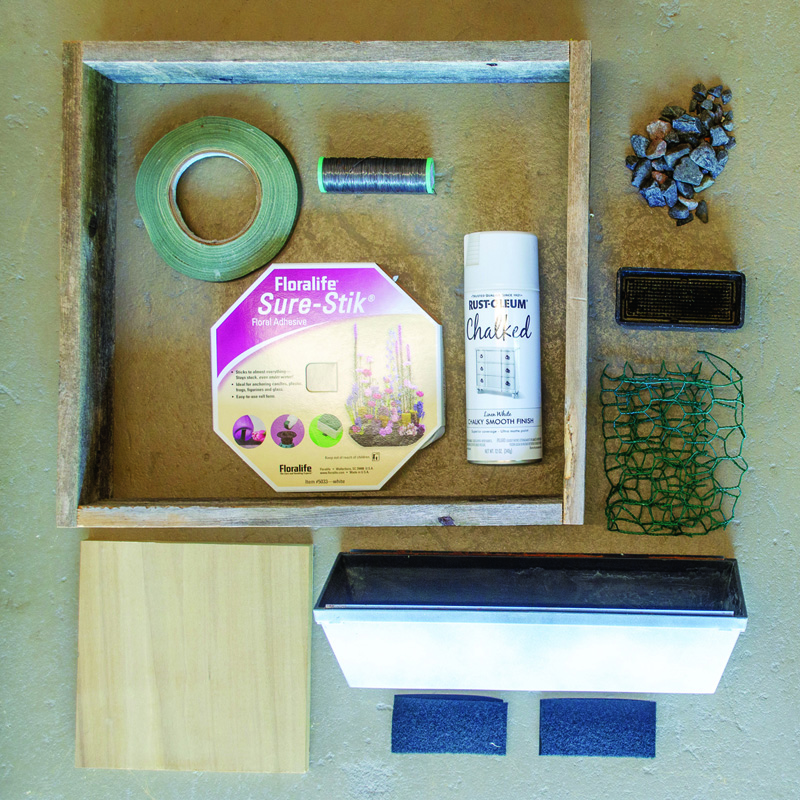 HARD GOODS
OASIS® Waterproof Tape (1/2" Green), FloraLife® SURE-STIK®  Floral Adhesive, OASIS™  Florist Netting and OASIS™  Spool Wire (22 gauge) from Oasis Floral Products/ Smithers-Oasis Company
Rectangle Pin Cup flower frog (4" x 75") from Floral Genius
Harlow Stands from Accent Décor (or similar risers)
Taper candles
Taper candleholders
Rust-Oleum® Chalked Ultra Matte Linen White spray paint
Velcro® hook-and-loop fastener strips
Wood fence pickets (flat top, 1" x 4")
Plywood
Plastic drywall mud pan (12" or 14")
Rocks/pebbles
Wood screws
Created for Thanksgiving Day celebrations, this table decoration honors holiday traditions while incorporating modern influences. Floral design, photography and text by Nita Robertson AIFD, CFD "Thanksgivings"—celebrations of the harvest and other blessings received...
read more