With top-level features such as substantially more petals, pollen-free, mild fragrance, and longer vase life, Roselily is the superior choice of lilies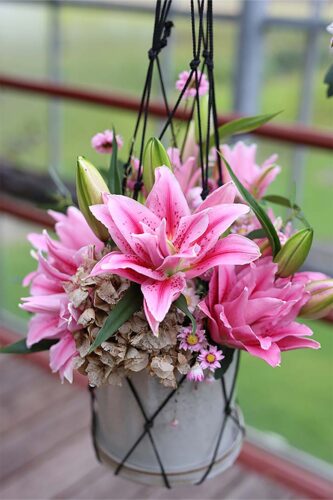 Roselily® Series Is the Gold Standard
Lilies are among the most recognizable flowers on the market today. For decades, they have been top-selling cut ­flowers thanks to their long-lasting blooms; and a wide variety of flower shapes and colors. If you thought lilies couldn't get any better, think again! The introduction of the Roselily series is a game-changer, and the astonishing blossoms will certainly drive demand.
Not All Double Lilies Are Created Equal
Double-flowering lilies have been on the market for some time now, but not all double-flowering lilies are created equal. The Roselily series has been in the making for nearly 30 years and is a triumph of modern breeding techniques that offers unparalleled beauty and quality. No other double lilies have this kind of pedigree.
What Makes Them Unique?
Roselily is truly double with at least 18 petals compared to just six on a single oriental lily. The large, overlapping petals resemble roses as they open, hence the name. Bred to have a sweet and mild fragrance, these lilies won't overpower a room. Perhaps best of all, they don't have any staining pollen. And, because they don't produce pollen, they have a significantly longer vase life.
They Keep Getting Better
The breeding of new Roselily varieties is ongoing and continues to make great strides in development. Over the last ten years, varieties have been selected that display improvements in length, upward-facing flowers, and beauty. The selection of white Orientals is especially promising. Stay tuned.
Ask For Them by Name
De Looff Lily Innovation conceived the Roselily breeding program in 1993 in the Netherlands. Roselily became a registered trademark in 2012, and just four years later, these lovely flowers began being distributed worldwide. The Roselily series is the first international brand of pollen-free double-flowering lilies in history.
Extraordinary Beauty – Roselilies have large colorful buds that always produce fully double flowers.
Delicate Fragrance – Some find the fragrance of lilies overpowering, but these beauties have a soft scent.
Pollen-Free – The latest selections of Roselily produce no pollen under any circumstances. *Occasionally, older selections may produce a small amount of pollen.
Extra Long Vase life: Roselily varieties have a longer vase life than single-flowering lilies, up to four days longer.
What Floral Designers Around the World Are Saying About Roselilies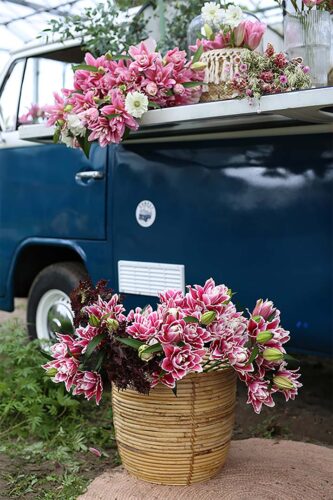 "I love working with Roselilies because they instantly increase the perceived value of floral compositions. And being pollen-free with a long vase life makes them the perfect flower for use in bouquets." – Marcela López-Vallejo, AIFD, PFCI Head Designer P&F Flower Farms, South Carolina, @marcelafloral
"First of all, the beauty of the flower is magic! The vase life and quality are marvelous, and thanks to the romantic aesthetics and no pollen, it's beautiful to use for wedding bouquets and wedding decorations. We're big fans of Roselily!"- Floral designer Susan Meijer, Breezand, The Netherlands, @Suusgelukbloemenenmeer
"Roselilies are all the rage at Belle Fleur NYC! We are in love with this newer hybrid lily that offers a whole lot of bloom, an angelic scent, and never fails to impress. I think what our clients love most about this double petal variety is that there's no exposed messy pollen; it's stamen free, which is so rare. Personally, I love putting my nose to a flower, and standard lilies have always been just a bit too bold. The Roselily fragrance is mild, but yet it's still so alluring and seductive." – Meredith Waga Perez, Owner of Belle Fleur NYC, @bellefleurny
"We just love everything of Roselily from the moment we pick them by the farm, the perfect fragrance and double-blooming petals. Once you have seen a Roselily, you just can never forget how it looks." – Botanic Lane Florist, Empire City, Vietnam, @botanic.lane
Roselily ®Our mission is to breed the most beautiful double lilies in the world. Roselily is distinctive from other (double) lilies because of their large colorful buds and 100% double flowers. Roselily is almost always pollen-free, which makes them perfect to use for events, and in bouquets, without the risk of dirtying your clothes. More information about Roselily? Please check www.roselily.com
Garden Media Group specializes in the home, garden, horticulture, outdoor-living, lawn, and landscape industries. They offer innovative PR campaigns designed to secure top media placements and partnerships with traditional and social media. For gardening tips, new product announcements, and PR and marketing tips, visit www.gardenmediagroup.com.