.
While planning a wedding is the domain of those getting married and, often, wedding and event specialists, florists can expand their reach to become more involved in supplying more than just the floral atmosphere.
By Andrew Joseph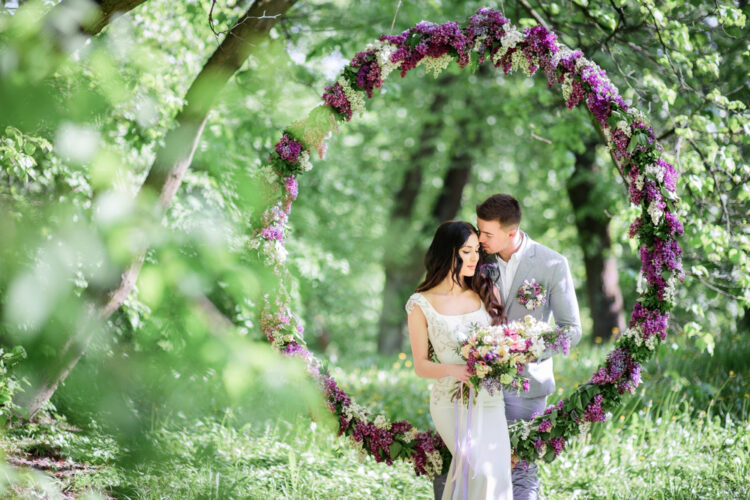 Everybody loves a wedding—including many in the floral industry (not all, though!). To put it in a nonromantic, crass way, we make money from such events (or at least we should)—but could we make even more?
We're not talking about finding ways to make weddings more expensive; we're discussing ways the floral industry and grab a larger slice of the monies available. Let's first see what things cost.
According to data from TheKnot.com's annual "Real Wedding Study," the average price of a wedding in the United States was $28,000 in 2019; it dropped 32 percent, to $19,000, in 2020; and it rebounded slightly (18 percent) in 2021, to $22,500. For those looking to blame the pandemic for the drop, think again.
A sense of frugality on the part of wedding planners may actually be the reason. Consider that, in 2016, the average cost of a wedding in the U.S. was $35,309; dropping slightly (5.4 percent) in 2017, to $33,391; rebounding ever so slightly (1.6 percent) in 2018, to $33,931; and down again 17.5 percent in 2019, to $28,000, according to TheKnot.com.
Now, you can probably blame the pandemic for the 2020 average cost dropping to $19,000 because fewer people were able to legally congregate, meaning both canceled weddings and less money needing to be spent on the generally smaller weddings that did take place.
The average cost of a wedding began to rise again in 2021, as noted, to $22,500. Why did it go up again from the lows of 2020? A good guess would be that there was a sense that things in certain areas were returning to normal, so larger and more flamboyant weddings were again part of couple's wish lists. However, you can see from the prepandemic numbers (2016 to 2019) that wedding dollars had, for the most part, been trending downward.
Although not a staple of every wedding, venue rental remained the most expensive cost for a wedding—running at an average of $10,500 in 2019. This and the following figures were compiled by TheKnot.com and the "Wedding Cost Guide" from WeddingWire.com.
Rings ($5,900) and a photographer and videographer ($4,200) are the next highest wedding expenditures, which seems interesting: Making a record of the wedding cost more than 2.6 times as much as a wedding dress (an average of $1,600)? (To be fair, the $4,200 figure was for the two items: a photographer, at $2,400, and a videographer, at $1,800—each of which is still higher than the average price of a wedding gown.)
Aside from the wedding dress, people at weddings are usually caught up in the glitz and glamor of the flowers, particularly the ceremony and reception décor and the bride's and bridesmaids' bouquets. Flower costs in 2019 averaged $2,000 per wedding.
I Do That, Too
So, $2,000 for wedding flowers sounds like a lot of money to a layperson, but it also seems low relative to what flowers bring to the wedding atmosphere. Can you image a wedding ceremony or reception without flowers? Pretty plain and even kind of sad. Even if no one pays much attention to the flower arrangements, everyone would notice (and talk!) if there were none. Kind of like with funerals.
For 2020, WeddingWire.com reports that the average cost of wedding flowers in the U.S. was about $1,500 for small- to medium-sized weddings and up to $5,000—or more—for large weddings. But is that all there is?
While those planning weddings—be they the professionals or the brides or grooms themselves—can always look for a less expensive venue or even more cost-effective flowers, florists need not sell themselves short.
Why just sell flowers? (We know you sell more than just flowers when you sell flowers. We get it.) But are you maximizing your potential sales opportunities that every wedding provides?
So, what else besides the traditional bouquets, corsages and boutonnières, and ceremony and reception flowers does a wedding customer need? What other types of décor elements can you provide?
Nowadays, a flower shop can be a one-stop source for those planning a wedding. It's why many flower shop owners have expanded into balloon décor and prop rentals (candelabra, arches and chuppahs, flower walls, trees and hedges, etc.). But what about tenting, tables and chairs, linens, and furniture and seating, especially for outdoor events? If you don't have the financial resources, staff and storage space to get into these types of items, contact a party and event rental company and inquire about being a sales agent for them, for a percentage of each sale you make, of course!
And what about items for specific religious wedding events? For example, maybe you could stock a small selection of kiddush wedding cups or fine pens for signing the ketubah marriage contracts at Jewish weddings. Or for Muslim weddings, on the wedding day, the groom will lead his family to his bride's home where the bride's sisters welcome the groom's party by gently hitting them with a stick wrapped in flowers. Is that something you could offer? Providing more than flowers is a keen way of ensuring your floral business is seen as more than "just" flowers.
Many consumers prefer to do as much of their shopping in one place, and if you can help with that, it can and should be more money in your pocket. Being a florist does not mean that you cannot provide more than just flowers to your customers. However, when exploring this pathway to generating additional sales, it's important to know your customer base's economics because you'll be able to charge only what your market will support. Also be aware that if you become a shop that provides added-value nonfloral extras, you are going to need a place to store the items and a way to safely transport to and from locations. And don't forget about additional staffing that will likely be required with such an endeavor—as well as overtime wages that you may have to pay.
Being able to provide wedding customers with more than just flowers can be a smart move for you, and it can save your customers headaches by having you be their one-stop shop. Bottom line, though: Make sure you don't bite off more than you can chew.
NOTE: In hush-hush discussions with florists who provide additional options, especially rental items, many say that when they buy an object that can be reused, 100 percent of the purchase cost is passed along to the first customer, thereby recouping all of their outlay with the first rental. After that, each rental is pure profit!
If that seems extreme, note that for that first customer, the item is completely new and unused. Following this initial use, future rentals can be priced accordingly—taking into account the time and effort required to retrieve the items from storage (as well as storage costs), to deliver and set up the items as well as to pick up, clean and return the items to storage following each event.