Each season and time of day can provide inspiration for floral designers; here is my portrayal of an early summer morning.
Floral design, photos and text by Vic Castillo, AIFD, CFD
Presented by Ball SB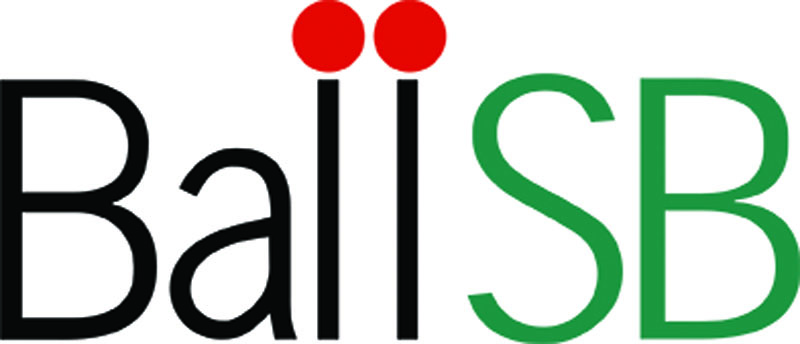 Summer provides unique inspiration to floral artists—stimuli that are different from those of other seasons. My inspiration for this design was a predawn summer breeze. I edged a shallow design tray with red rattan sticks to represent the sunrise, and I selected two varieties of candle larkspur (Delphinium elatum) from Ball SB—'Guardian Blue' and the double-flowered 'Ariel White Improved'—to portray the dew and rain, along with Salvia and sword fern to connote the ocean breeze and Aspidistra leaves to convey the waves of the ocean.
STEP BY STEP
Step 1
Cut small bundles of red-dyed rattan sticks in various lengths.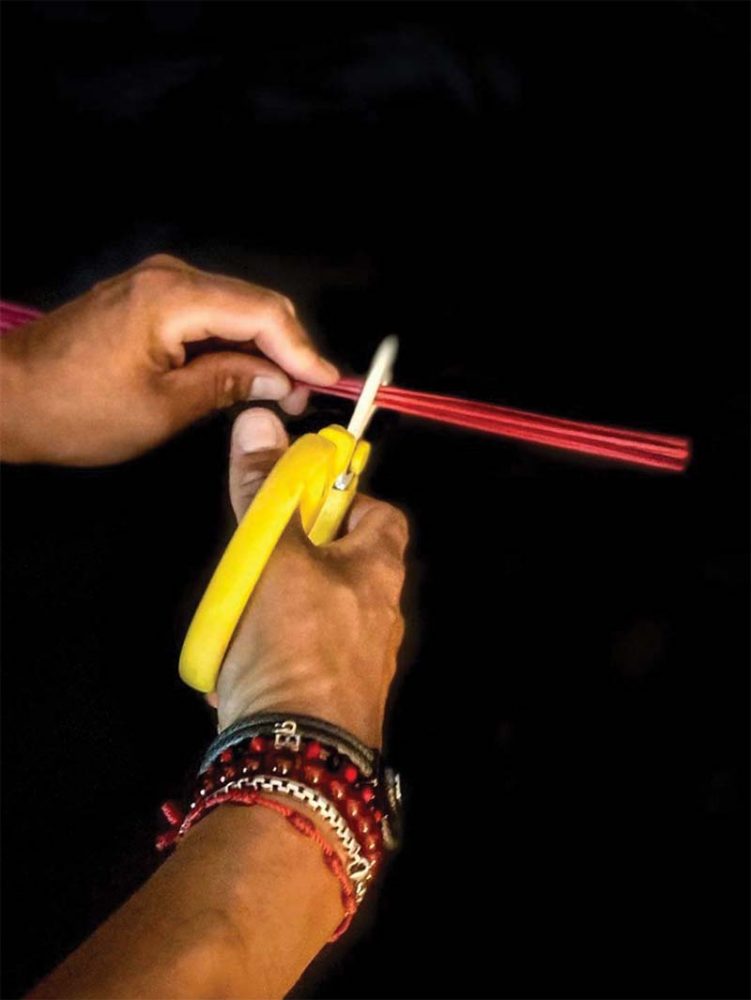 Step 2
Hot-glue the rattan sticks around the perimeter of a straight-sided plastic design tray. Place several sticks of the same length together around a small sector of the edge of the design tray, to create a series of "curved walls" of varying heights.
DESIGN TIP: Alternatively, use adhesive strips or roll adhesive, rather than hot glue, to adhere the rattan sticks around the perimeter of the tray.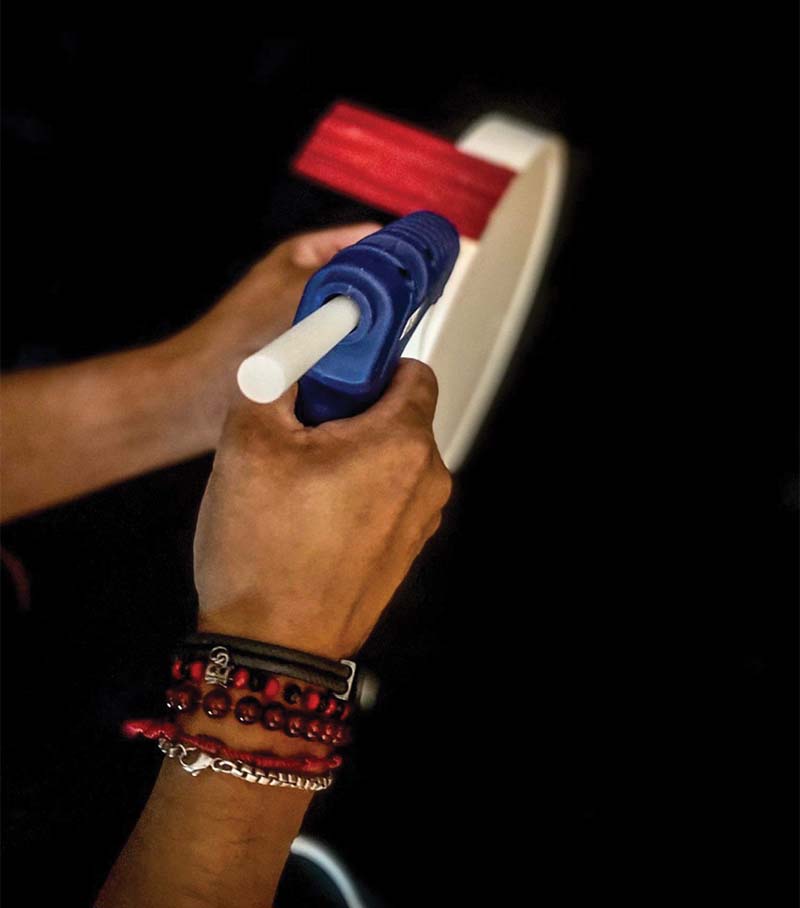 Step 3
Soak two bricks of floral foam in properly proportioned nutrient solution. Place them to fit snugly into the tray, cutting the corners or edges to fit, if necessary.
DESIGN TIP: If additional security is desired for the floral foam, tape it into the tray with waterproof tape, or adhere plastic anchor pins into the bottom of the tray before placing the floral foam.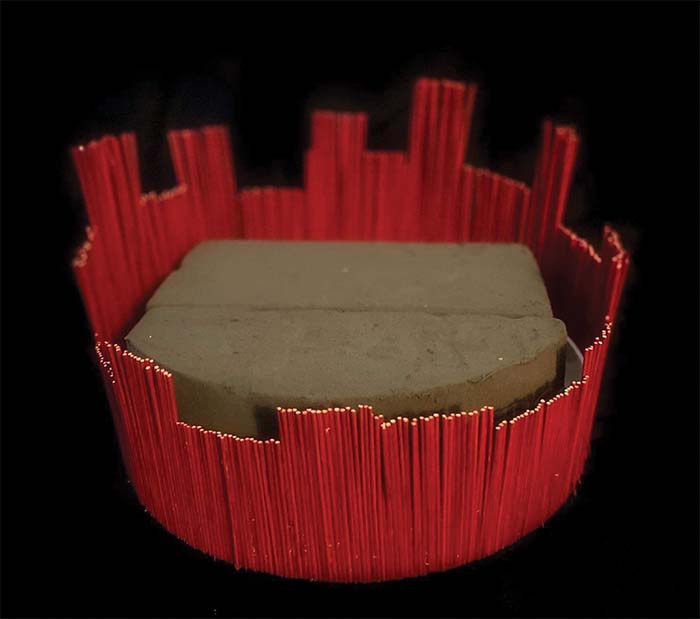 Step 4
Arrange Aspidistra leaves atop the surface of the floral foam to simulate ocean waves in the design (I used five leaves). Split half of the length of each leaf, starting at the tip and cutting along the spine. Roll the stem-end (un-split) half of each leaf, and insert the stem through the leaf and into the floral form, to create a circular formation. Then position each split leaf section to form a "wave," and secure each tip in position with a greening pin or bank pin.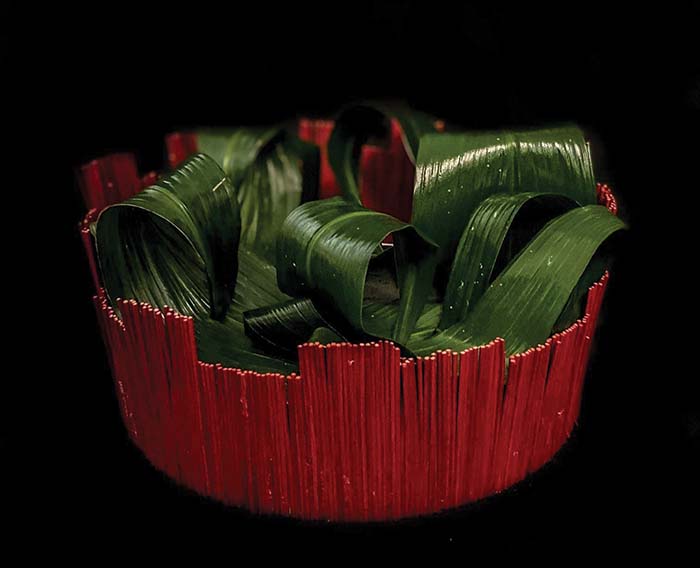 Step 5
Arrange stems of 'Guardian Blue' and 'Ariel White Improved' Delphinium vertically in the center of the tray. Next, arrange sections of popcorn Hydrangea blooms and Hypericum berries into the base of the design, followed by stems of Salvia and Western sword fern.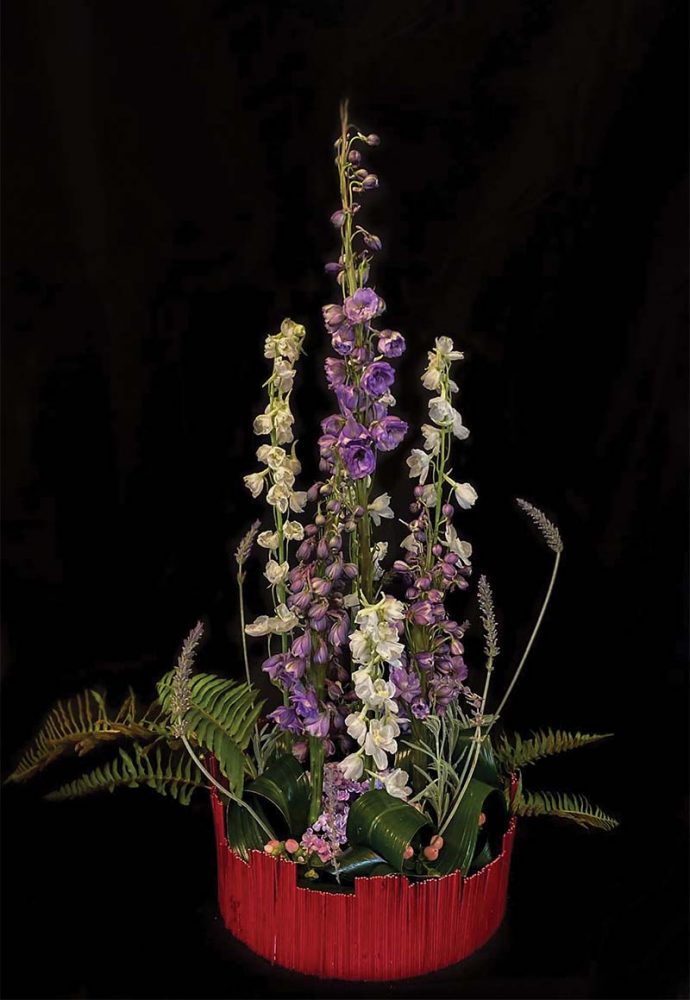 MATERIALS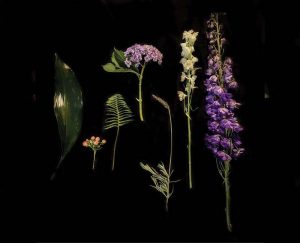 BOTANICALS FROM BALL SB
Delphinium elatum 'Guardian Blue' (candle larkspur, English larkspur)
Delphinium elatum 'Ariel White Improved' (double-flowered candle larkspur, double-flowered English larkspur)
OTHER BOTANICALS
Hydrangea macrophylla 'Popcorn' series (popcorn hortensia, popcorn Hydrangea)
Hypericum androsaemum (tutsan, St. John's wort)
Salvia officinalis (common sage, garden sage)
Aspidistra elatior leaves (cast-iron plant, barroom plant)
Polystichum munitum (Western sword fern)
HARD GOODS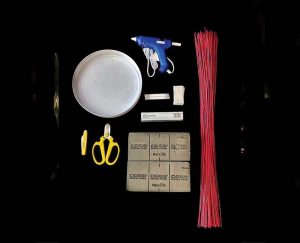 12"-diameter round design tray (straight sided)
OASIS™ Midollino Sticks (Red)
OASIS® Midnight Floral Foam
OASIS® All-temperature Glue Sticks or OASIS® UGLU™ Adhesive Strips or Roll
OASIS™ Greening Pins or Atlantic® Steel Bank Pins
OASIS® Waterproof Tape (optional)
OASIS® Anchor Pins (optional)