A beautiful interview by Thursd with Paulina Nieliwocki from Blue Jasmine Floral located in New Jersey. With over 75K followers, Paulina has built a real audience in love with her way of designing. Blue Jasmine specializes in florals that capture the free-form beauty seen in nature. She left teaching high school to embark on a floral design career in 2014. A decision that she doesn't regret. This interview brings us closer to who Paulina Nieliwocki of Blue Jasmine is.
Full Article Below Source
A Floral Interview With Paulina Nieliwocki – Leading Lady of Blue Jasmine Floral
"Floral designers are indeed artists who create with a perishable medium, and that even though their art is fleeting, it is valuable."
By: THURSD. | 11-04-2022 | 9 min read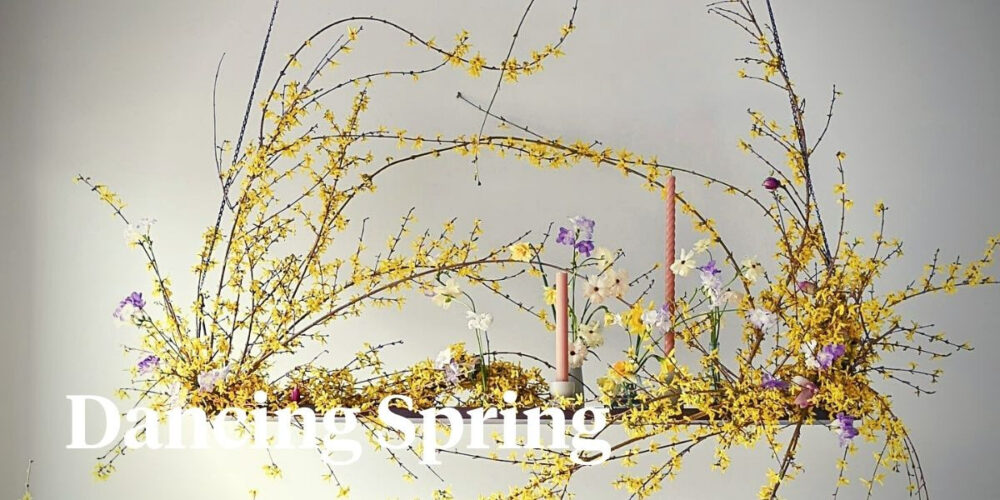 The Instagram account of Blue Jasmine Floral is highly appreciated by many. With over 75K followers, Paulina Nieliwocki has built a real audience in love with her way of designing. Blue Jasmine specializes in florals that capture the free-form beauty seen in nature. Whimsical designs, always timeless and elegant make her timeline stand out. Paulina left teaching in high school to embark on a floral design journey in 2014. A decision that she doesn't regret. This interview brings us closer to who Paulina Nieliwocki, the leading lady of Blue Jasmine Floral is. Enjoy.
A Floral Interview With Paulina Nieliwocki From Blue Jasmine Floral
After many years as a high school language teacher and translator, Paulina recognized that she was looking for a new adventure that challenged her while still feeding her creative soul. Since flowers had a big impact on her as a little girl, picking wildflowers for her grandmother, embarking on a floral design journey naturally felt like the right fit.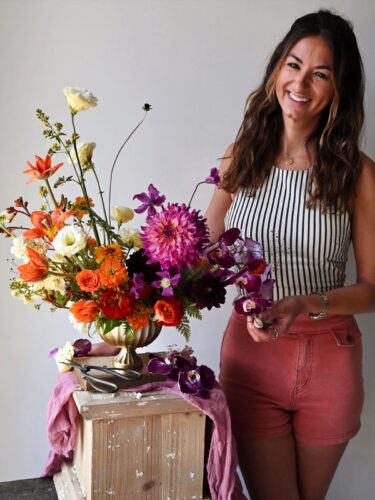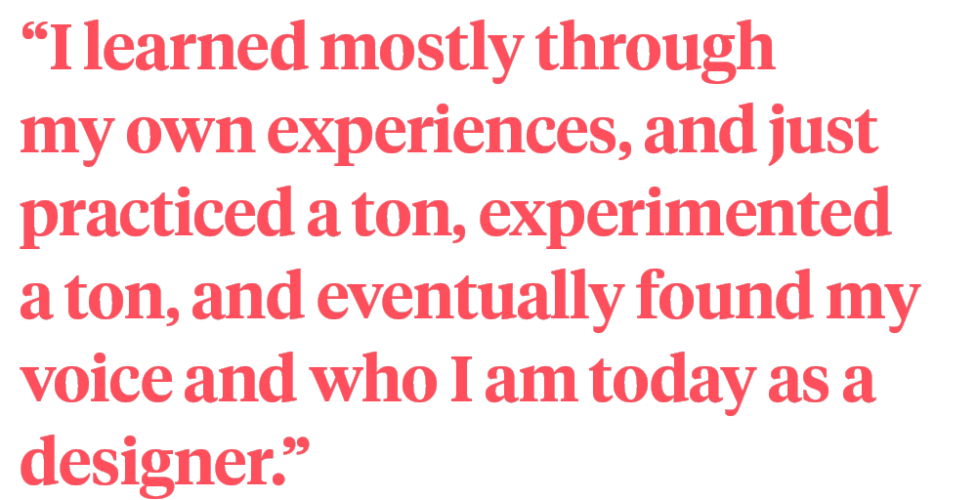 Floral Design Experience
Paulina Nieliwocki taught language in high school and had a small business in flowers besides that. But it was only in 2014 that Paulina left teaching high school and opened Blue Jasmine, naming it after her grandmother's favorite bloom, with the idea of providing and teaching an aesthetic that spoke to her idea of beauty – wild, whimsical, artful, and refined.
Q.: Can you walk through your floral design experience, from your first position until now?
Paulina:
"My experience is somewhat unique where my first position was already working for myself. I started my journey while simultaneously working a full-time high school teaching position. I took a few classes after hours to get my feet wet, but in all truth, I never really held a position as a floral designer until I opened my own shop in 2014. I learned mostly through my own experiences and just practiced a ton, experimented a ton, and eventually found my voice and who I am today as a designer."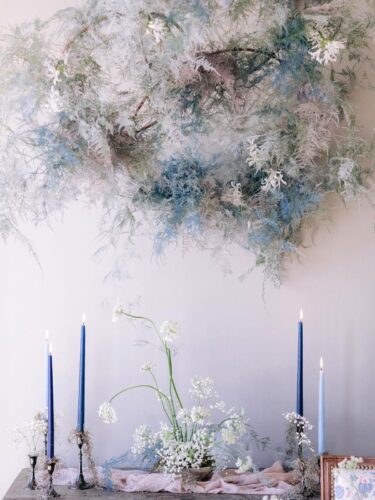 Not Only Skills Needed as a Floral Designer
Besides all skills and techniques, a floral designer needs more to be a good florist. Paulina feels so fortunate to have been a part of clients' celebrations, and flower lovers' floral journeys, and to have met many amazing and talented friends along the way! But it took more than just creativity.
Q.: What kinds of qualities do you believe a flower designer should have?
Paulina:
"Floral designers are creatives! But with creativity must also come preventive thinking, a sense of urgency, great customer service skills, and a strong problem-solving skill set."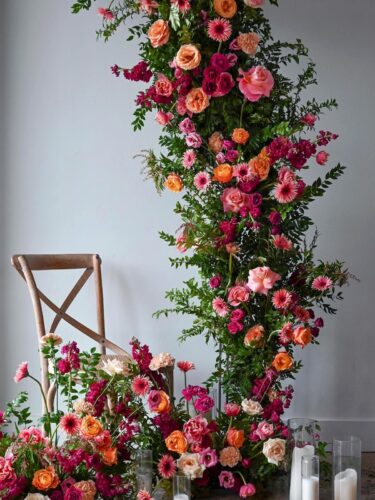 Inspiration
Inspiration can come from many sources. As a floral designer, you thrive on input and impulses from all over.
Q.: Who or what would you say inspires you?
Paulina:
"I feel like inspiration can be drawn from so many different industries and facets of life. I am very inspired by sculpture artists in the art world and in the floral world, as well as artful food presentations. However, I think the most inspiring is travel and the experiences I had during such. While designing, the flowers and foliage are what guide and inspire me. I believe that highlighting the nuances of nature allows each design to tell a unique story, communicate a specific tone, and elicit a feeling."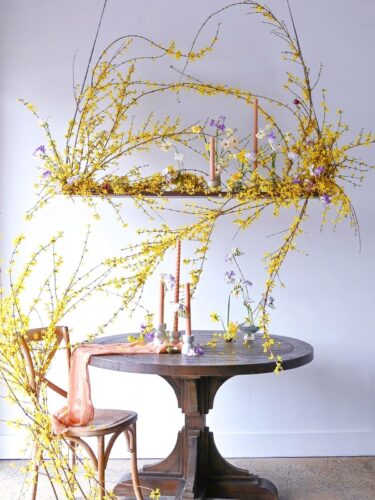 Details Matter
There are so many things to take into consideration in floristry. It's the whole process of business budgets to the actual event or occasion.
Q.: Are you detail-oriented?
Paulina:
"Absolutely! I love details, and truly believe that if they are considered the outcome will be better. Whether it be the details of the design, prepping an event, handling clients, business budgets, business projections, etc.; if the details are finessed the results will surely be more elevated and better executed. In floral design I truly love dainty accents, color, texture, and each stem's unique shape. To bring these under detailed attention is also important."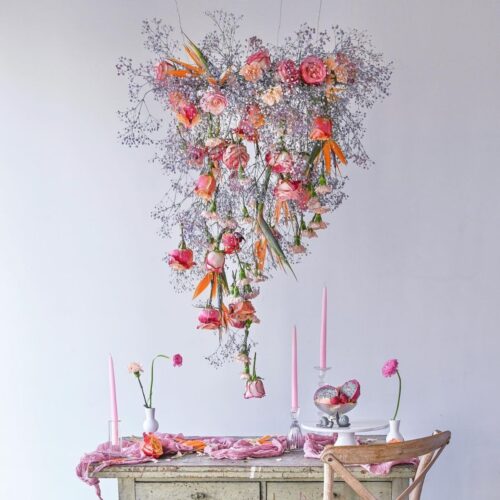 Mind and Body Have to Be Relaxed.
To be your best creative self, it's important to take care of your mind and body.
Q.: What is your favorite way to express yourself artistically on your time off?
Paulina:
"I do love to decorate my home, interior design is always something I have loved, and a medium I find super simulating. I would redecorate my house with a whole new look every year if I could!"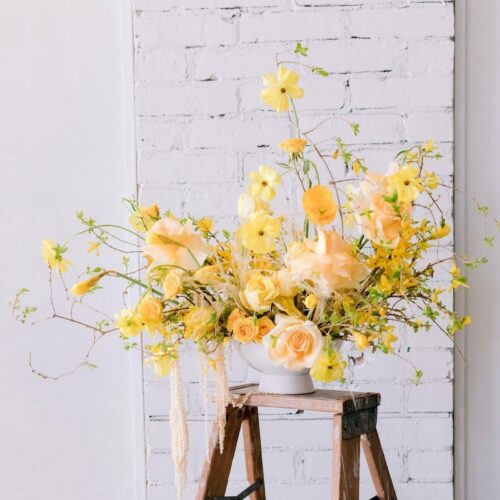 Memories of Big Flower Installations
To go back in time to realize what your biggest achievements so far have been is something everyone has to do. Make yourself proud of what you've been able to accomplish.
Q.: Tell me about the largest event you have ever prepared flower arrangements for.
Proudly Paulina says:
"We had a lovely couple getting married on a private property purchased by the family. The vision was based on two tents that were to communicate two very different worlds to give guests an experience at each. The first tent was meant to be dark and moody with rich color palettes to entice the senses for cocktail hour – think jewel tones, citrus, fruit, and food styling everywhere and two massive tree installations with colorful blooms and butterflies at the entrance. The baby's breath (gypsophila)-lined walkway leading to the reception tent was an introduction to the experience that awaited guests at the reception, ghostly Savannah vibes were the words.

Through an all baby's breath arch at the entrance, guests were led into the very large Sperry tent and welcomed by very large flying buttresses off of the tent poles that reached deep into the visual space for a look that guests would feel as if they were inside the installation. They were based in curly willow with thick, massive plumes of baby's breath, and thick strands of dripping fresh Spanish moss (tillandsia). This same moss concept was also echoed at the ceremony. The tables were designed with a few floral pieces in soft greens and whites with lots of texture through Queen Anne's lace (daucus carota) and finished with two eight-arm candelabras. The sweetheart table was also engulfed in campanula and interesting ferns with Astier de Villatte pottery adorning the tabletop. So many magical details."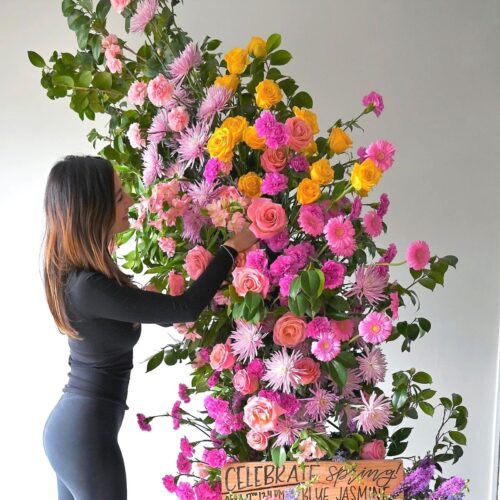 The Choice to Be a Floral Designer.
Some people know already at an early age what they want to do in life. But not for everybody it's that obvious. Blue Jasmine
Q.: Why have you chosen to be a floral designer?
Paulina:
"As a child I used to pick wild flowers for my grandmother and mother, so there has been a love of flowers that has been with me since I have memory. As I charted through the waters of opening a business many industries popped up but flowers felt the most natural, and after dabbling I fell head over heels in love with it."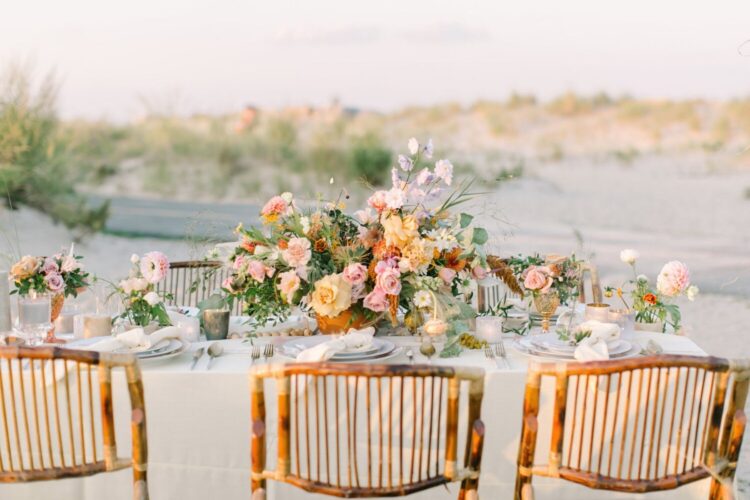 Photography: Love & Light Photography
Vendors: The Gilded Lilly, The Tabletop Company, Party Rental, BHLD, VW Booth Bus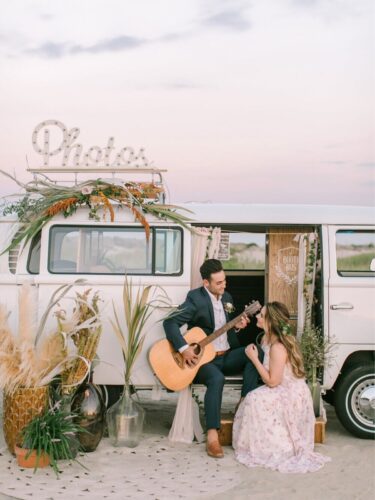 Plants Are Hot at the Moment. Urban Jungle Is a Real Hype.
Paulina describes her personality as energetic, bubbly, passionate, and driven. Plants are not her specialty yet, but she wants to learn about them, to use them more often.
Q.: You work a lot with plants too? How extensive is your knowledge of plants?
Paulina:
"Yes, I do work with plants and at times incorporate them into my designs and installations. I do not have a very extensive knowledge, but try to learn about a new plant each year! This year I want to get better acquainted with early summer blooms as I really only focused on dahlias and foliages in the past."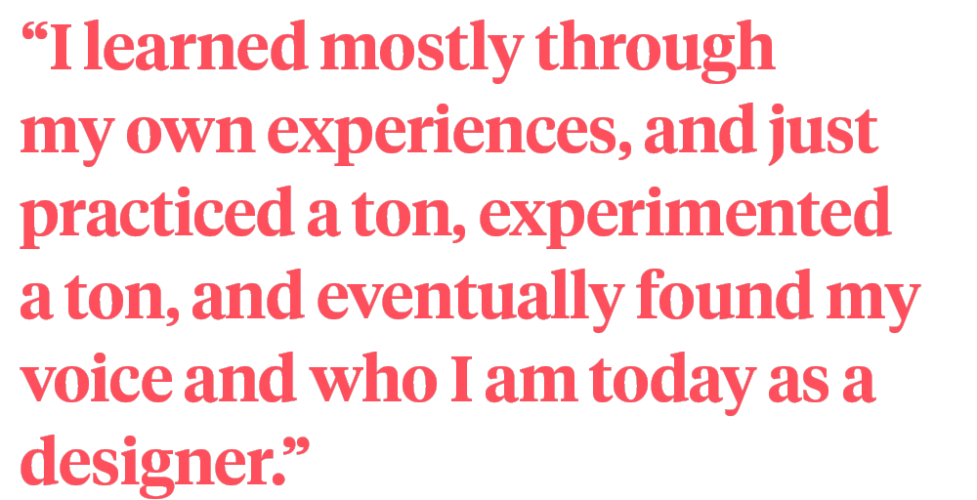 Conscious Creative
They say creativity is something you have to be conscious about, to be able to get the most out of it. Conscious creativity is about discovery – what inspires you to create, trying new methods and ideas to take your creativity further, and exploring how you see things – and how this makes you feel.
Q.: Do you consider yourself creative?
Paulina:
"I do consider myself creative! Even when I was a teacher, one of my favorite processes was the creation of lesson plans and how I can creatively communicate a specific grammar topic. I also equate creativity in the floral industry with challenging yourself to experiment with shapes and flowers that are out of your comfort zone – these are my favorite moments in designing!"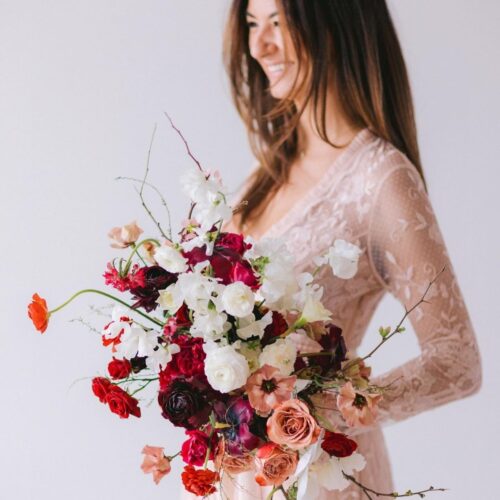 Spring Blooms and Weaving Skills
All florists probably have their favorite flower, and so has Paulina from Blue Jasmine Floral. She likes all spring blooms, but if she has to choose just one, it would be any kind of sweet pea, for their sweetness, their movement, and daintiness. And when asked Paulina who she wants to spend time with to learn, she would go for the weaving skills of Leopoldo Gomez.
Paulina:
"I just love his weaving techniques and would be so interested to see how I can mesh those skills with my own skill set."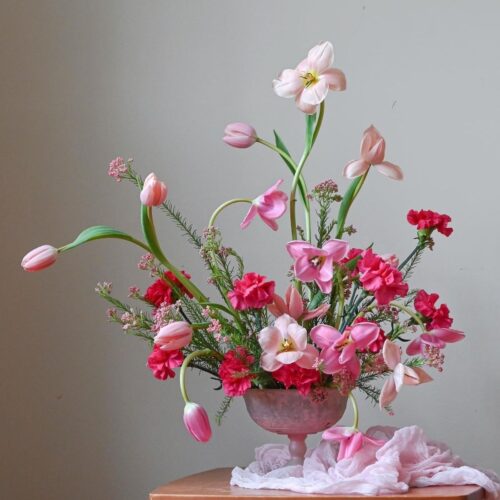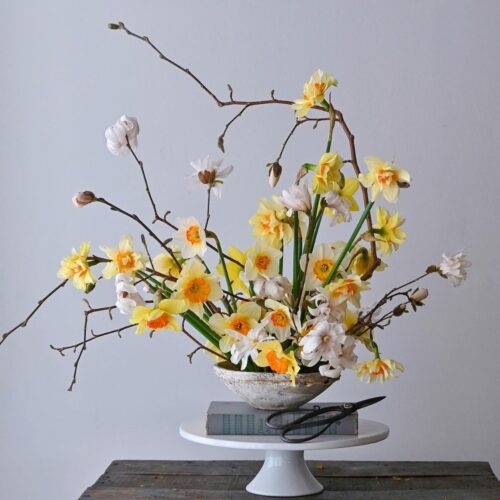 Look at the Future of Paulina Nieliwocki From Blue Jasmine Floral
We all would like to know where the future takes us, but if we could have a choice, what would it look like? What are the global issues and can we change or help? Questions also Paulina doesn't know the answers to, but this is what she hopes for.
Q.: Where do you see yourself 20 years from now?
Paulina:
"I would love to be holding mostly workshops and educational chats about flowers and the industry."
Q.: What do you feel is the biggest issue in floristry?
Paulina:
"I believe that sustainability is the hot button, most in need of attention. We are getting there with more technology and options but they are costly. I have big hopes for these to be readily available and widely used at a more favorable cost."
Q.: What would you change?
Paulina
"I would love to change the perspective of the general public regarding floral designs and their pricing. The value of flowers can at times get lost in translation. I would love to create more of an understanding that floral designers are indeed artists who create with a perishable medium, and that even though their art is fleeting, it is valuable."