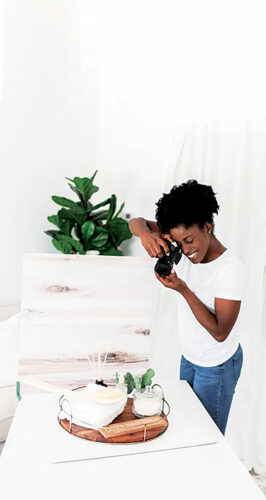 Documenting your fabulous floral designs in photos is becoming increasing important for your marketing efforts. Here are nine tips for taking better flower photos.
By Tonneli Grüetter
The global cut flower industry is expected to grow to more than $49 million in annual sales by 2028, but how can you guarantee your floral business will receive its fair share of this new flower boom?
Possessing the ability to accurately convey the value of your distinctive flower-arranging style through photography has become an absolute must-do for growing and maintaining one's business. In the last year, we have seen the rise of "floral stylist" and other niche fields such as "editorial florist" grow in popularity.
From the darkness of 2020, flowers emerged as big winners, with more consumers than ever taking an interest in living with flowers. Along with this boom, we have seen big brands take notice and use flowers to align with today's floral-centric consumers. From music industry mega stars such as Katy Perry featuring floral couture on her latest album cover to high-profile couture fashion brands doubling down on flowers in their merchandising, adopting the language of flowers has become a key part of brand marketing strategy.
On this path to profits, a whole new world of flower photography has emerged, with brighter and more beautiful professional floral imagery becoming the norm. So, what is a full-time-florist-turned-do-it-yourselfphotographer to do as potential customers expect more? Skill up!
NINE SIMPLE STEPS TO BETTER FLOWER PHOTOGRAPHY
1. Start with exceptional flowers. If you want to grow your business by sharing more and better photos of your flowers, you must start with "share-worthy" blooms. Avoid using aging, bruised or otherwise damaged flowers in the foreground of your images. Source flowers that are visually compelling, highly textural and colorful. Seeking out a premium-priced trendy flower to star in each photo is a great tactic to employ when hoping to attract more premium-tier flower sales.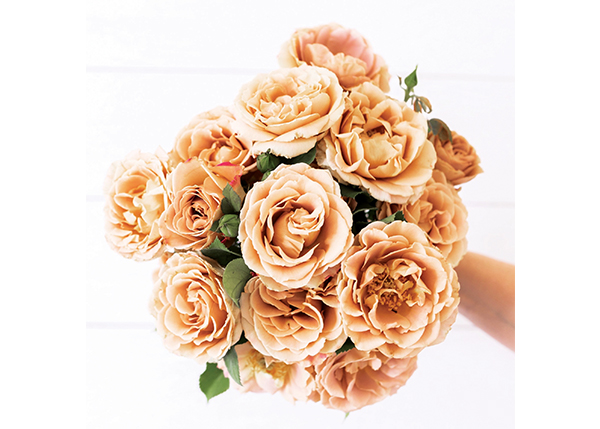 2. Design with photography in mind. Consider what you will be using each photo for and if and where it will be published. What orientation or ratio would you like to shoot in? For platforms such as Google, anything goes, but for others, such as Instagram, a 1:1 square ratio is favored. When attempting to capture a beautiful image, you will do yourself many favors if you first take the time to consider the "canvas" you would like to fill; this begins at the design phase. A great tip is to design your arrangement to be viewed from a single side, balancing well in a square photo frame. After you have documented your work, make a few strategic changes to better suit your floral design to a portrait or landscape orientation.
3. Background matters. While there is no fixed rule discouraging real-life, studio or retail-shop backgrounds behind your floral designs, it is much trickier to ensure your flowers will win the full focus of potential customers if an image feels busy. To avoid visual confusion, take advantage of photo-editing software with a background-blurring feature, but be sure to practice moderation: Turn up background-blur features no higher than 5 points. When possible, opt for a monochromatic background; it will make you flowers pop! Embrace textured city streets washed in gray tones, custom-painted canvas in a contrasting color or even the blue sky with a light background blur. Take it to the next level by investing in a dedicated photo backdrop you can use consistently.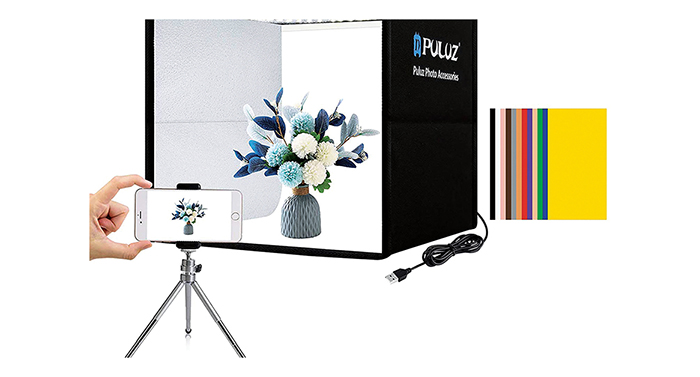 4. Lighting. Do not rely on fluorescent lights or flash photography when documenting your floral design work. Bad lighting is one of the most common reasons a beautiful design will be passed over by our editors. Investing in LED light stands, reflectors or a lightbox is surprisingly affordable at a number of popular online marketplaces and will pay for itself many times over. If you choose not to use specialty photography lighting, consider photographing your designs in natural light. Some of the best images are captured on an overcast day with evenly diffused sunlight. Avoid harsh midday sunlight, which will create shadows or patchiness that can be caused by passing clouds. Many professional photographers swear that the "golden hours"—the first hour of light just after dawn and the last hour of light just before sunset—are the best times of day to take photos outdoors.
5. Image format. When publishing your images, ensure the maximum number of viewers will be able to see them; save the images as .jpeg files. Avoiding unusual and technical file formats. Sticking to the basics will enable even your least-tech-savvy customers to open and enjoy images sent by you.
6. Watermarks. While it might be tempting to watermark your images so that others cannot steal or claim your work as their own on the internet, it should be noted that the drawbacks of watermarking far outweigh the benefits, in most cases. If you are looking to distinguish photos of your design work as unmistakably yours, consider other options such as including yourself in the photos, designing using a branded vessel such as a hat box or finishing your creation with discreetly branded sticker. Adding watermarks takes valuable time, and they can, unfortunately, be easily removed using photo-editing software. Watermarking is also known to diminish online engagement with customers, distracting from or cheapening the natural beauty of your design work.
7. Retouching. Repeat after me: "Retouching is OK!" Sometimes lightning strikes, and an image is perfect without any editing whatsoever, but more often than not, your flowers will need a little help to appear as beautiful in your photos as they do in real life. Whether working on a mobile phone or computer, there are many free photo-editing apps that can help enhance your botanical photography. When fine-tuning photos, avoid adopting heavy filters and trendy color enhancements that will look dated quickly. Instead, work toward finding a consistent look that feels true to you. If you are a beginner, start by lightly increasing your brightness, decreasing shadows and cropping any distractions from your pictures. Your results will be light, airy and delightfully modern.
8. B-roll (secondary, supplemental or alternative photos): Gone are the days of limiting image quantity due to film costs. Embrace the ability to take lots of images. Create a shot list. Be sure to get a few photos of raw materials before designing, in progress (if possible), finished work and close-ups of your favorite design elements. Especially on social media platforms like Instagram, you will be rewarded in higher likes/views if sharing carousel-style collections of images for your followers to view.
9. Which camera is best? Artists have long held the belief that "The best camera is the one you have," which is valuable advice, indeed. While it can be tempting to think your photos will only be share-worthy if shot on a fancy camera, the truth is that most smartphone cameras are fully capable of bringing out your best work. If it is in your budget, upgrading to a lightweight mirrorless camera—such as the Sony Alpha, Canon EOS and Panasonic LUMIX series—will ensure that you can consistently capture high-resolution professional-quality images, but it is not necessary to your success. The most important thing is to use the camera you have—and use it more often. Every time you design something beautiful and let it slip away without photographing it, you are losing potential future customers who may be inspired to order your flowers based on that work.
From beginning florists to experienced certified floral designers, we can all benefit from documenting our work more often and improving our floral photography skills along the way.