Chandlerie is a B2B wholesale candle company located in Denver, CO. whose niche is the special events industry. The company's mission is to upcycle as much event waste wax as possible.
Full Article Below Source
Sustainable Reuse of Wax into Curated Candles
Get to know Colorado based Chandlerie Candle Company
Written by Mandy Hess of MJM Designs
Through Lunaria, the past few years have allowed me to make friendships with so many in the Colorado market and beyond. I have partnered with Chandlerie for a handful of events, as well as used their candles in my weddings and styled shoots. I love the color palettes they offer and if they dont have a certain color you need, they can make it for you! On top of having amazing colors, they are sustainable – reusing wax waste from candles that would otherwise go into the trash. Love it!
Can you share about Chandlerie?
Chandlerie is a B2B wholesale candle company located in Denver CO. Our niche is the special events industry and our purpose is to upcycle as much event waste wax as possible. We strive to create a beautiful and responsible product with an emphasis on the client experience. The company was founded in 2019 by Elizabeth Carrier and acquired by Cindy Ollig of The Perfect Petal.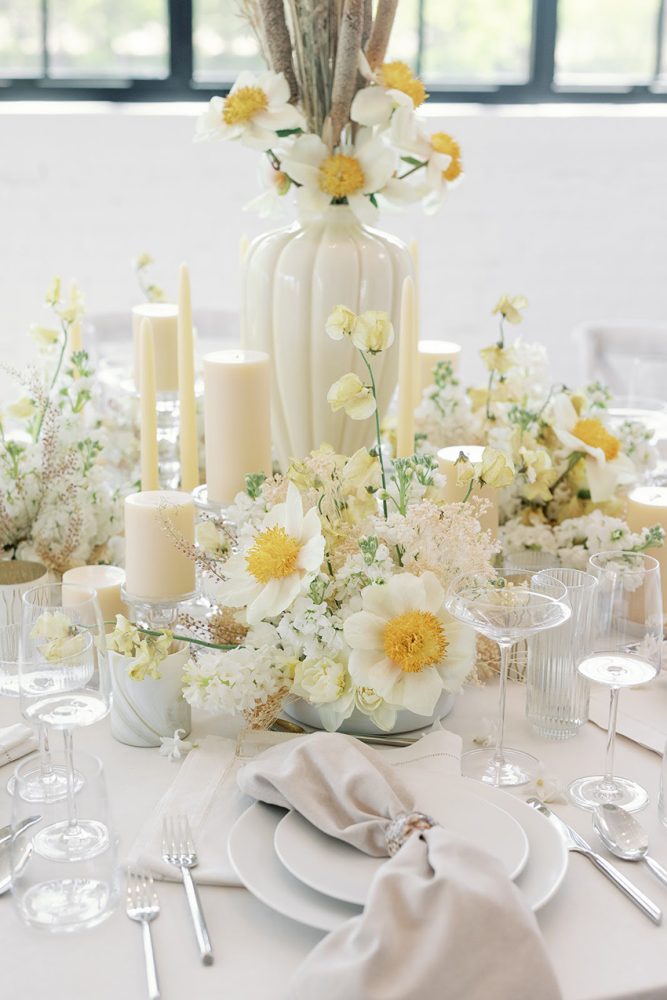 What inspired Chandlerie?
Elizabeth: My background is as a wedding florist. Prior to Chandlerie I'd been in the industry for almost 20 years and flowers are truly my passion. It seemed I was never fully satisfied with the wholesale options of event candles at that time. Coated candles had a limiting use as they typically didn't survive one or two burns and hold their aesthetic integrity, and other options just weren't the right colors. They were often too bright for the soft accent I was searching for. I always envisioned subtle muted hues that could function as a flower with a flame. Additionally, I wanted the candle to burn beautifully and be dyed all the way through for reuse. The few gorgeous options available at the time had to be purchased retail. 
In its inception, Chandlerie was an idea to test if upcycled wax could create a product beautiful enough for our industry. The first time I reached out to my local flower friends in Denver to request their candle waste, I was equally excited and horrified how quickly everyone wanted to immediately start placing orders– of course they were also more than happy to contribute their candle waste. At that point I'd literally only made one candle just to see if it could work. This meant I only owned one mold and a few dye chips from the craft store. Needless to say, I got to work and knew this had legs; I couldn't wait to see it run. "Borrowing" my husband's beer brewing equipment, our garage quickly turned into a true chandlery. Although we've upgraded our equipment since, I'm sure there's still beer brewing carnage around the studio in use, such as spoons and pots.
What are the biggest challenges you have found to be?
Chemistry! Using upcycled wax has presented entirely unique and unexpected challenges. Our remarkable production team has nailed how to properly create formulas from existing and varying candles in order to design an aesthetically strong and stable product. However, we always continue to work on bettering our formulas. We don't want a good product, we want an exceptional product.
What has been the best way to share about Chandlerie and get the word out in CO as well as nationally?
Instagram is our platform of choice to share our work visually. We have been so blessed by the grassroots growth we've experienced. Chandlerie started small and local in Denver and it didn't take long to pop up all over the country. Within months we were featured in Martha Stewart, Rocky Mountain Bride, and many more publications to follow. Our friends trusted us to deliver a beautiful product, but truly it's their work that has continued to inspire an ongoing wave of new followers and propel new clientele.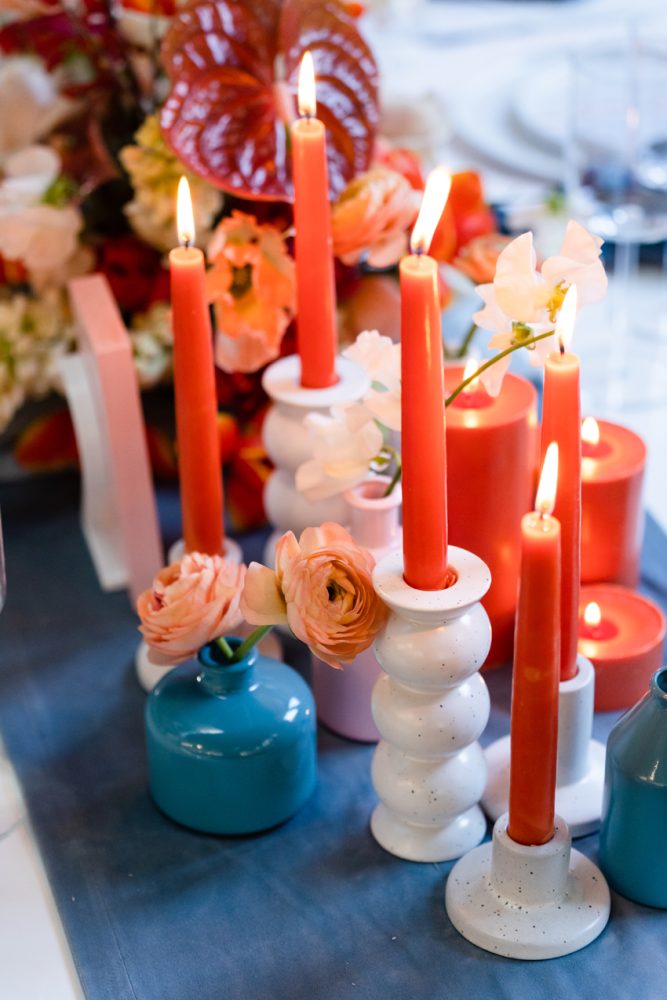 Do you have any suggestions on florists looking to be more sustainable in their business? Especially with all the candles we use.
First and foremost reuse your candles as much as you can. It's also really important to take care of the wicks. An additional ¼" can create a blaze on a taper candle. We trim, and recommend trimming, taper candle wicks to ¼" and pillar wicks to ½". It is so important, especially for the subsequent burns, to trim the wicks or your candles could potentially be a wax massacre on a very expensive linen.
Also don't throw away your candle waste! If you have a lot of waste wax please reach out to us. We are currently exploring ways to source waste wax from our clients all over the country.
What's your favorite current line up color?
Cindy: Tie between Pampas Grass, Spanish Moss, and Frosted Juniper
Sondra, GM: I can't get over our Peacock Feather, it's so vibrant yet moody. I love all of our green tones!
Elizabeth: Cornsilk! It's such a gorgeous pale butter yellow and is a name of endearment after my daughter's hair.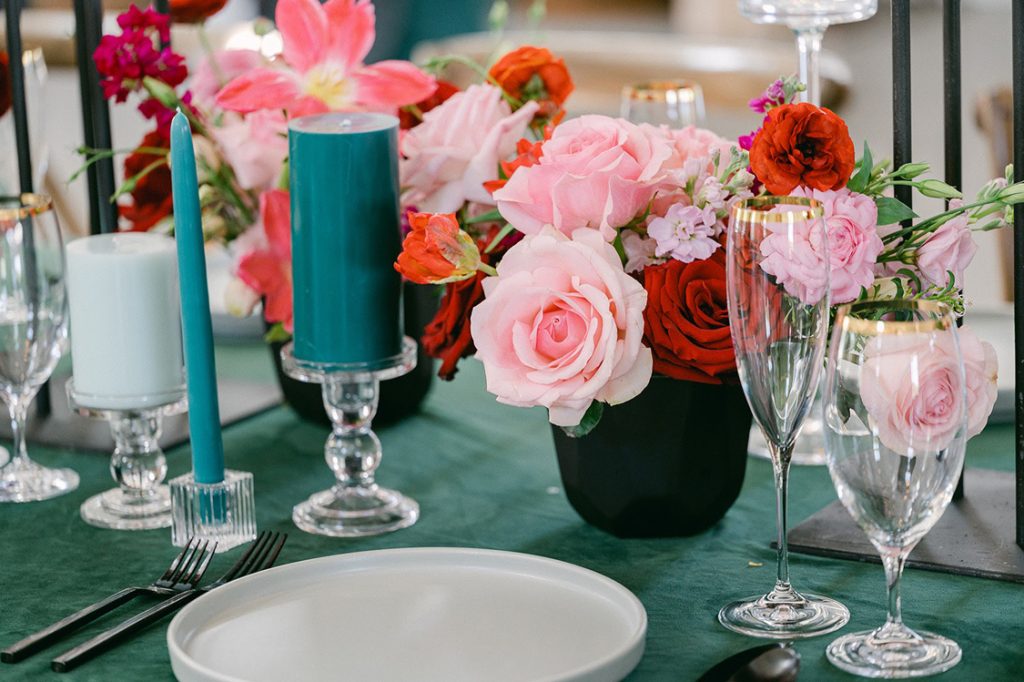 What color trends are you noticing for 2023?
Cindy: Golds, browns and orchid pinks.
Sondra: Warm brown tones are making a big breakthrough! We've been seeing a rise in brides looking for rich warm tones like mauve, terracotta and brown.
Elizabeth: Pink rules! Bubble gum to the gorgeous Valentino hot-pink, and chartreuse.
Anything else you would like to share with the readers of Flirty Fleurs?
We love to be part of our clients' story and are always available to chat color. A mood board in our inbox is always exciting. Currently we offer pillars, tapers, floaters, and votives with new styles on the horizon. We do have minimum quantity requirements as we sell wholesale to the special events industry. Custom colors are available if we currently don't offer just the right hue, but don't hesitate to let us know what your future season looks like! We want our colors to be on trend, so we love knowing if there's a popular color we can introduce into our upcoming color lines.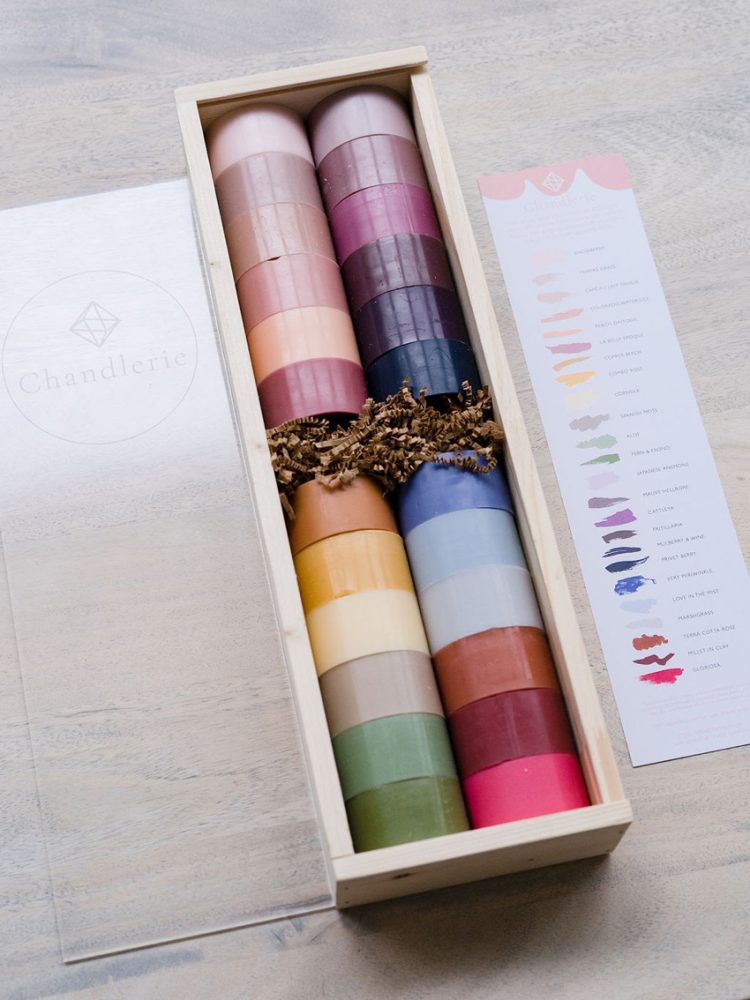 Contact Information:
Chandlerie Website: https://chandlerie.com
Denver, CO | Shipping nationwide