Meet the winner and finalists in FR's flower design contest.
By Nita Robertson, AIFD, CFD

Florists' Review is again excited to present the finalists in our November "Best in Blooms" flower design contest. We received more than 30 entries from floral designers from across North America.
The four designers featured in this article were selected as our November "Best in Bloom" finalists. It is an exciting group of talent. All four finalists made amazing and extremely different artistic floral interpretations. Bravo to each of them!
Our four fantastic finalists were challenged to create a design without a container, to highlight the complex beauty of the garden roses provided by Alexandra Farms. Each designer was elated to receive a box of roses, each of which included 24 stems each of 'Princess Hitomi', 'Princess Miyuki' and 'Romantic Antike' roses grown by Alexandra Farms.
For information about how you can enter future editions of the contest, visit our website at FloristsReview.com
Heather Hanselmann
Fezz & Hazel Floral Design
Columbus, Ohio @fezz_and_hazel
Photographer: Starling Studio; @starling_studio
Videographer: Sam & Grace Photography; @samandgracephoto
Heather Hanselmann is the owner of Fezz & Hazel Floral Design. She has been in business for three and half years, working out of her home studio in Columbus, Ohio. She is a former wedding planner who accidentally became a florist, and she is passionate about designing sustainable luxury weddings and strives to educate clients on the benefits of hosting sustainable weddings.
About her design, Hanselmann says.
"I was inspired by my favorite childhood book, The Runaway Fairy, to create a rose garden for the rose-garden fairies. I created a chicken-wire structure as the base for the table-runner. The roses and other flowers are hydrated with water tubes and pin frogs placed in a shallow base of water. The addition of moss and preserved mushrooms finish off the fairyland creation."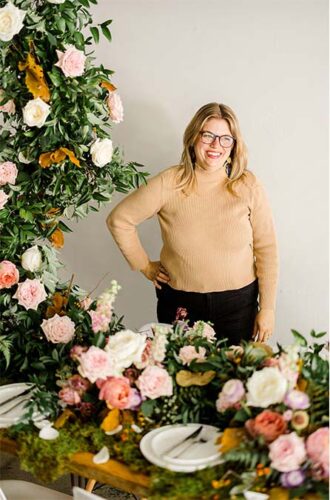 Brandon McLean
East Hill Floral
Homer, Alaska @brandonscottmclean
BOTANICALS
Garden Roses provided by Alexandra Farms
Rosa x hybrida 'Princess Hitomi' (garden rose)
Rosa x hybrida 'Princess Miyuki' (garden rose)
Rosa x hybrida 'Romantic Antike' (garden rose)
Phlox douglasii (tufted Phlox, Columbia Phlox)
Lathyrus odoratus (sweet pea)
Scabiosa spp. (pincushion flower, scabious)
Calendula officinalis (pot marigold)
Cosmos bipinnatus (Mexican aster, garden Cosmos)
Viola tricolor var. hortensis (Johnny jump-up, heartsease, miniature pansy, European wild pansy)
Daucus carota (chocolate lace flower, chocolate Queen Anne's lace) Rubus idaeus, foliage (red raspberry, European raspberry, framboise) Nicotiana tabacum (tobacco)
Humulus lupulus (hop bines)
Hylocomium splendens (glittering wood moss, splendid feather moss, stairstep moss, mountain fern moss)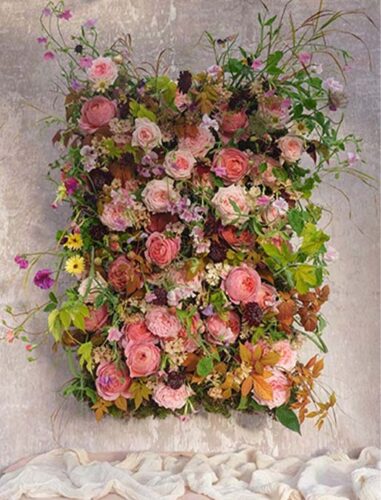 Brandon McLean is a small-scale farmer-florist in Homer, Alaska, doing weddings and events. He started floral design in 2015, combining his knowledge of fine art with his passion for gardening.
ABOUT HIS DESIGN, MCLEAN SAYS:
"Garden roses are personal favorites of mine; in fact, I grow about 75 varieties in my cutting garden. For this design, I wanted to represent the garden rose in its quintessential home—a lush, overgrown garden wall. I created my 'wall' by shaping chicken wire into a rectangular form, held together by zip ties, and suspending it with fishing line. I then filled the structure with foraged wood moss to hide the mechanics and provide moisture for the flowers. I layered the botanicals, with foliage and the largest flowers first, followed by filler flowers, and the smaller delicate flowers last."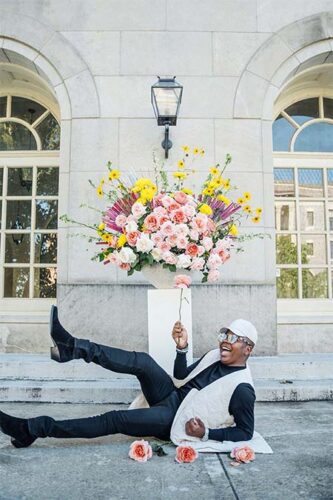 Canaan Marshall
Canaan Marshall Designs | Macon, Ga. @canaanmarshall
Photographer and videographer: Jave Bjorkman, And So We Go Productions; @andsowego.co
Canaan Marshall has had a natural knack for all things growing and green since his childhood. He is best known as the vibrant young fellow who can turn 'everyday' into 'elegant.' He makes extraordinary appear simple, yet always with a fabulous, fun flair. Marshall was also a contestant on Season 2 of Full Bloom on HBO Max.
BOTANICALS
Garden Roses provided by Alexandra Farms
Rosa x hybrida 'Princess Hitomi' (garden rose)
Rosa x hybrida 'Princess Miyuki' (garden rose)
Rosa x hybrida 'Romantic Antike' (garden rose) Hydrangea macrophylla (hortensia, French Hydrangea) Consolida ajacis/C. ambigua (larkspur, rocket larkspur, doubtful knight's spur)
Chrysanthemum x morifolium (spray mum)
Magnolia grandiflora (bull bay, Southern Magnolia)
Johnny Ramos and Hagop Ajounian
The Floral Way Flower Studio | Orlando, Fla. | @thefloralwaystudio Photographer: Jose, MisterHindi; @misterhindi
Best in Blooms
About his design Ramos says:
"The inspiration for this piece was 'nature imitating art' and 'art imitating nature.' We wanted to achieve a look that the audience would understand without reading the name we chose for this piece, and we wanted to create something that represents us as florists and the way we like to do floristry, which we call 'modern floristry.' So, we chose to use a mix of dried and fresh botanicals, but we wanted to give them a twist, using spray paint. The gorgeous garden roses that Alexandra Farms provided are the main character and the only flowers in the design."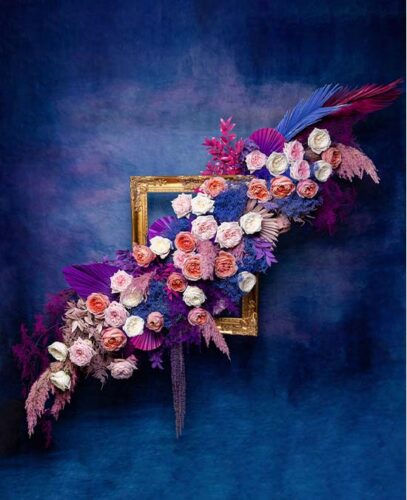 BOTANICALS
Garden Roses provided by Alexandra Farms
Rosa x hybrida 'Princess Hitomi' (garden rose) Rosa x hybrida 'Princess Miyuki' (garden rose) Rosa x hybrida 'Romantic Antike' (garden rose) Gypsophila paniculata, dried (baby's breath) Amaranthus caudatus (love-lies-bleeding, tassel flower, foxtail amaranth)
Cortaderia selloana (pampas grass)
Asparagus setaceus/A. plumosus (plumosa fern, lace fern, Asparagus fern)
Nageia nagi/Podocarpus nagi (broad-leaf Podocarpus)
Dried fan palm