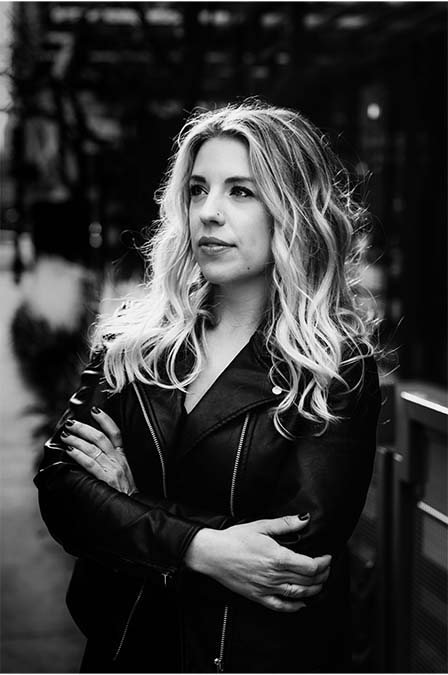 Stacey Bal Carlton, AIFD, CFD, EMC
The Flora Culturist
Chicago, Ill.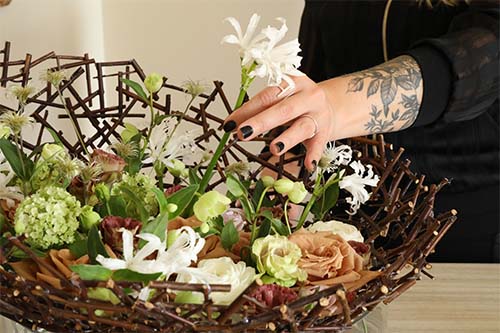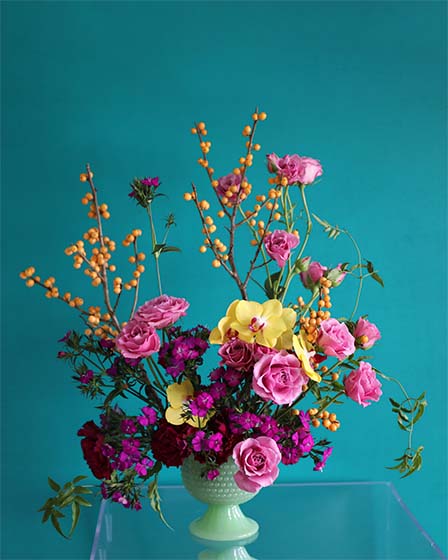 How did you get started in the floral industry?
I am a second-generation floral designer and educator. I have been around flowers since I was in utero. My mom is a florist, as well. The connection to flowers began at the very beginning of my life, but as I took my first job in a flower shop, even as a teenager, I kind of tried to deny it for a while. And then I got pulled back in and pursued a traditional education route, studying ornamental horticulture in college. That really took off into a whirlwind of being a student of floral design and then, eventually, an educator in floral design. The roots are there, but I took my own path throughout it, as well.
My mom was a floral design educator when I was a child, so some of my first memories include being short enough to stand under a design table and being in a classroom setting while my mom was teaching. Eventually, my mom started a studio-based wedding design business.
I started delivering flowers as soon as I could, legally, as a teenager, and I worked my way all the way up, in various retail shops around Chicagoland. At the beginning of my collegiate journey, I dove into ornamental horticulture and worked at the college flower shop. I've always been a part of the American Institute of Floral Designers [AIFD], even as a child, because my mom was inducted when I was young. Growing up around world-famous florists was the norm for me. I was inducted into AIFD in 2009, when I was 26, and I received my European Master Certification [EMC] in 2018. To this day, I'm a big fan of learning. Even if you're a leader, you have to be a learner as well.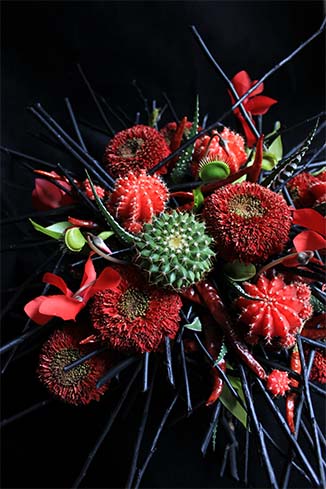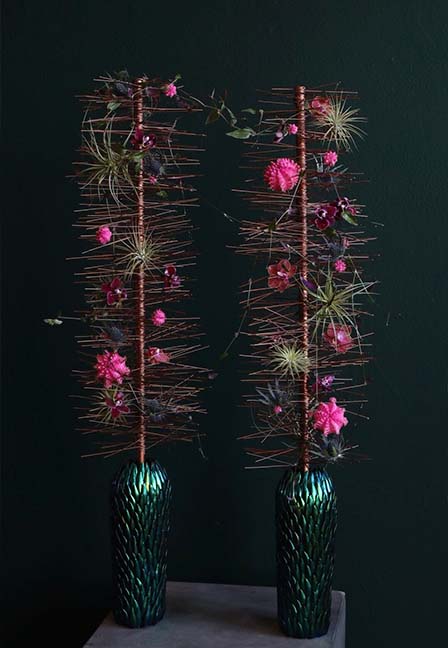 What is your business focused on now—how would you describe your business model?
It is vastly different now than it was before COVID. Currently, I have a home-based business, and I am blessed to work with only a few select clients, which is fairly new for me. At the beginning of COVID, I had an entire year of weddings and presentations booked, both domestically and internationally. I was all over social media, showing people my every move. When COVID put a halt to everything, it was very disheartening. So I stepped back a bit and got a little quiet, which is odd for me because I'm naturally extroverted, and I'm driven by communication and connection. During that time, I took a job at a really busy high-end retail floral design shop in downtown Chicago as lead designer and marketing consultant, building their website and wedding program. I did that for about a year, and then, last year, I had a baby.
What I'm doing right now makes sense for me and where I'm at in my journey. I have continued virtual education offerings throughout COVID, which has been very fruitful and amazing. Education is my highest calling; teaching is what lights my soul on fire. So although I haven't been able to do much in-person teaching during the last couple of years, I am blessed to be able to present and teach virtually, and that has been incredibly positive.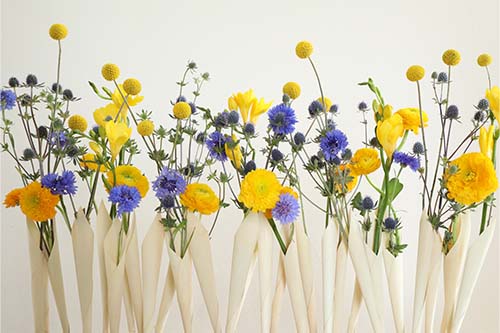 What do you see for yourself for the future?
I co-authored a book with Arthur Williams AIFD, EMC, Impermanent, about three years ago, and I did most of the photography and writing for it. That made me realize that professional dexterity is so important, and I really enjoy the visual communications aspect of a lot of the jobs I've done and the media side of flowers. I love being able to communicate in that way, so I hope to keep building relationships with the brands that I really enjoy. For example, I provided content for the June issue of Florists' Review, with sponsorship from Alexandra Farms. Providing content to visual marketing is something I really enjoy, so I'd like to continue that and then explore where education goes in the next year or two. The market is highly saturated right now with educators, so I'm trying to be smart about my moves. I hope to continue the type of virtual education that I've been offering and still be able to be present for my growing family at home.

Many wedding and event florists have pulled back and are much more selective now in the work that they do. Do you have a renewed love of the wedding and events industry because you're not trying to push it out?
Yes, I do find a new connection and appreciation for it, but I see it in a different way. Instead of being driven by the product and the final outcome—turning cold, horrible spaces into magical wonderlands—and six-figure budgets, I am now driven by the connection with people. And I think that due to all of us having to relearn how to connect with one another. Being able to connect with people and watch them celebrate right now is what makes me feel good about my job.
I've evolved as a business owner and educator. I'm so driven by being able to connect with people and watch them connect with others. And it's not just weddings; it's sympathy work, as well. I do a lot of sympathy work, and seeing people be able to gather again is where my renewed love for what I do comes from. It's the celebration of people connecting with each other.
Throughout the pandemic, I was still able to create. And although it was humbling to go back to retail and have to make 40 arrangements a day, the core of that was connection: People were sending flowers to loved ones because they couldn't see each other. And that's the core of what I do now. To me, that's like a higher calling, and I feel honored to be able to do that and be an artist at the same time.