Win a Florist Profile feature in Florists' Review magazine and have your work featured across all of our social media platforms, be a guest on our Lunch and Learn YouTube/Facebook series, AND win a $500 credit with BallSB and more!!!!
Submit your entry to become a semi-finalist in our first BEST in BLOOMS contest. Four semi-finalists will be chosen to compete. Each semi-finalist will be delivered a selection of flowers provided by BALLSB. Contestants will also choose a container of their choice from a collection provided by burton + Burton.
All semi-finalists will be featured in our May Issue, across all of our social media channels and our new Lunch & Learn video series.
Have fun, get creative and build your brand with Florists' Review!
Please submit 3-4 photos of your original floral design to be chosen as a semi-finalist contestant in our BEST IN BLOOMS contest and tell us a little about yourself in the description box.
*The deadline for submission to become a semi-finalist March 27, 2021
 **Please note you must be able to photograph and video your creation and return your files to us by April 12, 2020 (within 7 days of receipt of your flowers). All images must be copyright-free to publish across all Florists' Review platforms.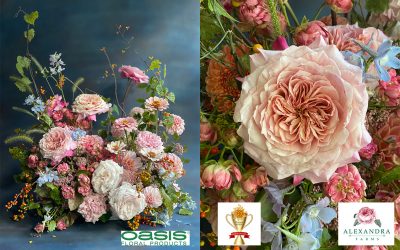 Meet the winner and finalists in FR's latest bimonthly flower design contest. By Nita Robertson, AIFD, CFD Florists' Review is delighted to present the winner of and finalists in our November "Best in Blooms" flower design contest. We received more than 40...
read more